Kale Walnut Pesto & Blistered Tomato Pasta
Kale walnut pesto & blistered tomato pasta – a twist on the traditional pesto with lots of added kale and walnuts. Topped with blistered tomato and parmesan cheese. A fast, healthy and delicious vegetarian pasta dinner.
Our DVR is heavily skewed with shows that I watch.
It's about 90% girl shows. So many Bravo TV shows, especially all the Real Housewives. What can I say, I love my trashy reality shows.
The funny part is Shawn watches all of them with me. He'll act like he's not paying attention as he's on the computer or checkin his phone. But when an argument breaks out he's all eyes on the TV. He'd never admit it, but I think he secretly likes watching them too.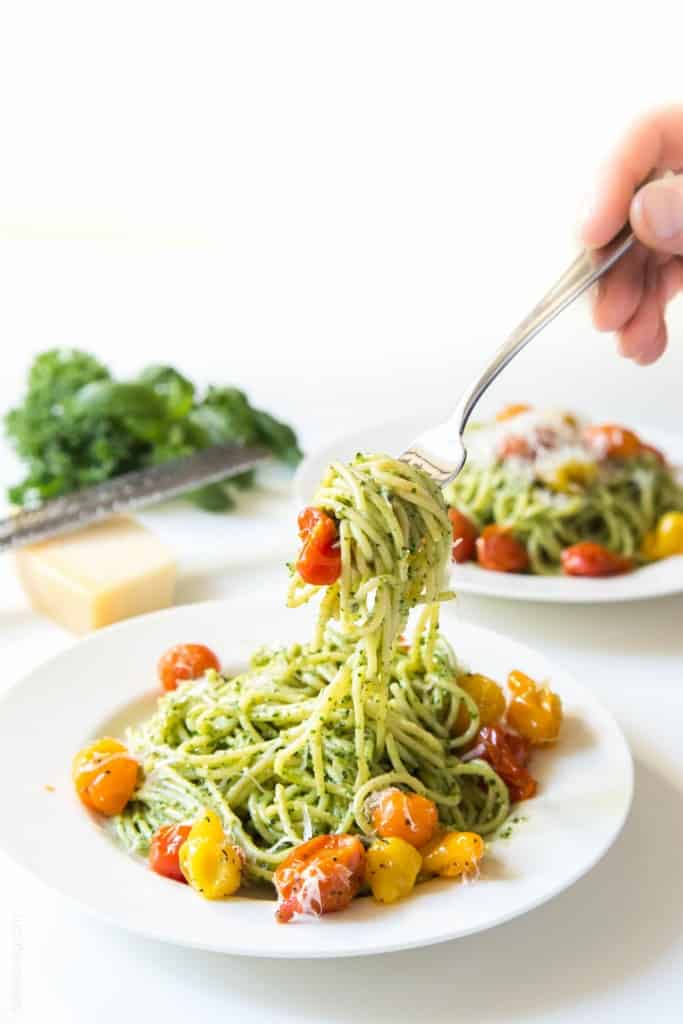 He has 1 show on the DVR that is solely a boy show. Deadliest Catch. Oh my, is he obsessed with Deadliest Catch.
If you've never seen it, it's a show that follows all these guys on crab fishing boats in Alaska. They are cooped on the boat for weeks, working in freezing conditions, doing the toughest manual labor on the choppy waters. When I watch it, I think I would rather go to prison than have to work on this boat.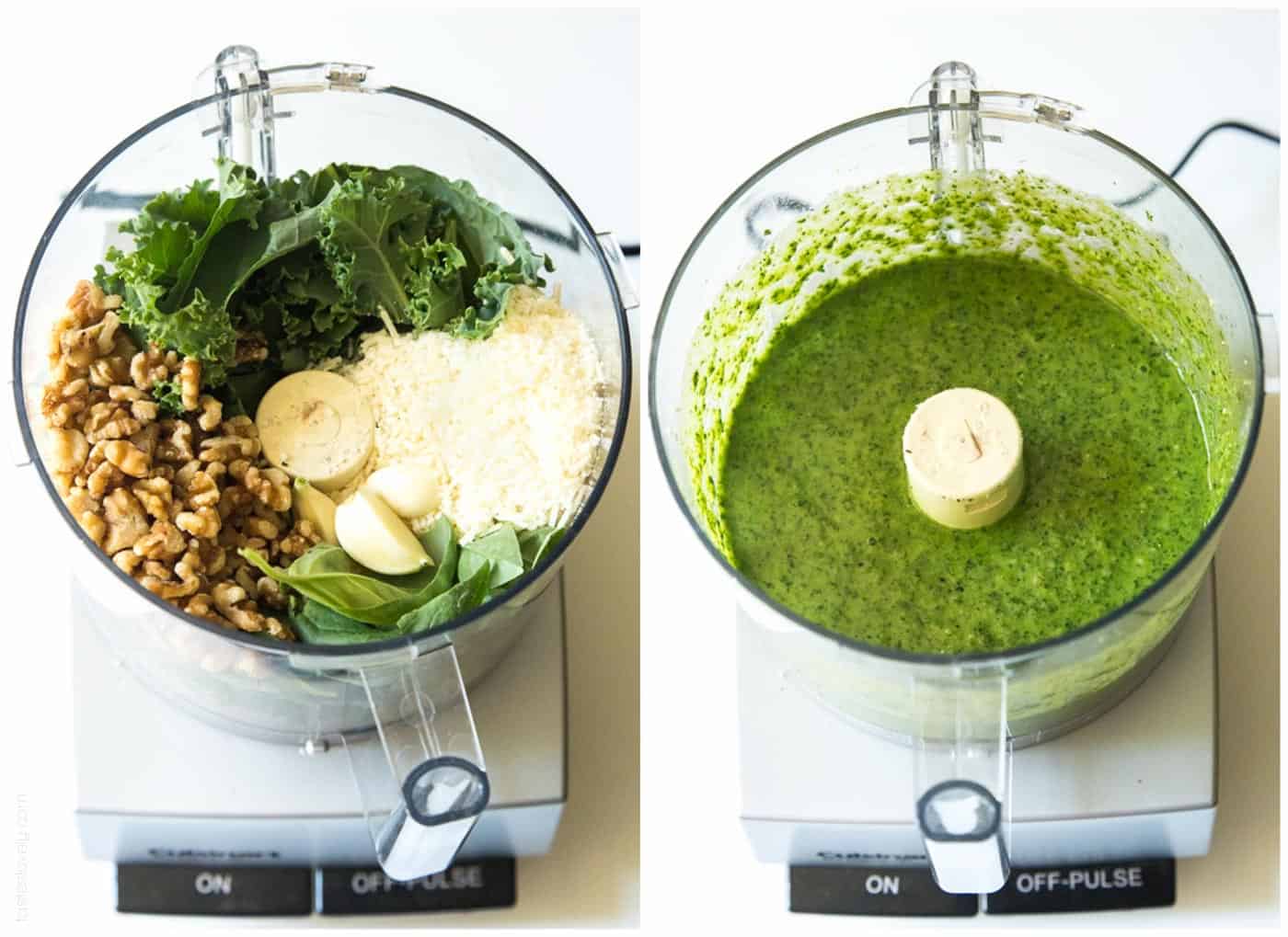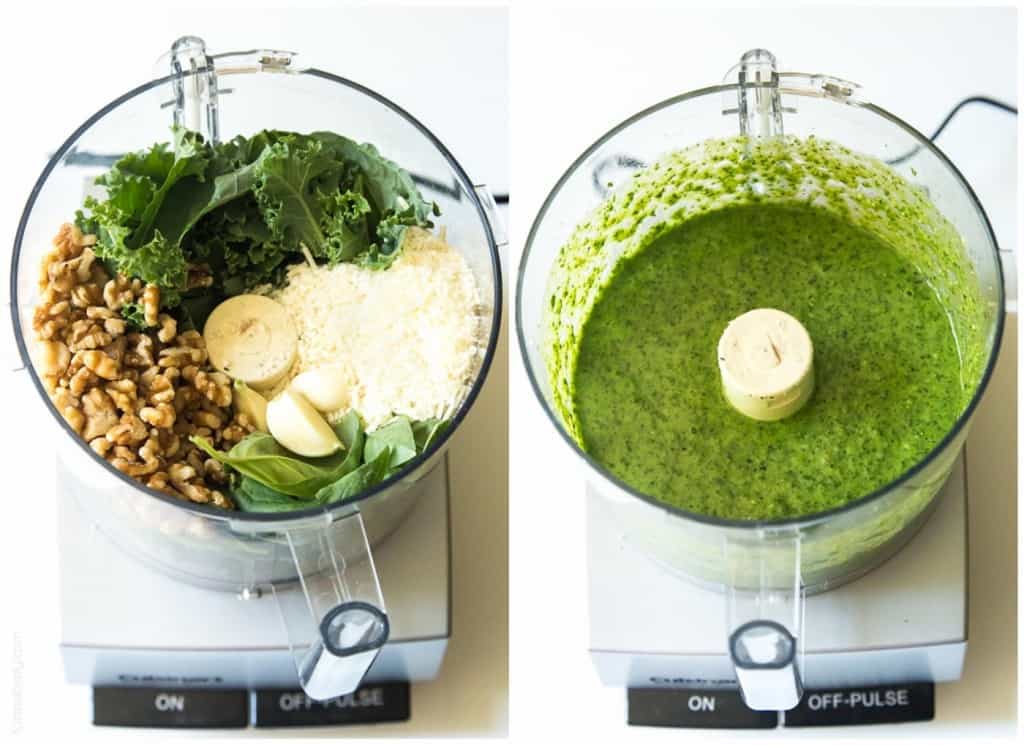 But not Shawn. It's his *dream* job. He'll watch it wide eyed, constantly saying, "I could do this. I would be SO good at this Nat!"
He must be nuts. He couldn't work on that boat.
He'd miss fresh dinners too much!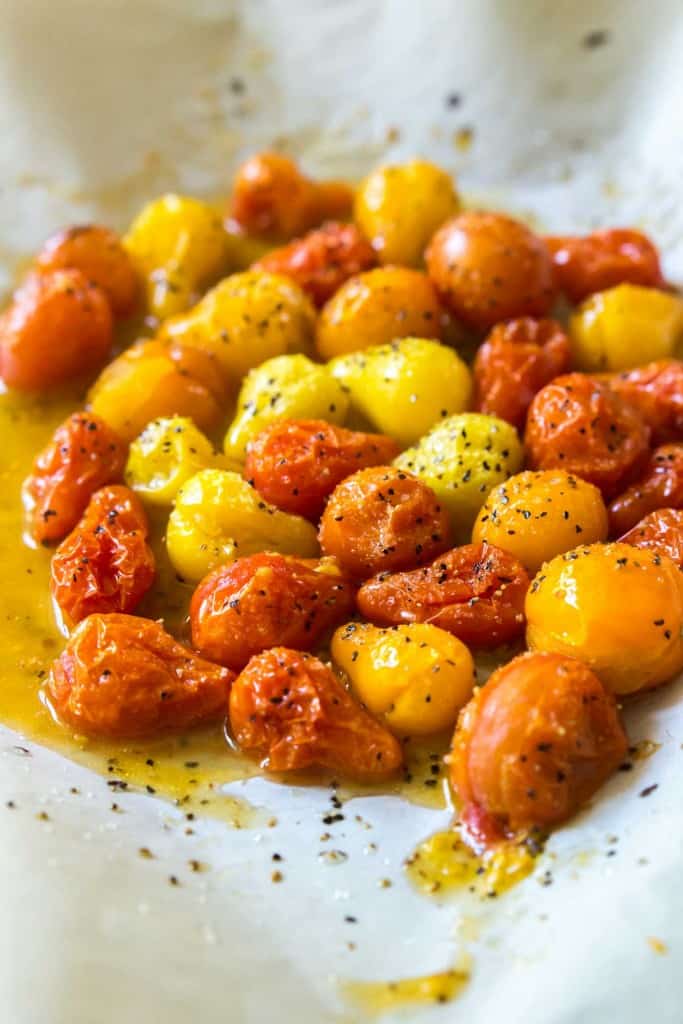 If you're looking for a fresh tasting dinner, look no further than this kale walnut pesto & blistered tomato pasta. It tastes like it's straight from the garden. Which it just so happens to be! Well, sadly not the tomatoes. Our tomato plants don't have any ripe tomatoes yet. But the kale and basil is straight from our garden.
We have an insane amount of kale in our garden right now. It's so big and bountiful, I can't cook it up fast enough. I was trying to think of ways to use it up, and a fresh kale pesto came to mind. I love the addition of kale to the pesto. It gives it a deep and earthy flavor, and balances out with the sweetness of the basil perfectly. You could use all kale in the pesto, but I still wanted a little sweetness so I did half kale half basil.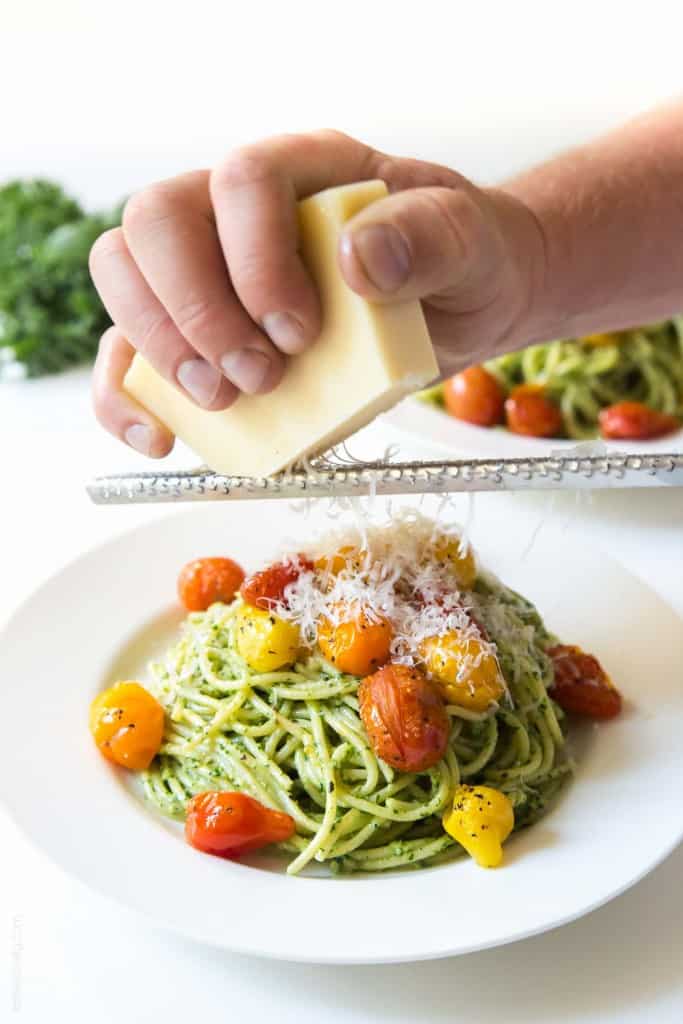 Pine nuts are so expensive, I tend to use walnuts in my pesto instead. I like the flavor even better. Smooth and nutty, and much more affordable.
The real star of this kale walnut pesto pasta are the blistered tomatoes. You just roast them with some olive oil, salt and pepper in the oven for about 15 minutes, just until they're starting to burst. Delicious! Heating them thru intensifies the sweet tomato flavor.
This kale walnut pesto & blistered tomato pasta is the perfect vegetarian summer pasta dish. It is ready in less than 10 minutes. I kept this simple with just tomatoes, but this would be delicious with some chicken or italian sausage thrown in.
Print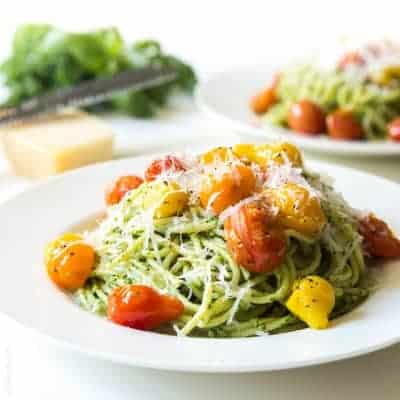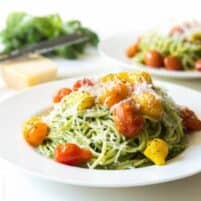 Kale Walnut Pesto & Blistered Tomato Pasta
---
Author:

Prep Time:

5 mins

Cook Time:

15 mins

Total Time:

20 mins

Yield:

4

1

x
Kale Walnut Pesto
6

–

8

kale leaves, stems removed

10

basil leaves

1/4 cup

raw walnuts

1/4 cup

grated parmesan cheese

3

cloves of garlic

1 teaspoon

salt

1 teaspoon

pepper

1/2 cup

olive oil
Pasta
1 pint

grape tomatoes

1 tablespoon

olive oil

1/2 teaspoon

salt

1/2 teaspoon

pepper

1

pound pasta (I used spaghetti, but any pasta will do)
parmesan for garnish
---
Instructions
Kale Walnut Pesto
In a food processor, combine all the pesto ingredients except the olive oil. Pulse 5-7 times until all the ingredients are coursely chopped. Then, with the food processor running, drizzle in the olive oil until combined.
Set aside. Pesto will keep in an airtight container refrigerated for 2 weeks.
Pasta
Preheat oven to 425 degrees. On a parchment lined baking sheet, toss the grape tomatoes with olive oil, salt and pepper. Roast for 15 minutes, until the tomatoes begin to blister. Remove from oven, set aside.
In a large pot of salted boiling water, cook the pasta according to manufacturers instructions. Reserve 1 cup of the pasta cooking water. Drain the pasta. Top with desired amount of pesto and toss to combine. Stir in some of the pasta water to thin the sauce and make it nice and silky, start with 1/4 cup and add more if desired. Add in blistered tomatoes and any tomato juice on the roasting pan, toss to combine. Serve warm, top with more parmesan cheese.
Any leftovers will keep in an air tight container refrigerated for 1 week.
Notes
-This would also be delicious with any leftover chicken or cooked sausage mixed in!

More Pasta Recipes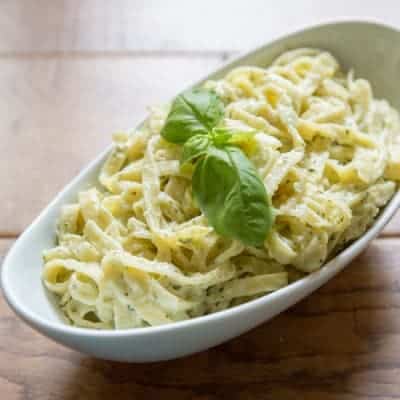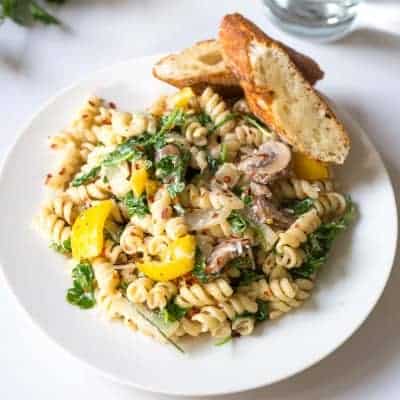 Creamy Mushroom & Bell Pepper Pasta