Creamy Mushroom and Bell Pepper Pasta
A creamy mushroom and bell pepper pasta with arugula that is ready in 15 minutes. An easy cream sauce made with marscapone cheese.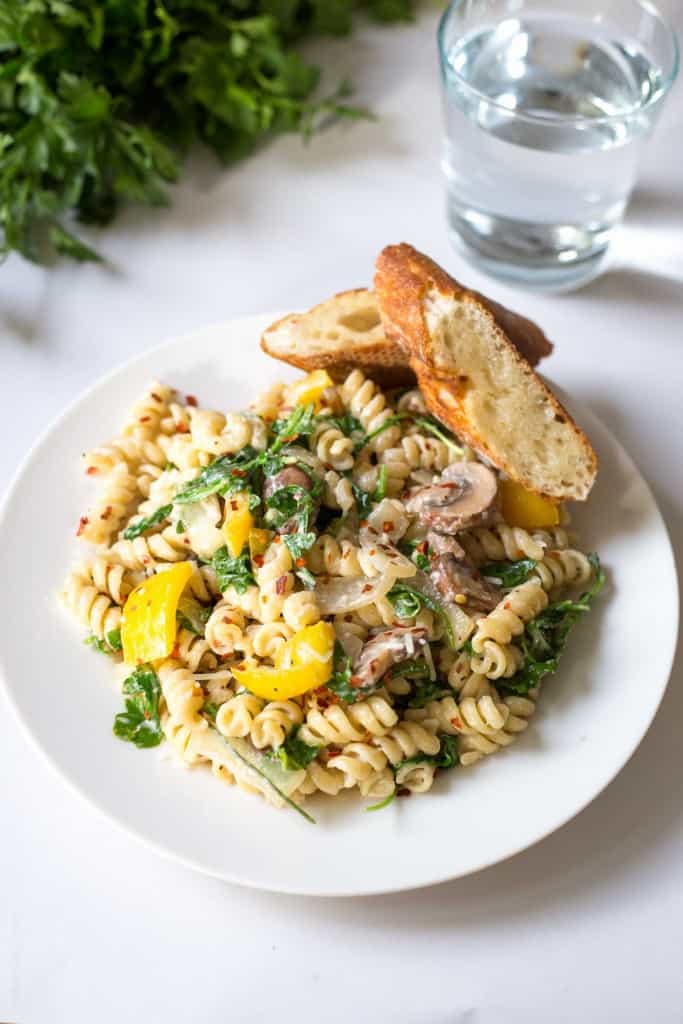 After much thought and deliberation, I have made an important decision. I know the super power I would posses if I could. Ready for it?
Time manipulation.
I would be able to stop time. Like at 5:30am when the alarm goes off, I would stop time and go back to sleep for as long as I like. Or if I only had 1 day to go on vacation, I would stop time so that 1 day could stretch into a whole week.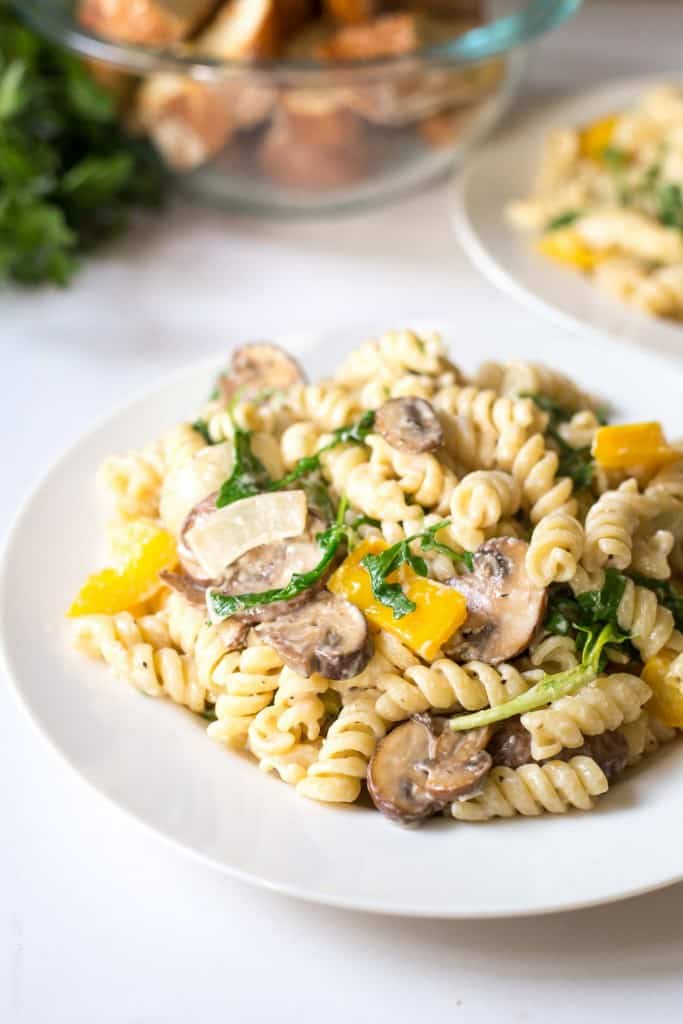 I would be able to speed time up. Like that day I had to waste at Jury Duty last year. I could just fast forward the 8 hours until it was done.
The best would be going back in time. So when Shawn and I are old and gray, I could go back in time and do everything all over again. And maybeeee I would remember some winning lottery numbers so this time we could go thru life filthy rich.
I've given this a lot of thought, and I think it is the best super power of all.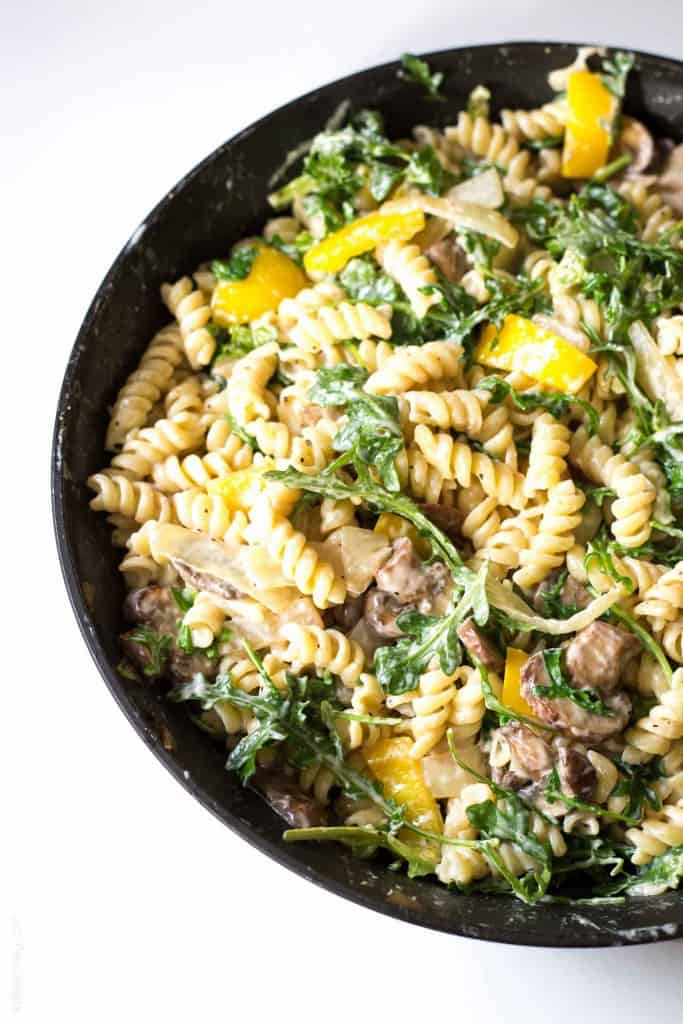 Sadly, I have not come across a genie who will grant me my wish. So for now, I am making the most of the time I have. That includes super fast and easy 15 minute recipes like this creamy mushroom and bell pepper pasta. I timed myself, and from walking into the kitchen to walking back out with our plates of pasta was under 15 minutes.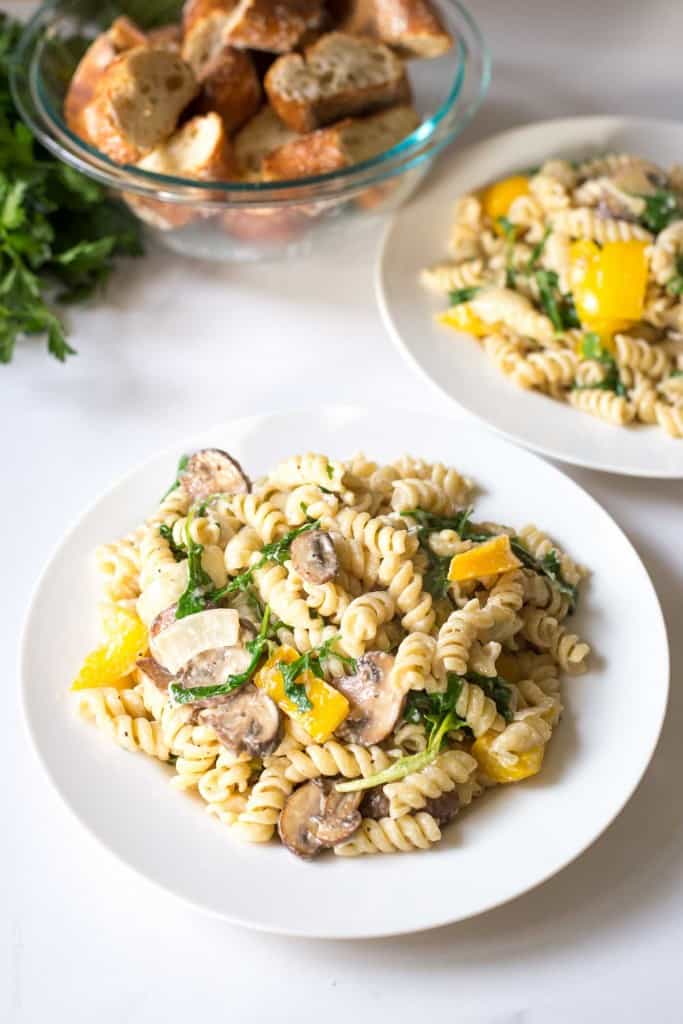 The secret to the super fast creamy sauce is just 2 ingredients: marscapone cheese and some pasta cooking water. I have recently become obsessed with marscapone cheese. It's like a very light and mild cream cheese.
This creamy mushroom and bell pepper pasta is vegetarian, and perfect for Meatless Monday. With the heart mushrooms you don't even miss the meat.
Print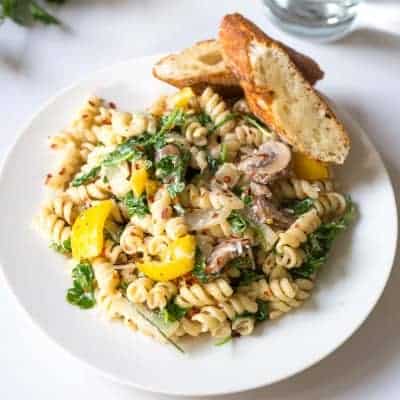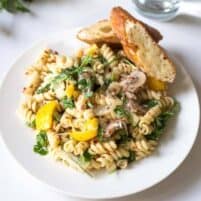 Creamy Mushroom and Bell Pepper Pasta
---
Author:

Prep Time:

5 mins

Cook Time:

10 mins

Total Time:

15 mins

Yield:

4

1

x
Scale
Ingredients
1

pound fusilli pasta (or any pasta of choice)

1 tablespoon

olive oil

1

yellow onion, sliced

1

yellow bell pepper, seeds and removed, chopped into

1

" pieces

8 ounce

s cremini mushrooms, sliced 1/4″ thick

2

cloves of garlic, grated or finely chopped

1 teaspoon

salt

1 teaspoon

pepper

8 ounce

container marscapone cheese

1/4 cup

grated parmesan cheese

3 cup

s baby arugula (about

2

big handfuls)
red pepper flakes for garnish (optional)
---
---

More Pasta Recipes: