Lemon Shrimp Scampi Pasta
I don't know how those of you living in the cold states are doing it.
Promise you won't hate me? The weather where I live near San Francisco was a beautiful 68 degrees today. And it's the middle of January. I know!
Looking at some of your Instagram pictures this winter has me a wee bit jealous of your snowy yards and cozy, cold nights. But I secretly know there is no WAY I could cut it living in the snow. Scraping ice off my car? Shoveling the driveway? Icy roads? Heck no! Even in our 60 degree weather the local news is still freaking out about our supposed "cold weather". Don't believe me? Watch this hilarious Jimmy Kimmel clip that has had me cracking up all week. Pretty much sums us Californian's up.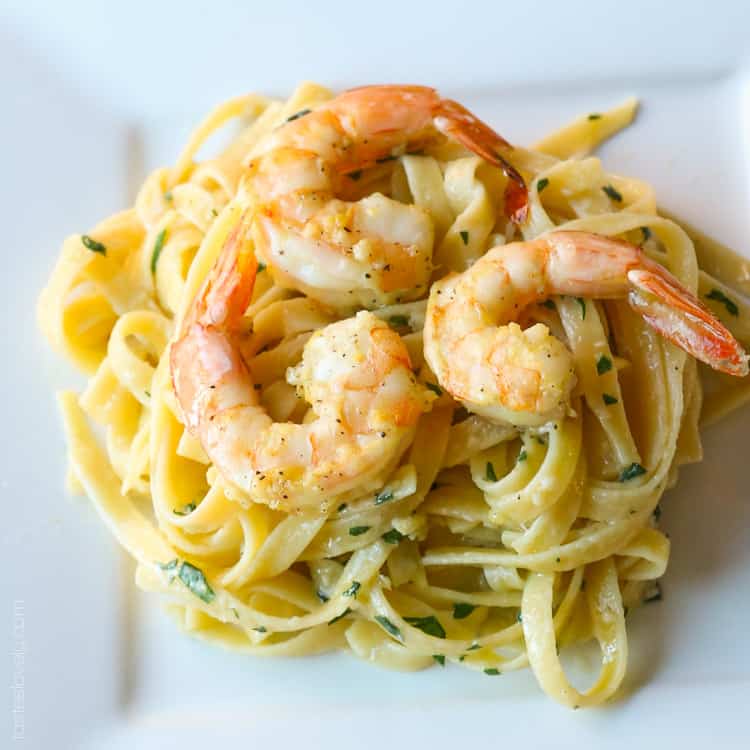 Living in this warm weather can sometimes get my culinary seasons off. Instead of craving heavy stews I'm craving lemony pasta dishes. Enter in my garlicy, lemony shrimp scampi pasta. It is light and full of flavor. I use my Perfect-Every-Time Lemon Garlic Shrimp recipe to make sure the shrimp turns out tender and perfectly cooked. Don't forget to serve it with homemade garlic bread and a glass of white wine.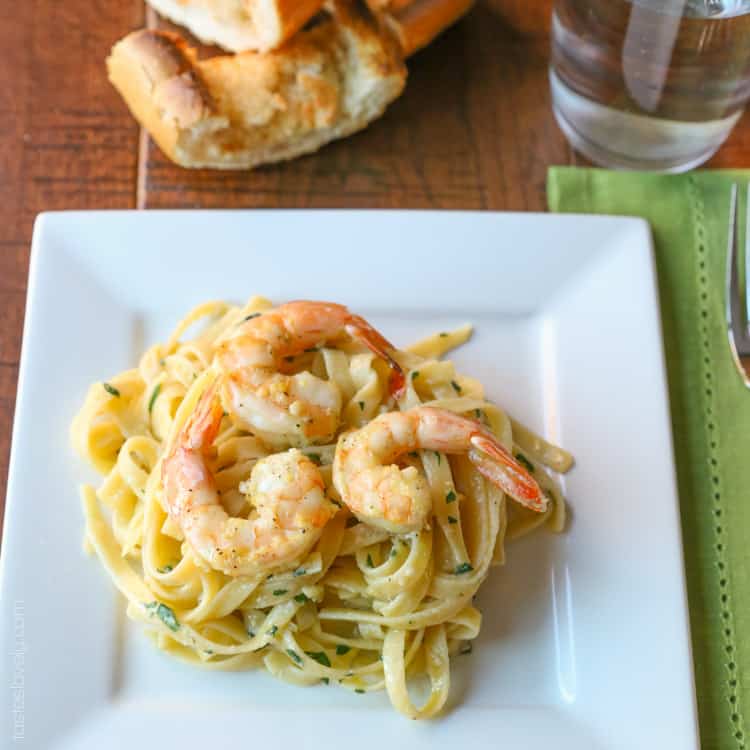 This recipe comes together so fast that after eating it for dinner last night I had enough time to go on a walk with my mister and dogs. And it was so nice out I only had to wear yoga capri pants and a long sleeve shirt. Don't hate me! You promised you wouldn't hate me!
If you're surrounded by snow and ice I'm sending warm thoughts your way. Spring should be here soon enough : )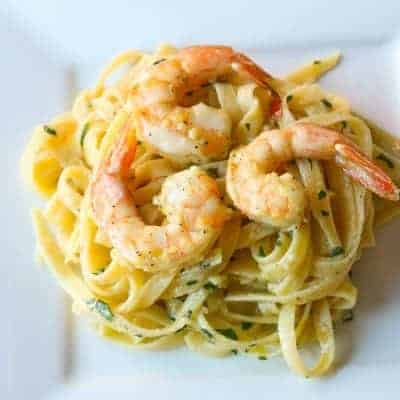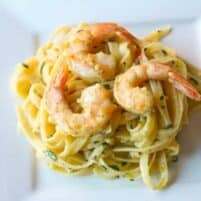 Lemon Shrimp Scampi Pasta
This lemon shrimp scampi pasta has a bright cream sauce that perfectly compliments that shrimp.
Ingredients
1

pound

frozen peeled & deveined medium to large size shrimp

,

thawed

1/4

cup

olive oil

3

garlic cloves finely chopped

,

about 1 tablespoon

zest of 1 lemon

,

about 2 teaspoon

1

teaspoon

salt

1

teaspoon

pepper

1

pound

fettuccine pasta

1

cup

white wine

,

I like chardonnay or sauvignon blanc

juice of 1 lemon

,

about 3 tablespoons

1

tablespoons

butter

1/4

cup

heavy cream

1/4

cup

parmesan cheese

1/4

cup

parsley

,

chopped
Instructions
1. Make the shrimp marinade by mixing the olive olive oil, chopped garlic, lemon zest, salt & pepper in a medium size bowl. Add in the shrimp and toss to combine. Cover and allow to marinate for 30 minutes on your counter. You're marinating on the counter so the shrimp will be room temperature, which will allow for even cooking under the broiler.

2. Line a baking sheet with parchment paper*. Lay the shrimp in a single layer.

3. Bring a pot of salted water to boil. Cook fettuccine according to package instructions. After adding the pasta, turn your broiler on high with rack in top position.

4. In a medium size pan over medium high heat, cook the remaining oil mixture from the marinade for 1 minute. Pour in the white wine, and reduce by half, about 5 minutes.

5. While the wine is reducing, broil shrimp until they just start to turn pink, anywhere from 3-6 minutes depending on the size of your shrimp. Remove from oven when done cooking.

6. To the sauce, add in the butter, heavy cream, lemon juice and paremesan cheese. Stir to combine, and taste if it needs more salt and pepper. Add in cooked pasta and parsley, toss to combine. If needed, add in pasta cooking water to thin the sauce.

7. Serve pasta warm topped with shrimp. Will keep for 1 week in an airtight container.
Notes
* Don't allow the parchment paper to touch the oven coils or it will burn *
Calories:
759
,
Total Carbs:
88.2
g
,
Protein:
40.1
g
,
Fat:
23.3
g
,
Fiber:
4.1
g
,
Net Carbs:
84
g
Did you make this recipe?
Please Leave a comment and give this recipe a rating!