In case you're wondering, I'm obsessed with this green bean and chicken stir fry.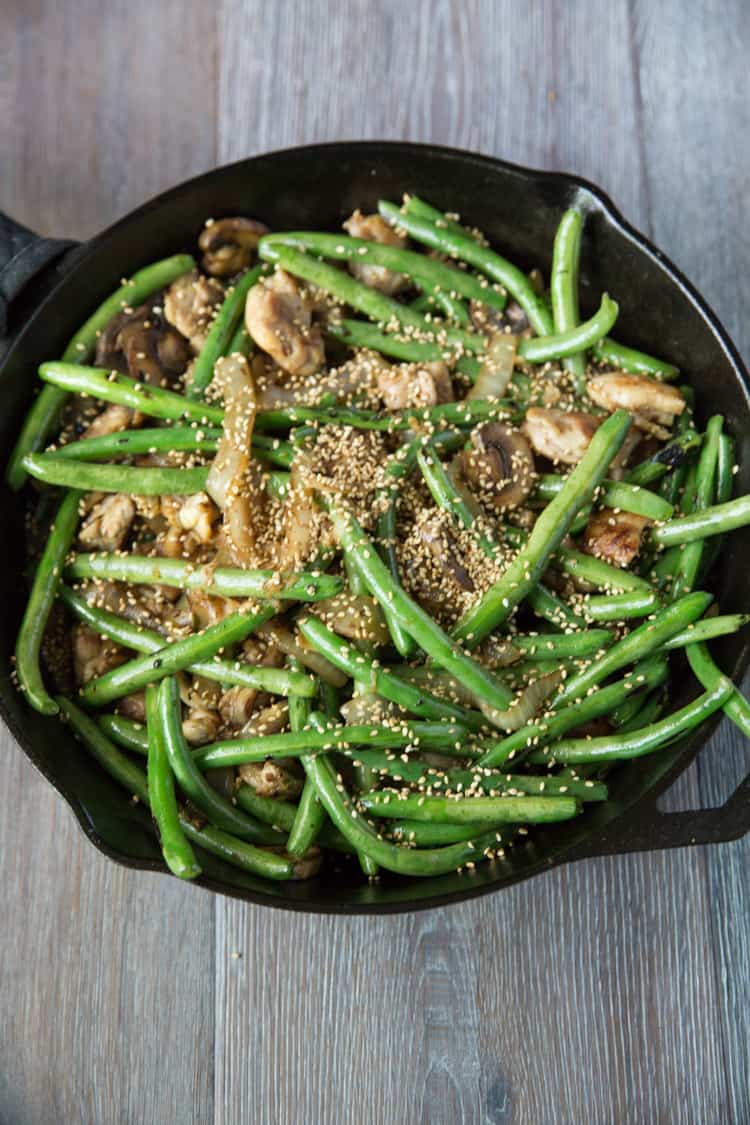 Yes, it's true. Just look at all those cute, crunchy little sesame seeds. And crispy green beans. And sauteed onions. And meaty mushrooms. And golden brown bites of chicken. Gahh! It's so good! And you can have it on the table in less than 30 minutes.
This recipe inspiration came to me after a recent visit to Panda Express. I wanted something a little lighter, and their green bean stir fry looked too good to pass up. I loved it so much, I knew I had to replicate it so I could make it at home.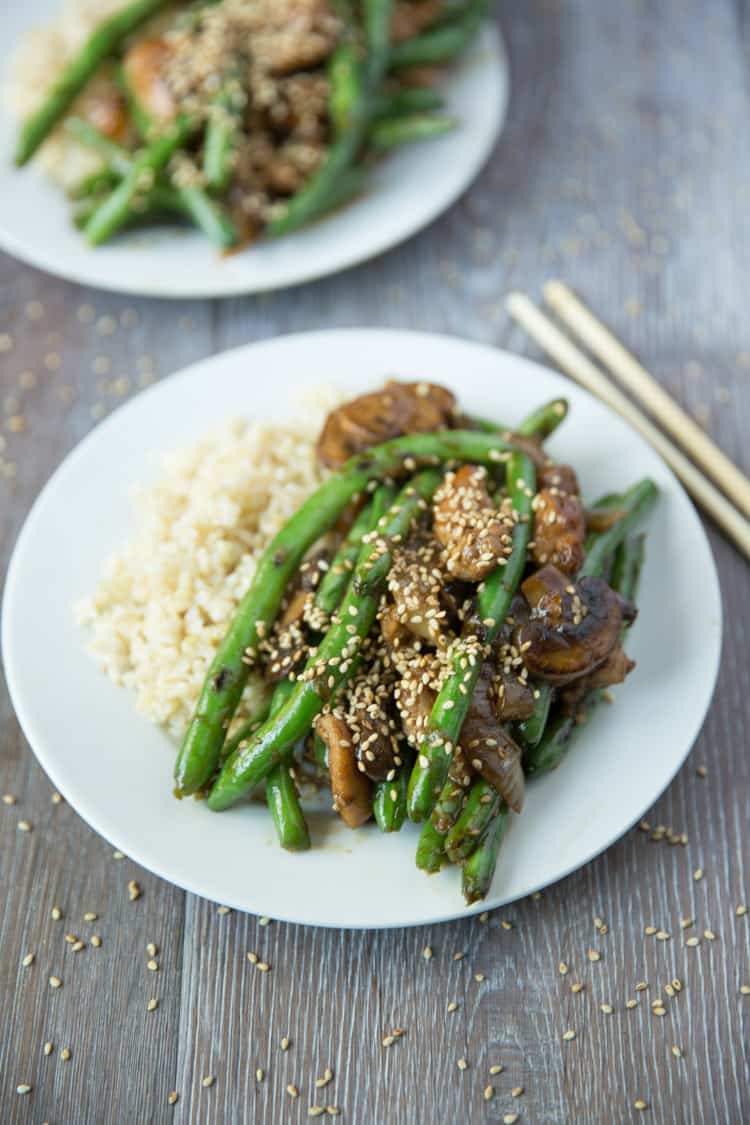 I love a good stir fry. I've found the best way to make sure all the veggies come out cooked perfectly is to cook them separately. If you put them all in at once they seem to "steam" rather than "fry". You want to see a nice caramelization on those veggies. It takes a little longer, but the extra steps makes all the difference in the world.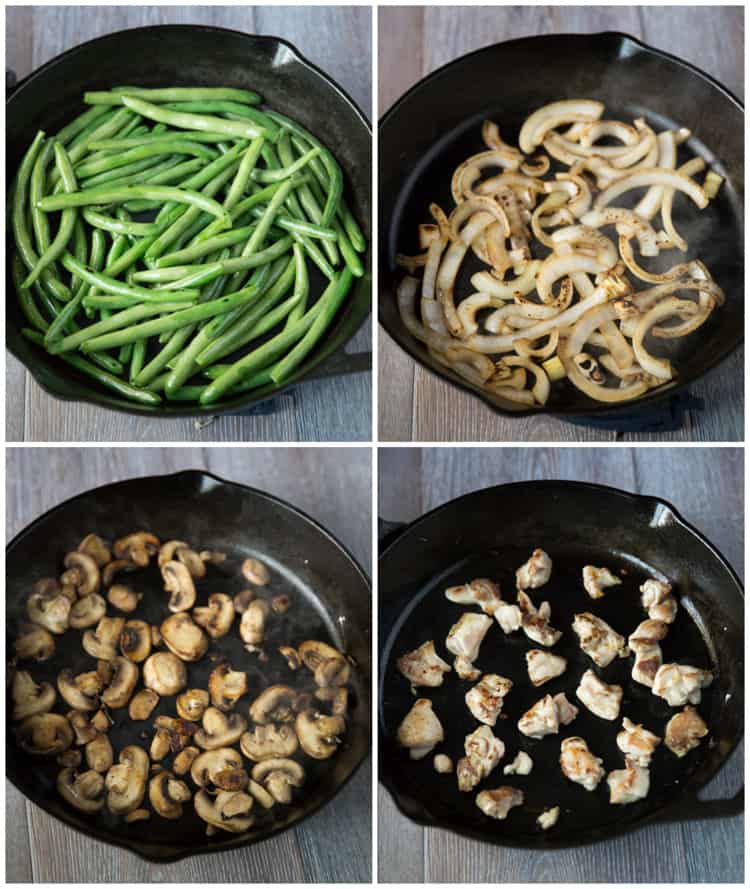 And of course, the real star here is the stir fry sauce. So much better than bottled! The flavor combination of soy sauce, ginger, garlic and sesame seed oil is amazing.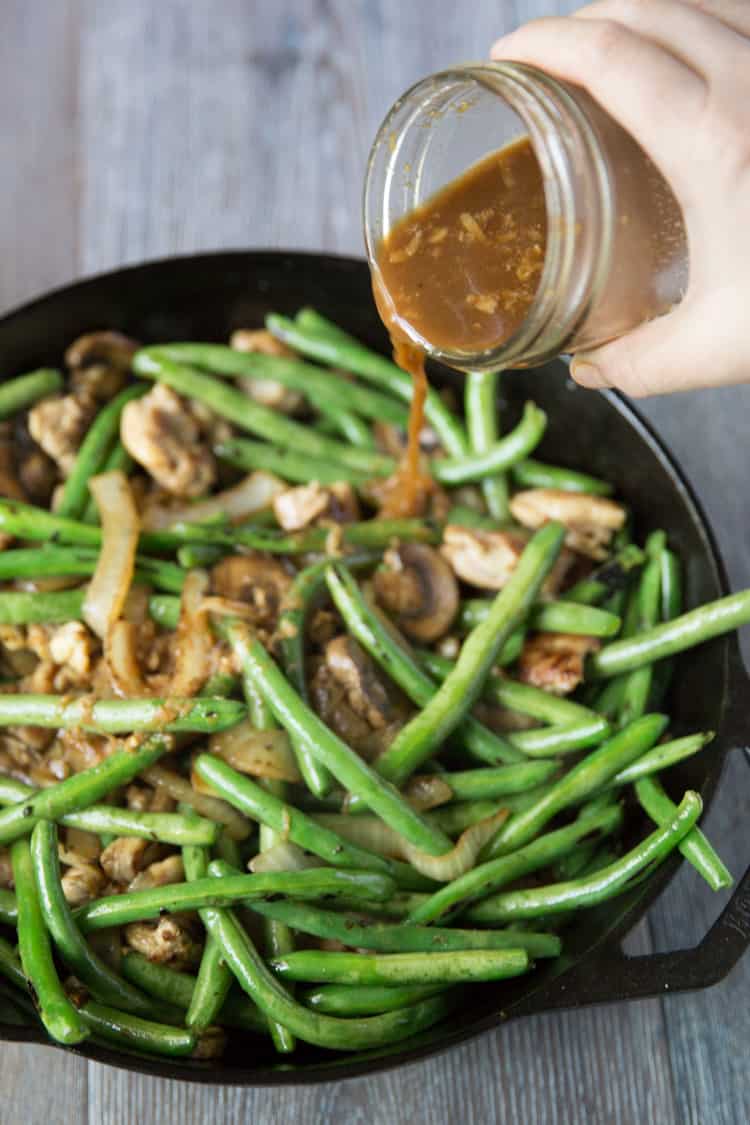 If you don't eat meat, this green bean stir fry would be just as good without the chicken. Just double the amount of mushrooms.
The first few times I made this green bean stir fry I salted the veggies and the chicken as they were cooking. Don't do that! The stir fry sauce has the perfect amount of salt. No need to salt anything as it's cooking.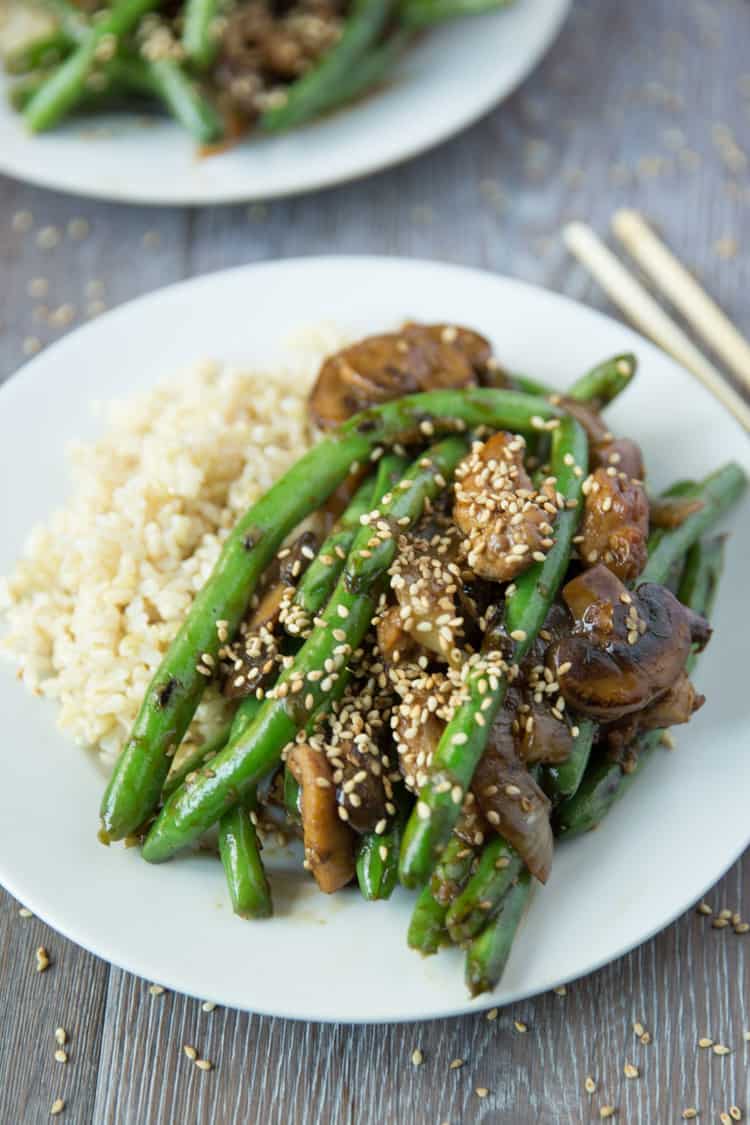 Time to get your chopsticks ready!
Print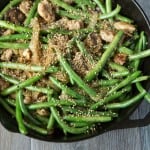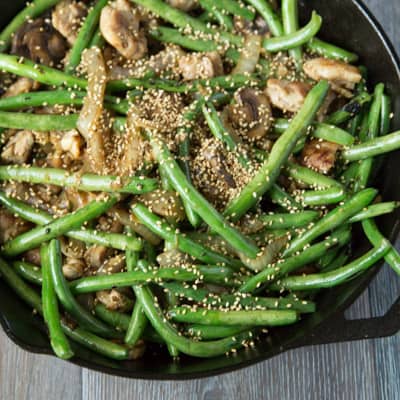 Green Bean Stir Fry with Chicken & Sesame Seeds
---
Author:

Prep Time:

5 mins

Cook Time:

25 mins

Total Time:

30 mins

Yield:

4 people
Ingredients
Stir Fry:
1 pound green beans, ends trimmed
1 medium yellow onion, sliced
1 pound mushrooms, sliced
1 pound skinless, boneless chicken thighs cut into 1 inch pieces (I get my chicken from ButcherBox, which I highly recommend)
1 cup stir fry sauce
2 tablespoons sesame seeds
4 teaspoons vegetable oil, divided
Cooked rice for serving (optional)
Stir Fry Sauce:
1/2 cup low sodium soy sauce
1/2 cup chicken broth
1 tablespoon corn starch
1 tablespoon honey
1 teaspoon sesame seed oil
1 teaspoon rice vinegar
2 inch piece of ginger, peeled and grated or finely minced
2 garlic cloves, grated or finely minced
---
Instructions
Stir Fry Sauce: Combine all stir fry sauce ingredients and whisk to combine. Set aside.
Stir Fry: Heat a wok or cast iron skillet over medium high heat with 1 teaspoon vegetable oil. Grab a large mixing bowl and set aside. When the oil is smoking, add in the green beans and cook for 5 minutes until crisp tender. Transfer to mixing bowl.
Add another teaspoon oil to the pan and cook the onions for 5 minutes until they begin to turn translucent. Transfer to the mixing bowl with the green beans.
Add another teaspoon oil to the pan and cook the mushrooms for 5 minutes until they start to soften and caramelize. Transfer to the mixing bowl with the green beans and onions.
Add another teaspoon oil to the pan and cook the chicken for about 5 minutes, flipping half way thru. Depending on the size of your pan, you may need to cook the chicken in 2 batches.
Add all the cooked vegetables back to the pan with the chicken. Add in 1 cup of the stir fry sauce. Cook for another 3 minutes to reheat all the vegetables and to allow the sauce to heat thru and thicken, tossing as it cooks so all the vegetables get coated in the stir fry sauce.
Sprinkle with sesame seeds and serve warm alongside rice. Leftovers will keep refrigerated in an airtight container for 4 days.
This post contains affiliate links, thanks for the love!
Never Miss a Recipe!
Get new posts delivered straight to your inbox! For free!