Broccoli and Bell Pepper Chicken Stir Fry
Healthy and delicious broccoli and bell pepper chicken stir fry, made with the BEST stir fry sauce.
After every wedding we film, Shawn has the stressful job of organizing and packing up all of our gear. And we have a lot of gear. Tripods, monopods, glidecam, sliders, all the microphones and audio recording stuff, batteries, walkie talkies, 4 camera bodies, soooo many lenses. It's nuts. We have had very good luck, and have only lost 1 battery at all the weddings we've filmed.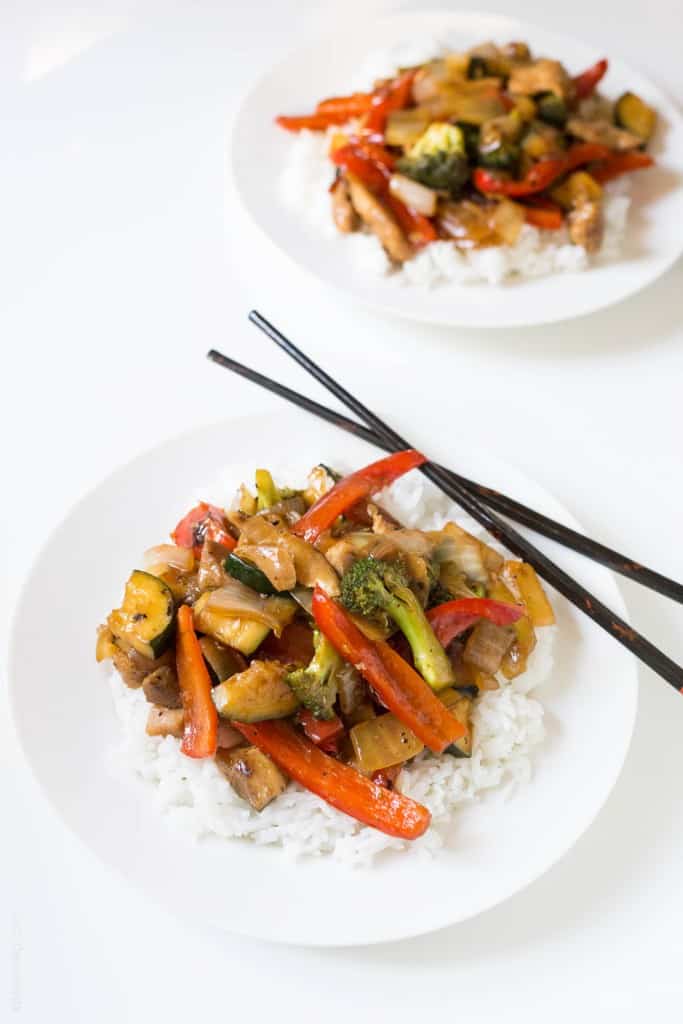 But our luck ran out on Thursday. We couldn't find 1 lens cap. Luckily it was to our cheapest lens we have, (which is also oddly my favorite and the one I use for all of my food pictures!). I had been using that lens, and I searched the pocket of my pants over and over and couldn't find it. So then I started wandering around the room looking on the floor and every table for a small black lens cap that is barely bigger than an oreo cookie.
No luck finding it anywhere. It wasn't such a bad thing to lose, I was sure we could replace it for cheap. So we gave up and headed home.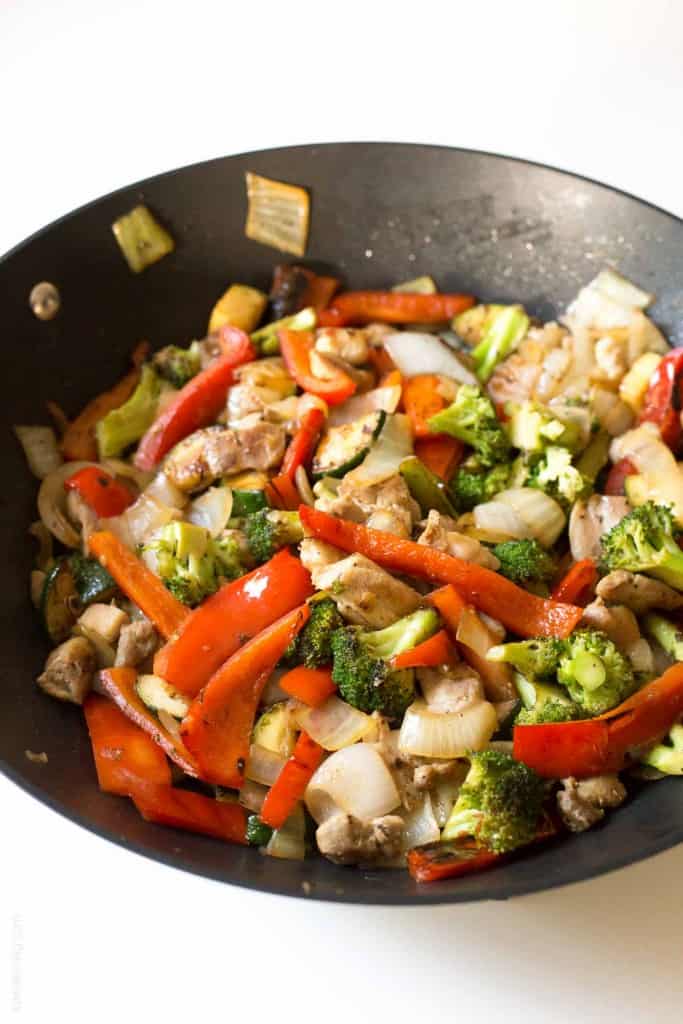 After we got home, I changed in to my pajamas to get ready for bed. As I was changing, I heard a little plastic *ping* hit the side of the bed. I looked down, and it was the lens cap!
I was confused at first, until I looked down and saw a perfect circle indentation on my chest. I had shoved the lens cap inside my bra, ha! It turned out to be a very good hiding spot. Good enough to even keep it hidden from me.
The next time I lose something, I know the first place I'm going to look…
Do you all love stir fries as much as I do? Such a great way to use up fresh vegetables that are taking up space in your fridge at the end of the week. I swear I make a stir fry almost once a week. Especially since perfecting the BEST stir fry sauce. That recipe has over 26,000 pins on Pinterest! And for good reason, it really is the best homemade stir fry sauce. Has great flavors of ginger, sauce sauce, sesame seed oil, yum!
Lately I've been loving this broccoli and bell pepper chicken stir fry. I threw in some zucchini and onion too since I had some that needed to be used up. But feel free to adjust and use whatever vegetables you have on hand.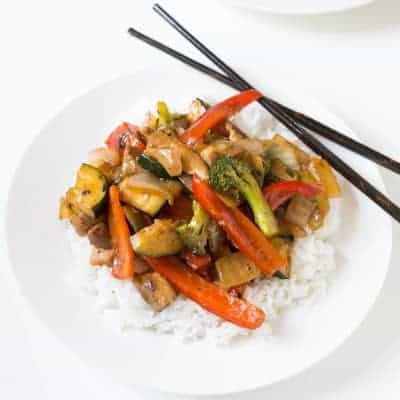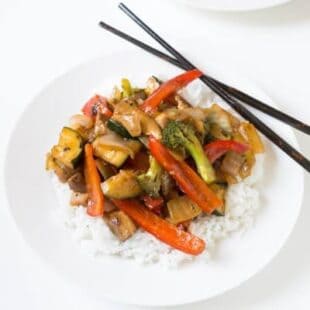 Broccoli and Bell Pepper Chicken Stir Fry
This broccoli and bell pepper chicken stir fry is healthy and delicious. It's made with the BEST stir fry sauce!
Ingredients
Stir Fry Sauce
1/2

cup

low sodium soy sauce

or Tamari if gluten free

½

cup

chicken or vegetable broth

1

tablespoon

corn starch

or arrow root if gluten free

1

tablespoon

honey

1

teaspoon

sesame seed oil

1

teaspoon

rice vinegar

2

inch

piece of ginger

peeled and grated or finely minced (or 1 tablespoon fresh ginger paste)

2

garlic cloves

grated or finely minced
Broccoli Bell Pepper Stir Fry
1

pound

boneless

skinless chicken thighs, chopped into 1" pieces (I get my chicken from ButcherBox, which I highly recommend)

1

large head of broccoli

chopped

2

red bell peppers

ribs and seeds removed, chopped

1

large zucchini

chopped

1

large yellow onion

chopped

olive oil

2

cups

jasmine rice

cooked according to manufacturers instructions
Instructions
Stir Fry Sauce
In a mason jar or medium size bowl, combine all the stir fry sauce ingredients and stir to combine. Set aside.
Rice
Cook the rice according to manufacturers instructions.
Broccoli Bell Pepper Stir Fry
Heat a wok, or your largest skillet, over medium high heat. Add 1 tablespoon of olive oil, and cook the chicken about 5-7 minutes, until cooked thru. Transfer to a medium size bowl.

I find the stir fries turn out best if you cook each vegetable separately so it can get crisp tender. If you cook them all at once they tend to steam and get soggy. Cook each vegetable in the wok for about 5 minutes until crisp tender, then transfer to the same medium size bowl. Add in olive oil as needed.

Once all the vegetables have been cooked, return all the cooked vegetables and chicken back to the wok. Pour in all of the stir fry sauce, reduce heat to medium, and cook for about 3-5 more minutes until the sauce has thickened and all the vegetables are heated thru.

Serve warm over rice.
Nutrition
Calories:
335
Total Carbs:
36.5
g
Protein:
29.6
g
Fat:
7
g
Fiber:
2.9
g
Net Carbs:
34
g
Nutrition facts are calculated as a courtesy and not guaranteed.
Did You Make This Recipe?
Please leave a comment and give this recipe a rating!

More Skillet Chicken Recipes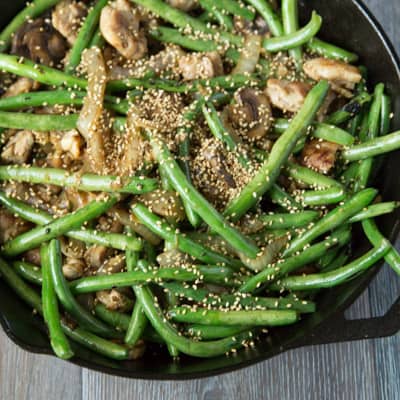 Green Bean Stir Fry with Chicken and Sesame Seeds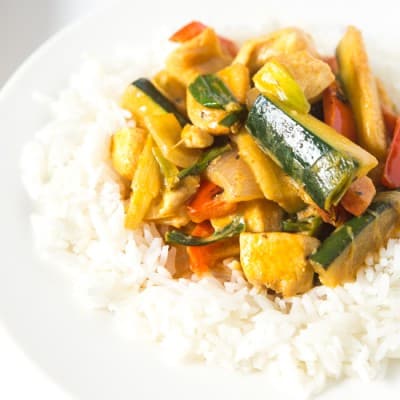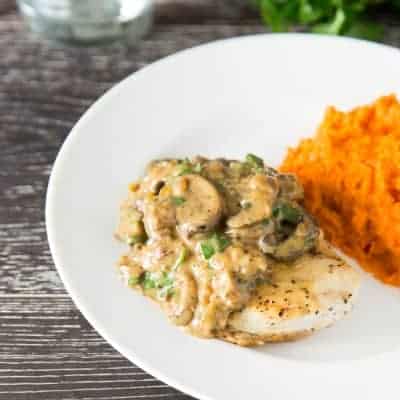 Chicken and Mushroom Fricassee
This post contains affiliate links, thanks for the love!