Day in the Life :: Fall 2018
A glimpse into a day in my life! This particular day is Thursday November 29, 2018. Josh just turned 3 years old 2 weeks ago, and Ryan turned 5 months old last week. A mix of mom life and work life with a few straight-from-my-iPhone pictures.
3am – Ryan wakes up crying. He's still sleeping in the bassinet in our room. Still not sleeping through the night, but we'll get there eventually! Poor buddy is sick. Again. He had a high fever of 101.7º the night before, and has a stuffy nose. He nurses for just 5 minutes, then right back to sleep.
6am – Ryan wakes up to nurse for about 10 minutes. Then right back to bed.
7am – I wake up for good and both boys are still asleep. Love when I wake up before both of them! Shawn's already left for work. I lay there in the quiet and do absolutely nothing for 10 whole minutes. I am almost positive this will be only quiet, zone out time for the whole day. I don't even bring my phone in my room anymore. I barely have time to go on my phone these days. But it's kind of nice not being chained to it and checking social media. I get up, get bacon in the oven, make Josh a milk he drinks in bed in a sippy cup while he wakes up.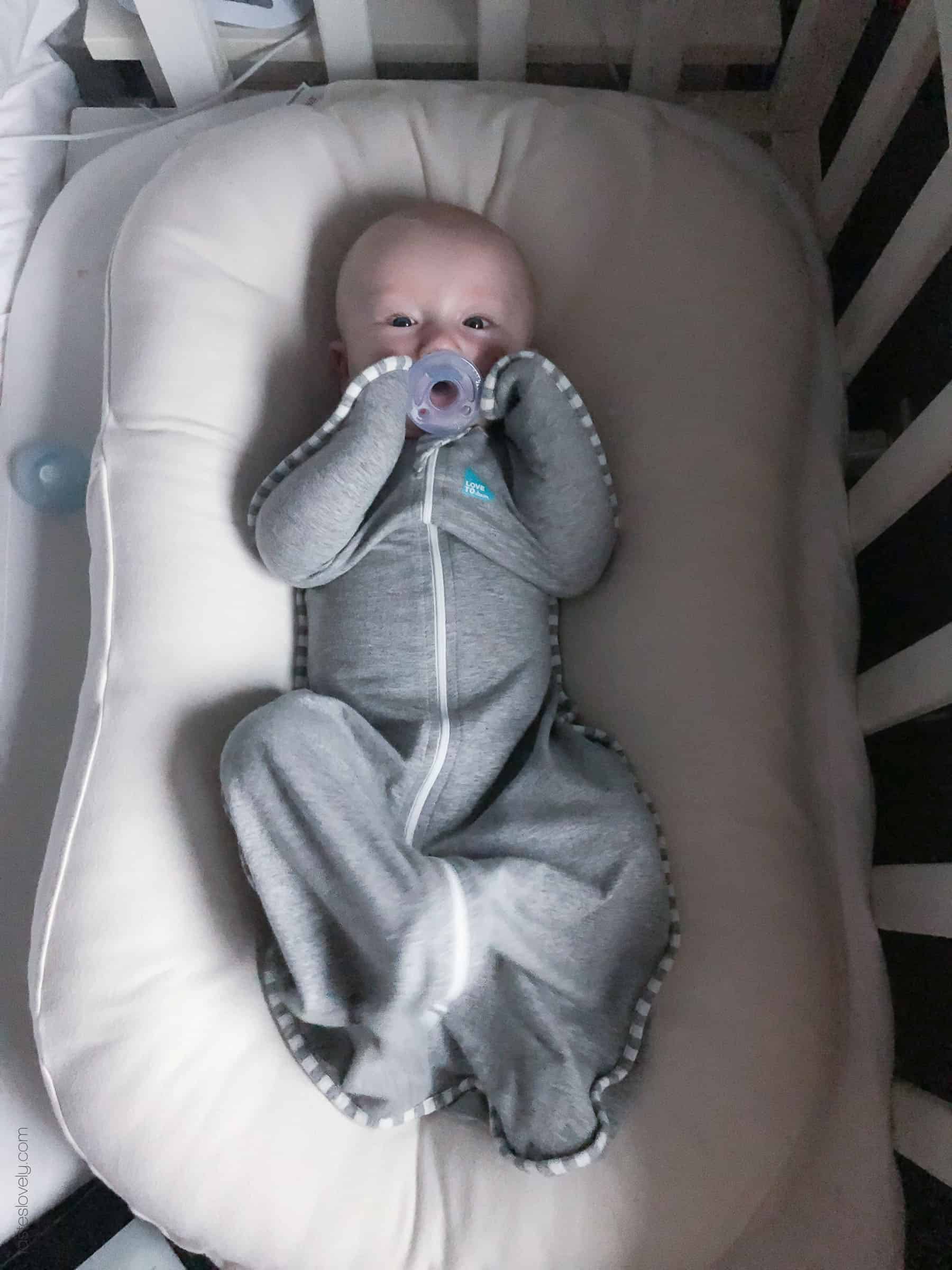 7:20am – Ryan wakes up. He nurses, then plays in bed and coos. I pump after he's done nursing. I make our bed and get dressed. We cuddle and snuggle and hug.
7:45am – Josh wakes up. He's usually up closer to 7, but he didn't get to bed until almost 9 last night. He's still napping 2 hours a day, but isn't tired for bed until later in the night. I could probably skip nap time and get him in bed earlier in the night, but I love naptime!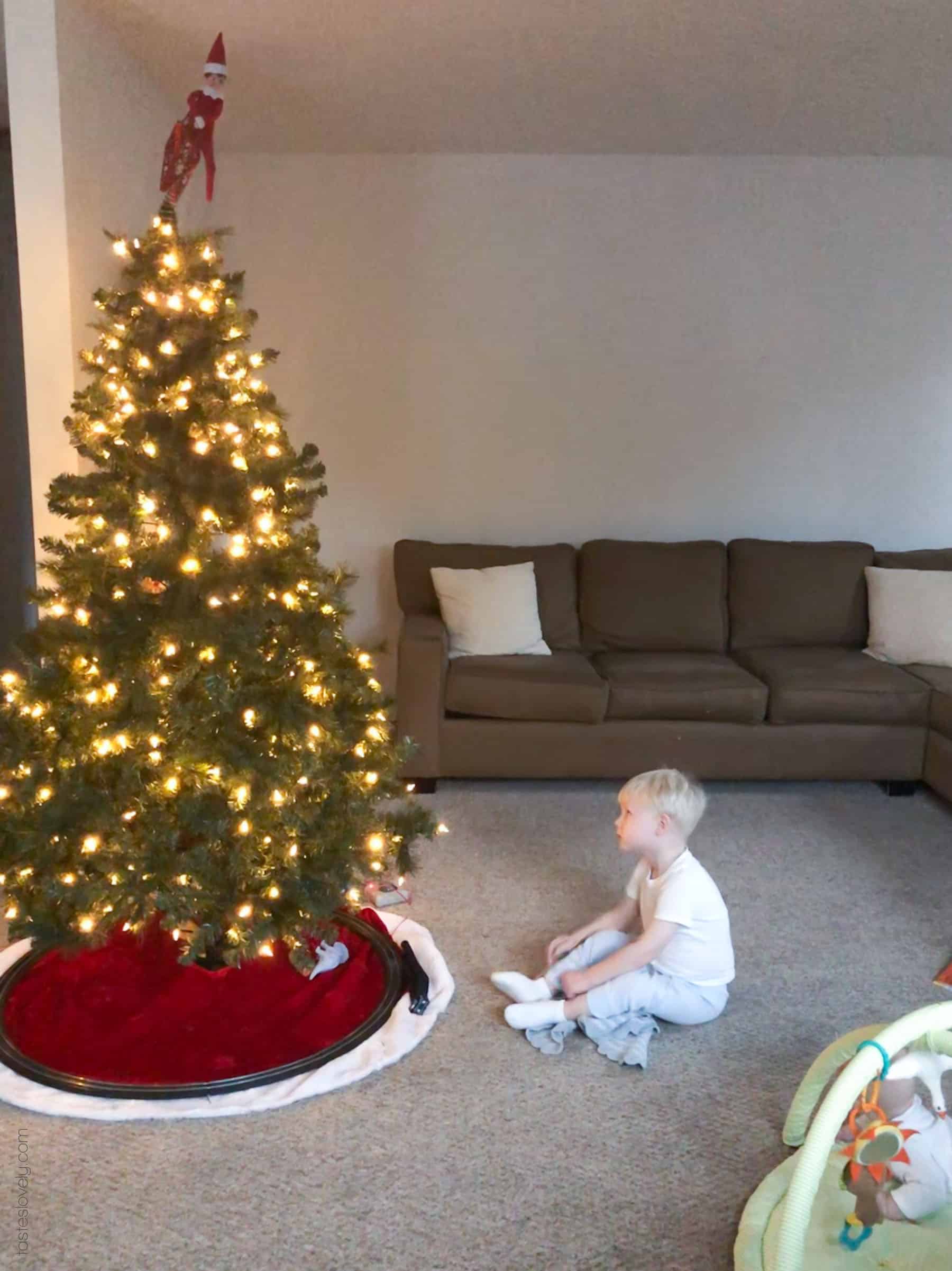 8:00am – Josh is out of bed, and searching the house for our Elf on the Shelf. I hid it on top of the Christmas tree. So cute. Ryan has tummy time, Josh plays with toys.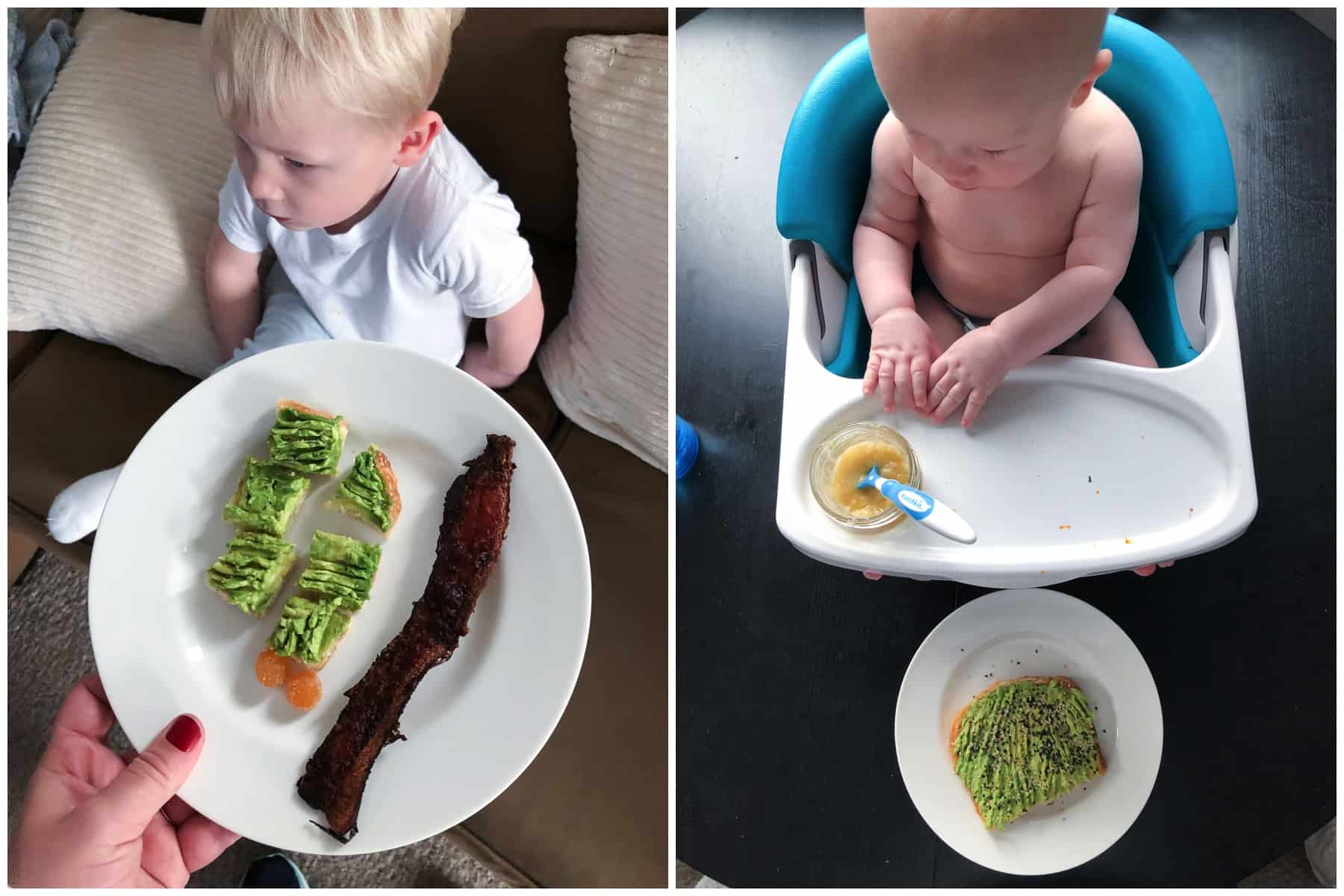 8:15am – Breakfast. Josh is having bacon and avocado toast and his gummy vitamins on the couch while he watches a show. I'm having avocado toast. Ryan is having 1/2 a banana I mushed up. Josh finishes his breakfast and comes over to help me feed Ryan. It's so cute I die.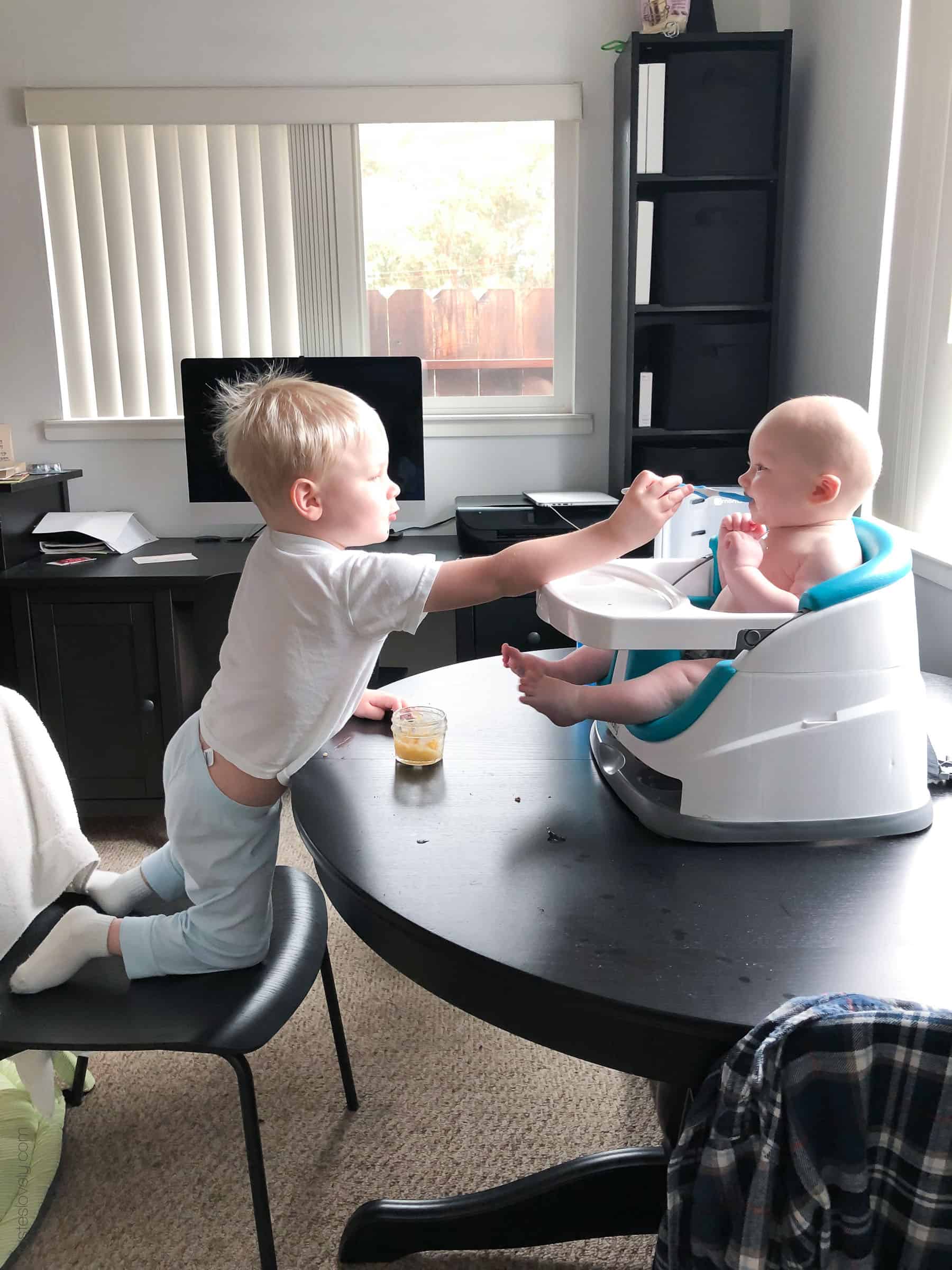 8:40am – Get Josh ready for school. He just started preschool this fall. He goes Tuesdays + Thursday's from 9-11:30. He is loving it! We load up in the car and drive him to school.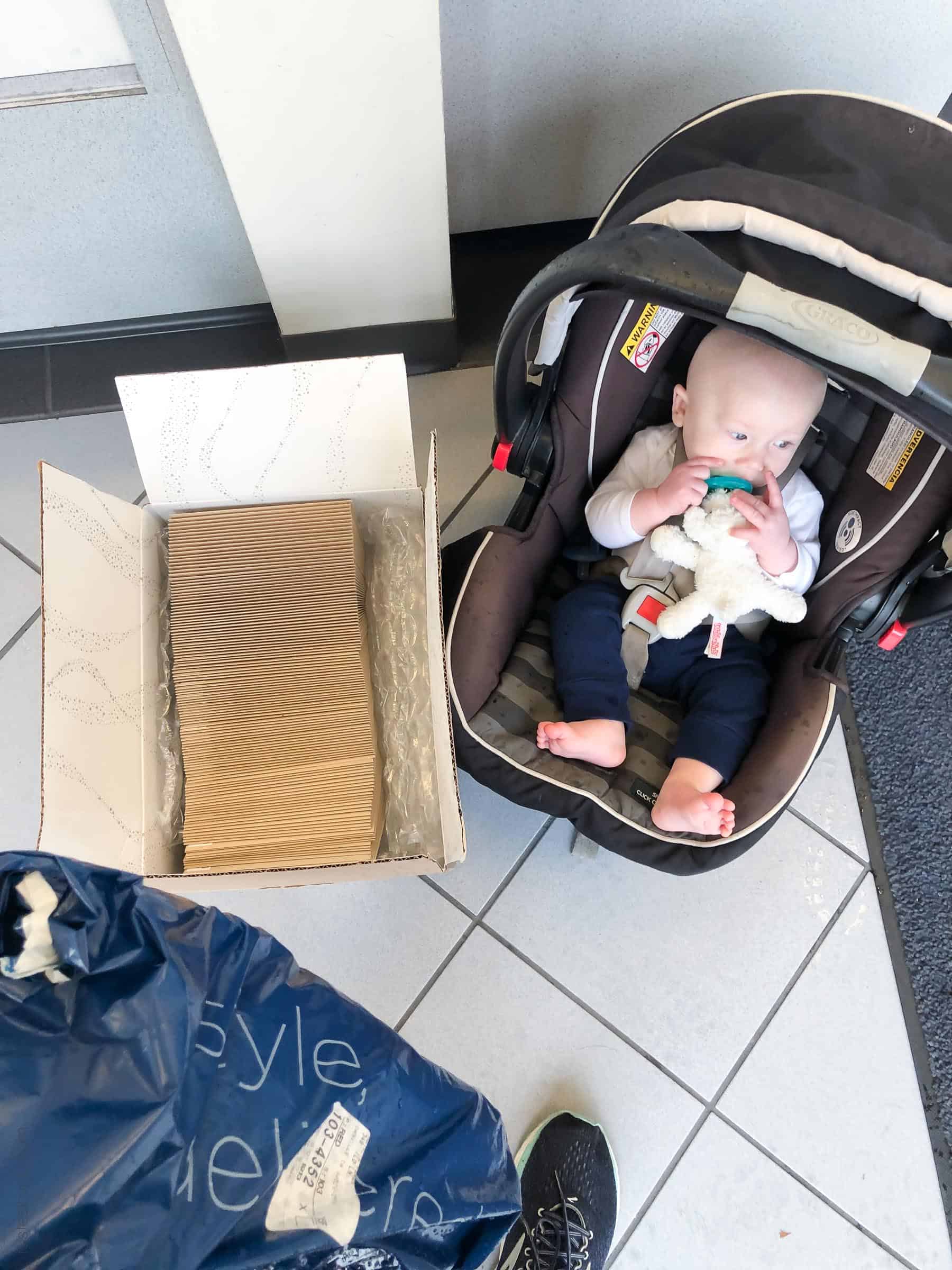 9:00am – Drop Josh off at school, then head to the post office to mail out my Christmas cards and return some shirts to Old Navy. Shawn said the shirt is too tight because his muscles are too big. Ha! It is pouring rain when we leave the post office, Ryan and I get soaked.
9:15am – Home, get Ryan dry clothes, nurse him and get him down for his first nap. I prep some food I'm going to use to make Ryan some homemade baby food. I roast off some sweet potatoes, and get some oatmeal cooking on the stove. I peak at my phone for the first time that day, scan emails to see if there is anything urgent, and post the cute pic of Josh feeding Ryan on Instagram. Shawn stops by the house because he is drenched from the rain. He gets some dry clothes, we smooch, and he's off.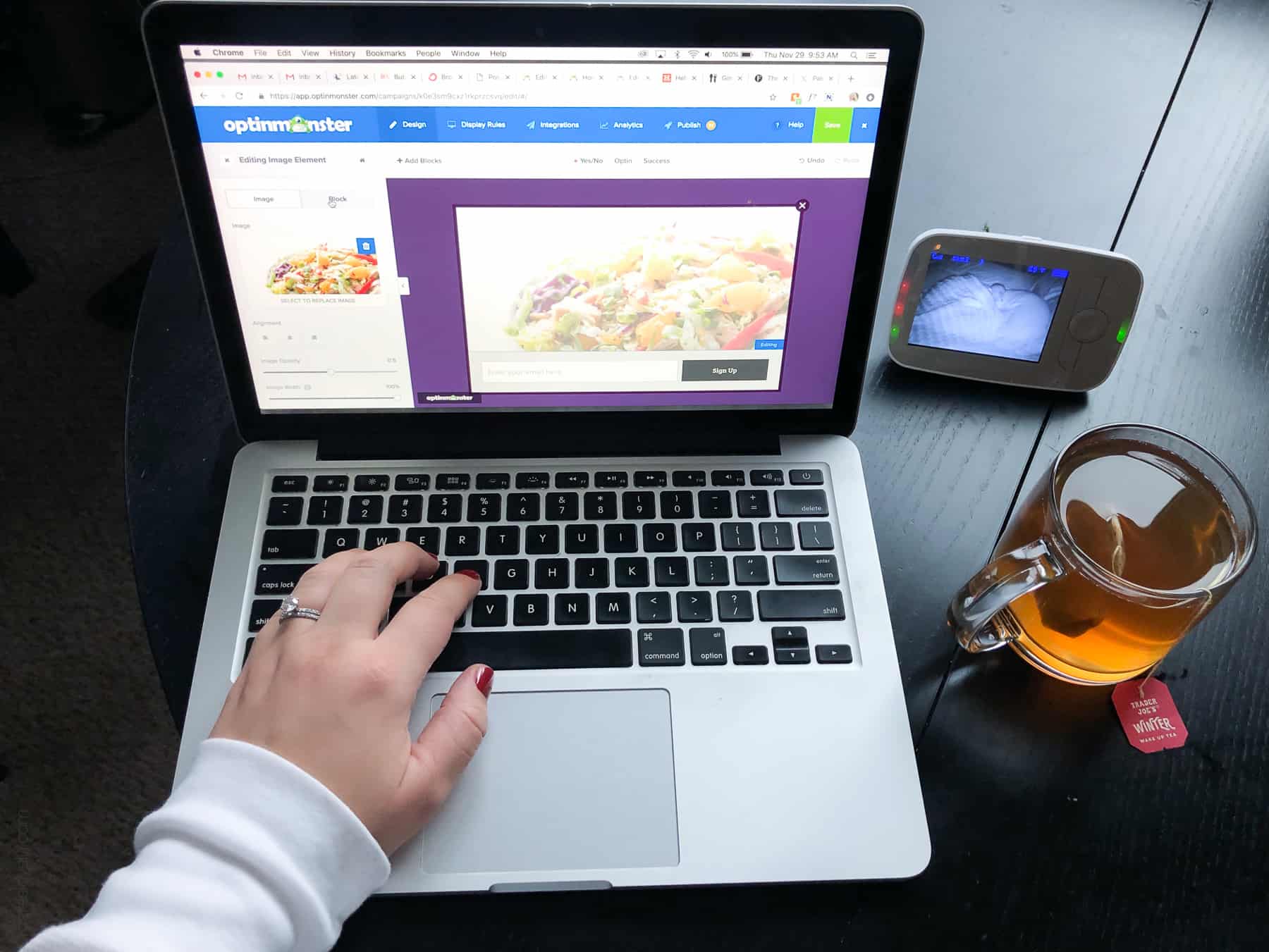 9:45am – I sit and spend WAY too long trying to figure out coding for my email subscriber provider. Boring stuff that is much too complicated. Some of this backend blog stuff is so hard to do! I email a blogging friend asking her how she did it. She says she paid someone. I might need to do that too.
11:10am – Ryan is still sleeping like a perfect angel. Hope this sleep helps him feel better. I have to wake Ryan up to go pick up Josh and feel bad. Load him in the car, and we go pick up Josh.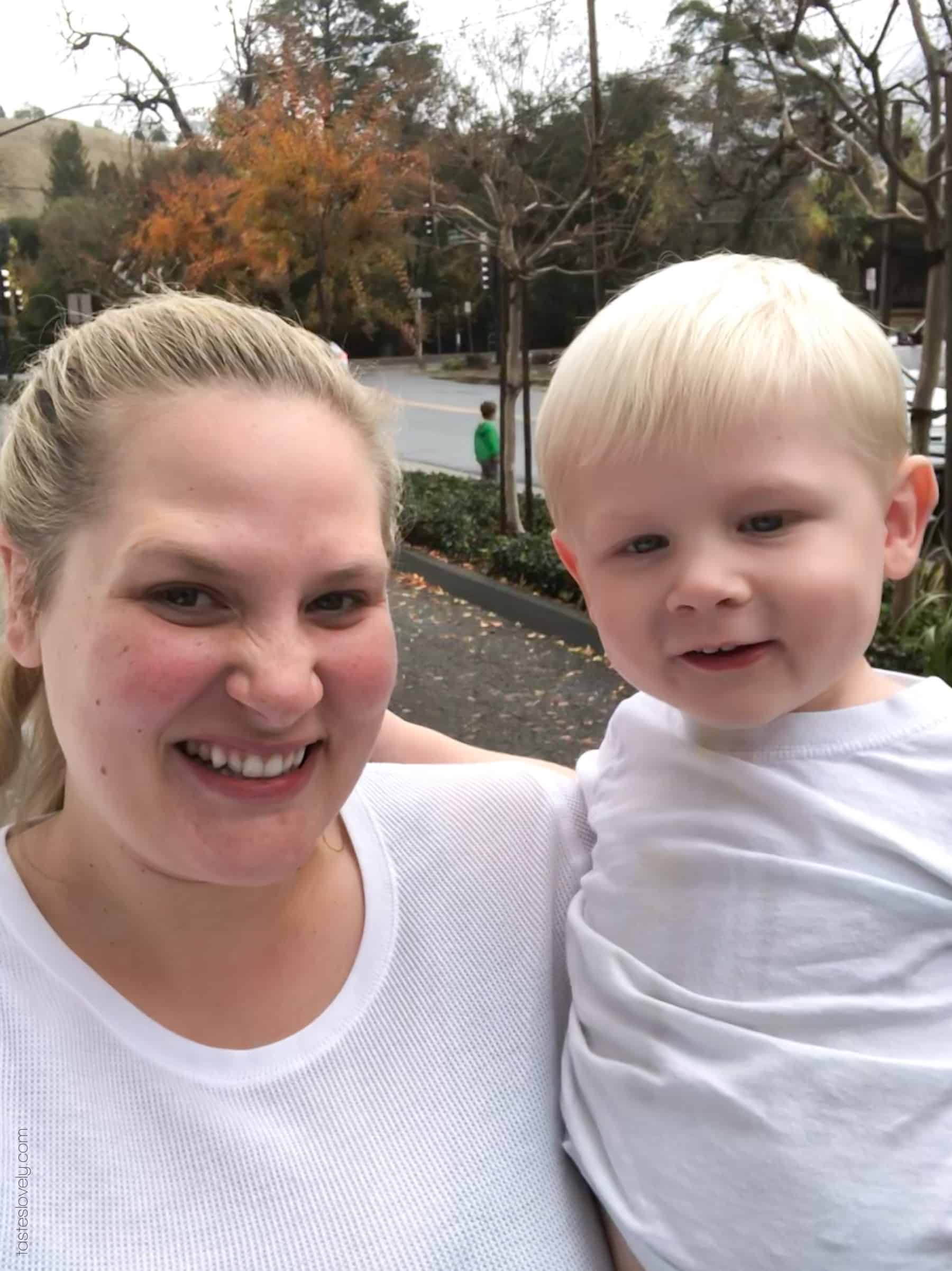 11:20am – I love picking Josh up from school! He's always so happy and excited to see us! It's my favorite. On the way home he tells me about school, says he had apples and crackers for snack, asks questions about puddles, and we call daddy on the way home to say hi.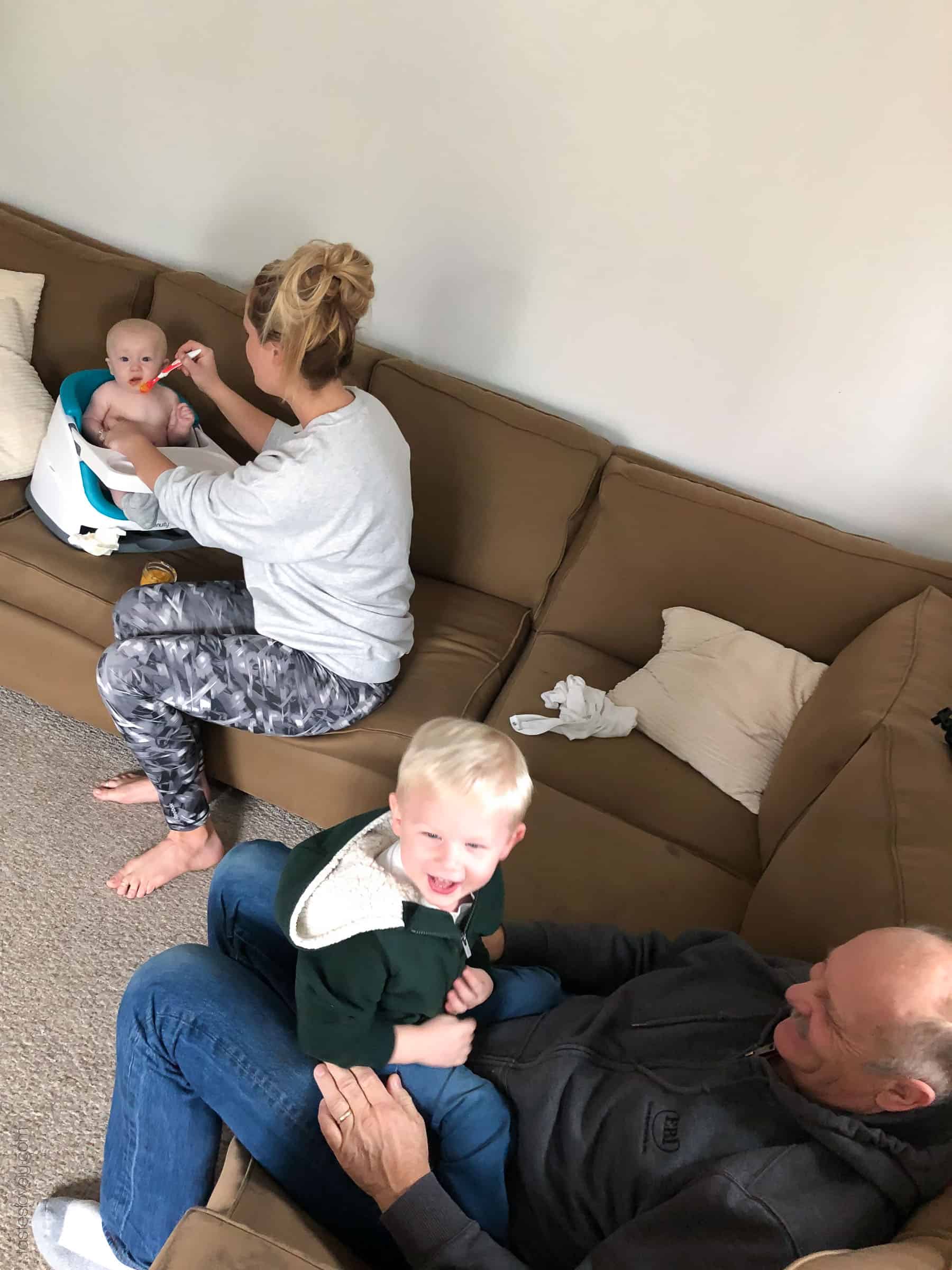 11:30am – Home. Inside playing for a few minutes, then my sister and dad surprise me and come over to say hi. My favorite! My dad was helping Nicole with something around the house. Josh is so excited to see them. Nicole holds Ryan and my dad plays with Josh while I finish making Ryan's baby food. So glad they stopped this by so I can finish the baby food real quick! In my blender I combine cooked oatmeal and bananas for breakfasts, and then I combine roasted sweet potatoes, turkey (leftover from my family Thanksgiving on Saturday), and homemade bone broth for lunches. Put them in 4 oz mason jars, put a few in the fridge and the rest in the freezer, and am done with the whole thing in maybe 10 minutes. My sister feeds Ryan his new sweet potato turkey lunch. His first time having meat! He loves it! He is doing so well with solids. I play with Josh and my dad. We chat and laugh.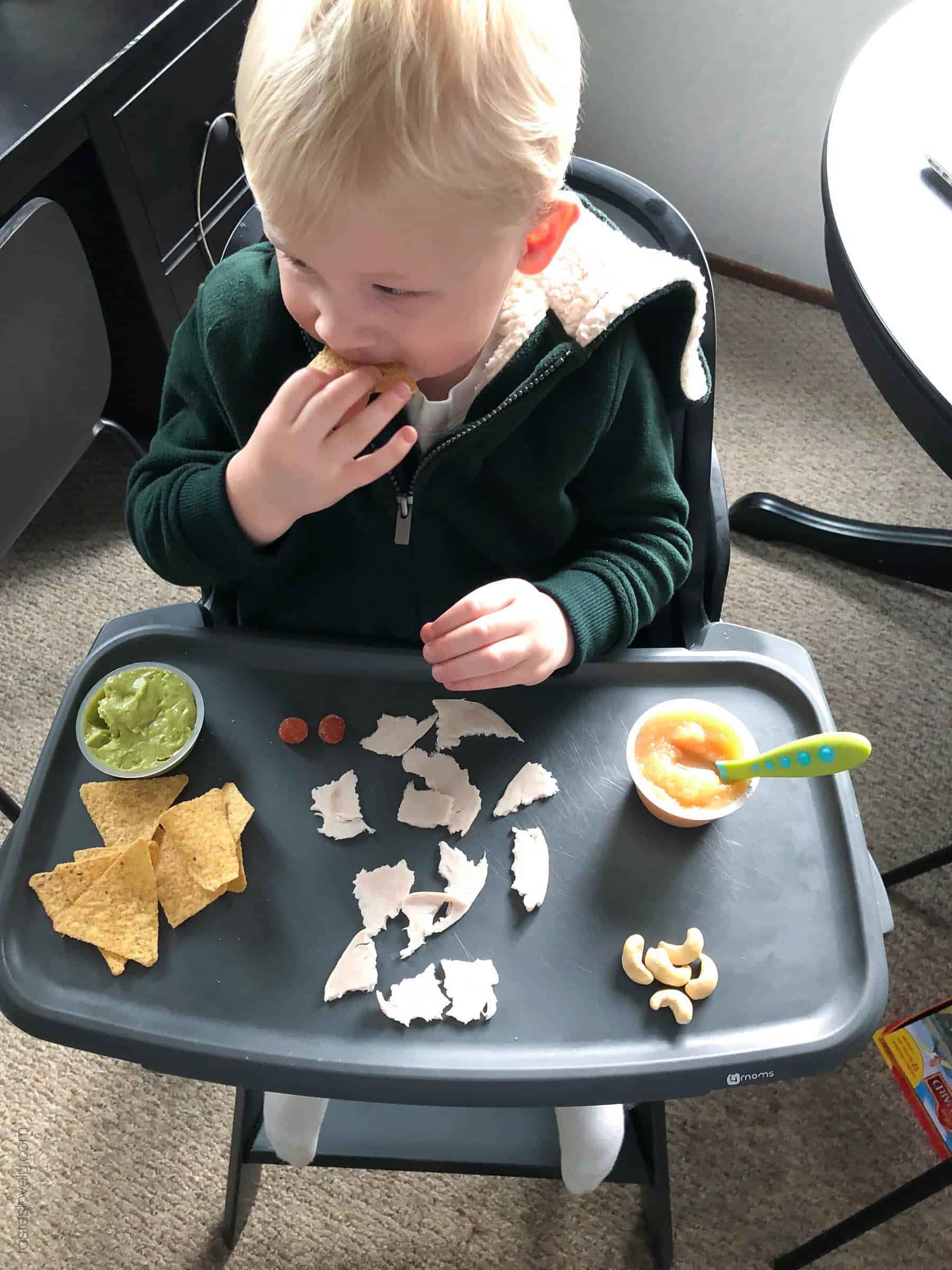 12:15pm – Make Josh's lunch. He watches a show while he eats lunch. I play with Ryan. Then nurse Ryan and get him down for his 2nd nap at 12:45. Then get Josh down for his nap at 1:00pm. Josh ate his whole lunch except his apple sauce. I eat his apple sauce. It's so good. Turns out this will be my lunch for the day. Got too busy to make myself anything. Whoops.
1:00pm – Jump on an onboarding call for a new software I'm going to use for reporting figures to brands when doing sponsored posts. It looks great! So excited about it!
1:45pm – Call is done. Try a little more work on my email subscriber coding. It's impossible. I want to give up. Email someone to see what they would charge to do it for me.
2:30pm – Ryan wakes up. Go in and nurse him. Then he plays in the bed. Realize I haven't even brushed my teeth yet today. Brush them real quick. I would do my makeup, but then Josh wakes up. Oh well, no makeup today. At least I won't have to wash it off at the end of the night!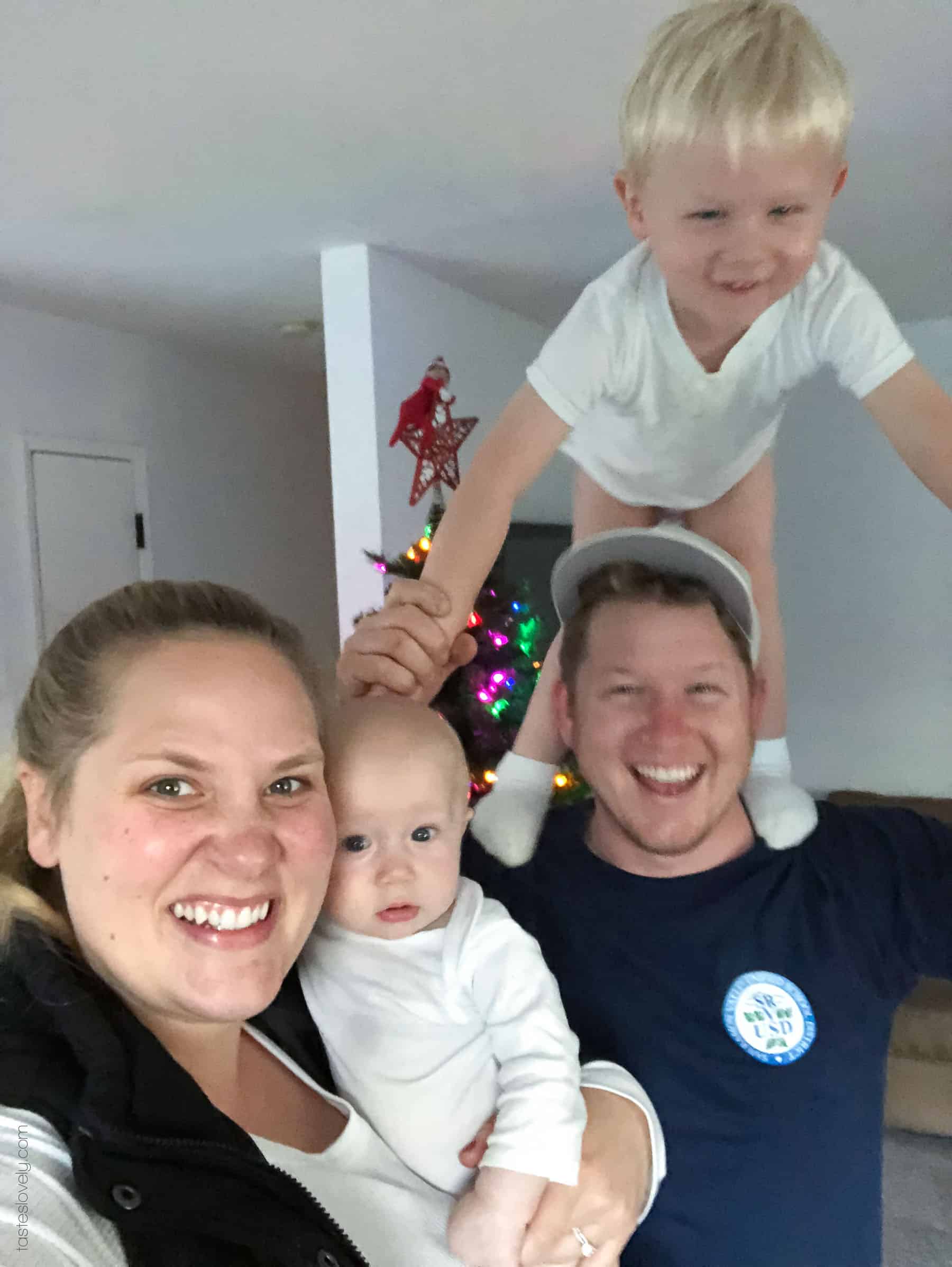 3:10pm – Shawn's home! Funnest time of day! Lately we put on Disney songs and all dance around and sing and it's seriously so cute and fun. Josh and Ryan love it. We throw them and twirl them and call it our Dance Party.
3:30pm – Nicole comes up to give me an extra wireless iphone charger she doesn't want. Score! She joins our dance party because she's the best aunt in the world. Then Josh asks to go to her house. She's our next door neighbor. It's raining, so we can't go to the park, so we go play at Nicole's house for an hour. She has WAY more Christmas decorations than I do, Josh loves it.
4:45pm – Head back home. Nurse Ryan and get him down for his last nap of the day.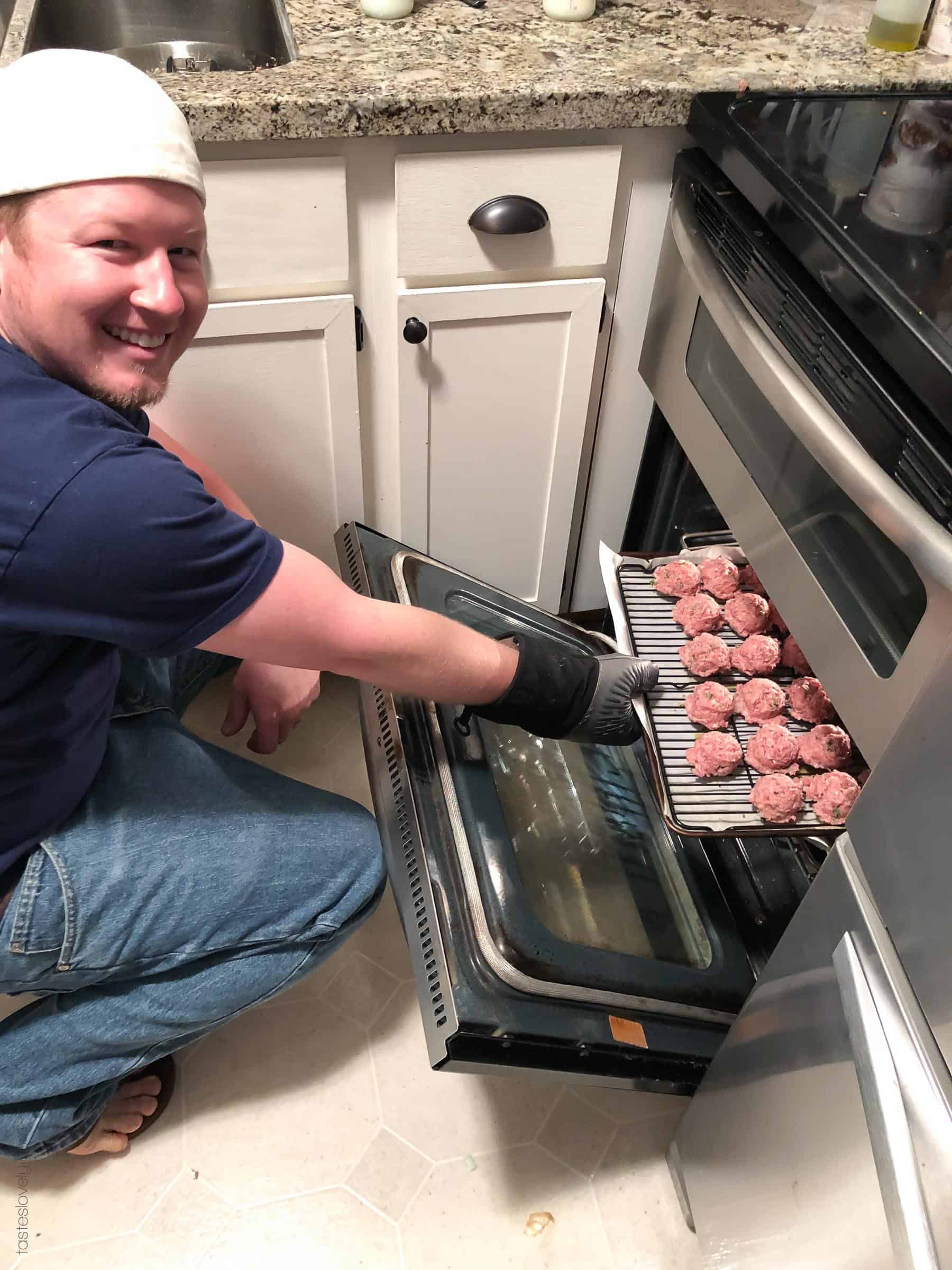 5:00pm – Shawn is an actual hero and offers to make dinner. We're having meatballs with spaghetti squash. He follows the recipe on my blog. It's so cute watching him cook. Josh watches a show, and I start writing this post.
6:15pm – Ryan is awake from his nap. And dinner is almost ready. I blend up some meatballs, spaghetti squash and bone broth for Ryan's dinner. I jar a bunch to freeze for future dinners.
6:30pm – Dinner! We're all having spaghetti squash and meatballs. Even Ryan technically! It's fun all having dinner together. Meatballs are Josh's favorite. I make meatballs once a week because it's the only guaranteed way I can get Josh to eat red meat. I love them. Shawn says he's getting sick of them, but then he eats them and says he loves them and goes back for seconds, ha! Ryan loves them too pureed in baby food form!
7:00pm – Done with dinner. The boys are playing with Shawn on the floor. I'm cleaning up the kitchen and chatting with my mom on the phone. Josh is starting to play a little rough. He's been really into throwing things lately. So he has a "calm down" in his room, which is the nice way of calling it a timeout while he settles down. So far Josh being three years old has been lots of fun and also lots of "calm downs".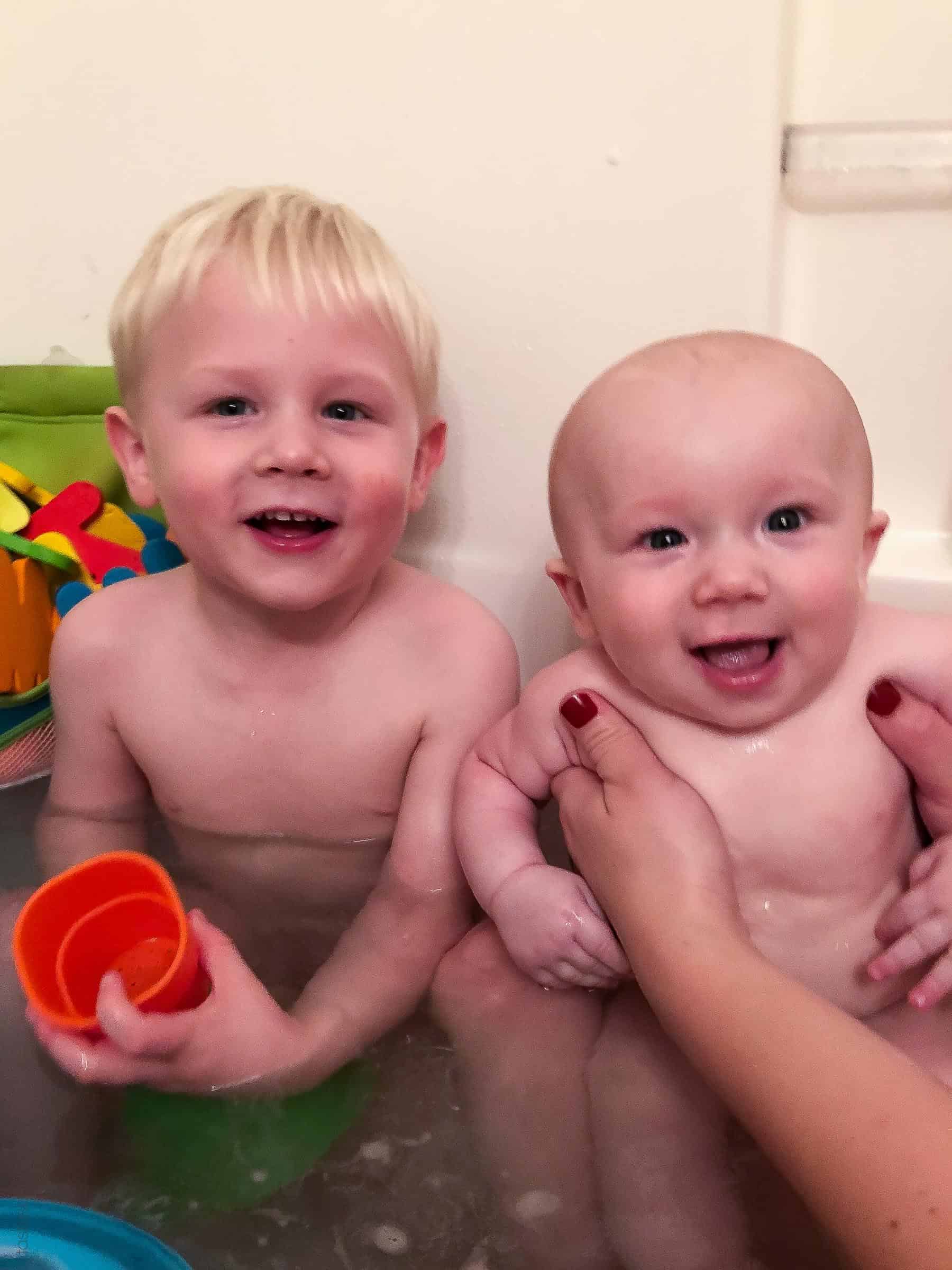 7:45pm – Bath time. I take a fast shower, then Ryan and I take a bath together. It is so sweet and cozy. He is such a little love! It's a time of day when he gets absolutely alllll of my attention. He loves the bath. LOVES. 15 minutes later Josh comes in to join us. He splashes a lot. It's no longer a peaceful bath but a big splashy bath. Shawn picks up the house during bathtime. Then comes in and grabs Ryan and I get out too.
8:10pm – Josh gets out the bath. Shawn gets him in jammies and they read books in his room. I lay with Ryan and nurse him and get him to bed. Then I go and join Shawn and Josh for stories and we do a puppet show.
8:40pm – Josh tries a million different ways to divert bedtime. And he's behaving so well that I actually want to let him stay up and play with him! We read him 1 more story, he goes potty one last time so he wakes up with a dry bed (hasn't had a nighttime accident in WEEKS!), then we tuck him in.
8:45pm – Shawn starts working on taxes. We just hired a virtual bookkeeping service. He has to get a bunch of stuff together so the new bookkeepers can get to work. I pump, then I finish this post.
10:30pm – We head to bed. I read for a bit, because I can't fall asleep without reading. I'm reading a book that I am loving! The Woman In The Window. I'm on the edge of my seat! Shawn falls asleep instantly.
11:00pm – I go to bed and hope Ryan only wakes up once or twice tonight, fingers crossed!