Paleo & Whole30 Beef Stew – dutch oven and slow cooker recipe. The MOST delicious beef stew you will ever have! With a secret ingredient that makes this stew amazing. Paleo, Whole30, gluten free, grain free, dairy free, sugar free, clean eating.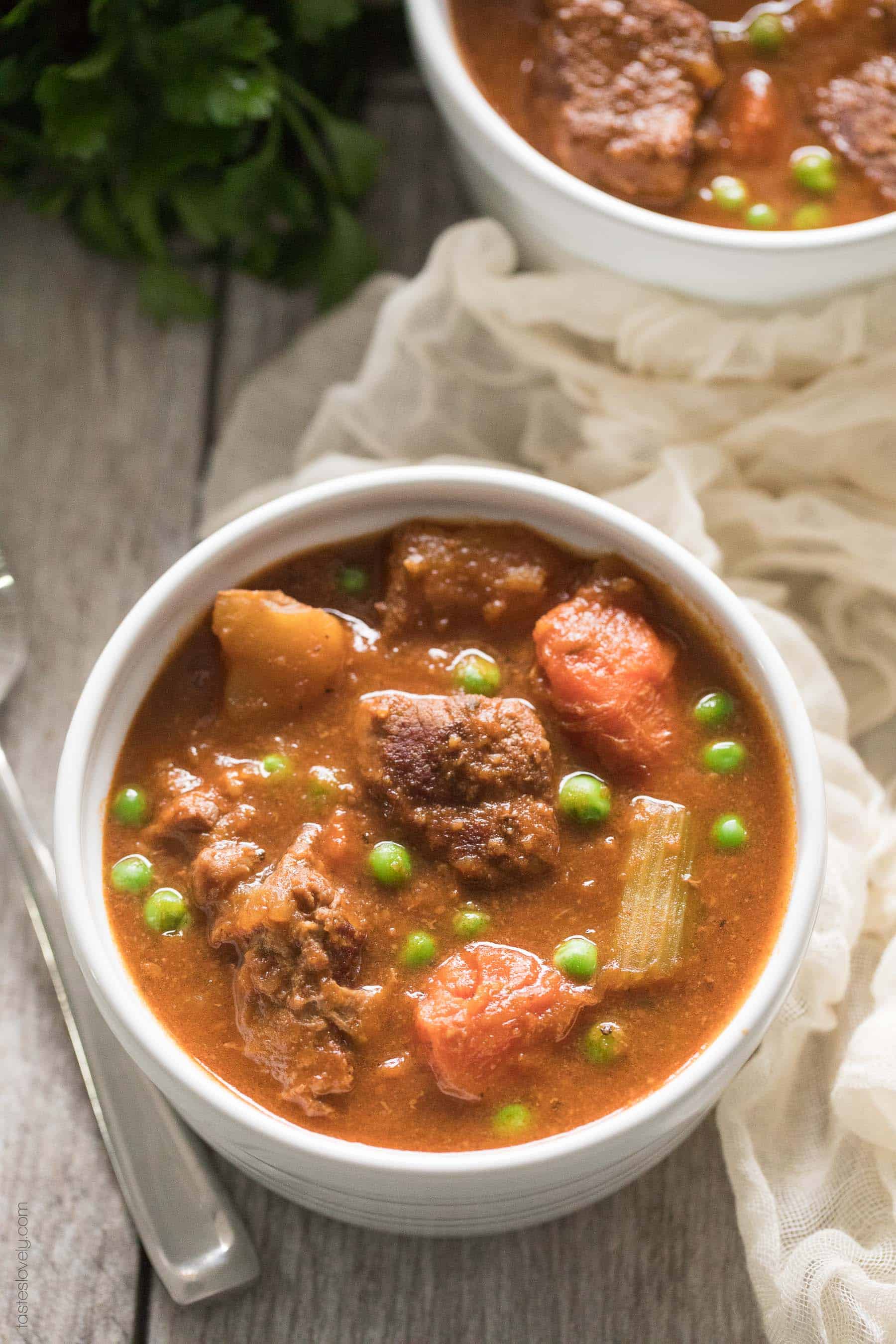 I have gotten SO many emails and Instagram comments from readers who are doing Whole30 for January and are loving all of my Whole30 recipes! At first Whole30 can feel overwhelming since you're eating just meat, vegetables, fruit, nuts and some cooking oils. Leaving you to wonder, "What the heck can I eat?!" But there are soooo many amazing dishes to make using clean and whole ingredients that taste delicious and leave you feeling nourished and great.
One of my favorite Whole30 recipes to make in the winter is this paleo and whole30 beef stew. It is the definition of comforting! And savory and filling and delicious and most importantly healthy.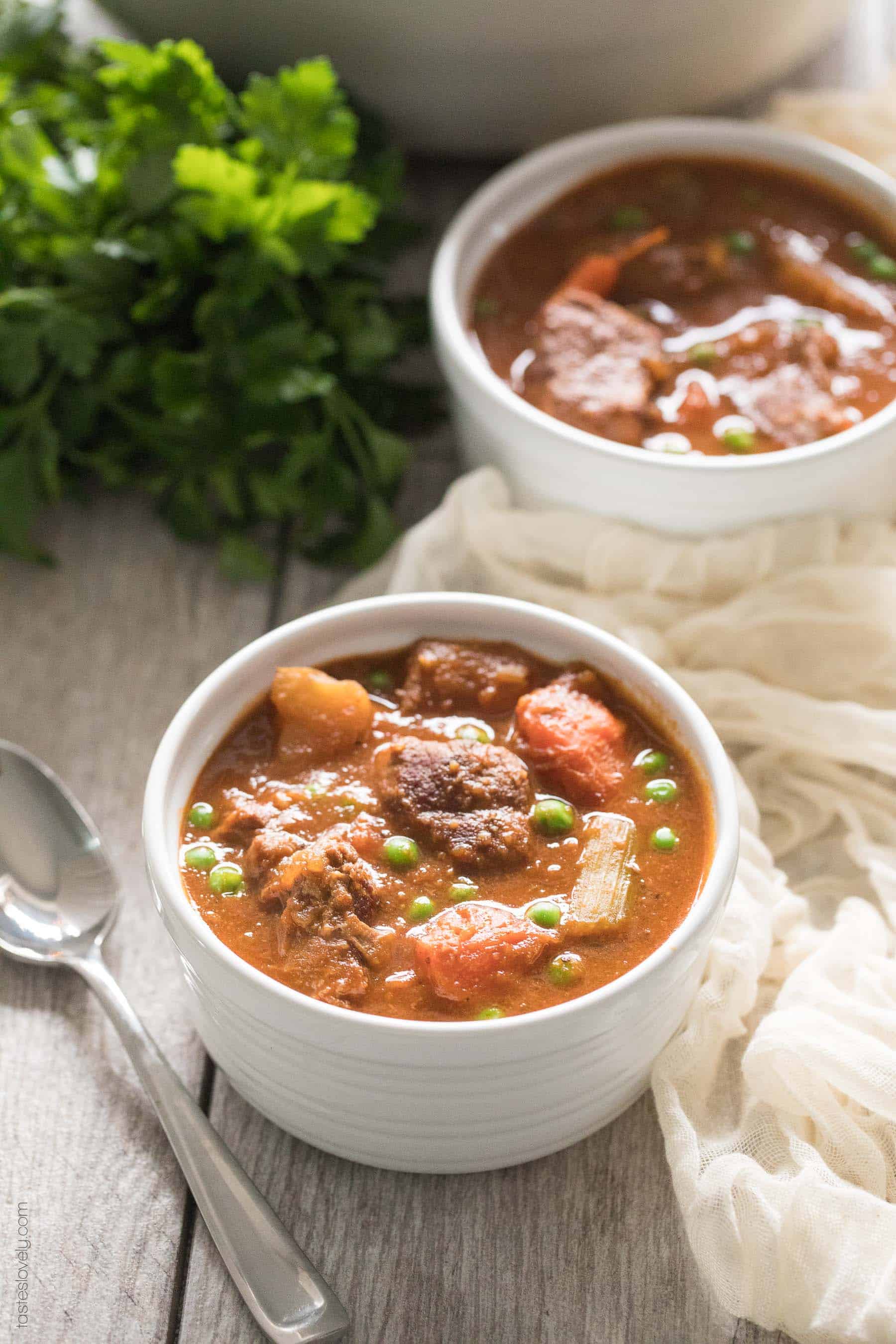 I've included directions on how to cook this beef stew in your oven using a dutch oven, or in a slow cooker. If you're home all day, I love cooking it in my oven in the dutch oven all day. I find it to be even more aromatic while cooking, making my house smell amazing and cozy. Plus all the prep steps are in the dutch oven, so why not continue cooking the stew in there so you don't need to dirty any more dishes?
But if you're going to be gone all day and feel safer having it cook in your slow cooker, I've included directions for that as well.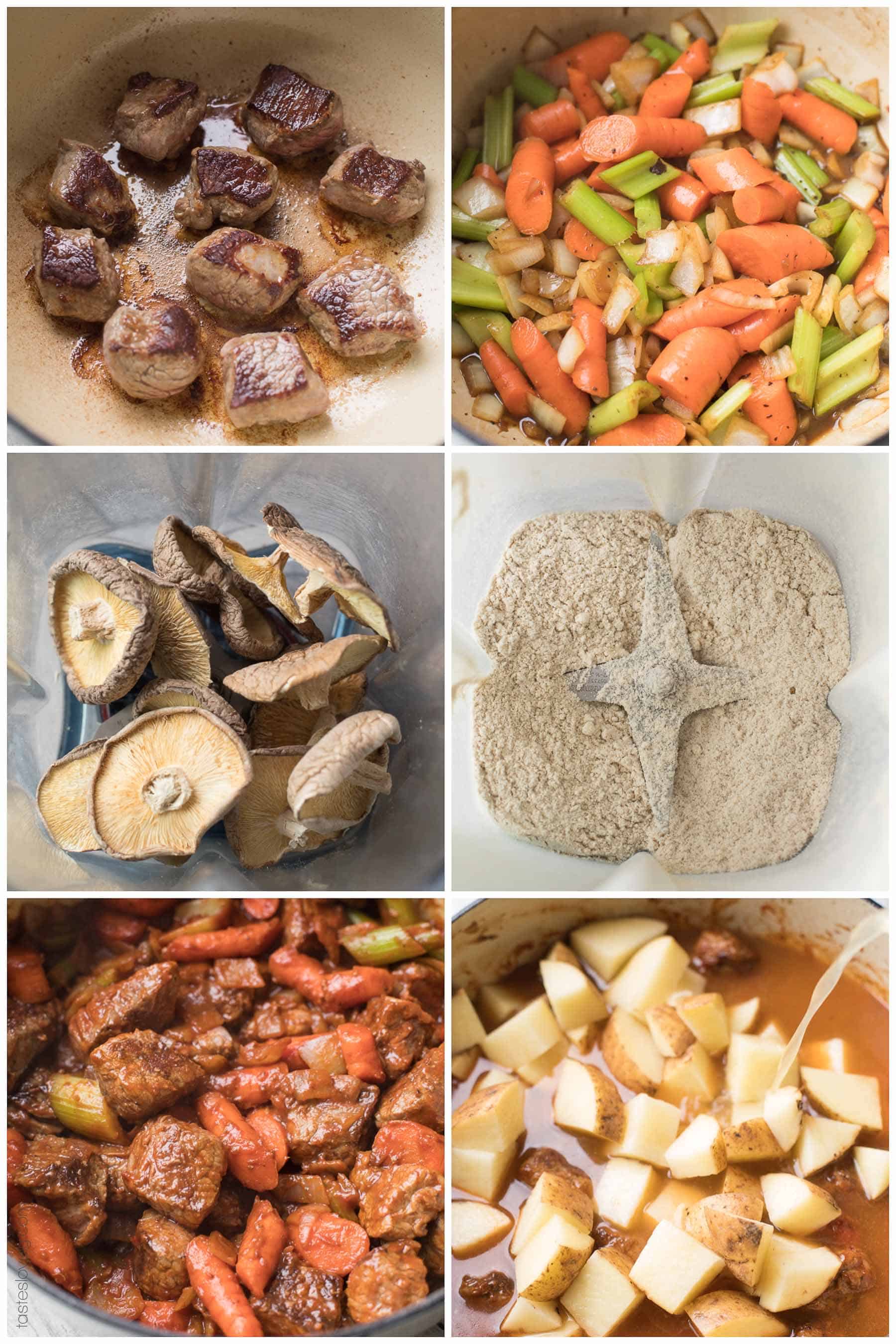 The stew starts by browning the beef, and then sautéing the vegetables. This step is SO important to build tons of flavor. You may be tempted to save time and throw all the raw ingredients in and start cooking. Don't. Browning the beef and sautéing the vegetables gives it a greater depth of flavor that adds a richness to the beef stew. It's worth the extra time it takes to do these steps. Trust me.
This beef stew has no flour to thicken it. It does have a very essential secret ingredient. Dried shiitake mushrooms! They add tons of savory and umami flavor to the beef stew. I find it also helps to thicken the stew a tad so it is the same consistency that you're used to.
I grind the dried shiitake mushrooms in my high speed blender until they are a powder. I then stir the powdered shiitake mushrooms into the stew when I add the tomato paste. You will be amazed how much richness this beef stew has in it.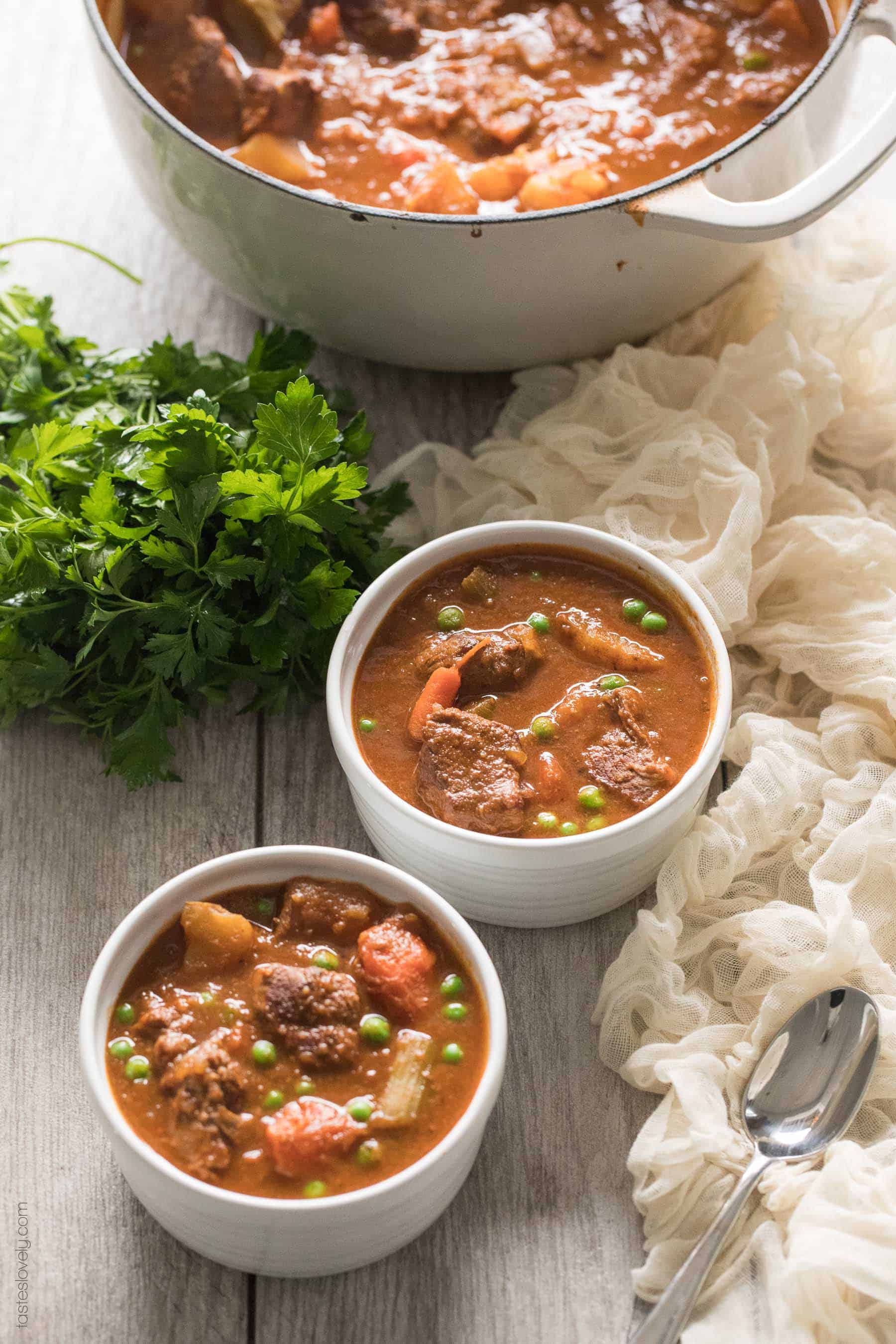 This paleo & whole30 beef stew recipe makes a great big pot. Enough for 8 servings. I like to make it for dinner, and then we'll have it for lunch for the next few days. Or, I'll freeze half of it to use in the future. This beef stew freezes beautifully! It will keep in the freezer for at least a year.
Print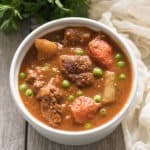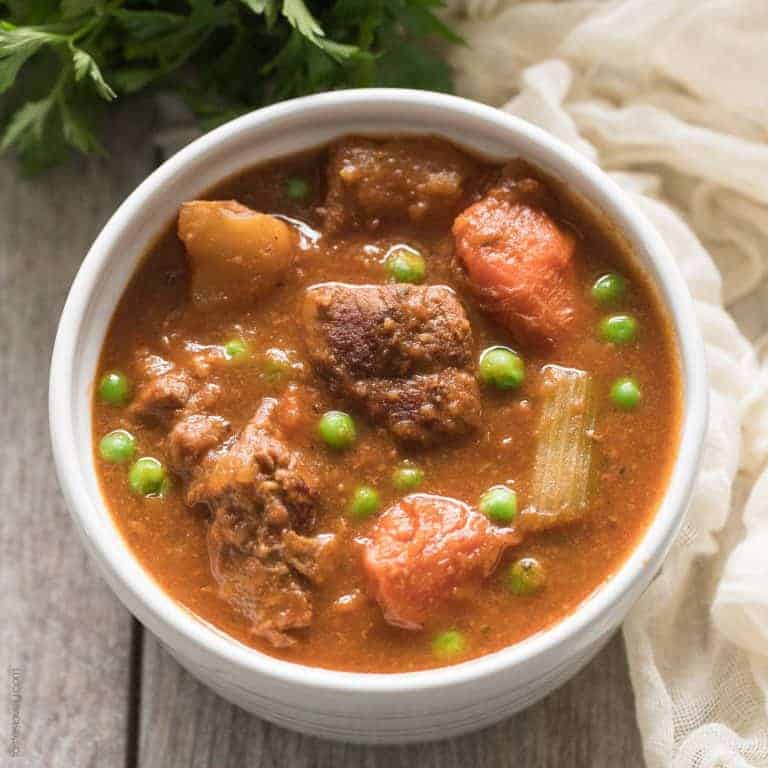 Paleo & Whole30 Beef Stew (Slow Cooker or Dutch Oven)
---
Author:

Prep Time:

40 minutes

Cook Time:

6 hours

Total Time:

6 hours 40 minutes

Yield:

8
Ingredients
2 pounds beef stew meat that is cut into 1″ chunks, patted completely dry with a paper towel
salt and pepper
1 tablespoon olive oil
6 medium carrots, cut into 3/4″ chunks
6 medium celery stalks, cut into 3/4″ chunks
1 large yellow onion, chopped
3 cloves of garlic, grated or finely minced
1/2 cup tomato paste
1 ounce package of dried shiitake mushrooms, blended to a powder in your blender or spice grinder
8 cups chicken or beef stock
2 large gold potatoes, cut into 3/4″ chunks (I leave the skin on)
2 teaspoon thyme leaves (dried or fresh)
2 bay leaves
1.5 cups frozen peas (leave out if doing Whole30)
---
Instructions
Soup Prep
Heat a dutch oven (or heavy bottomed soup pot) over medium heat. Add 1 tablespoon of olive oil. On a dinner plate, lay out enough of the beef stew meat that will fill the bottom of your dutch oven in an even layer without the beef touching. Sprinkle the top of the beef with salt, then transfer to the dutch oven salted side down to brown. Cook about 5 minutes (or until browned), sprinkle the top of the beef again with salt, then flip to brown the other side. Transfer the browned beef to a plate. Repeat this process until all the beef is browned. It takes me 3 batches to brown all the beef.
After the meat is browned, add the carrots, celery, onion and garlic to the dutch oven, along with 1/4 cup of the stock. Season with 1 teaspoon salt and pepper. As the stock boils, scrape up all the brown bits from the bottom of the dutch oven (this all has tons of flavor!). Continue to cook the vegetables until softened and browning, about 5-10 minutes.
Add the tomato paste and blended powder from the dried shiitake mushrooms, stir to combine.
Add the stock, potatoes, thyme and bay leaves.
Dutch Oven Cooking Instructions
Cover the dutch oven with its lid, and cook in a 300º for at least 6 hours.
Slow Cooker Cooking Instructions
Transfer the beef stew to your slow cooker, and cook over high heat for at least 6 hours.
Serving
5 minutes before serving, turn off the heat. Remove the bay leaves, and add frozen peas. Taste for salt and pepper and add more if needed. Serve warm.
Leftovers will keep in an airtight container refrigerated for 1 week, or frozen for up to 1 year. This stew freezes beautifully!
Notes
It is really important to not overcrowd the dutch oven as the beef is browning. Otherwise, it will steam and not brown. Browning it properly adds TONS of flavor!
I do not pepper the beef because I find that searing it with pepper makes the pepper taste bitter. Instead I add pepper to the stew after adding the vegetables.
You can find the dried shiitake mushrooms in the international/asian section of the grocery store.
The beef stew I use is the precut "beef stew meat" that is in the meat section at the grocery store.
You want to leave the vegetables cut large (3/4″), otherwise they disintegrate while the stew is braising and you won't have any vegetables chunks.

More Paleo/Whole30 Soups: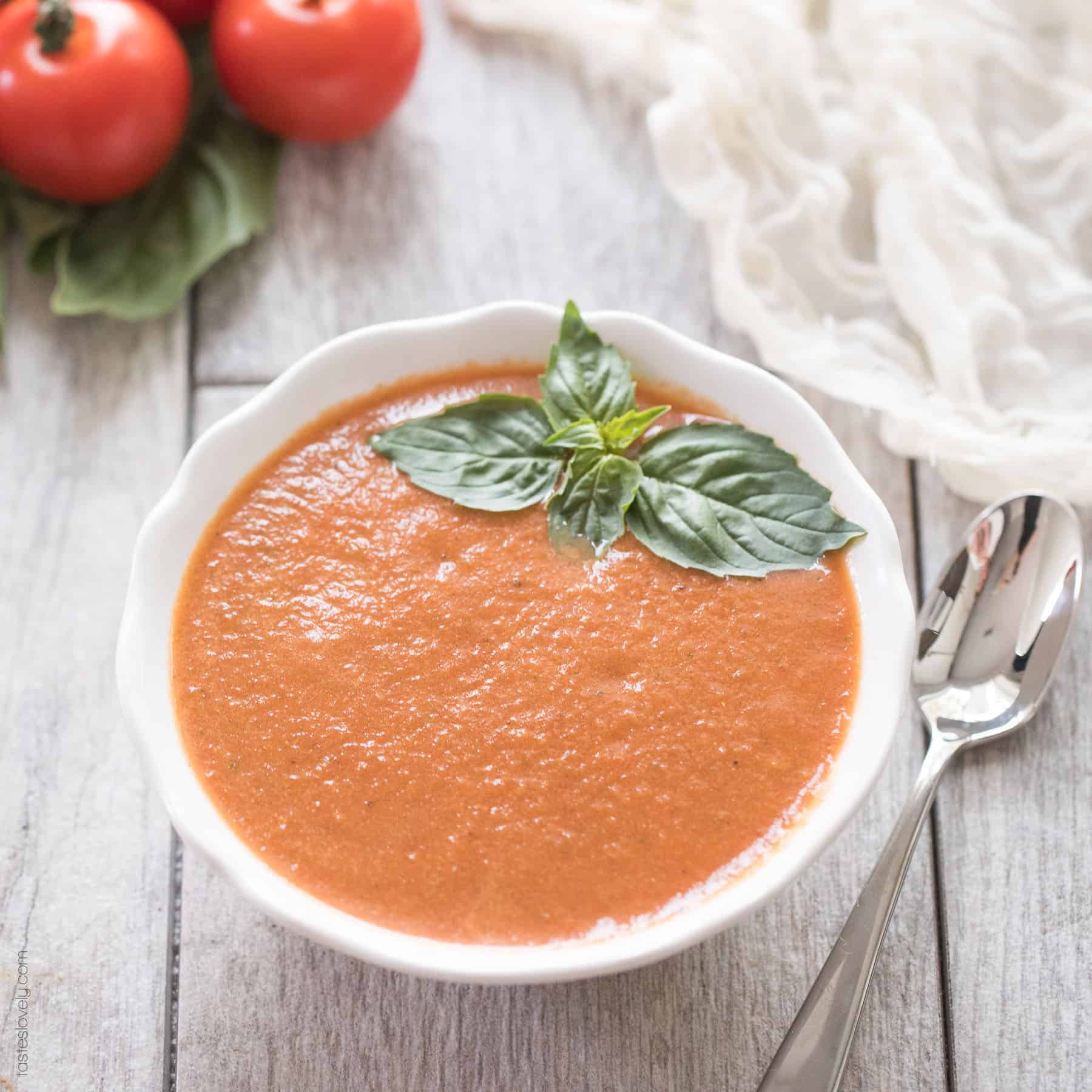 Paleo & Whole30 Tomato Basil Soup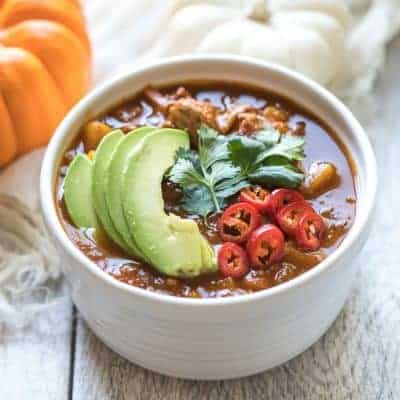 Paleo & Whole30 Pumpkin and Turkey Chili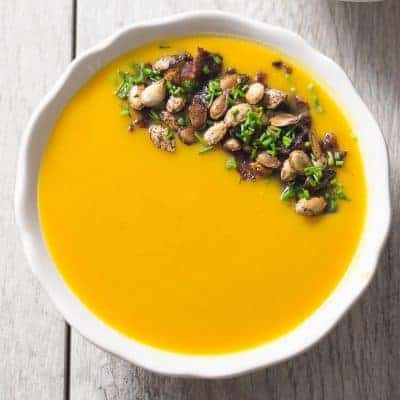 Paleo & Whole30 Roasted Butternut Squash Soup
This post contains affiliate links, thanks for the love!