A Day in the Life :: Spring 2018
A glimpse into a day in my life! This particular day was Thursday May 31, 2018. Josh just turned 2.5 years old, and I'm going to be 36 weeks pregnant the next day. A mix of mom life and work life with a few straight-from-my-iPhone pictures. I love my life so much!
7am – I wake up. Josh is still sleeping. Shawn has already left work. I didn't even hear him leave, again. If Josh makes the tiniest noise, my eyes pop open. Yet every morning Shawn's alarm goes off, he gets up, showers, gets dressed in our room and leaves, and I don't notice it AT ALL. Ha! I got a good nights sleep, only got up to pee maybe 3 times in the night, so not bad! Baby boy is kicking away in my tummy. He usually wakes up about 5 minutes after I do. So sweet. I play on my phone, check emails, go on Instagram. One of my best friends has her scheduled c-section tomorrow (we're due 3 weeks apart, both with boys), and we're texting all morning. I'm so excited for her! Josh slowly wakes up around 7:20. I let him wake up for about 10 minutes in his bed until he is chatting away and giggling. If I go in too early he'll be cranky and not ready to get up yet. Wonder who he gets that from? ME!
7:30am – I start the bacon for breakfast, and go in and get Josh. He's in a great mood! First thing he asks about is seeing the "dig digs". Our driveway is getting repaved, and there have been tractors galore in front of our house the past 3 weeks. Josh is in heaven. We look out the window at the tractor, cuddle on the couch, FaceTime Shawn to say good morning, and play with toys. It's one of my favorite times of day. Josh is so sweet and happy and fun and playful! We also FaceTime my friend Courtney, who has 2 little boys too. We chat, and plan on having a playdate at her house the next day.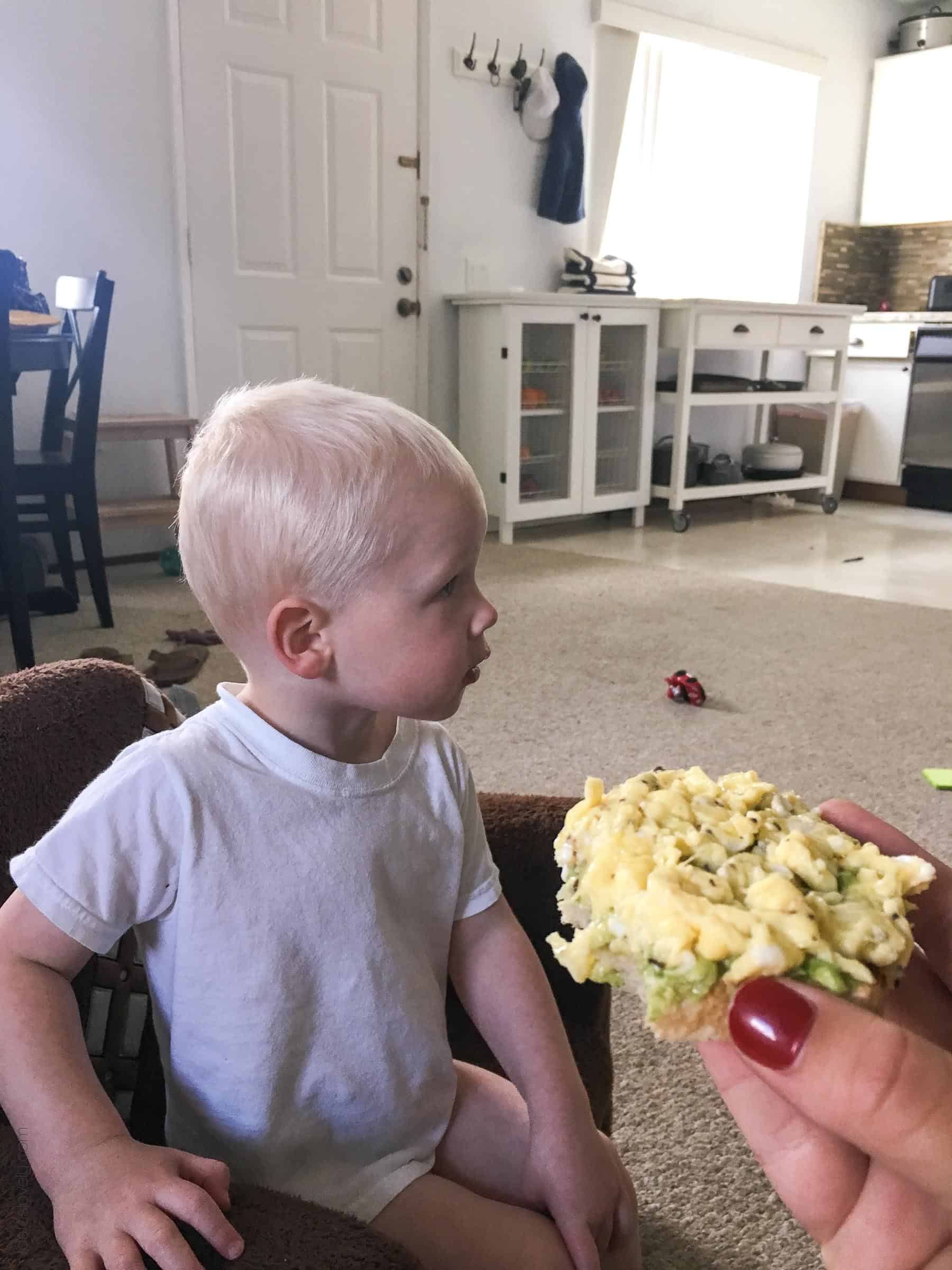 8:30am – Breakfast! Josh is having bacon, scrambled eggs, avocado and orange juice. I'm having avocado toast with scrambled eggs on top. Josh finishes his breakfast, always eating his bacon first, then asks to have some of my toast. Of course I share with him! We watch cartoons while we eat breakfast, Josh eats way more if the TV is on. Works for us! Today it is Daniel Tiger.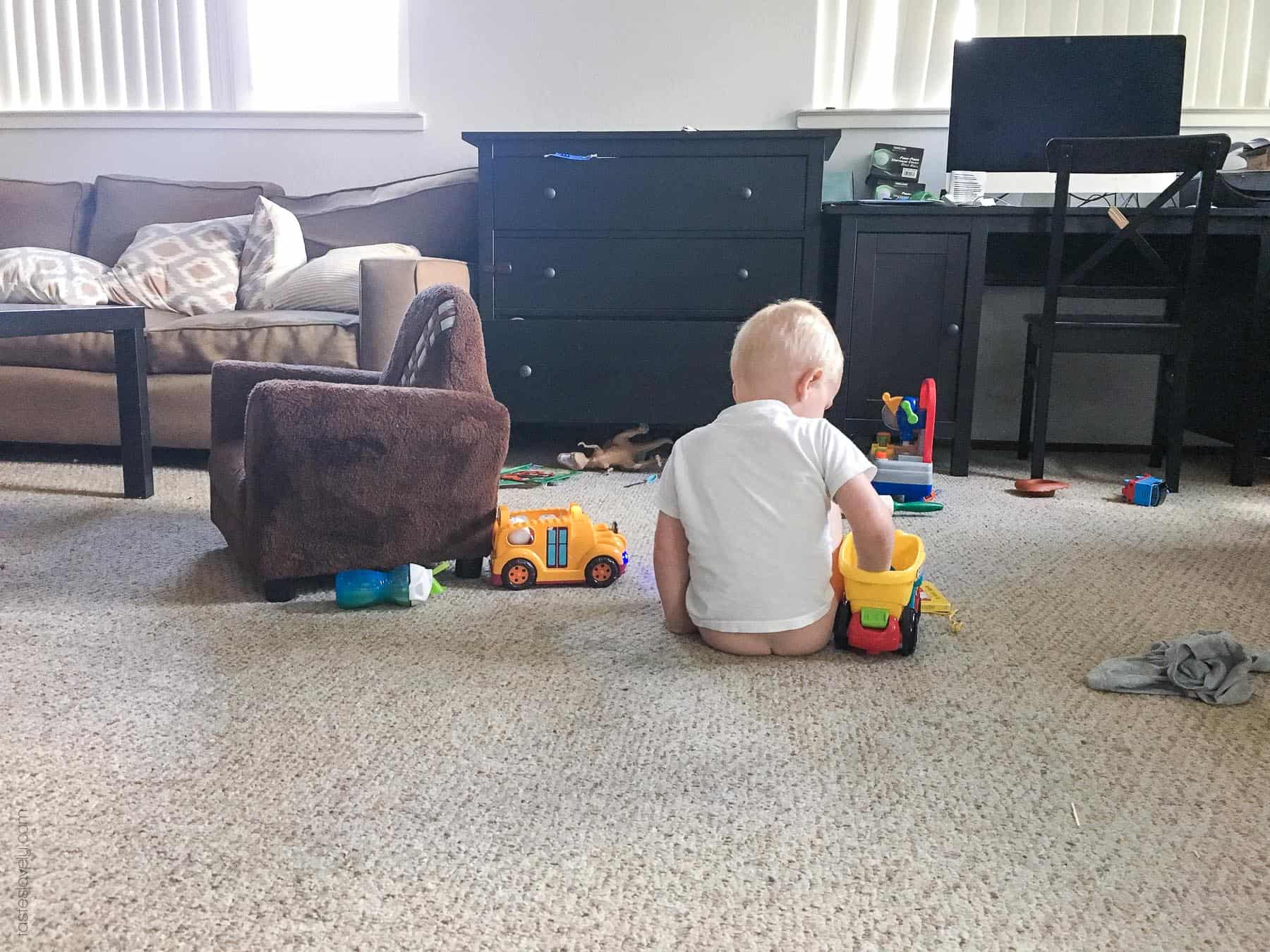 9am – Josh plays with his toys while I clean up breakfast, empty the dishwasher, and do a quick clean of the kitchen. And today it was playing with no pants on, because he pushed them down and did a big potty (a #2) all by himself and never put his pants back on, ha! He's been potty trained for 2 months now and it is going great! So proud of him!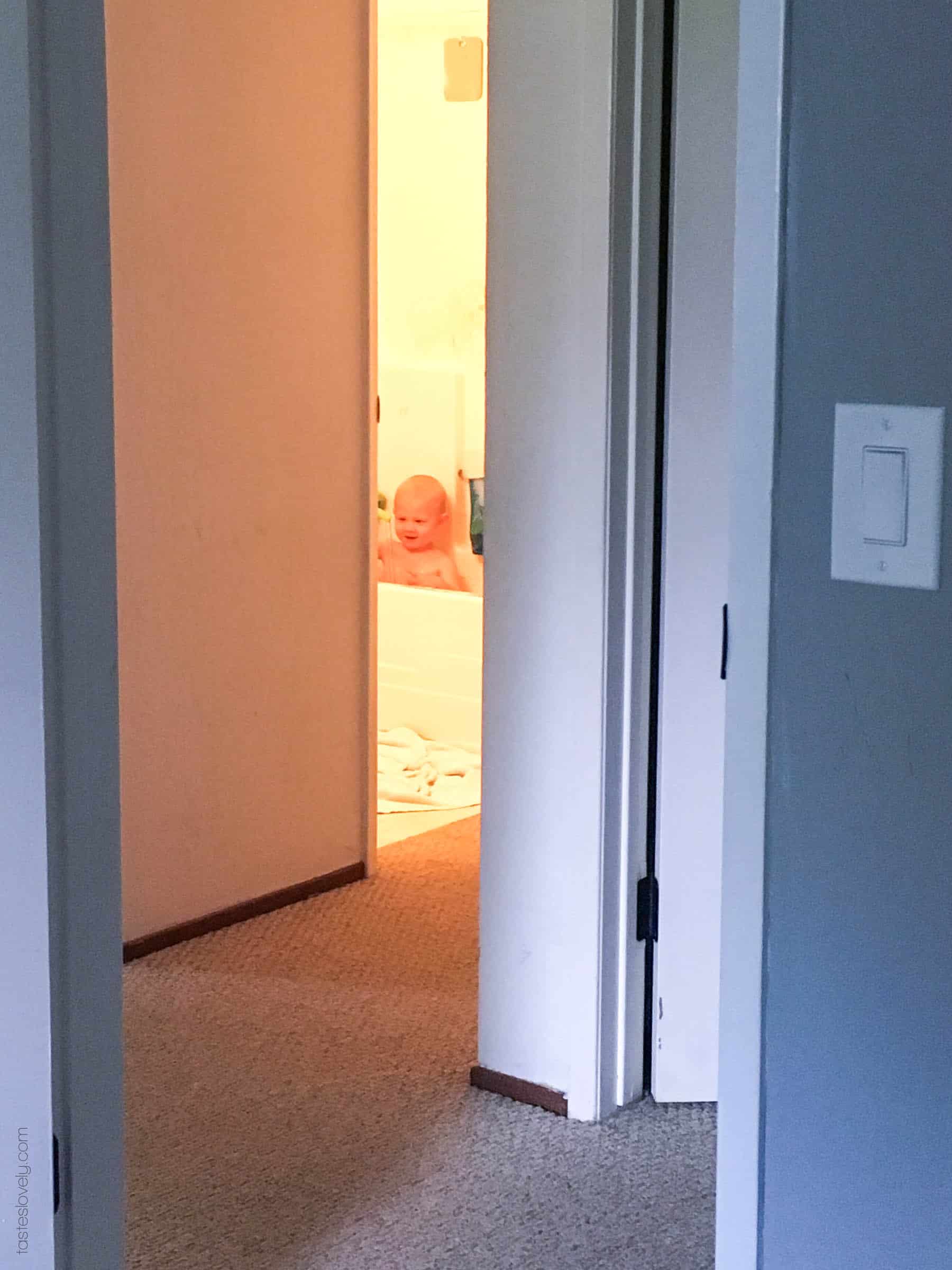 9:30am – We take our shower. In the winter I discovered if I brought Josh in the shower with me, he has the best time, plus he gets totally cleaned up from breakfast messiness, and I get a shower in without having to worry about him getting into mischief. Win win! He plays at the bottom of the bathtub while I shower above him, then I get out and get dressed and do my makeup for 10ish minutes while he plays in the bath. My bedroom has the perfect view of the bathroom so I can watch him the whole time, and I love how great he is at playing by himself.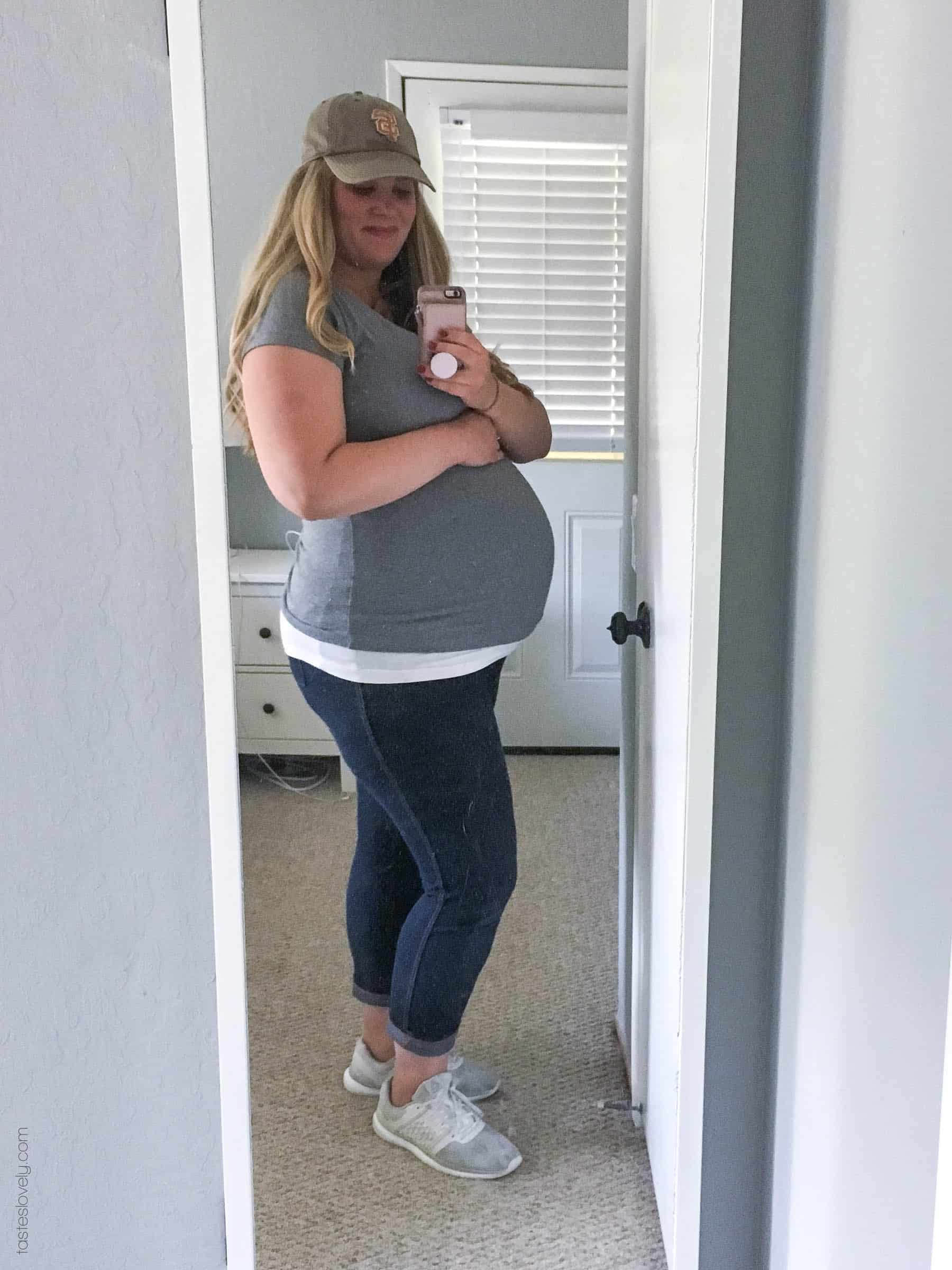 10am – I'm dressed and ready, then I go and get Josh out of the bath to get him dressed and ready. I pick up all the toys and put them back in the toy drawer so the living room doesn't look like such a disaster. Then we walk down the driveway to my sisters house (she's my neighbor, it's the best) to get a toy Josh left there yesterday that he can't stop asking about. She's not home, but luckily I know her garage code and we go in and get Josh's red dinosaur. Then get in the car to go to the park.
10:30am – Stop to get gas, and as I'm filling up, I hear my mom and sisters voices. What are the chances?! They're at the gas station too filling up my dads truck with gas! They just got the last of the retaining wall stones my sister needs for her new retaining wall (more driveway projects). Josh is so excited to see them.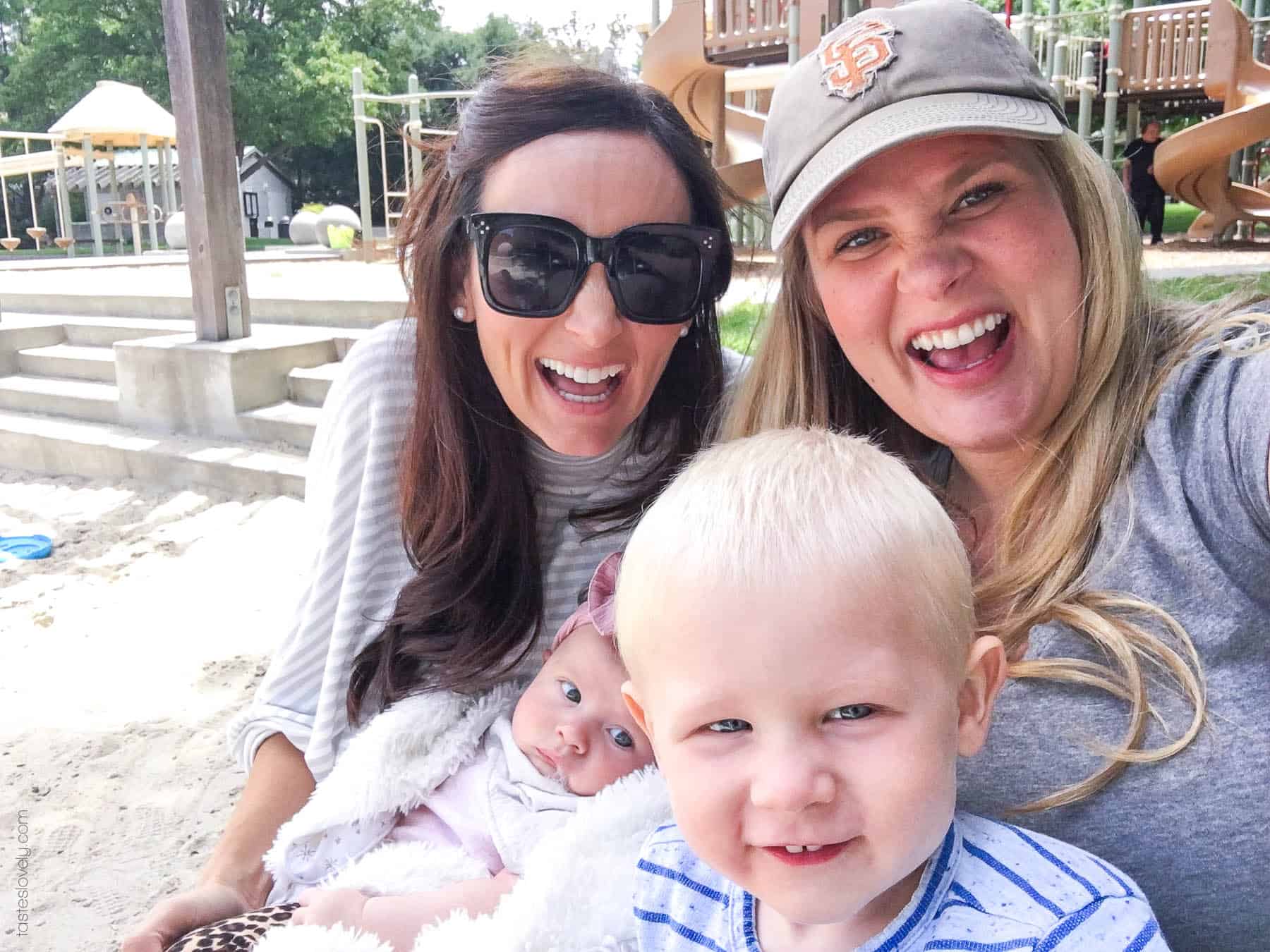 10:45am – Playing at the park! Today is extra special because we meet up with my cousin Ashley and her 3 month old daughter Eloise. Josh is a really good boy and plays in the sandbox and makes friends with other kids there, and one bigger kid plays catch with Josh and it is so adorable to me watching Josh be a good friend. Eloise is a sweet little angel and hangs out with us and sleeps while Ashley and I chat away. It is so fun!
12:00pm – Head back home for lunch time. I call Shawn on the way home and he fills me in on some issues the tenants at the rental home we own are having. Shawn had to go over there last night because the tenants called at like 8:30pm and said the lights were really dim and they smelled a burning smell. Yikes! My dad and Shawn headed over last night and couldn't figure it out, but my dad went back this morning with his friend who is an electrician. Apparently some breakers overheated and burned. Simple fix. Glad it wasn't anything too complicated.
12:15pm – Get home and my dad and mom are helping my sister put the last of the retaining wall stones on her retaining wall. It's almost done and is looking great! Josh is so excited to see everybody. My dad tells me more about the rental house stuff he fixed. He's the best for going over there and helping us fix it!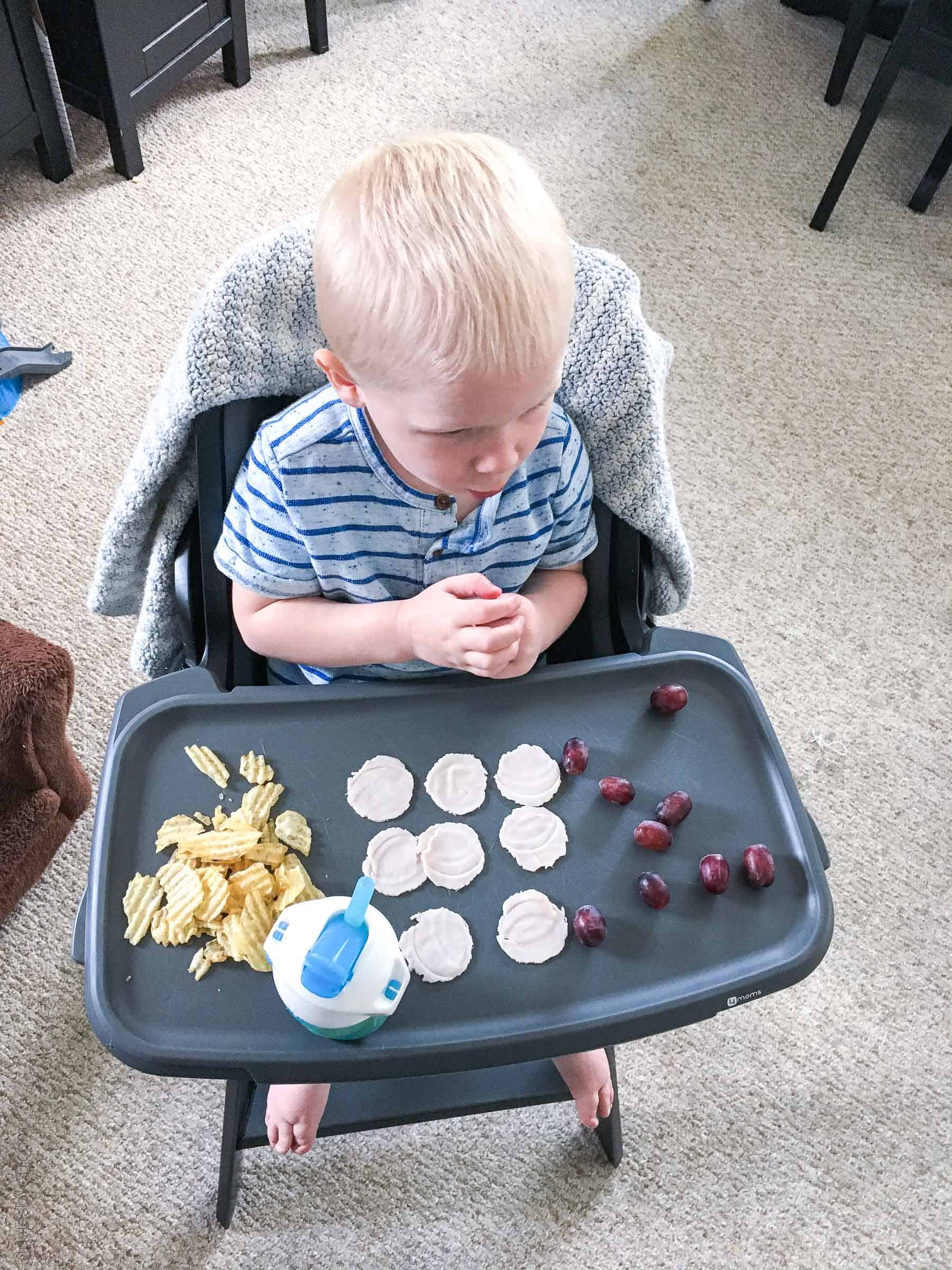 12:30pm – Check on the baby chicks we got in early April, refill their food and water, call Shawn and tell him to get more baby chick food on the way home, and that I think they're almost big enough to put in the big coop. But how do we introduce the new chicks to the old chickens? Hmmm, going to have to research that one. Head inside, make Josh's lunch. Today he is having turkey, grapes, some chips and apple juice. His favorite! He asks to watch Daniel Tiger again. He eats lunch while I make my lunch, and Shawn's lunch for him to take to work tomorrow. Recently just discovered that if I make Shawn's future lunch when I make my lunch, it's way faster since everything is already out, and I don't have to make it at the end of the day when all I want to do is sit. It's been a real game changer for me. The little things, right?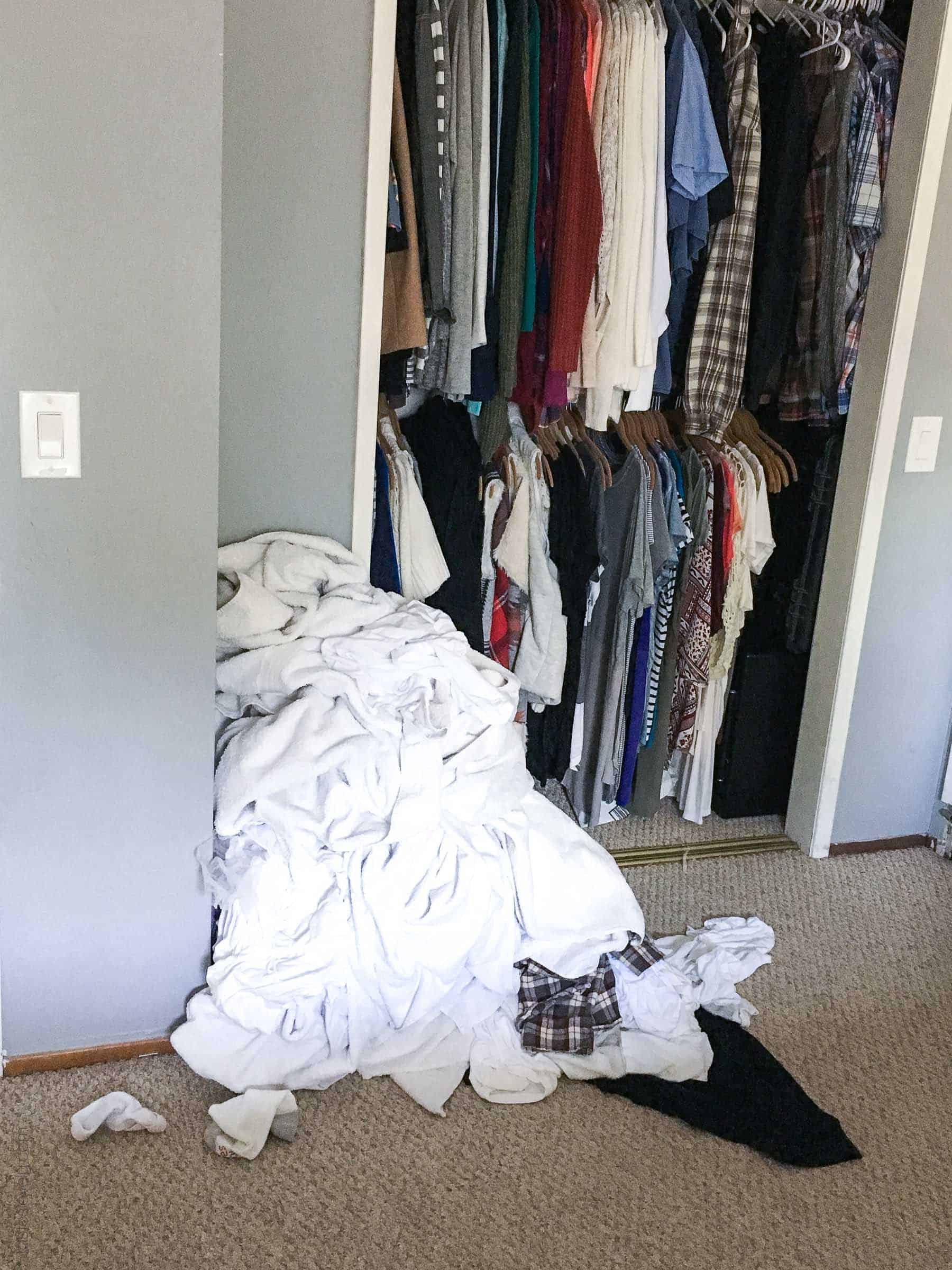 1:00pm – Josh is done with his lunch. He ate it all, which makes me a happy momma! I ask him if he's ready for night night time and he says, "yea, nigh nigh time mommy, Joshie tired." He is such a good sleeper! He loves his naps. I lay him down in his room, turn off the lights and say "night night Josh, I love you" and he says back "nigh nigh mommy, wuv you." My heart melts! I could cry! I am obsessed with this boy! I eat my lunch while watching Vanderpump Rules, my favorite show at the moment. Then it's get-all-the-things-done time! I tackle this gigantic pile of laundry that I washed the day before (4 loads, and it's only our clothes and the towels! Not even Josh's laundry), put it away, clean the house a bit, check my emails and get all my inboxes to zero. Shawn finished a wedding film the night before, so I upload it to Vimeo, post it to our Acorn Films blog, email it over to the couple, email it over to the wedding planner from that wedding, and schedule the social media shares on Facebook and Instagram for Friday. Then reply to comments from readers for this blog, and start writing this Day In The Life Post.
3:15pm – Shawn's home from work! I am so spoiled with his work schedule. It is the best! I hear him chatting to my sister in the driveway. But then I get a text from him that the tenants called (again!) and said there's still issues with the lights. He headed over there now to check it out. We usually only hear from the tenants 3 or 4 times a year. Looks like today is just one of those days. I keep working away on my laptop.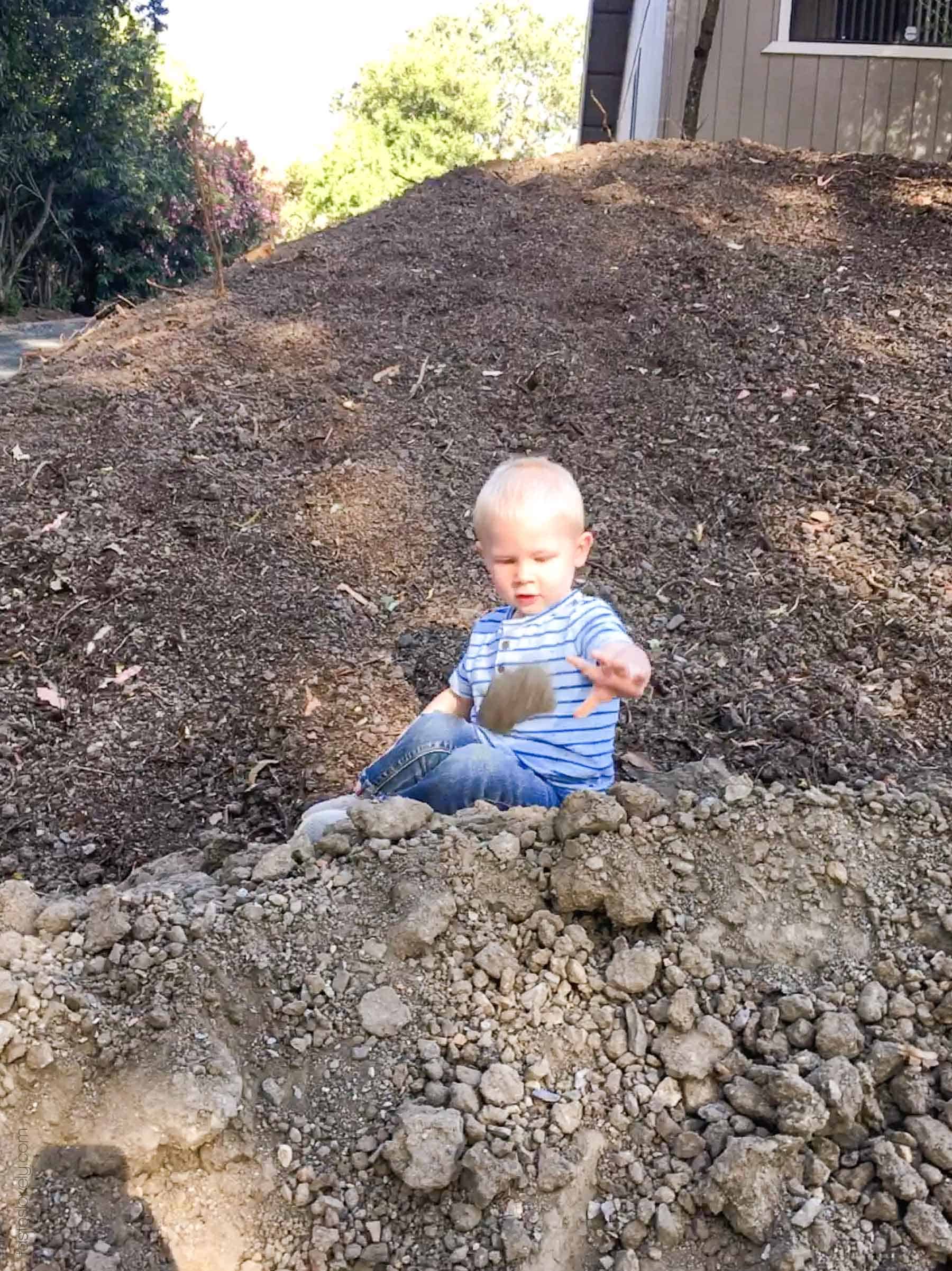 4:30pm – Holy long nap! Josh is *just* starting to wake up. And good thing, because I was about to have to wake him up. He is such a good napper, but I try to have him up by 4:30 so it doesn't mess with bedtime. He wakes up in a good mood, has a sippy cup of milk, and wants to go play outside. We get on his shoes and go play outside, then wander down to my sisters house. Nothing is funner to him than playing at my sisters house with her dogs. She's not home, so we let ourselves in again. Ha! Then we play on the dirt hill and Josh throws rocks and climbs in the dirt. I let him get as dirty as he wants, that's what kids do! We're laughing and playing and clapping away. I call my mom and we chat for a bit on the phone, and then my sister comes home from the grocery store and I chat with her for a bit too.
5:30pm – Shawn's back home! The rental house needs a new surge box (or something? I forget). And for some reason the power issues burned out the dishwasher circuit board when they were working on it, so looks like we'll be buying them a new dishwasher tomorrow. Dang it! I want a new dishwasher! Wonder if Shawn will let me get the new dishwasher, and we can give the rental house our older dishwasher? Ha! Josh is SO excited to see Shawn and runs up to him and they start playing. I'm pretty worn out by now and feeling very much like I'm 9 months pregnant.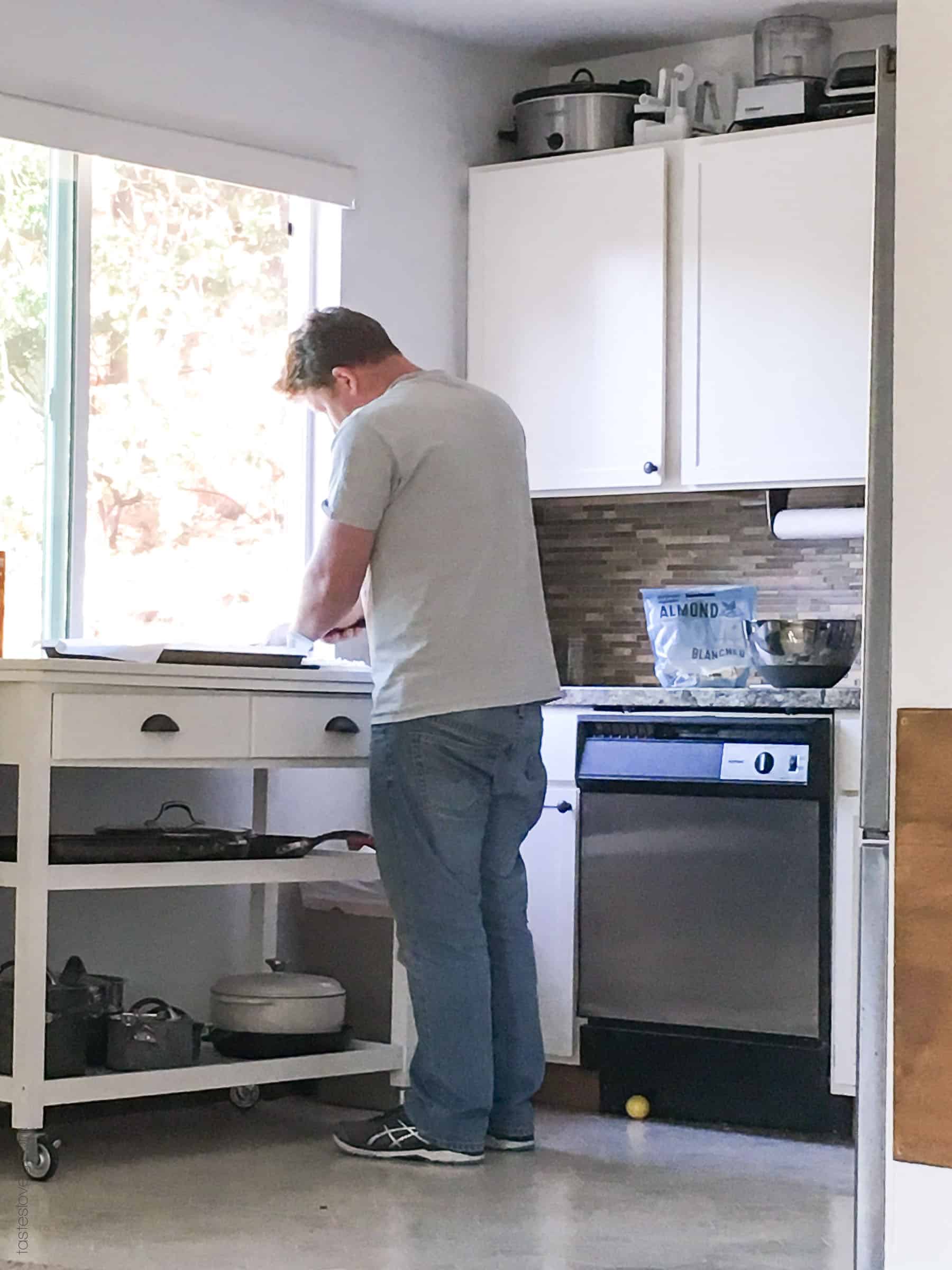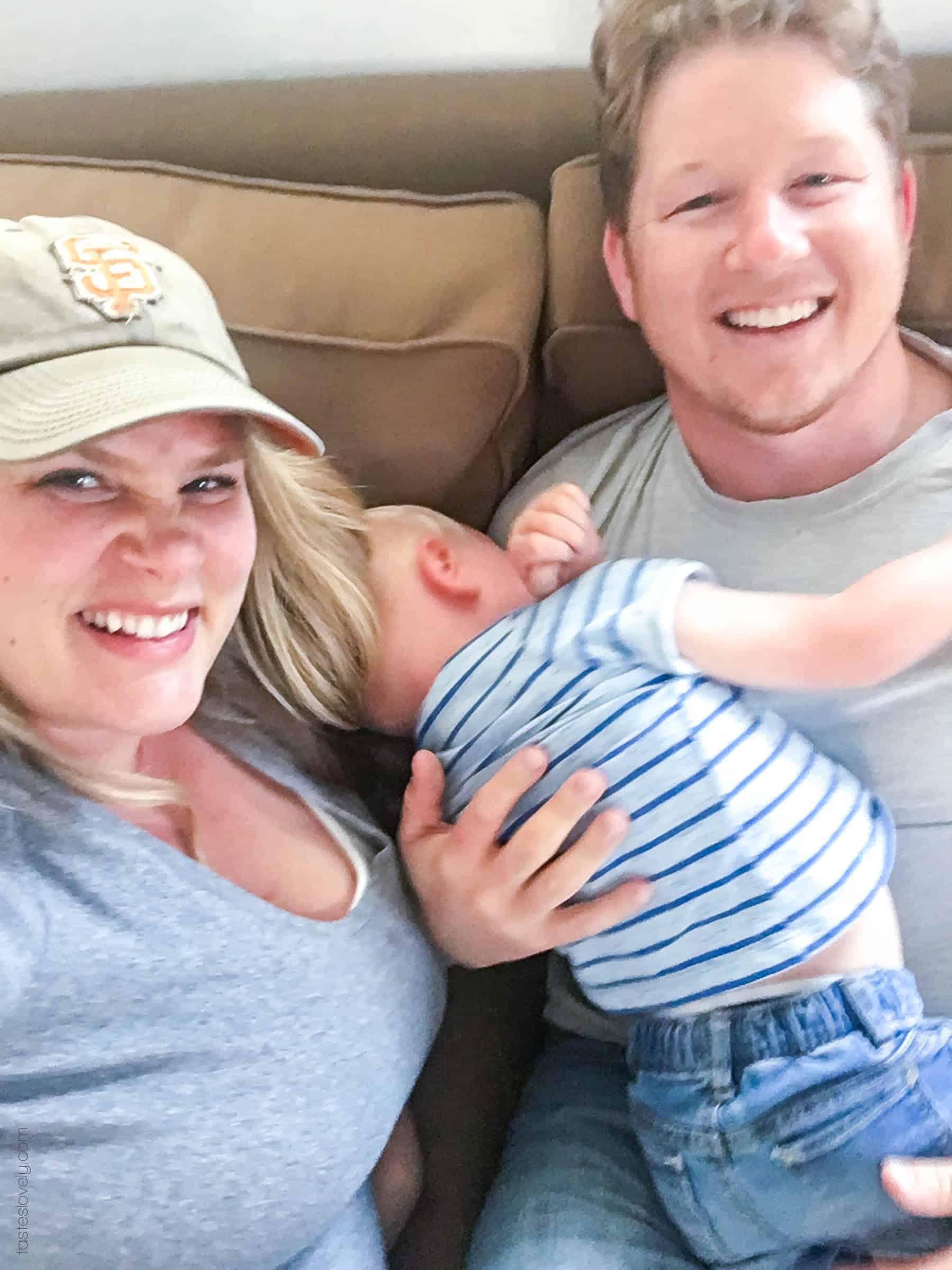 6:00pm – Shawn is a dream husband and offers to cook dinner! Tonight we're having my paleo + whole30 meatballs with zoodles. He makes the meatballs by reading the recipe from my site off his phone, and it is too sweet for words. He is the best! I love and appreciate him so much. Josh and I snuggle on the couch and watch another episode of Daniel Tiger while Shawn cooks. It's so nice to sit!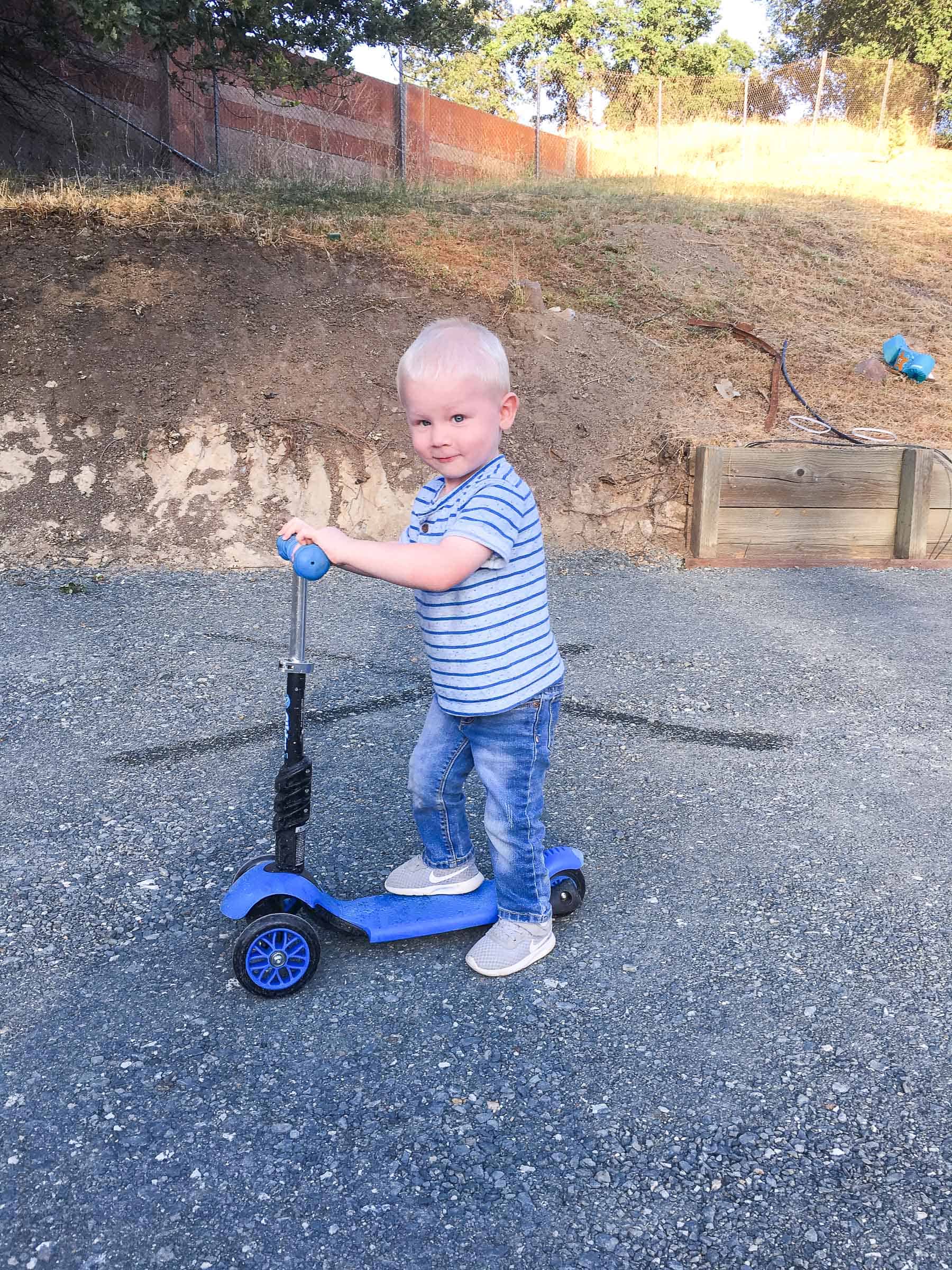 6:30pm – Meatballs are in the oven, and I see my parents, sister and brother in law in our front yard measuring out the size of the driveway to estimate how much the blacktop is going to cost. I love how much I get to see my family on any given day! My parents live just 5 minutes away and my sister is my actual neighbor. How lucky are we?! We go outside and say hi. Josh rides around on his scooter and looks so proud, he just learned how to ride it. We all clap for him and he is beaming. I love him!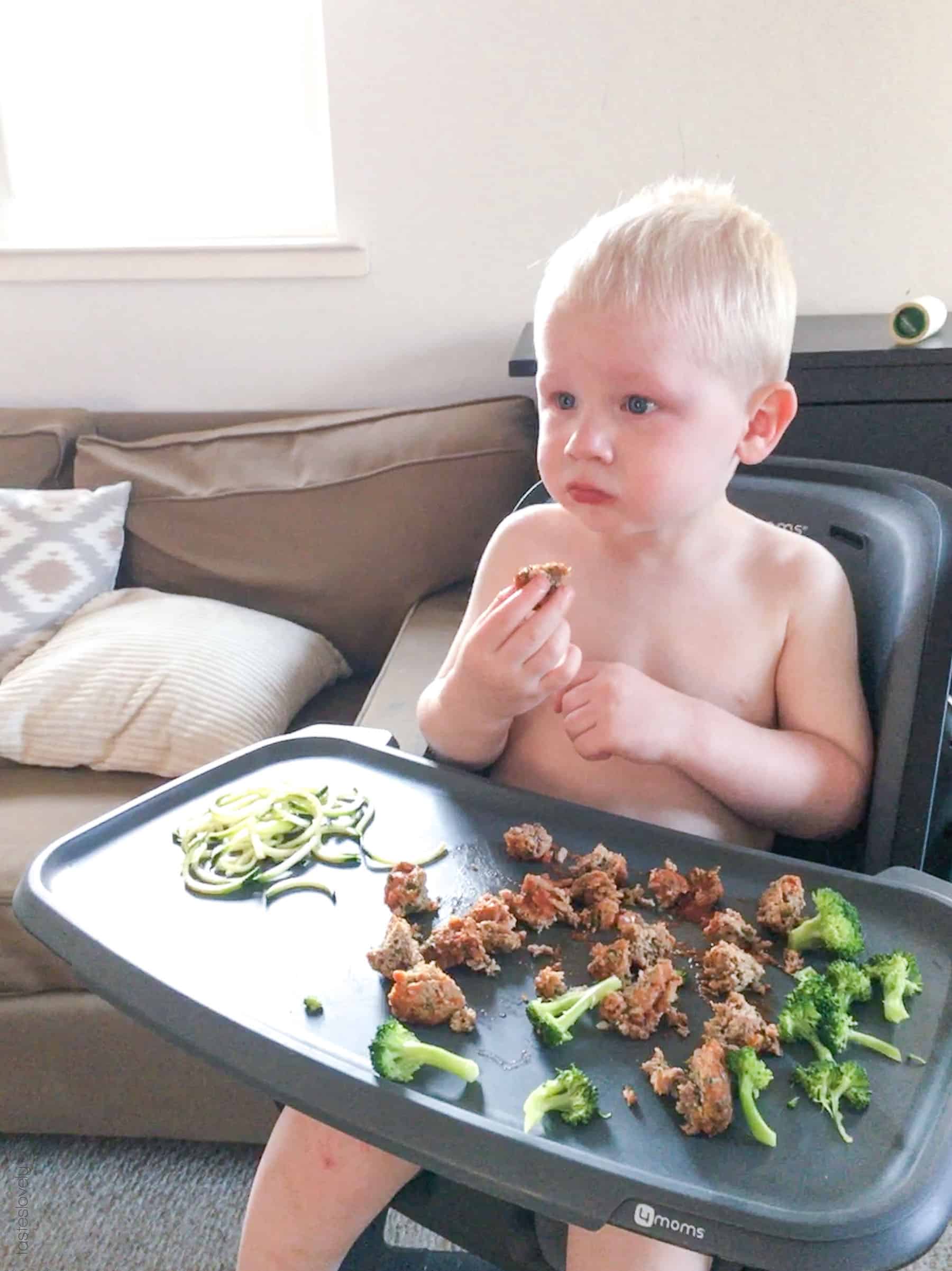 7:15pm – Dinner time. The meatballs are perfect! Shawn did such a great job making them. Josh ate his whole dinner, and asked for "more meatballs dad!" and had 2 additional meatballs on top of this tray of food. Then Shawn is an actual angel from heaven and cleans up dinner and the kitchen. He is too good to me!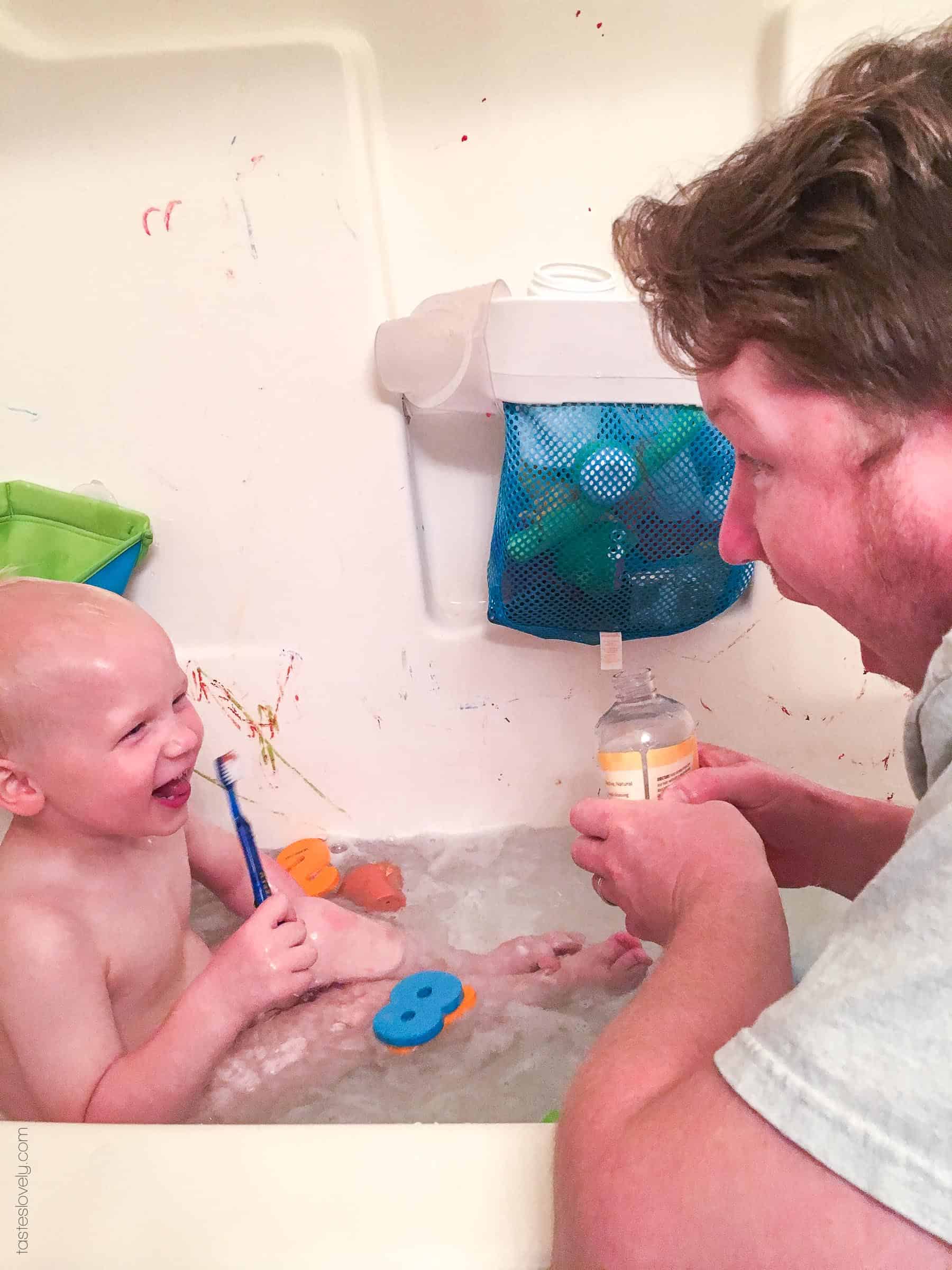 8:00pm – Bathtime. Shawn always gives Josh his bath. It's their thing and special time together. I love it. I pick up the house, lay out his jammies, etc. After Josh get's out of the bath we get him ready for bed in our big bed. We wrestle and tickle him and laugh and laugh. Then we read a story, go outside so Josh can say goodnight to the chickens (his favorite!), and take him in his room for hugs and kisses and put him to bed by 8:30. He usually lays in bed for 15-30 minutes and falls asleep on his own. He is such a good boy!
8:30pm – Grab my computer to get a little more work done. I answer a few more emails from readers, and answer a texts to 2 of my friends. Now to finish writing this post. Shawn is working on a wedding video. We have 2 more left in the queue (both May weddings we filmed this month), and he's really trying to get them done before the baby comes. Fingers crossed! He works so hard for us.
9:30pm – Post is done and scheduled to go up tomorrow, and I'm ready to get cozy in bed! I give Shawn a huge, gigantic goodnight kiss, wash my face, get all snuggled in bed and read my book on my Kindle and diffuse some lavendar essential oils to make it extra relaxing. I love reading! Right now I'm reading The 5th Wave. (Wait, after looking up the link for this on Amazon, I saw that it's a movie! I'll have to watch it when I'm done reading it!) I'm halfway through and loving it.
10:30pm – Shawn comes to bed, and we pass out. Tomorrow is Friday, and I can't wait for the weekend! On Friday, Saturday and Sunday nights Shawn and I don't do any work after we put Josh to bed, and we hang out and watch a movie or play a game and basically have at home "dates". It's my favorite!