Chicken Zoodle Soup with Dill – comforting and healing paleo and Whole30 chicken noodle soup recipe with zucchini noodles that has the most amazing broth! Dairy free, gluten free, grain free.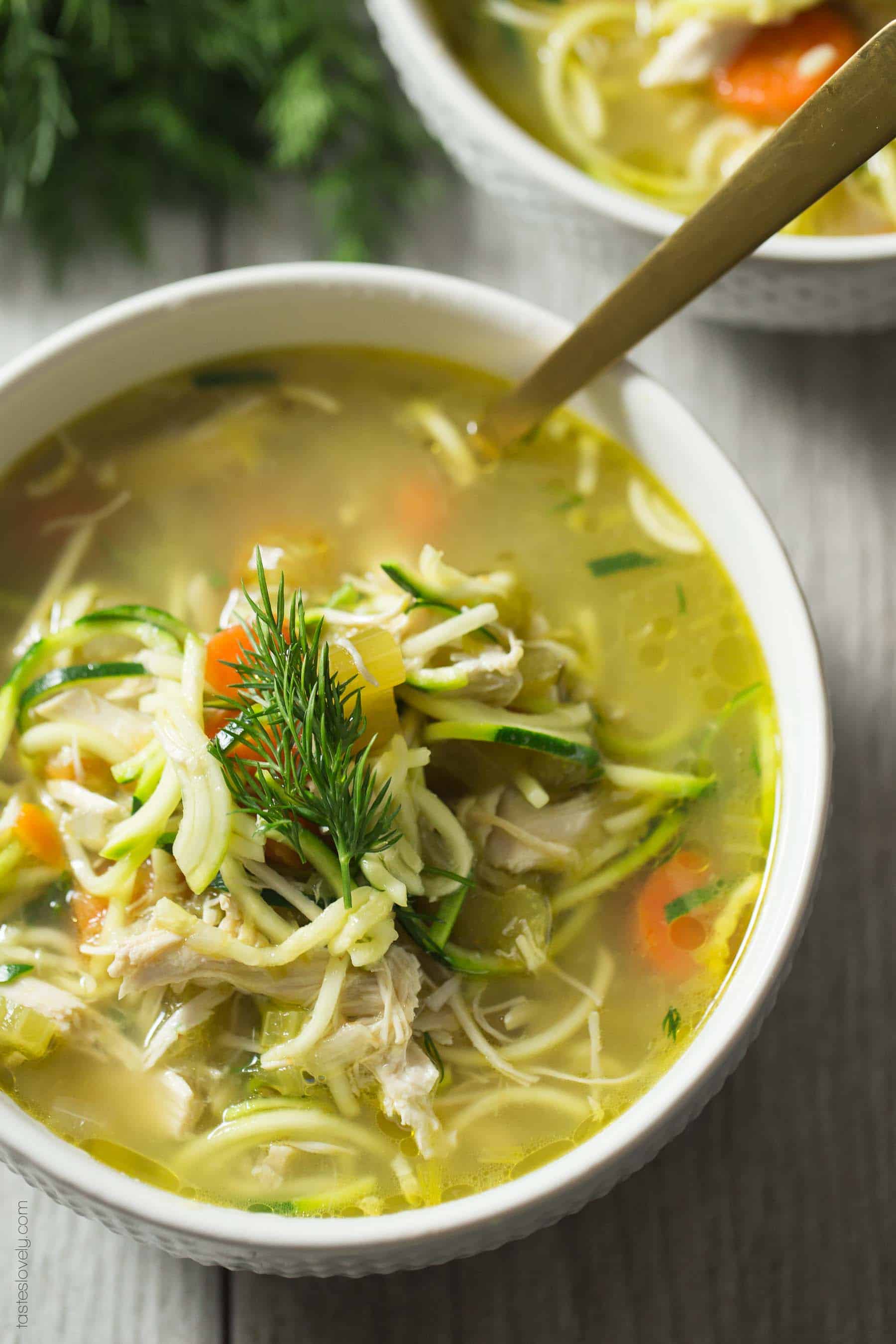 Well, it's happened. All 3 of us are sick. At the same time.
Mommy. Daddy. And baby.
We all have sore throats, stuffy noses, and are down for the count. Josh's little cries are all raspy and scratchy sounding, which is sad and adorable at the same time. We spent all of yesterday cuddling on the couch, watching Sesame Street, and napping. It's no fun being sick, but I did love our lazy cuddlefest.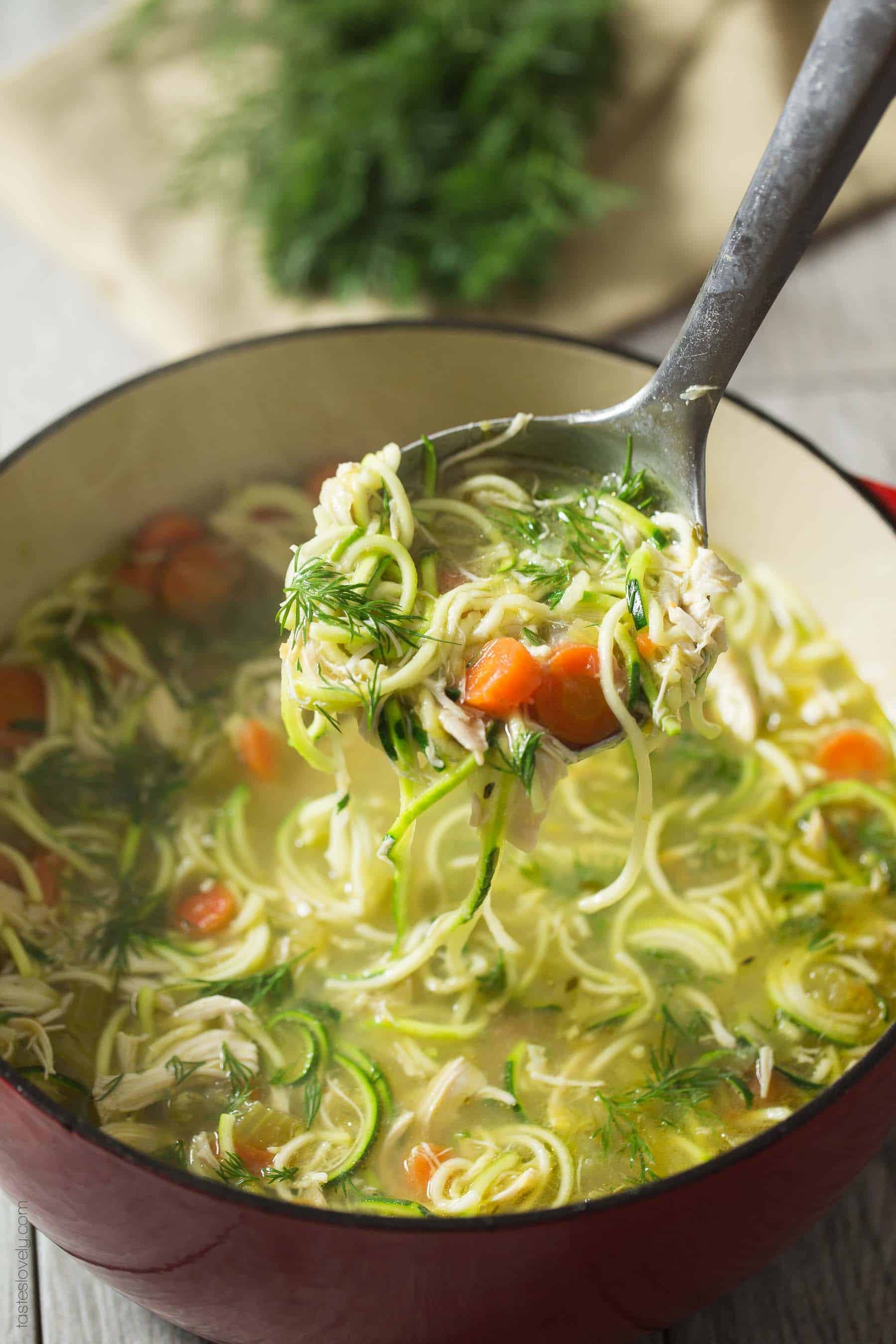 To get us all feeling better, I made my "guaranteed to make you feel better" chicken zoodle soup with dill. I make this every time any of us are sick. It's tradition. And it really does work. It warms your soul and gives you strength to start fighting and getting well.
Veggies and tender chicken in the most insanely flavorful chicken broth you will ever have.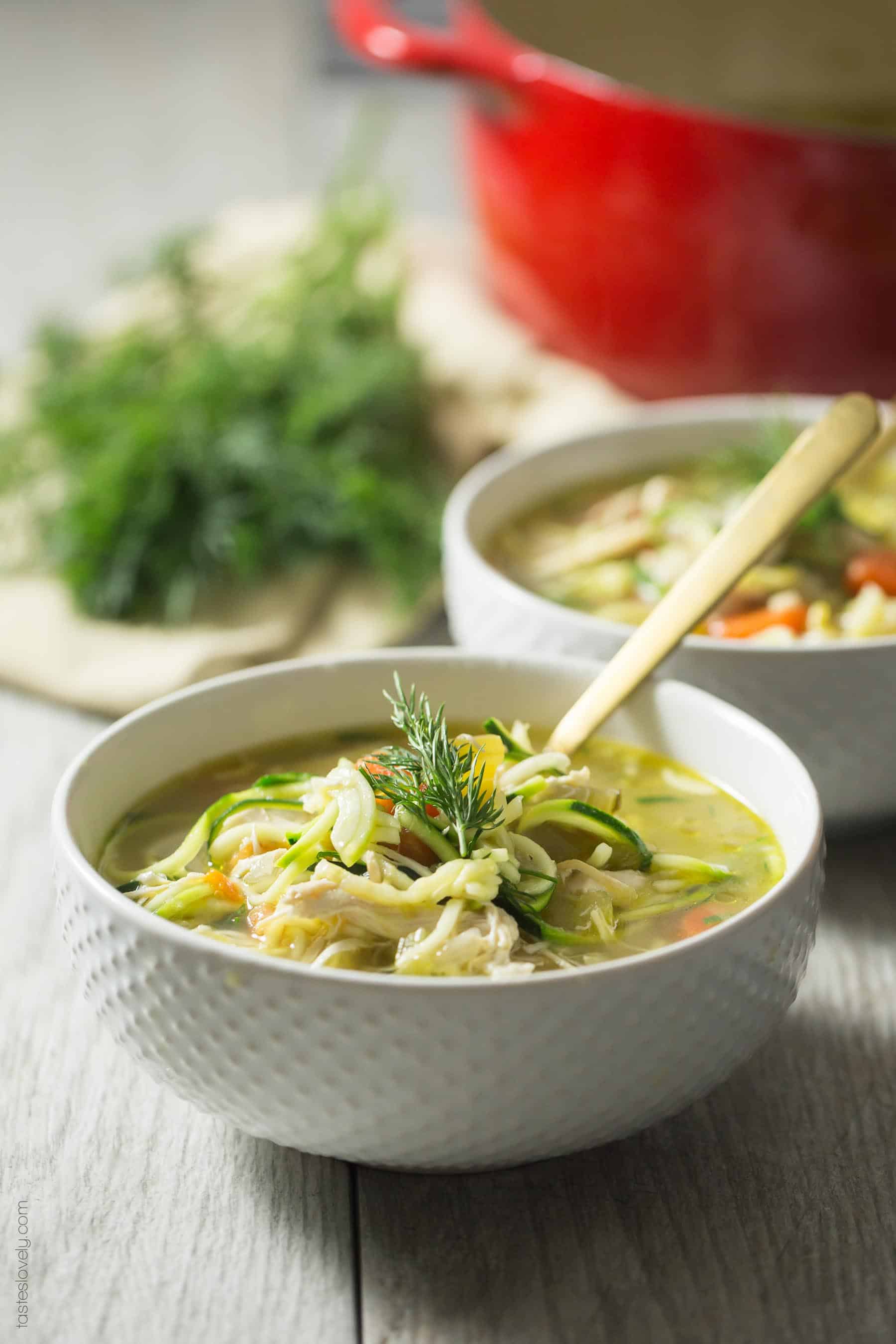 The secret to my broth is to make a double-chicken stock. I use chicken stock in the soup (Costco makes my favorite Organic Chicken Stock!), and I add in 2 bone-in, skin-on chicken breasts to slowly simmer in the soup along with the veggies. By using skin-on, bone-in chicken, it adds a ton more chicken flavor than just skinless, boneless chicken breasts. I sear the chicken breasts skin side down to begin with to add even more intensity to the chicken broth.
The resulting broth is insanely flavorful and full of depth. I then take the chicken out of the soup, discard the bones and skin, and shred the meat to add back to the soup.
Never add water to your soup when you can add chicken stock instead. You'll get way more flavor.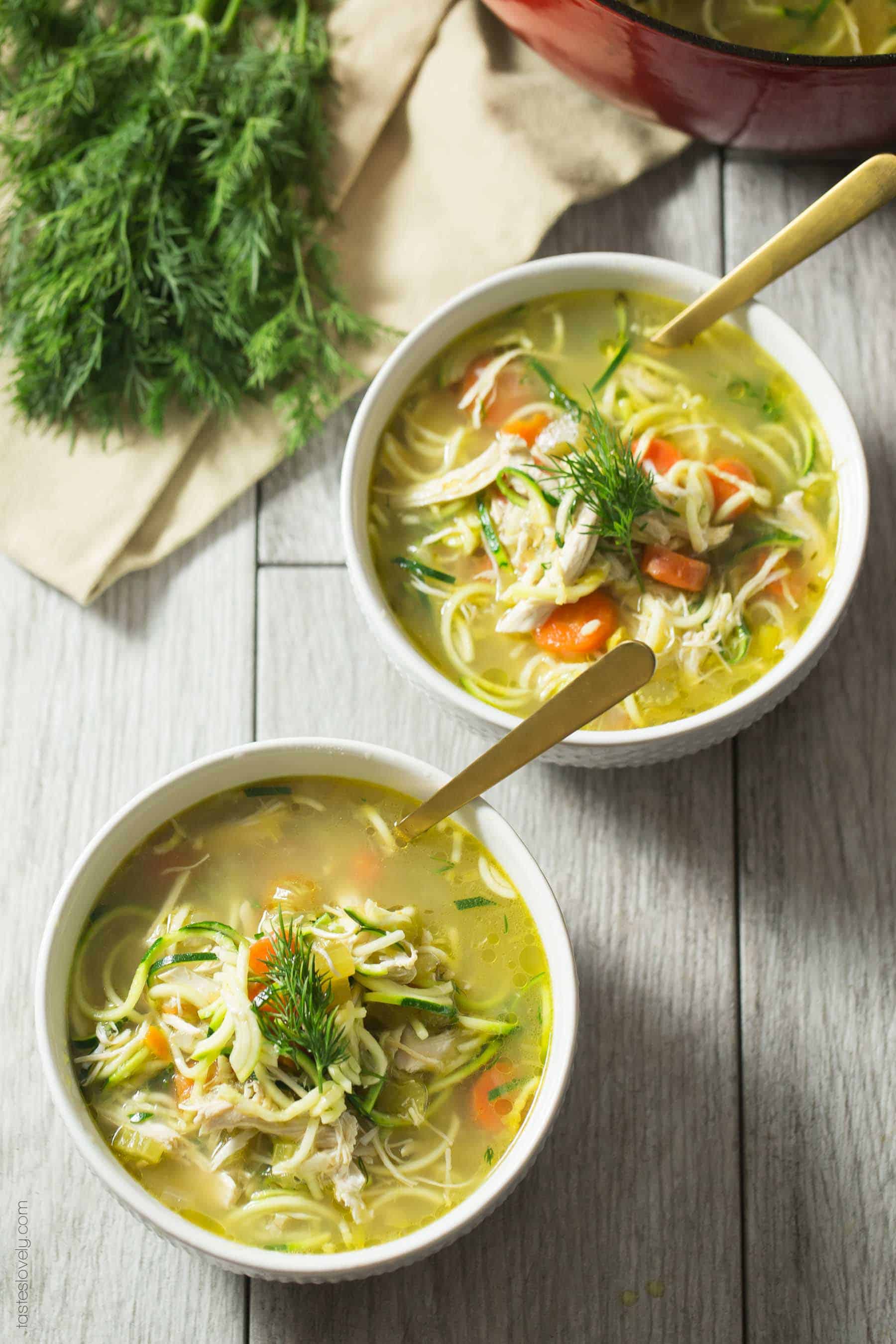 I grew up on chicken noodle soup using pasta noodles, but now that I've had chicken zoodle soup using zucchini noodles I'll never go back! Not only does it add even more vegetables and nutrition to the soup, it tastes even better! The zucchini noodles are added in 5 minutes before serving, so they cook until they are just al dente. They are softened, but still have a slight chew/bite to them.
And don't worry, the zoodles are still great the next day in leftovers! As long as you reheat the leftover soup until it is warm, then serve (rather than leaving it to simmer on the stove for 1+ hours), the zoodles are still al dente and perfect. They don't disintegrate.
This recipe makes a big batch of soup. Very big! But it's so healthy, I will have 2 whole bowls and not feel guilty about it. I'm just nourishing and comforting my sick self. And I love having tons of leftovers. I'm sick, and the less I have to cook the better.
If you've never put fresh dill on your chicken soup, you are missing out! It is the best flavor combination, and for some reason it makes me feel better when I'm sick.
Print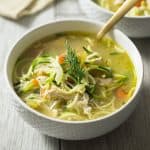 Chicken Zoodle Soup with Dill
---
Author:

Prep Time:

15 mins

Cook Time:

1 hour

Total Time:

1 hour 15 mins

Yield:

6

-

8

1

x
Ingredients
(2) bone-in skin-on chicken breasts, about 1 pound, patted dry and seasoned with salt + pepper (I get my chicken from ButcherBox, which I highly recommend)

1 tablespoon

olive oil

5

medium carrots, scrubbed and chopped

5

stalks of celery, washed and chopped

1

medium onion, chopped

1

large leek, cleaned and trimmed, chopped

4

cloves of garlic, grated or finely chopped

8 cup

s chicken stock (broth works too)

3

sprigs of fresh thyme

1

bay leaf

2

zucchini, spiralized
fresh dill as garnish
---
Instructions
Heat a dutch oven (or large soup pot), over medium high heat. Add the olive oil. Sear the chicken breasts skin side DOWN until golden brown, about 5 minutes. Remove the chicken and transfer to a plate.
To the same dutch oven, add the carrots, celery, onion, leek, garlic, salt and pepper to the olive oil and chicken drippings. Cook until the vegetables begin to soften, about 3-5 minutes.
Add the chicken back in the pot, along with the chicken stock, thyme and bay leaf. Reduce heat to medium low and simmer for at least 1 hour, and the chicken is cooked to 165º using an instant read thermometer. (If you have the time, I like to simmer it for 2-3 hours so the broth gets even more infused with flavor.)
Remove the chicken from the soup, along with the bay leaf and thyme stems. When the chicken is cool enough to handle, remove and discard the skin and bones. Shred the meat with your fingers to bite sized pieces. Return the shredded chicken back to the soup.
Just before serving, add the zucchini noodles. Cook 5 minutes, until al dente. Taste and season with salt and pepper if needed.
Serve warm topped with fresh dill.
Leftovers will keep for 5 days in the fridge in an airtight container. Reheat on the stovetop until warm, then serve. The zucchini noodles will keep.

More Healthy Soup Dinners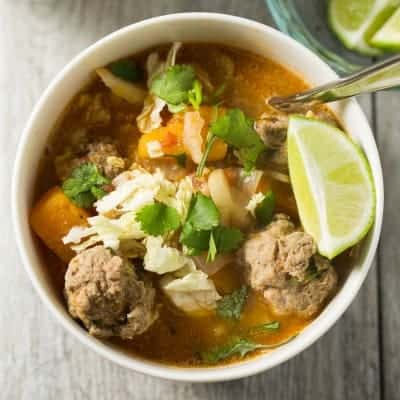 Mexican Winter Albondigas Soup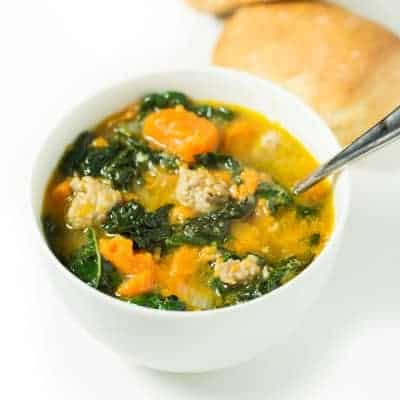 Sausage & Sweet Potato Soup with Kale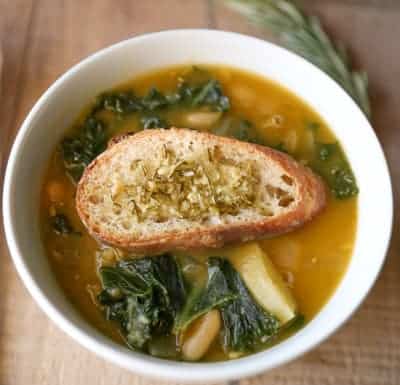 Potato, White Bean & Kale Soup
This post contains affiliate links, thanks for the love!
Never Miss a Recipe!
Get new posts delivered straight to your inbox! For free!