Creamy Homemade Cheesecake
I'm about to lay a big secret on you.
I. cannot. bake.
I am the opposite of a baker. Honest.
Measuring things out precisely? Oven temperatures? Rising times? Eeek! I'm more of a "throw in a little of this, add a pinch of that" cooker girl. Following a precise recipe makes me panic. And the wait time as the cookies are baking in the oven? I am constantly peeking in to make sure they haven't spread out so thin they look like pancakes, which has happened. More than once.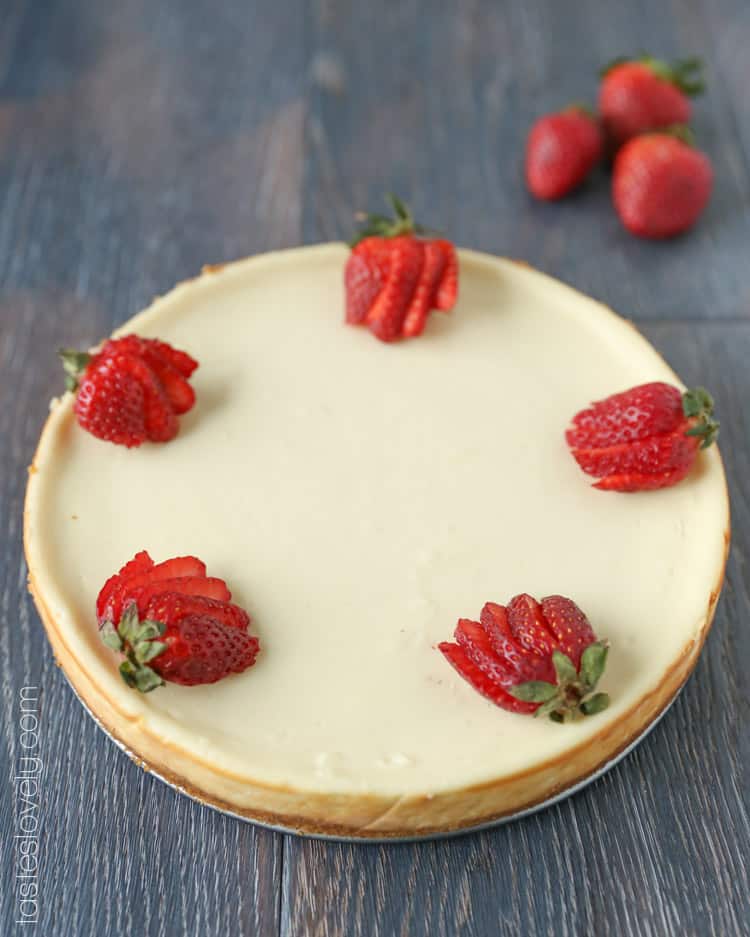 I don't even know the difference between baking soda and baking powder. I should probably look that up. Let's keep that secret just between us, m'kay?
I am telling you this so you will believe me when I say that this is the easiest cheesecake recipe that turns out perfect every time. It's slogan should be, "It's so easy, even Natalie can make it!"
Just look how beautiful it turns out. I mean…come on…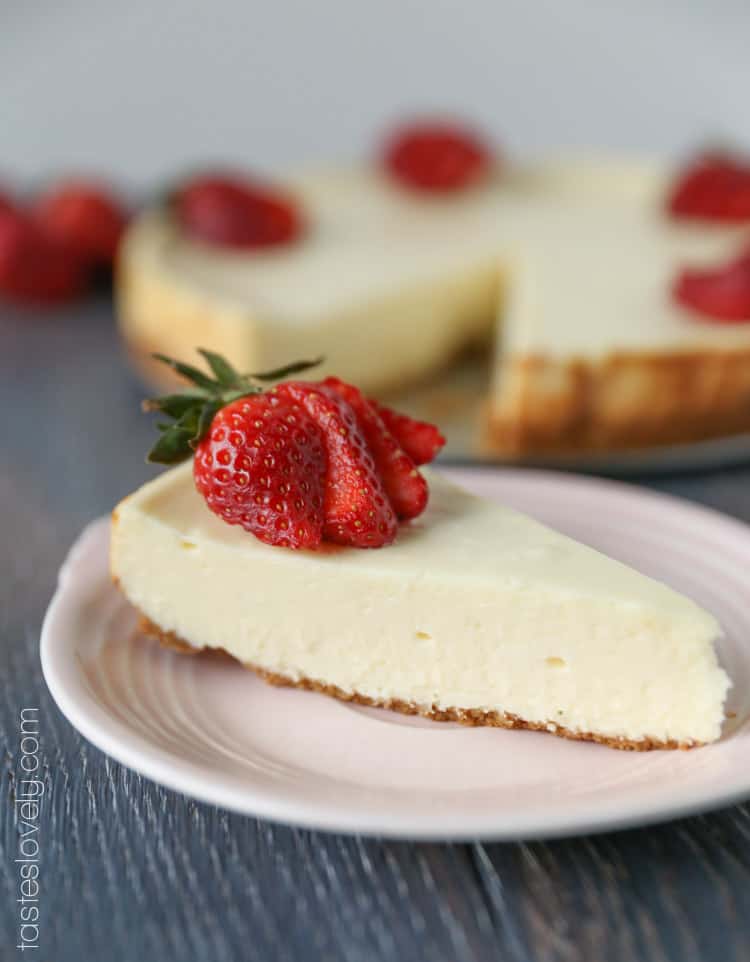 This cheesecake recipe is moist, ultra creamy, and practically melts in your mouth. Much creamier than your typical stiff New York style cheesecake. The crust is light and slightly crumbly. I'm not a big fan of super thick and hard crust, but if you are just add in more graham crackers and butter.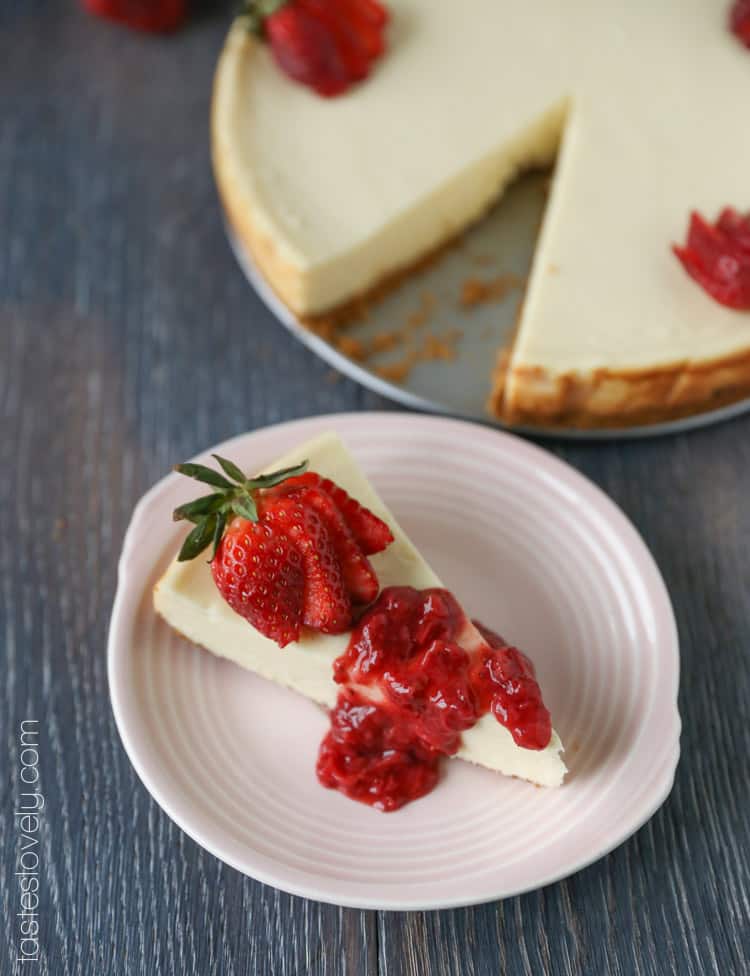 One of the best parts of this simple cheesecake recipe? It doesn't need one of those water baths that I would surely spill while taking it out of the oven. It only takes about 25 minutes to bake in the oven! The real secret is to let it rest in the fridge for at least 1 day, but I like to do 2 or 3 days if I can resist eating it that long. The flavors deepen and it becomes the perfect consistency as it chills.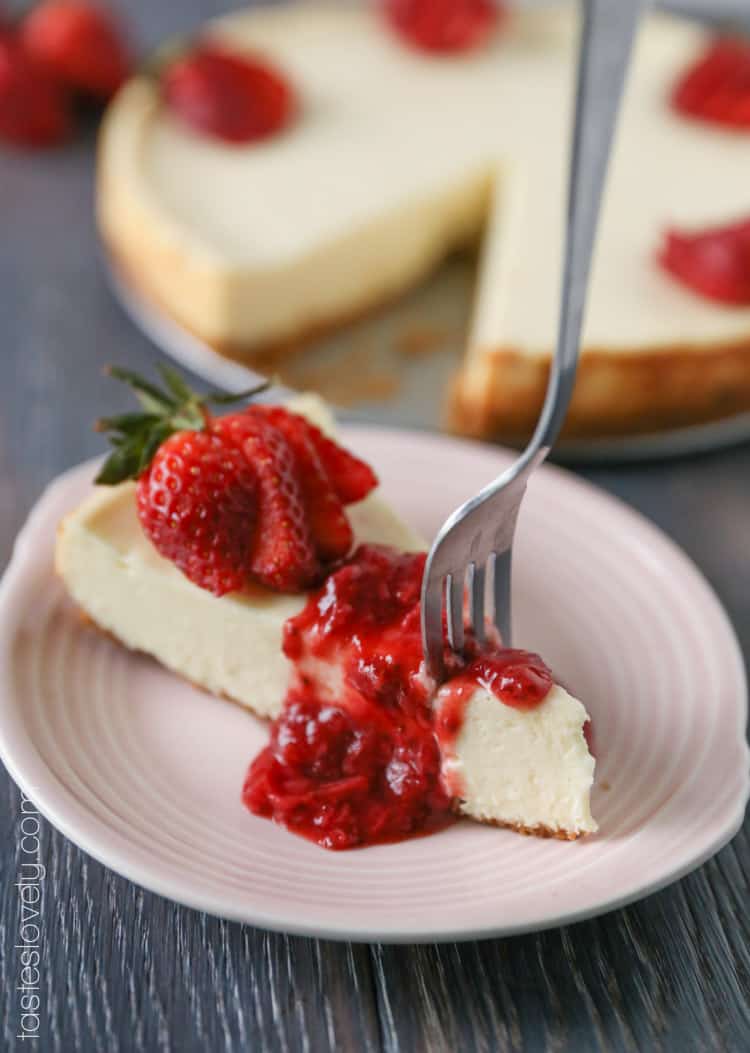 It's delicious plain, but I love it topped with fresh strawberry sauce. Feel free to mix it up and top it with your favorite topping. Raspberry sauce, caramel, chocolate sauce, I've even topped it with store bought cherry pie filling.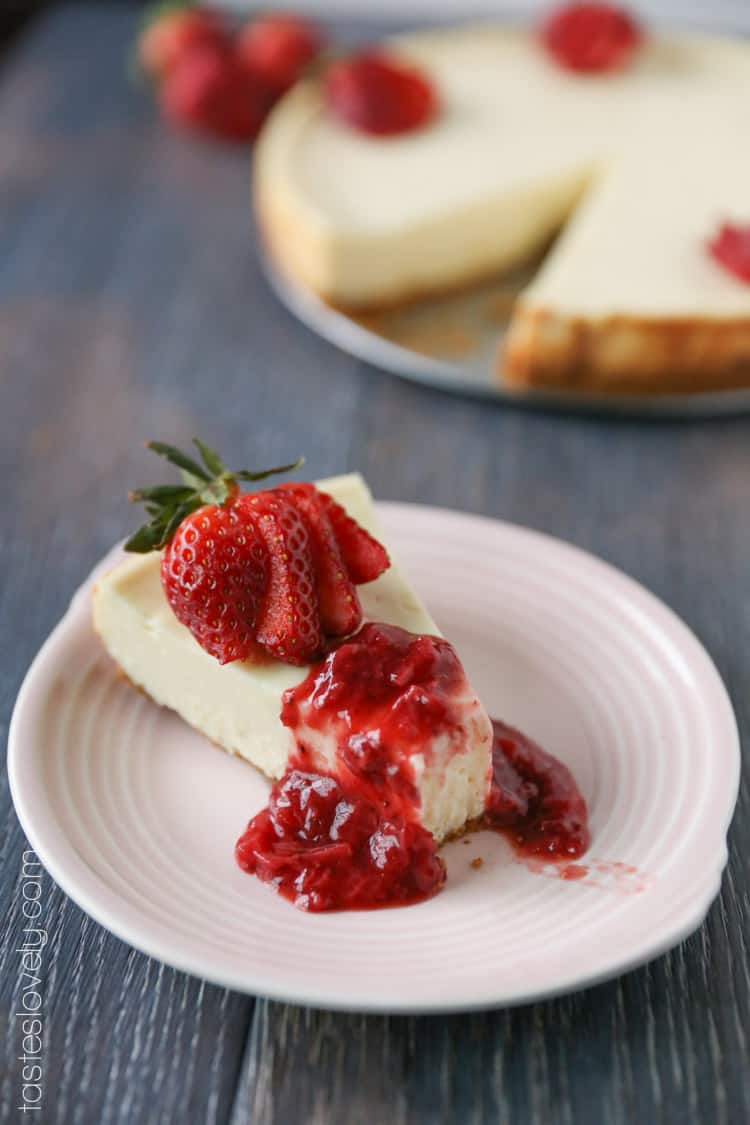 Now who wants to come over and help me eat the leftovers?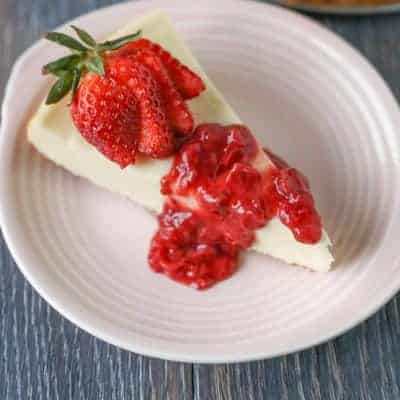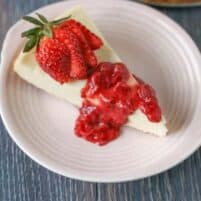 Creamy Homemade Cheesecake
This cheesecake recipe is moist, and ultra creamy, with a light crumbly crust that is sure to be a family favorite!
Ingredients
For the crust:
12

graham crackers crushed

,

about 2 cups

6

tablespoons

salted butter

,

melted

1

tablespoon

granulated sugar
For the filling:
Three 8 ounce blocks of cream cheese

,

room temperature

2

eggs

,

room temperature

1

cup

granulated sugar

1

teaspoon

vanilla
Instructions
Preheat oven to 350 degree and light spray a 9-inch springform pan with cooking spray.

In food processor with knife blade attached, pulse graham crackers until fine crumbs form. Add the melted butter and pulse until well combined. Transfer to the bottom of the springform pan and press with medium pressure into an even layer. Bake the crust for 6 minutes, then remove from oven. After you remove it from the oven, press the crust with your hand using medium pressure to ensure the crust sticks together.

In a stand mixer (or large mixing bowl with a hand mixer), beat the cream cheese with the sugar for 2 minutes. Add in the first egg and beat for an additional 2 minutes, then add in the second egg and vanilla and beat for 2 more minutes. Pour the cheesecake into the springform pan, and smooth into an even layer.

Bake for about 25 minutes. You will know the cheesecake is done when the sides look just set, but the center still lightly jiggles when you tap it with the back of a spoon. You do not want to over bake the cheesecake, the key is to have it smooth and creamy. Remove from the oven and allow to cool to room. Then cover the springform pan with aluminum and refrigerate for at least 1 day.

To remove from springform pan, first run a butter knife under hot water, then run along the edges of the springform pan to loosen.

Best served cold with your favorite topping. My favorite is

. Will keep in the fridge for 10 days.

This cheesecake also freezes beautifully for up to 1 year. If freezing, allow to thaw for 8 hours in the fridge before serving.
Calories:
334
,
Total Carbs:
46.2
g
,
Protein:
4.3
g
,
Fat:
15.1
g
,
Fiber:
2
g
,
Net Carbs:
44
g
Did you make this recipe?
Please Leave a comment and give this recipe a rating!