Daily Harvest Review
My honest review of Daily Harvest and their Harvest Bowls + Bites. How is the taste? Is it easy to make? Is it worth the money? 
I just tried Daily Harvest for the first time, and I can't wait to share with you all what I think.
If you're new to Daily Harvest, they deliver healthy, plant based (vegan), gluten free chef crafted frozen food directly to your door that are ready to enjoy in minutes.
They have harvest bowls, smoothies, soups, oat bowls, bites and lattes. All packed with real food and nutrition.
This review is going to focus on their harvest bowls and bites, since those align with the Clean Keto dietary eating style I follow.
If you're new to Daily Harvest, they've given me an exclusive code for my followers to get $25 off your first box with code TASTESLOVELY! Use it at checkout!
Harvest Bowls Review
I've tried their Harvest Bowl flavors Brussels Sprouts + Lime Pad Thai, Broccoli + Cheeze, Cauliflower Rice + Pesto, Broccoli Rice + Dill Pilaf. All 4 of those flavors are outstanding, and keto friendly.
You open the cup, which is full or real vegetables, cook them straight from frozen in your skillet, and it is ready in minutes! They're delicious on their own, or you can customize them to your liking by adding in proteins you have on hand.
Harvest Bowl: Brussels Sprouts + Lime Pad Thai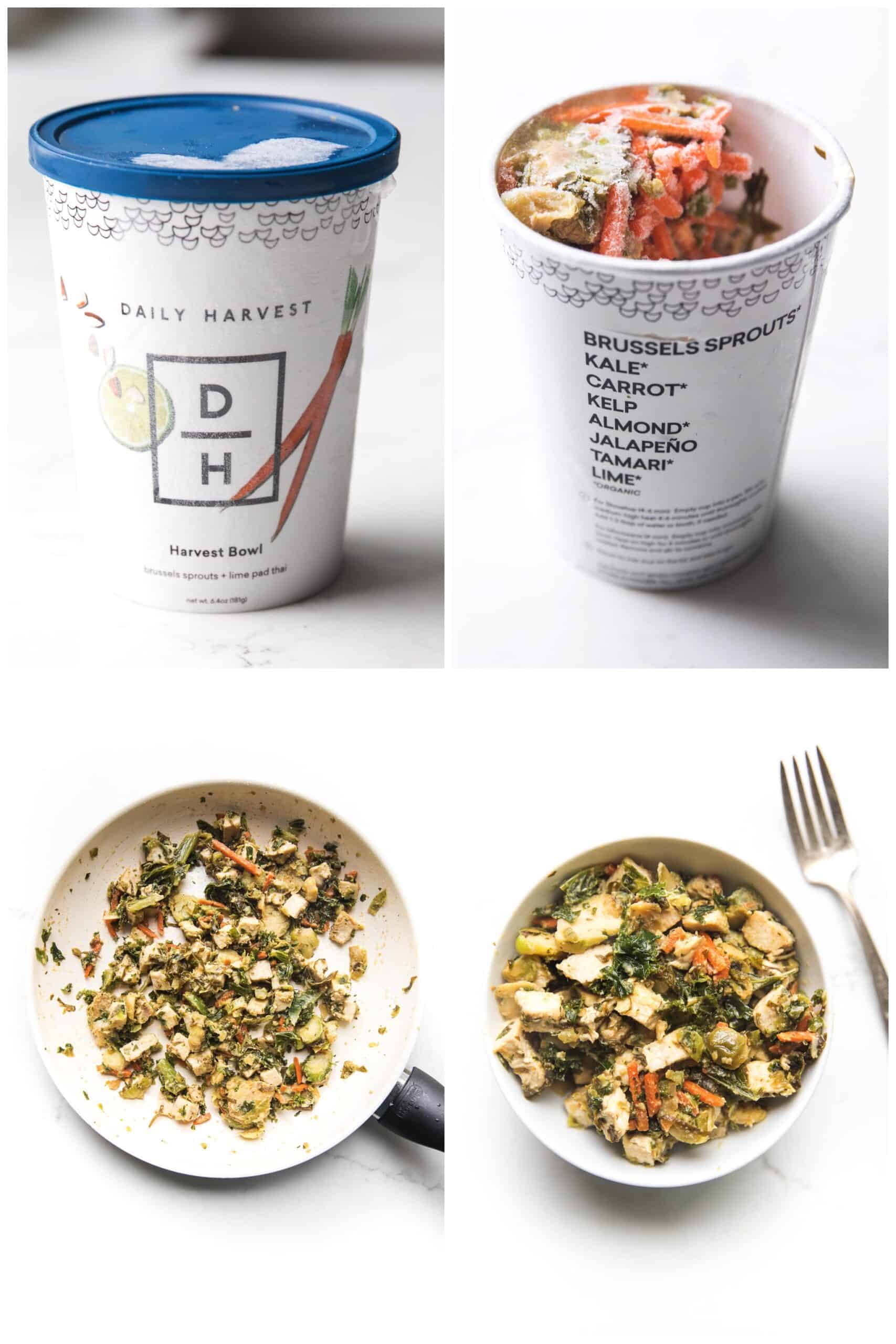 The Brussels Sprouts + Lime Pad Thai is packed with flavor! I love the brightness from the lime, and the tiny kick of spice from the jalapeno.
I didn't have to add any additional seasoning. It was spot on. I added in half of a leftover chicken breast chopped up to add even more protein. Delicious!
Harvest Bowl: Broccoli + Cheeze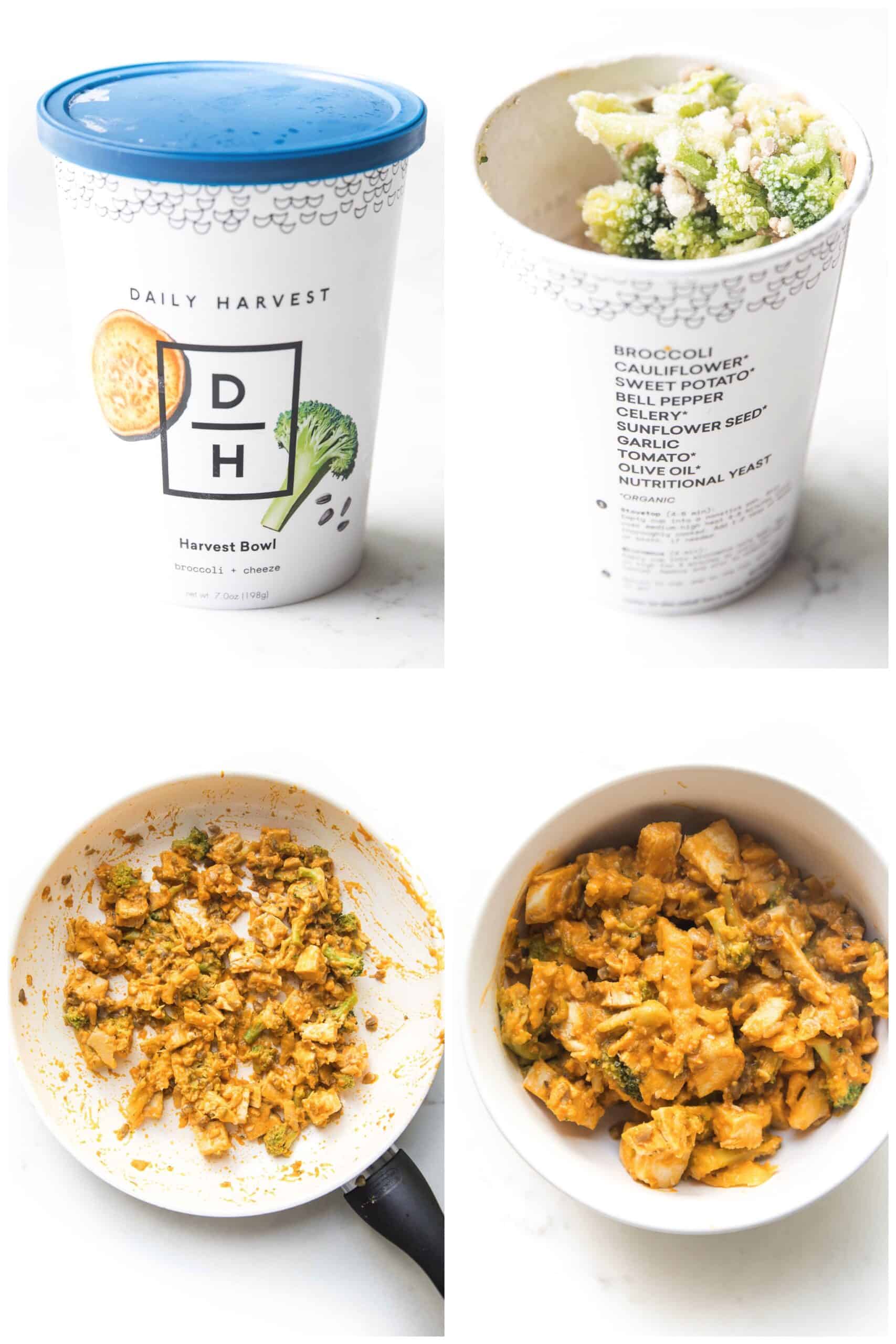 I can't believe how much their Broccoli + Cheeze Harvest bowl really does taste like cheese! But is dairy free!
To make it similar to a mac + cheese, I added in 1 or 2 tablespoons of bone broth to give it a more saucy feeling. Again, I added in half a leftover chicken breast to add even more protein. Loved this flavor!
Bites: Hazelnut + Chocolate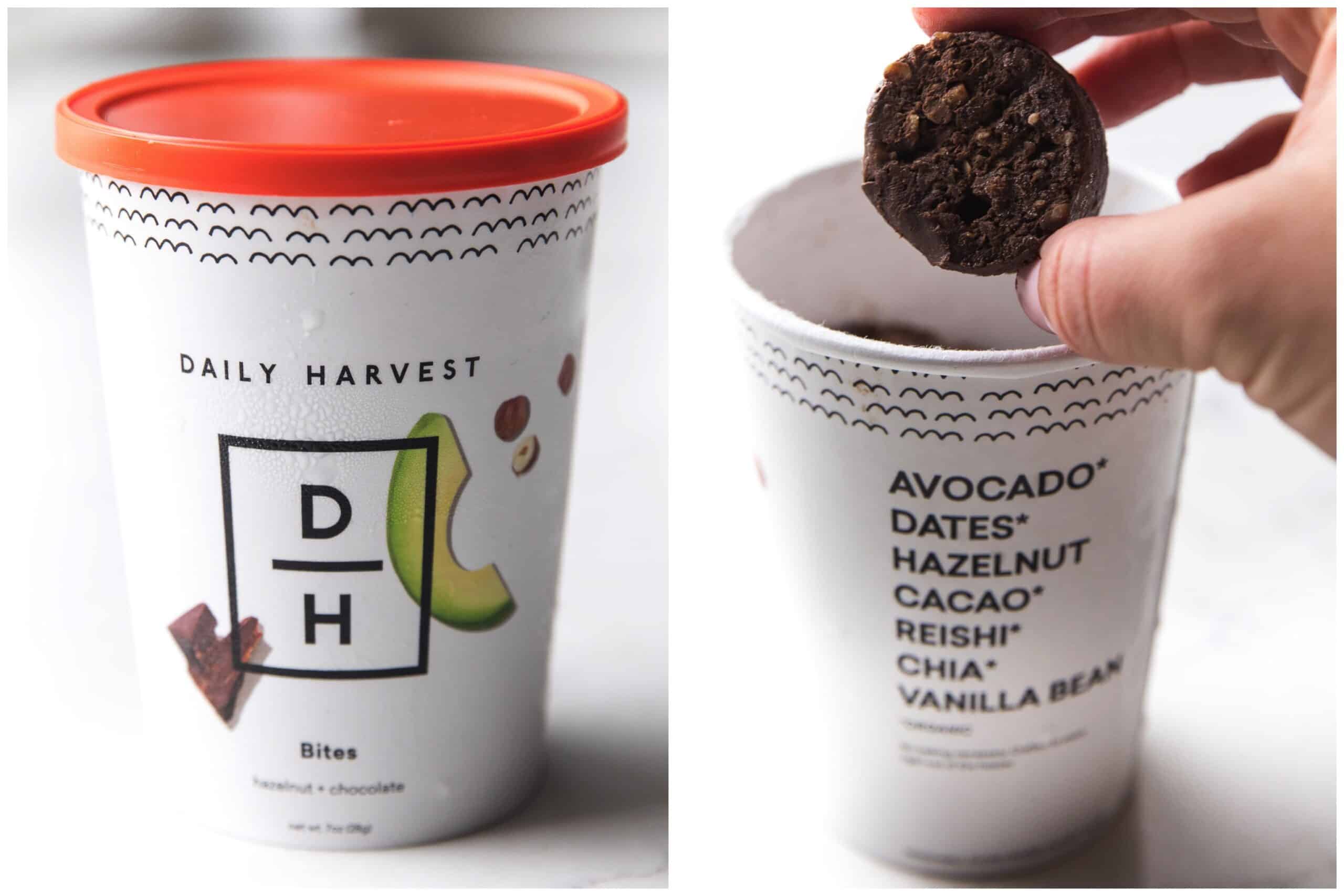 Oh my word, I must insist you add these Bites to your order! The hazelnut + chocolate tastes just like brownie batter!
You eat them frozen straight from the freezer. Don't worry, they're not rock hard, you can easily chew them. They have the perfect amount of sweetness. And I love all the healthy ingredients they're made with!
Benefits of Daily Harvest
Being a mom of 2 and working full time, I love the convenience of having a healthy + delicious meal waiting for me in my freezer at any given time. I'm always just 5 minutes away from a healthy dinner or lunch!
It's most often during lunch time that I find myself heading to my freezer and reaching for one of the harvest bowls. Great way to get tons of veggies in my diet. I like to hack it by adding in any leftover protein I have from dinner the night before: chicken, sausage, beef, fish all work great!
Daily Harvest – Is It Worth It?
Absolutely yes! You'll never regret having healthy and nutritious meals stocked in your freezer! I highly recommend, and will be ordering again.