Easy Homemade Garlic Bread
Thank goodness it's Friday!
Especially after this crazy week. My work closes between Christmas and New Year's, which is a-maz-ing. But after almost 2 weeks off, it sure is tough going back. It's Friday, and I am just now caught up at work. Today I finally answered my last email of a very full inbox that was waiting for me on Monday. Is there anything better than an empty inbox? You almost feel lighter.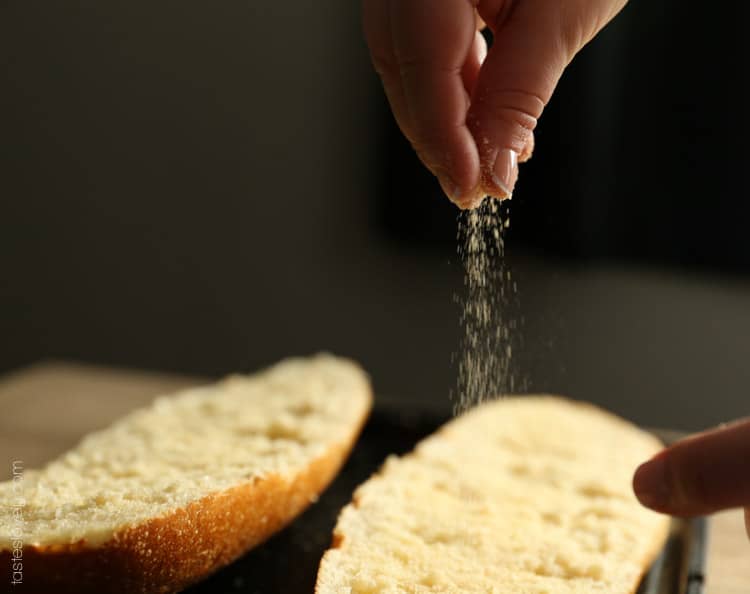 Not only has it been busy at work, but our little videography business has really been taking off. Did I ever tell you guys my husband and I started a videography business a few months ago? Because we did! It's been something we've been dreaming of doing for a while, and with my sister's wedding in October and his cousin's wedding just a week later, it was the perfect opportunity to try our hand at filming and editing. It has been great! Shawn is beyond talented at editing films and making sure we get all the important shots. I'm his second camera girl, and I'm in charge of the website and communicating with clients. We make a great team.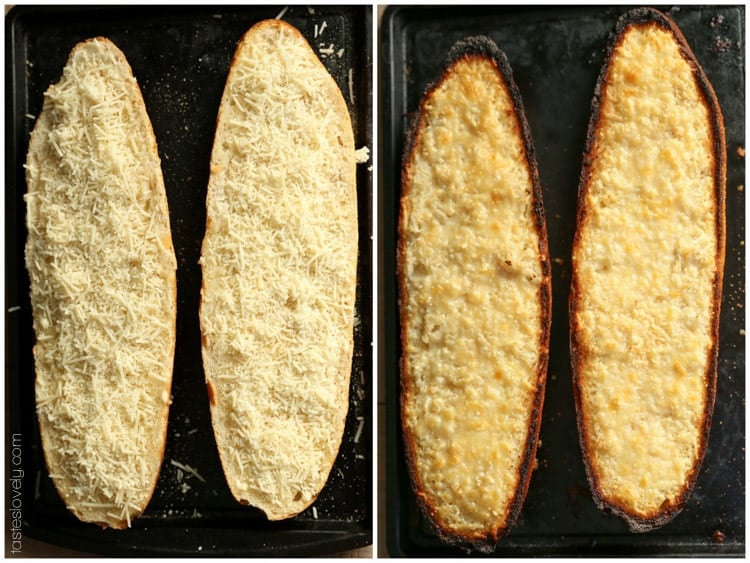 So along with a busy week at work we have gotten a ton of emails from potential clients asking us to film their wedding this summer. It has been wonderful! When I was a bride-to-be I remember hitting wedding planning hard as soon as the holidays were over. Seems I wasn't the only one to do that, *wink*.
It's on busy weeks like this that I rely on quick and easy dinners. Enter in my easy homemade garlic bread. This cheesy garlic bread is only 4 ingredients, and comes together in minutes. I'll whip up a quick pasta dish, and while the noodles are boiling this garlic bread is toasting up. Add in a little caesar salad on the side and bam! Simple and delicious dinner on the table in less than 20 minutes. You would think I'm Superwife.
If I'm really good, there may be enough time at the end of the night to watch an episode of Orange is the New Black, which I am obsessed with at the moment. After watching it, I am terrified to go to jail. They would sense my weakness instantly. I just hope I'd get along great with Red and she'd let me join her in the kitchen for cooking duty. Highly recommend you watch if you haven't yet.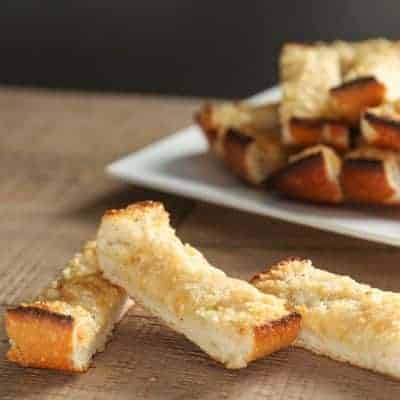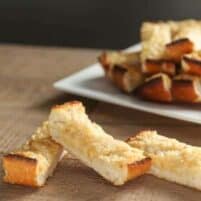 Easy Homemade Garlic Bread
A simple homemade garlic bread made with butter, dried garlic and parmesan cheese, then baked until crispy and golden brown.
Ingredients
1

baguette sourdough or Italian bread

6

tablespoons

butter

,

room temperature

4

tablespoons

garlic powder

1

cup

grated Parmesan cheese
Instructions
1. In a preheated 350 degree oven, toast the baguette for 10 minutes.

2. Remove the baguette from the oven, turn the oven up to broil, cut the baguette in half lengthwise, spread each side with half the butter, sprinkle with half the garlic powder and top with half the Parmesan cheese.

3. Broil the garlic bread on a baking sheet on high on the top rack of the oven for 3-5 minutes, until the cheese is melted and bubbling.

4. Remove from the oven and cut into 2" thick slices. Best served warm.

5. Will keep in an airtight container for up to 1 week. Can be eaten at room temperature, or by reheating in the oven for 5 minutes at 350 degrees.
Notes
The amount of butter, garlic powder and Parmesan may vary depending on the size of the loaf. Adjust accordingly.
Calories:
234
,
Total Carbs:
22.7
g
,
Protein:
4.6
g
,
Fat:
12.7
g
,
Fiber:
1
g
,
Net Carbs:
22
g
Did you make this recipe?
Please Leave a comment and give this recipe a rating!