Five Things for Friday
1. Ok friends, I need your opinion! Shawn and I can't agree on something, and I would love your input! Here's the situation:
Shawn and I are going to Hawaii in August, and are filming a wedding the Saturday we get back that is about 3 hours away from home. We'll be leaving to drive to film the wedding around 9:30am that Saturday, and staying in a hotel overnight. The flight home from Hawaii lands at 11:30pm.
-One of us thinks we're fine to leave Hawaii that Friday, get home at 11:30pm Friday night, then drive out of town Saturday morning. Flights from Hawaii to Oakland, CA are rarely delayed. Where we're staying in Hawaii is for free, and it would be better to get a whole extra day of vacation.
-One of us thinks it's too risky, and cutting it too close to get home Friday night. If the flight gets delayed or cancelled, we have no other way of making it home, and could miss filming this persons wedding and breach our contract. It would be better to get home Thursday night rather than risk it, even though it means we'll only have a 7 night vacation instead of 8 nights.
Help! What would you guys do? I won't tell you who thinks what so you can't be biased, and I'll let you know what we decide to do next week. Can you tell one of us is more cautious, and one of us assumes everything will always be fine? We definitely balance each other out.
2. We went to Lake Tahoe over the weekend with a bunch of friends and had the best time! On Saturday everyone went skiing, but since Shawn and I didn't get season passes this year we spent Saturday driving around Lake Tahoe. We went to Emerald Bay for the first time. So gorgeous!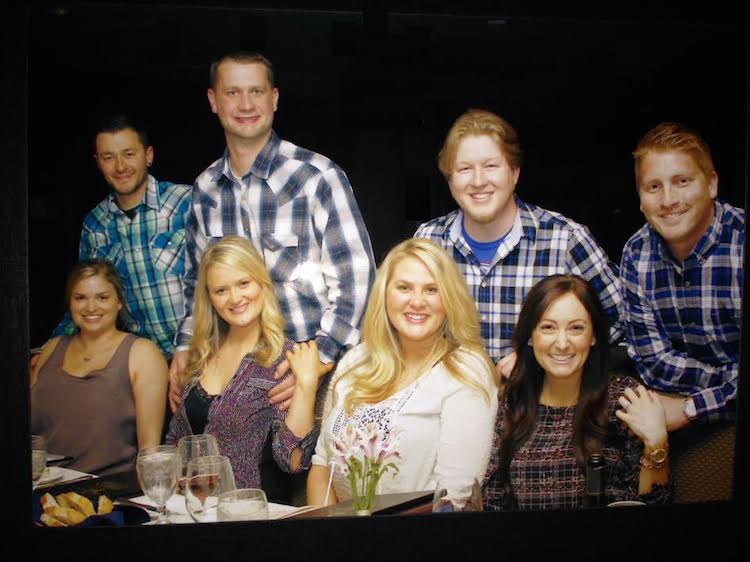 3. While in Tahoe we went out to some great restaurants and ate the best food. All the guys wore plaid. It was hilarious. Whenever Shawn and I go to a restaurant that serves oysters we must order them. We're obsessed. We ordered some on Friday night, and got to share them with our friends (who also happen to be our cousins, love when family makes a great friend) Ashley and Bryan. It was their first oyster. Do you guys love oysters as much as us?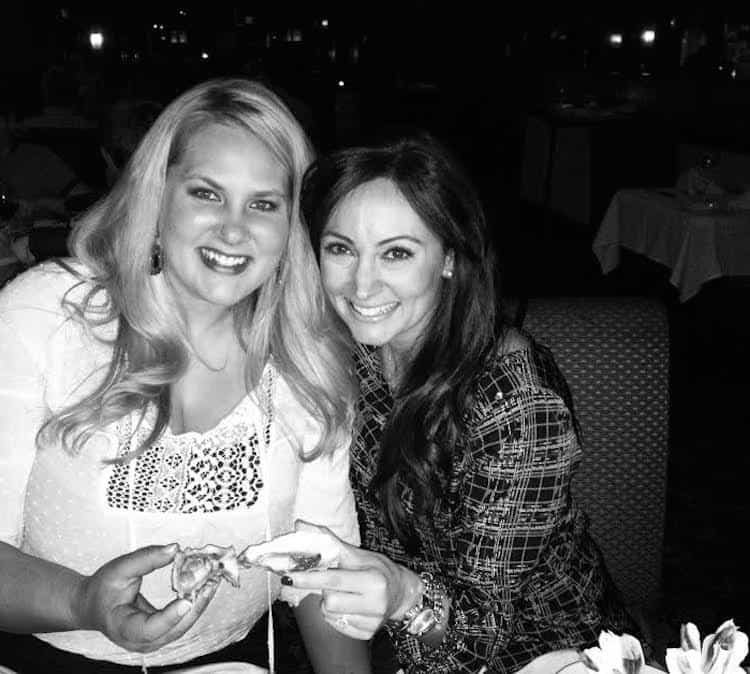 4. Want to see some more cute dog videos? Of course you do! This is a pretty perfect glimpse into what the 3 of them do all day: Jake and Max play wrestling on the bed while Lou watches and yawns.
And here are Jake and Max chewing on two ends of a gigantic stick they found outside and decided to bring inside.
Max now fully feels like a part of the family. But he definitely gets into trouble. I was laughing so hard when I got this text from Shawn yesterday: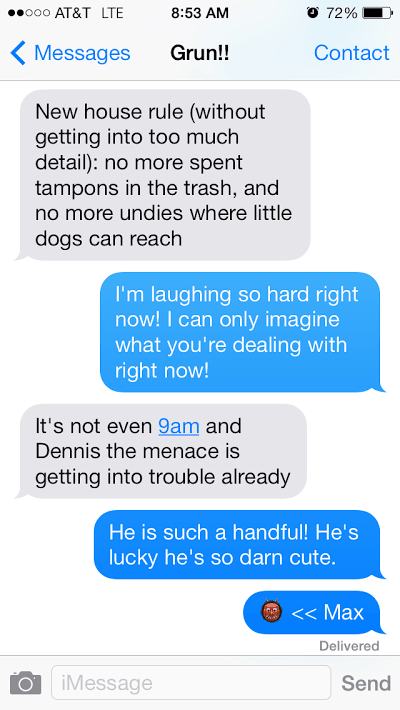 5. Did you guys see this AMAZING Wheel of Fortune puzzle solve? Holy moly! That might be the best guess I've ever seen!
Happy Friday friends!