Healthy Asian Turkey Lettuce Wraps
Happy first day of spring! Now let's get bikini ready with these easy, healthy Asian ground turkey lettuce wraps.
I have 2 reactions when it starts to get sunny outside.
1. Yea! It's almost summer!
2. Oh my GOD! I'm going to need to wear a swim suit soon.
Please tell me you all do that too.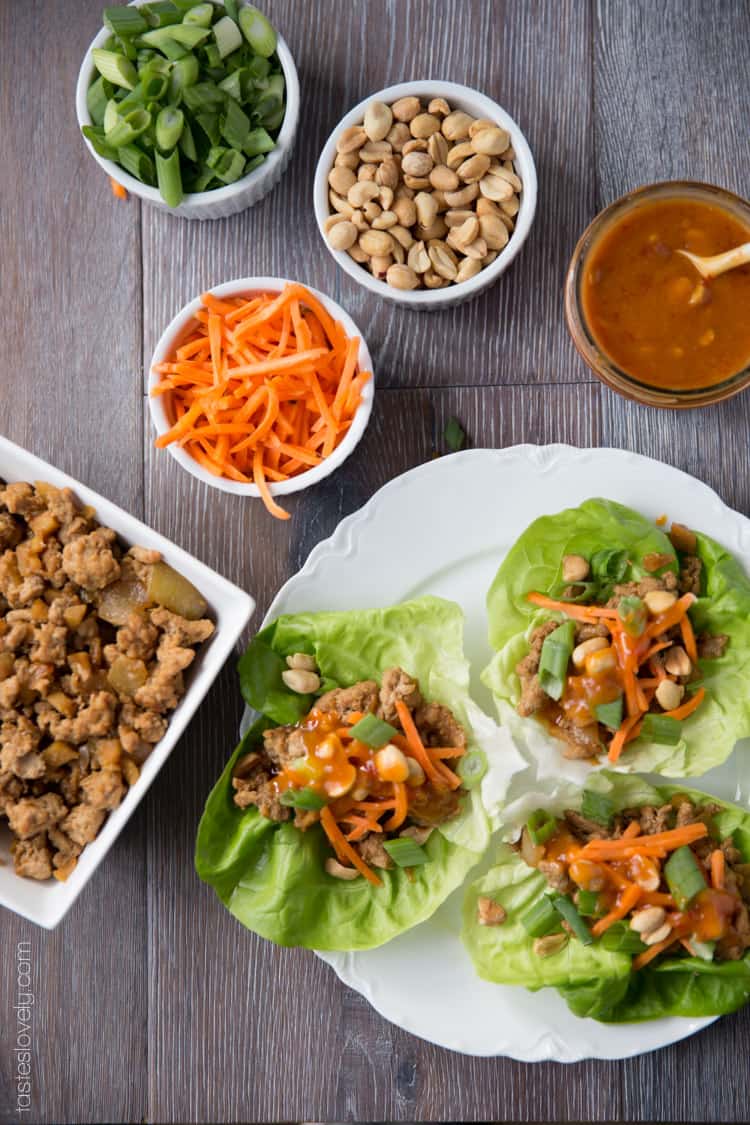 So I've been hitting the gym since Monday telling myself, "I can be bikini ready in a month? Right? Oh MAN! Why didn't I start this in January like everyone else?!" Then I answered myself with "That's because……I was…….injured…….Oh yea!…..That's right! From that hard fall skiing in January? And I thought I broke my butt, but really I just bruised my tail bone? And it hurt to even sit down, let alone do sit ups. That's why I tell ya!"
Then I don't feel so guilty.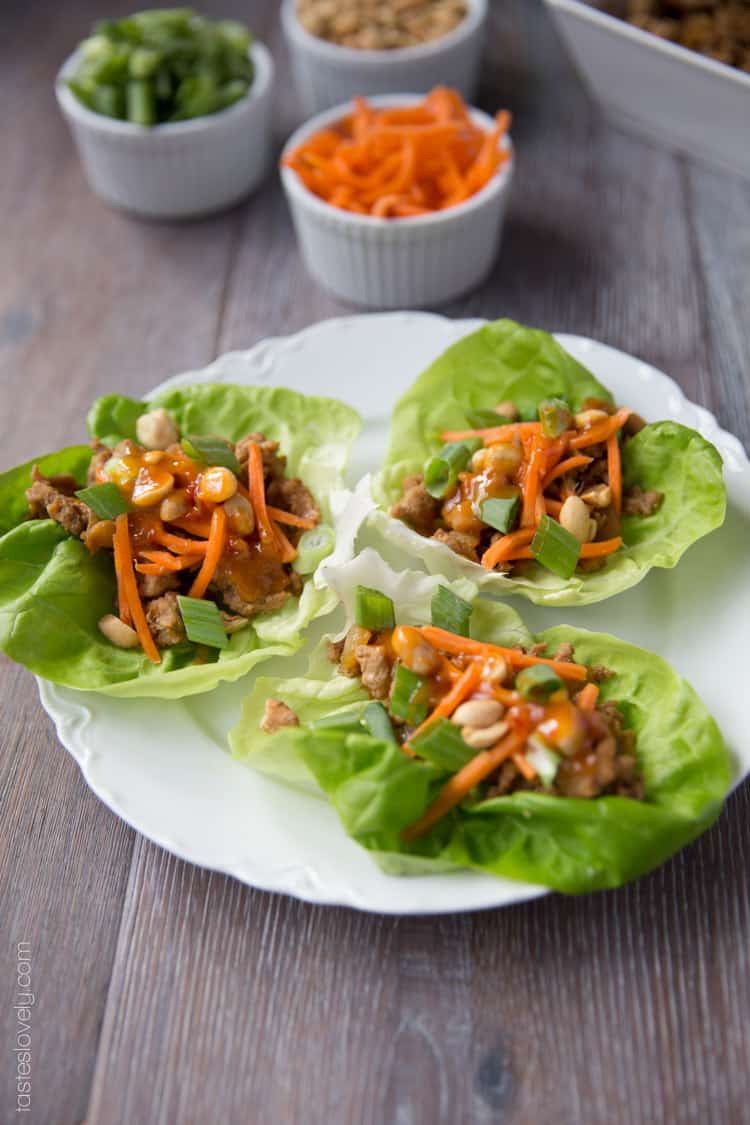 Along with working out all week (and walking around like a cripple because my legs are so sore from doing squats and lunges), I've been eating better. Which means Shawn is eating better too. Yesterday I came home from the gym starving and asked him at 5:30 if he was hungry for dinner.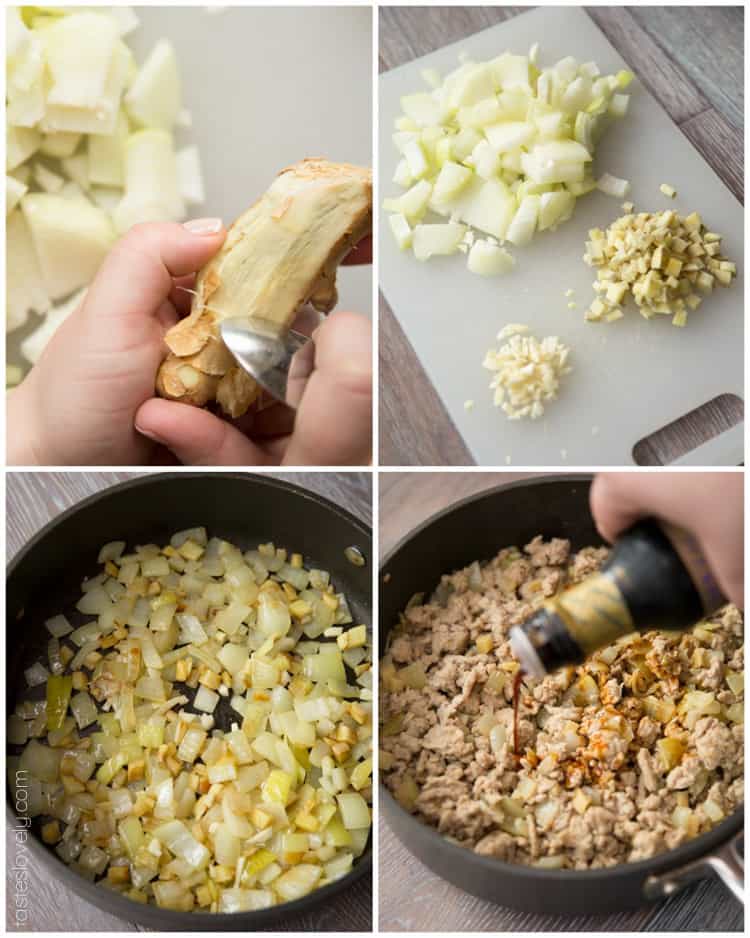 "Meh."
"Meh? What do you mean meh? You're not starving? Wait a minute, Shawn. Whatdidyouhaveforlunch?"
"Chipotle."
"Shawn! You had Chipotle for lunch?! That's not fair! I had a protein shake and snap peas. I'm going to kill you."
"Don't worry Nat. It was a veggie burrito! I didn't even get meat. It was basically a salad."
The guys got a lot to learn about nutrition.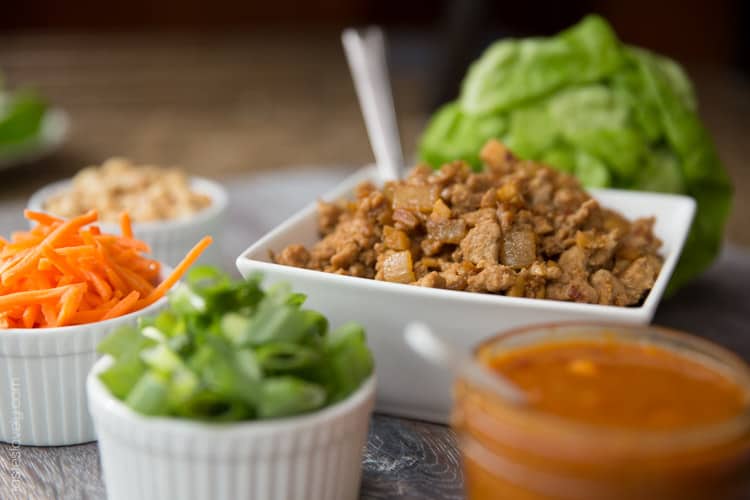 Truth be told, I would choose these healthy Asian ground turkey lettuce wraps over a Chipotle burrito any day. They are that good! It's lean ground turkey cooked with onion, fresh ginger and soy sauce. Spoon it into a lettuce cup, top it with crunchy shredded carrots, green onions, peanuts and that amazing Asian peanut sauce I made on Tuesday. Oooohweee it's tasty!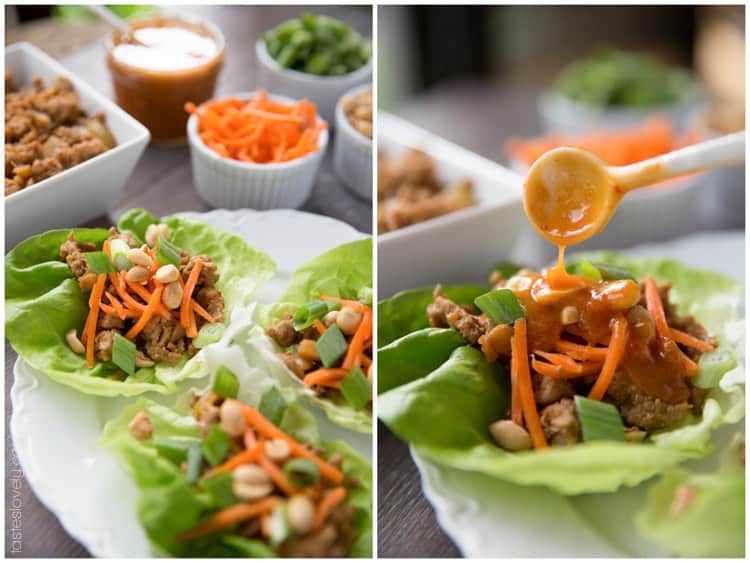 And easy to make too. I can have this dinner on the table in 25 minutes. Great for days after the gym when I'm so hungry I could eat the couch, but so wiped out all I want to do is lay on that couch as I eat it. Poor couch. Don't worry, I won't eat you. I'll just sit on you as I eat my way thru at least 3 of these Asian turkey lettuce wraps.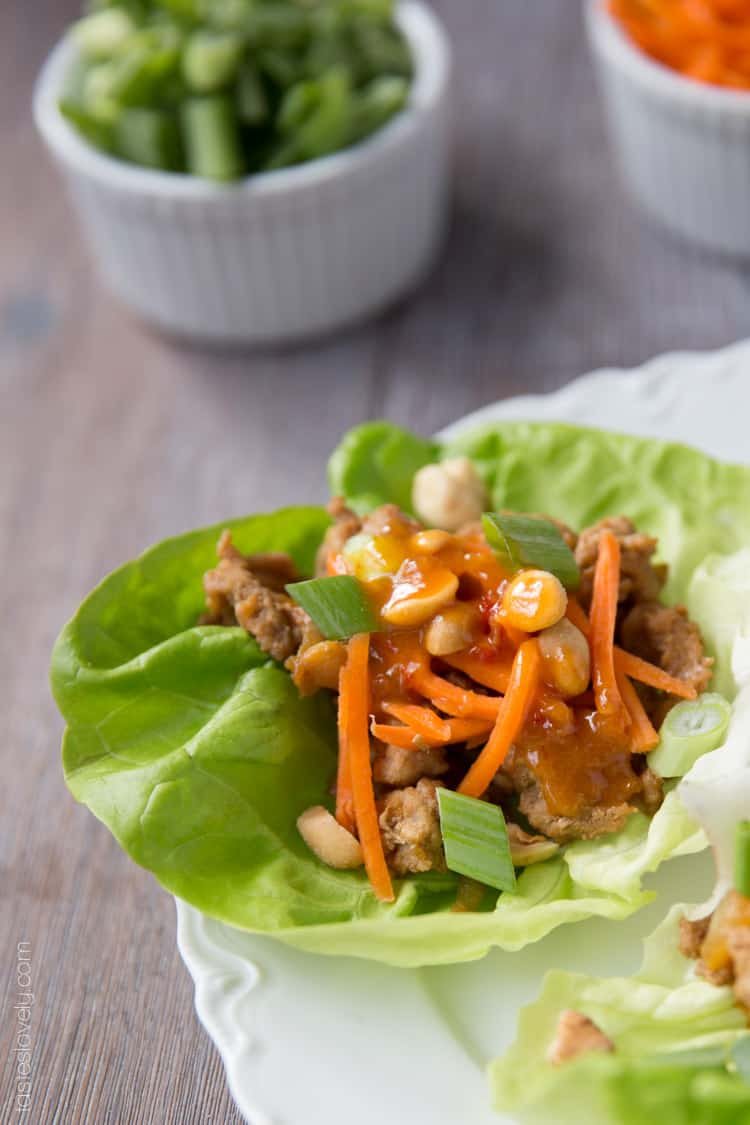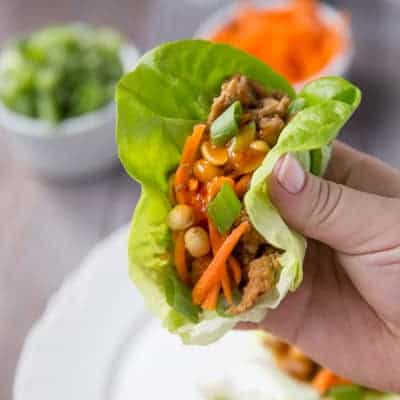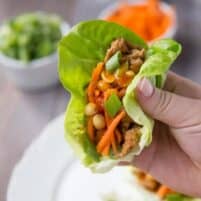 Healthy Asian Turkey Lettuce Wraps
These easy, healthy Asian ground turkey lettuce wraps are delicious and can be made ahead of time for meal prep!
Ingredients
For the turkey mixture
1

tablespoon

olive oil

1

yellow onion

,

chopped

3

" long piece of ginger

,

peeled and chopped

1

teaspoon

salt

1

teaspoon

pepper

2

garlic cloves

,

minced

1

pound

ground turkey

1/4

cup

of soy sauce
Toppings
1

head butter

,

Bibb or Boston lettuce

3

scallions

,

sliced

1

cup

shredded carrots

1/2

cup

salted peanuts
Instructions
In a medium size skillet, heat the olive oil over medium high heat. Add in the onions, ginger, salt and pepper, cooking until the onion starts to turn translucent, about 5 minutes. Add in the garlic and cook for 1 more minute.

Add the ground turkey to the same skillet along with the onions, garlic and ginger, breaking it up as it cooks, about 10 minutes. Add in the 1/4 cup soy sauce, turn the heat up to high until all of the soy sauce is absorbed. Remove from heat and allow to cool for 5 minutes.

Spoon the cooled ground turkey into the lettuce cups and top with shredded carrots, green onions, peanuts and Asian peanut sauce.

The turkey mixture will keep in an airtight container for 1 week in the fridge.
Notes
The cold leftovers make an amazing salad the next day. Just tear the lettuce and top with the cold turkey mixture, shredded carrots, scallions, peanuts and asian peanut sauce.
Calories:
378
,
Total Carbs:
19.8
g
,
Protein:
30.2
g
,
Fat:
21.7
g
,
Fiber:
5.6
g
,
Net Carbs:
14
g
Did you make this recipe?
Please Leave a comment and give this recipe a rating!