Healthier Spaghetti and Sausage Meatballs
Is there anything more classic than spaghetti and meatballs?
It was always good news when you would ask your mom what's for dinner and she would respond, "Spaghetti and meatballs." Yesssss! What's not to love?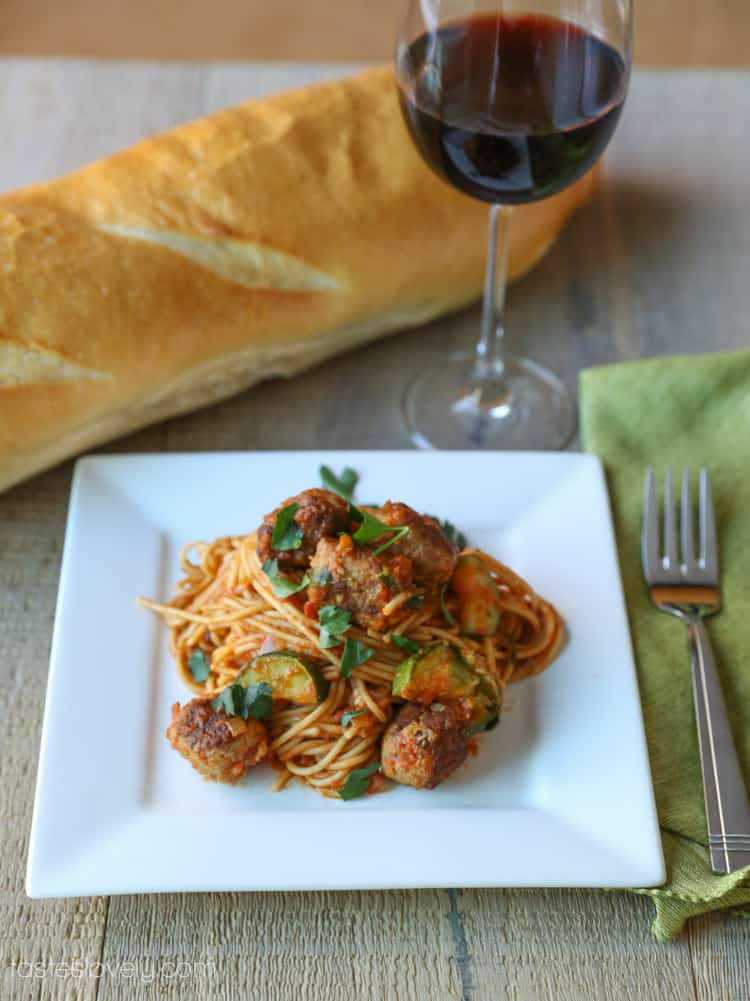 Well, maybe not all the prep time it takes to make meatballs from scratch…
But that's what so great about this recipe. I make the tastiest and easiest "meatballs" by just rolling Italian sausage meat into little balls and browning them in the pan. In 5 minutes I can roll out and have 25 meatballs. Win!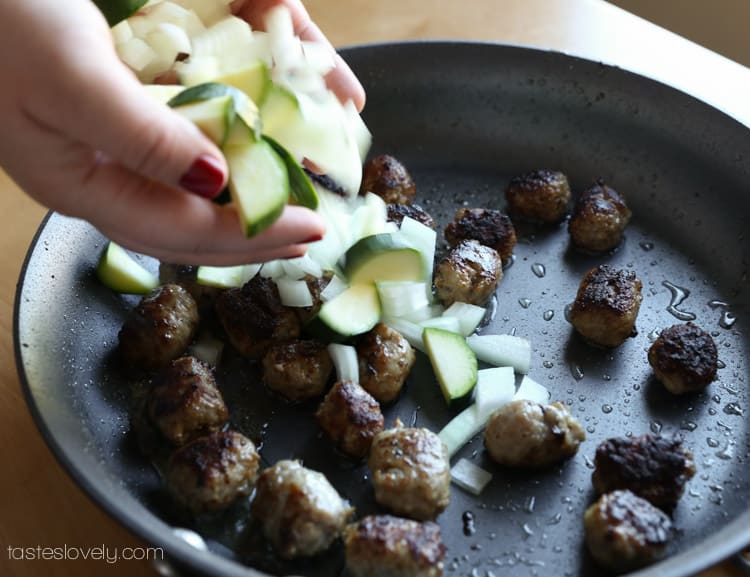 And all those empty carbs and calories in spaghetti aren't that great either…
I've solved that problem for you too. This skinny spaghetti and meatball recipe uses lean Italian sausage, much healthier than ground beef, along with adding in zucchini for extra nutrition and swapping in whole wheat pasta instead of white pasta. Each serving is only 410 calories, double win!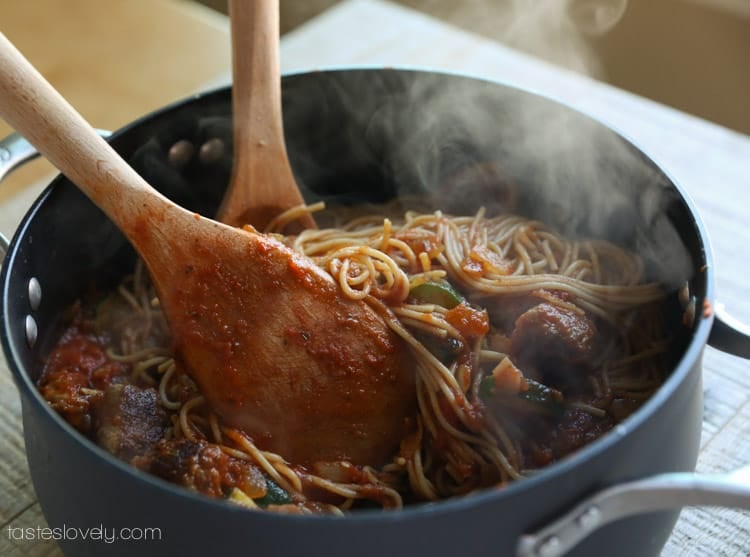 So you can eat a big plate of this spaghetti without worrying about your skinny jeans getting a little too snug. Just like in the good ole high school days. Heck, you can even listen to the new Britney Spears CD while you're cooking it and it will really feel like high school all over again.
You girls bought and listened to Britney's new CD the day it came out too, right? What am I saying, of course you did. You're probably listening to it right now like me. Oh Britney, I will always love everything you put out.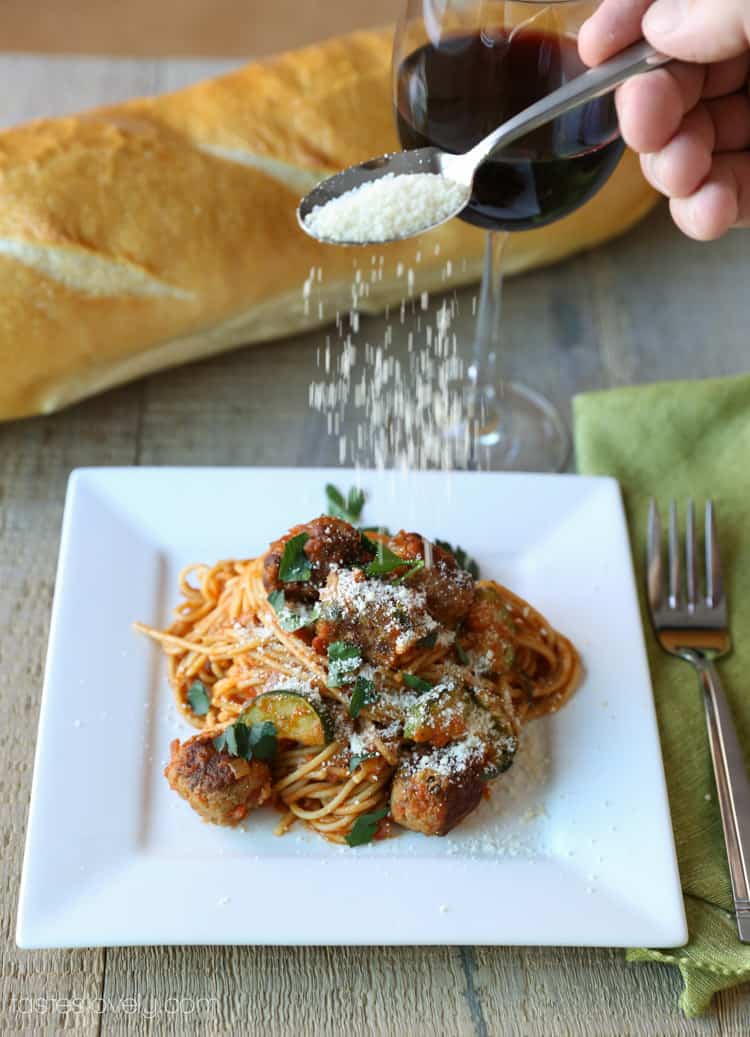 Don't forget to top it with some parmesan. Or a lot of parmesan. Always a lot of parmesan.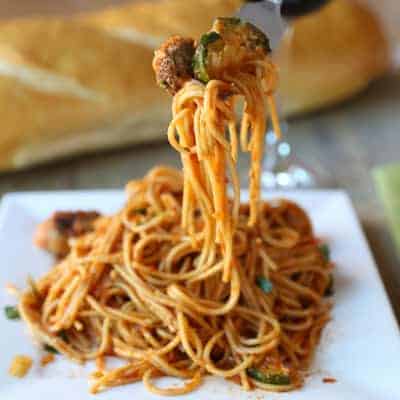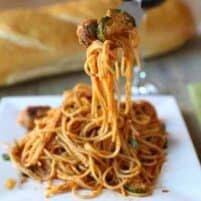 Healthier Spaghetti and Sausage Meatballs
A healthier version of spaghettie and sausage meatballs, with tons of veggies packed in. And my hack for 1 ingredient meatballs!
Ingredients
16

ounce

package of sweet Italian sausage

2

medium zucchini cut into 1/4" thick half moons

,

about 3 cups

1

large yellow onion chopped medium

,

about 2 cups

2

garlic cloves finely chopped

,

about 1 teaspoon

1

teaspoon

olive oil

26

ounce

jar of marinara sauce

,

Trader Joe's Tomato Basil Marinara is my favorite

1

pound

whole wheat spaghetti

salt and pepper

Grated Parmesan cheese

,

optional
Instructions
1. Bring a large pot filled with water and a huge pinch of salt to boil over high heat, and heat a large flat bottom skillet with 1 teaspoon olive oil over medium high heat.

2. While the pan is heating up, remove the sausages from their casings. Cut each sausage link into 5 pieces and roll them into balls. Add the sausages to the heated skillet, cooking until they're browned on all sides, about 5 minutes.

3. The water should be boiling at this point. Cook the pound of whole wheat pasta according to package instructions.

4. Add the zucchini and onion to the skillet, salt and pepper, and cook with the meatballs until the onions become translucent and the meatballs are cooked through, another 5 minutes.

5. Add in the garlic and cook until fragrant, about 30 seconds.

6. Pour in the marinara sauce, reduce heat to low, and continue cooking until the pasta is cooked through.

7. Drain the pasta and toss with the meatball and vegetable marinara sauce. Serve immediately.

8. Will keep in an airtight container for up to 1 week in the fridge.
Calories:
425
,
Total Carbs:
61.7
g
,
Protein:
25.1
g
,
Fat:
10.7
g
,
Fiber:
7.9
g
,
Net Carbs:
54
g
Did you make this recipe?
Please Leave a comment and give this recipe a rating!