How To Clean Eco Friendly Water Bottles
Use this non-toxic method to clean eco friendly water bottles. Whether using stainless steel or aluminum water bottles, this water bottle cleaning hack eliminates bacteria and odors!
Why You Should Clean Reusable, Eco Friendly Water Bottles
How often are you cleaning your water bottles? Have you ever?
If you're like me, you are drinking out of yours constantly. They stay relatively clean, but bacteria from your mouth can transfer through the straw and get into the water bottle. Bacteria love moisture, so it's very important to keep a clean bottle!
It feels even more important for me to keep a clean bottle for my kids. They are not as neat and tidy when it comes to drinking out of their water bottles, especially if they are drinking from them while eating. I can't even count how many times I've gone to refill my kid's stainless steel bottle and find food trapped in the straw, and inside the water bottle.
Water bottle cleaning regularly (for me about once a week), keeps our stainless steel water bottles clean and odor free! Especially with back-to-school right around the corner, my kid's water bottles for school have been sitting in their backpacks all summer and need a very thorough cleaning.
Watch How To Clean Reusable Water Bottles
Note: you can also watch this video on YouTube.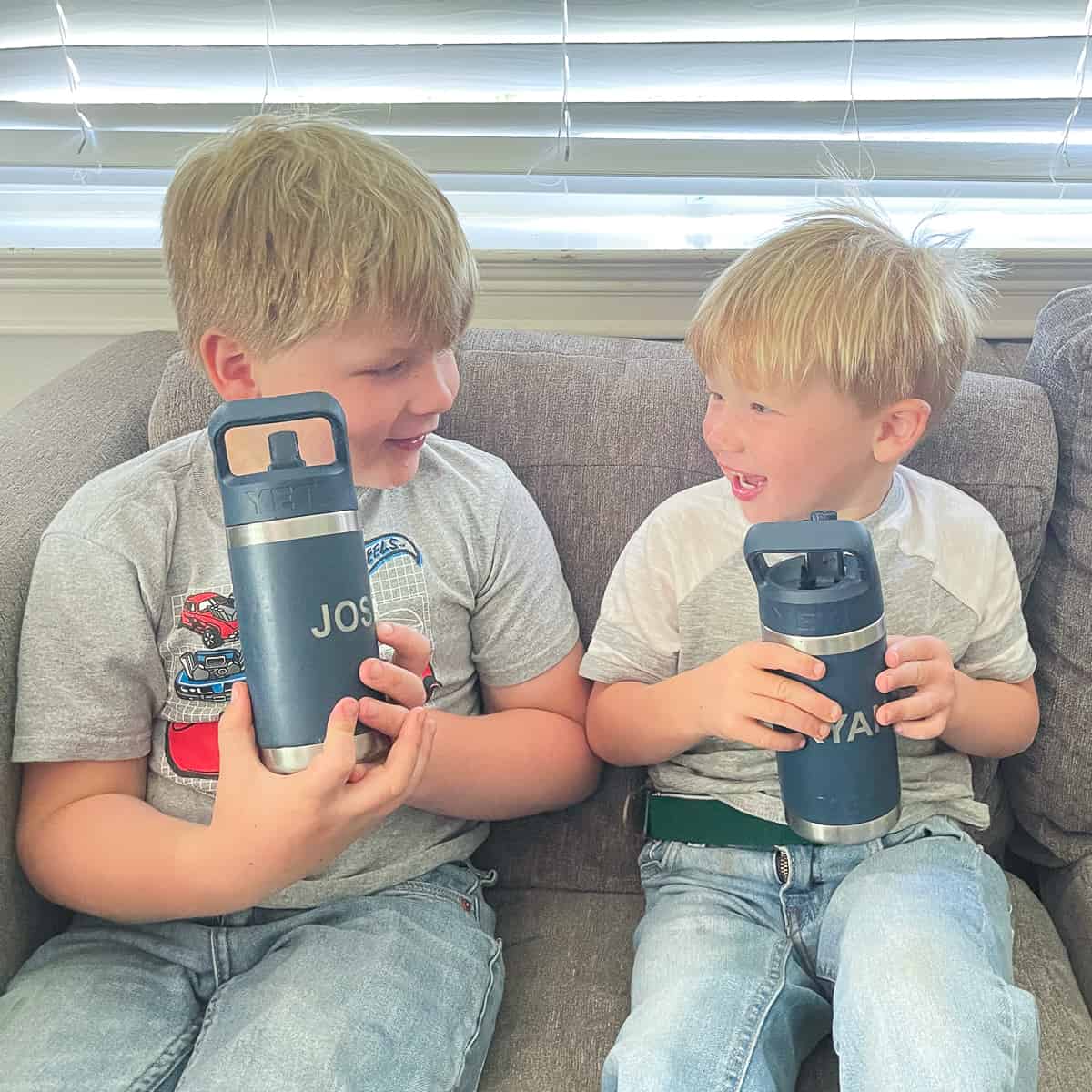 Our Favorite Stainless Steel Bottle
I have had the best luck with Yeti water bottles! I love their 18-ounce Rambler and the Rambler Bottle Straw Cap. Personally, I prefer drinking from a straw, and the 18-ounce size fits perfectly in my car cupholder.
For my kids' water bottles for school (and home!), their Rambler Jr 12-ounce Kids Bottle cannot be beaten. With 3 little boys, I have tried out every kid's stainless steel bottle made, and the Yeti is definitely my favorite. I love that it has a hard straw, so my kids can't chew threw it as they have with other silicone straw bottles. It is also completely leakproof when closed, though it does leak when it is open. It fits perfectly in a school backpack, and I love that I can add their name to it.
I also know a lot of people have success with aluminum water bottles, and this clean bottle hack will work for them too!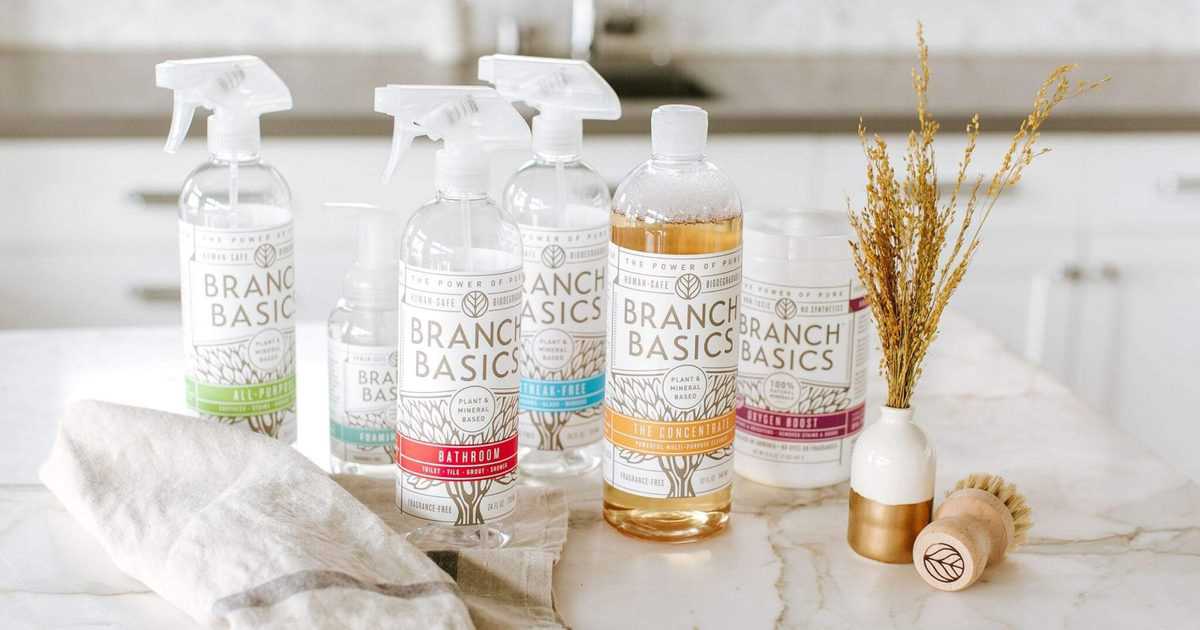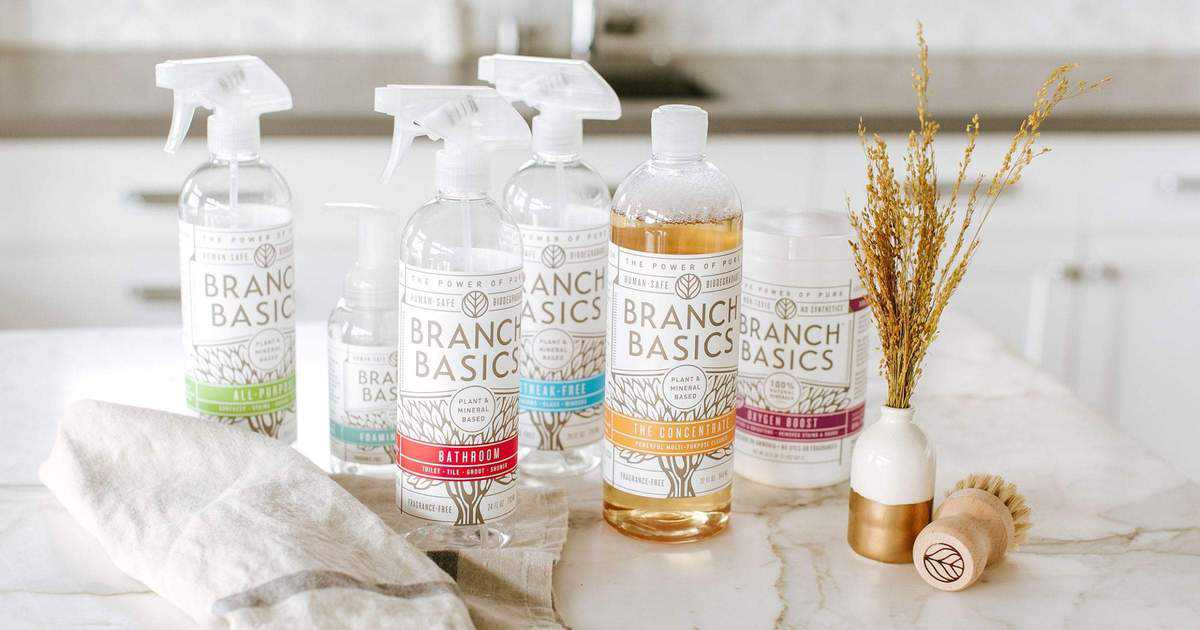 How to Keep a Clean Bottle, with a Non-Toxic Cleaner!
I have shared so many times over the years my love for Branch Basics. (code TASTESLOVELY for 15% off any starter kit!). Not only is it the best toxic-free cleaner I have ever used, but it is the best cleaner period. So it is no surprise that yet again, Branch Basics is the perfect cleaner for my stainless steel bottle!
Branch Basics is plant and mineral based, so there are no harmful or harsh chemicals. I feel completely safe using it in the eco friendly water bottles that we drink from constantly. I use their foaming wash for this water bottle cleaning hack and it works perfectly.
Keeping a Clean Stainless Steel Bottle, Step by Step!
It's very simple to clean your stainless steel or aluminum water bottles naturally without any harsh or harmful chemicals. Most importantly, this will keep toxic cleaning chemicals out of your water bottle, and therefore out of the water that you drink from it.
10 Simple Steps To Clean Eco Friendly Water Bottles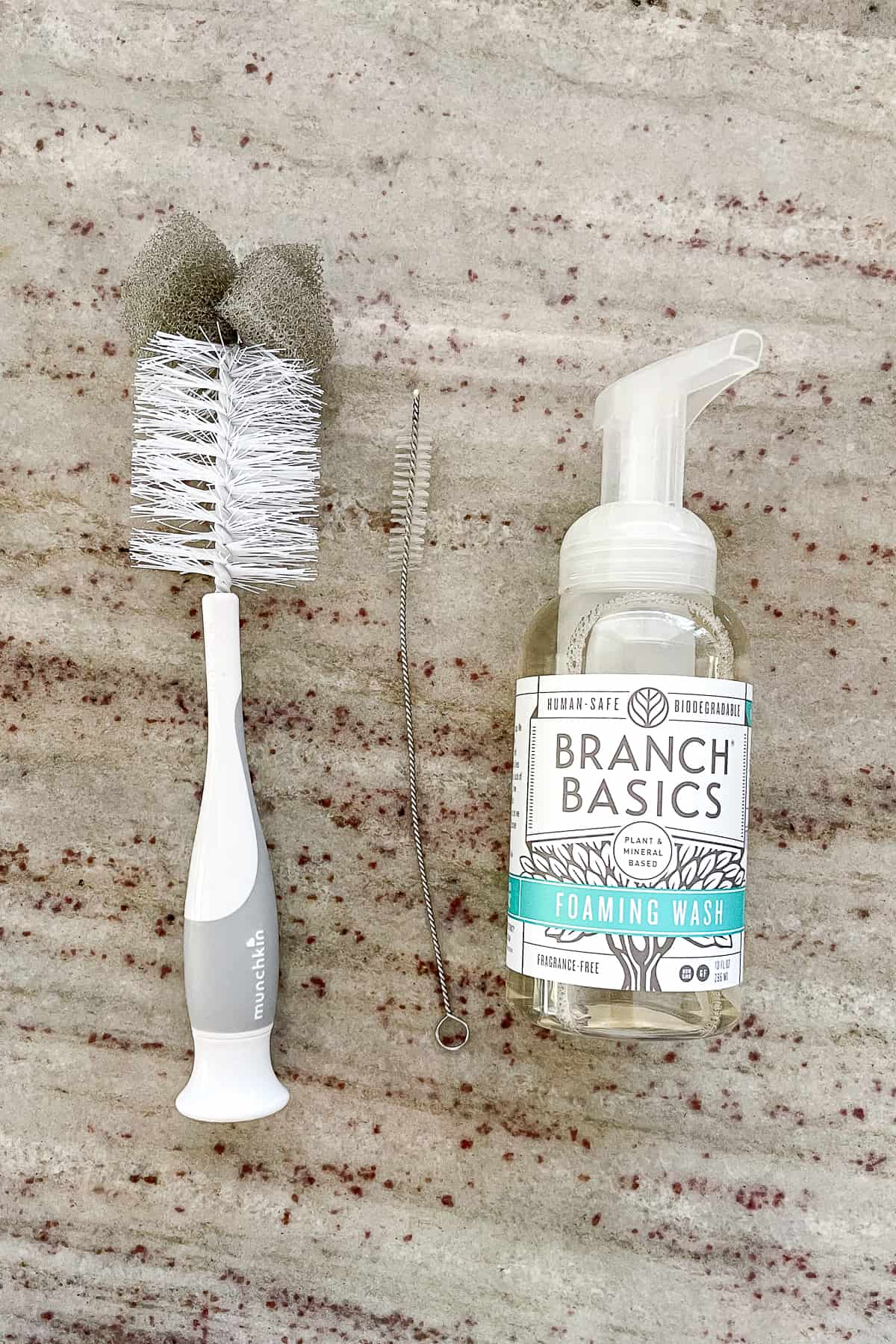 1. Gather Your Supplies.
The supplies you'll need for water bottle cleaning: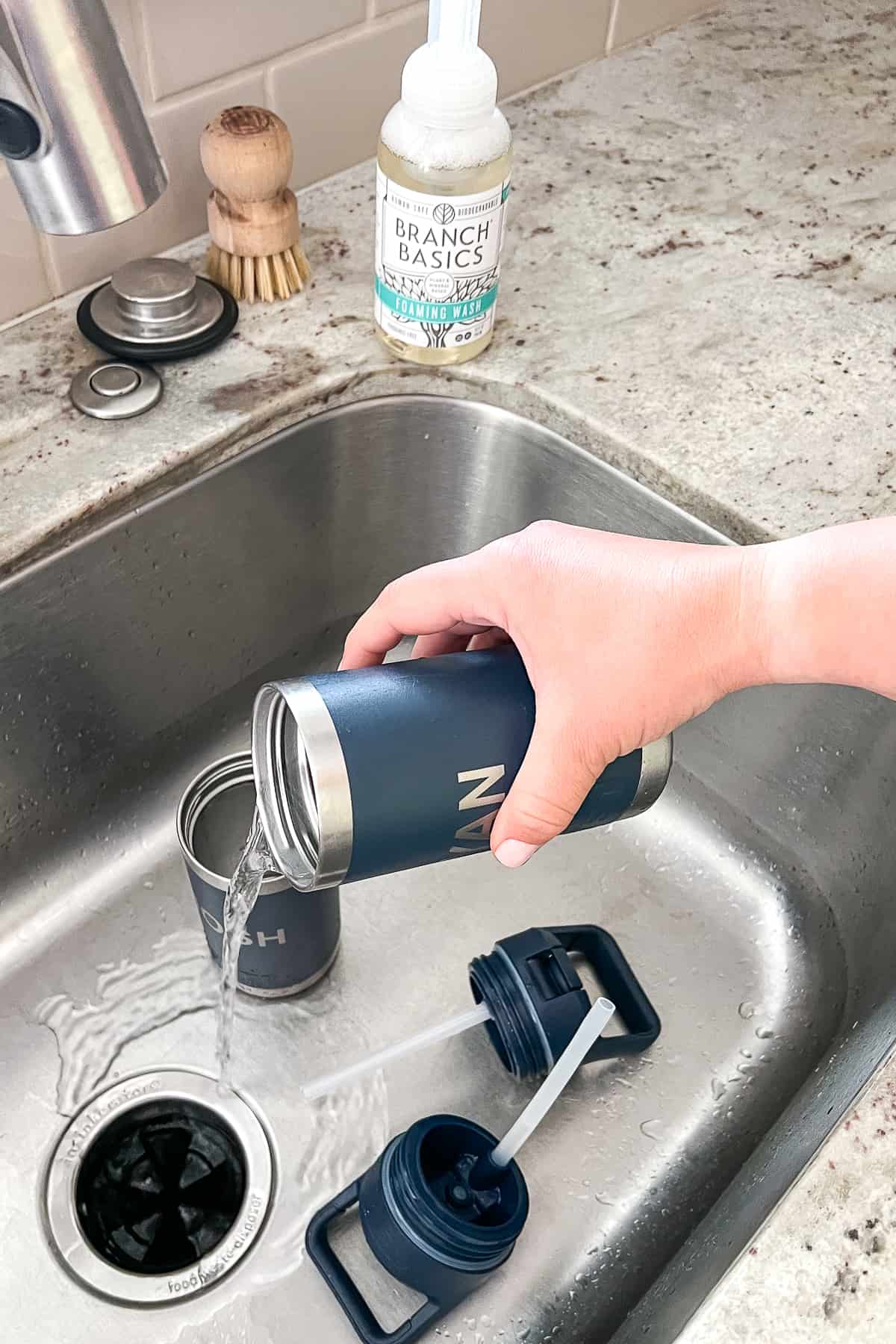 2. Empty the Water Bottles.
If the water bottles have water or any other liquid in them, pour it out.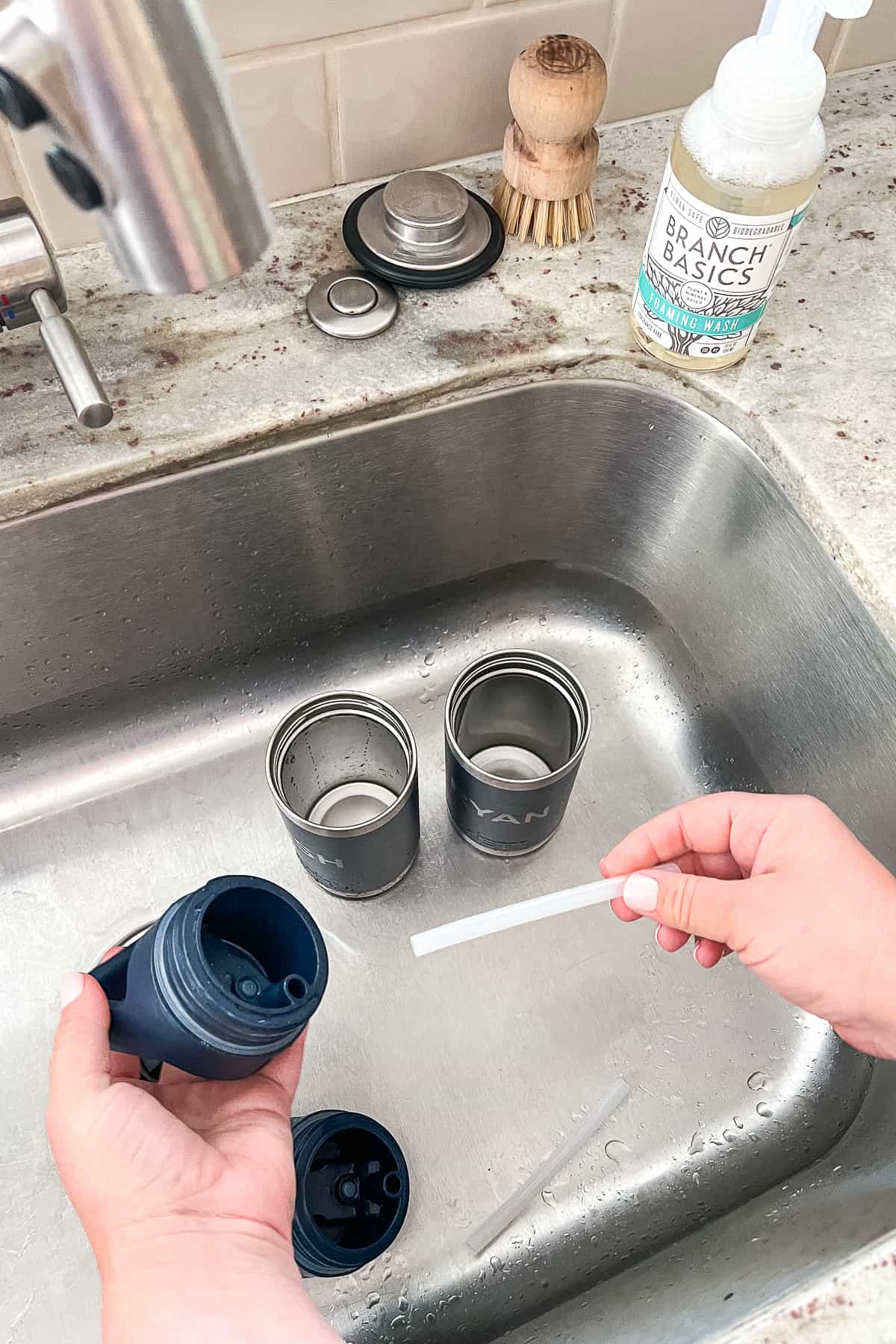 3. Disassemble.
Pull apart all the pieces of your stainless steel or aluminum water bottles to be thoroughly cleaned.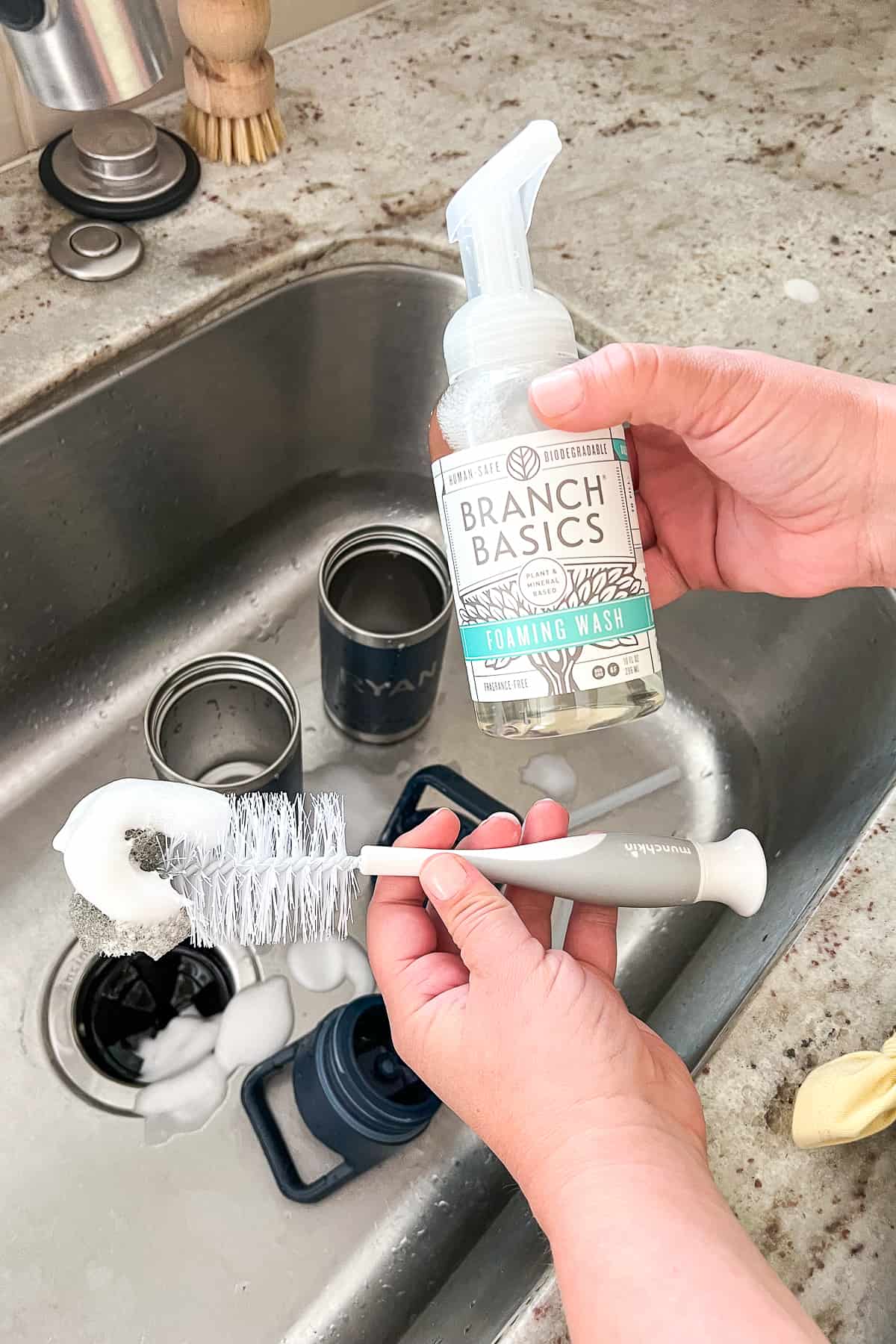 4. Add Branch Basics Foaming Wash to Bottle Brush.
Next, add some cool water to your bottle brush first, then do 3 pumps of the Branch Basics Foaming Wash.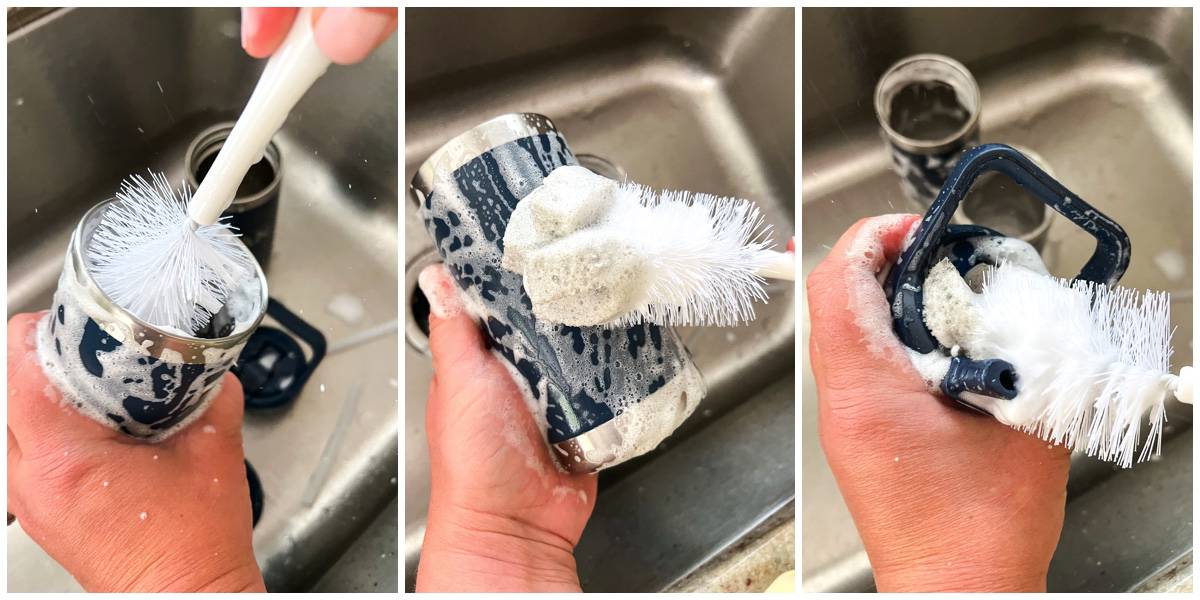 5. Scrub The Water Bottle.
Using the soapy bottle brush, thoroughly clean the inside and outside of the steel bottle, as well as the lid.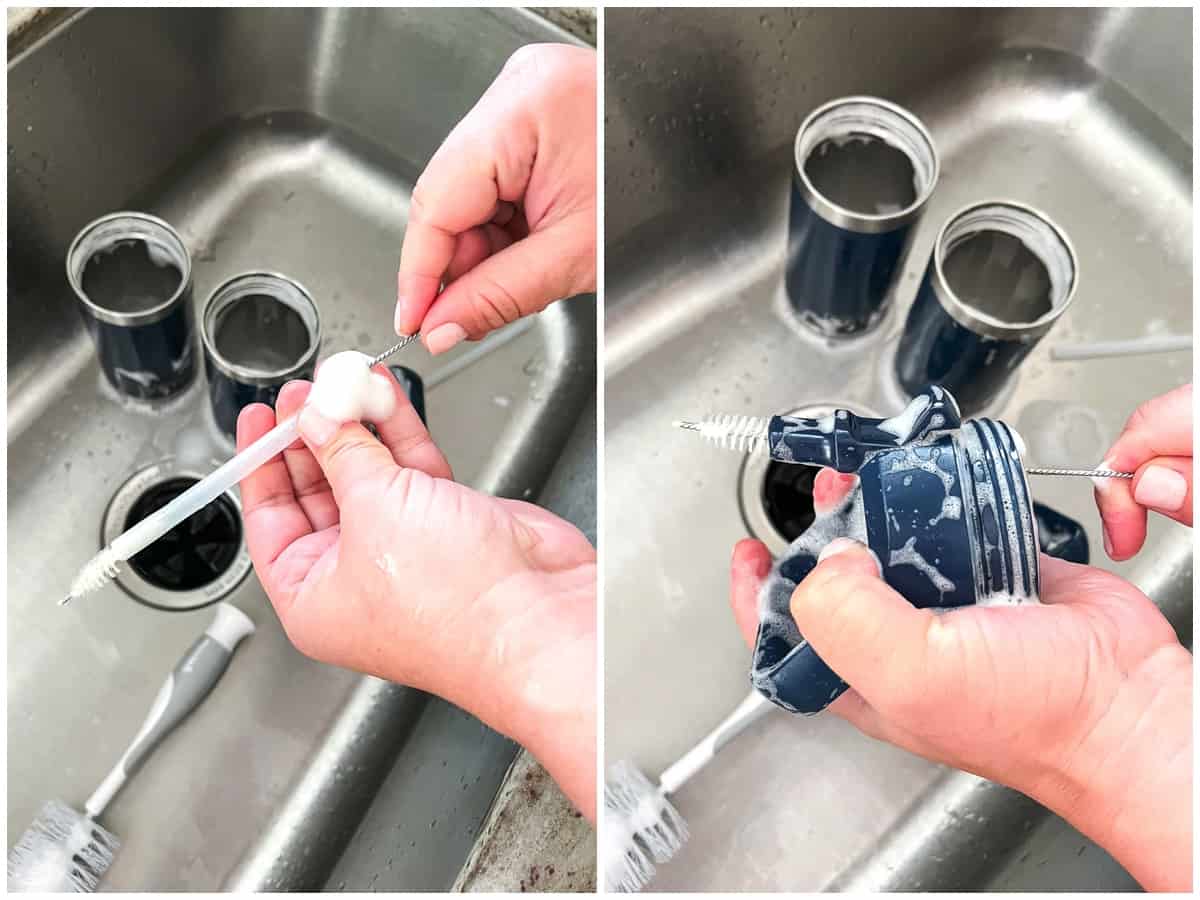 6. Clean The Straw.
After that, add 1 pump of Branch Basics Foaming Wash to the straw cleaner brush, and clean both the straw and straw area of the lid. This will ensure you have a clean bottle AND clean straw.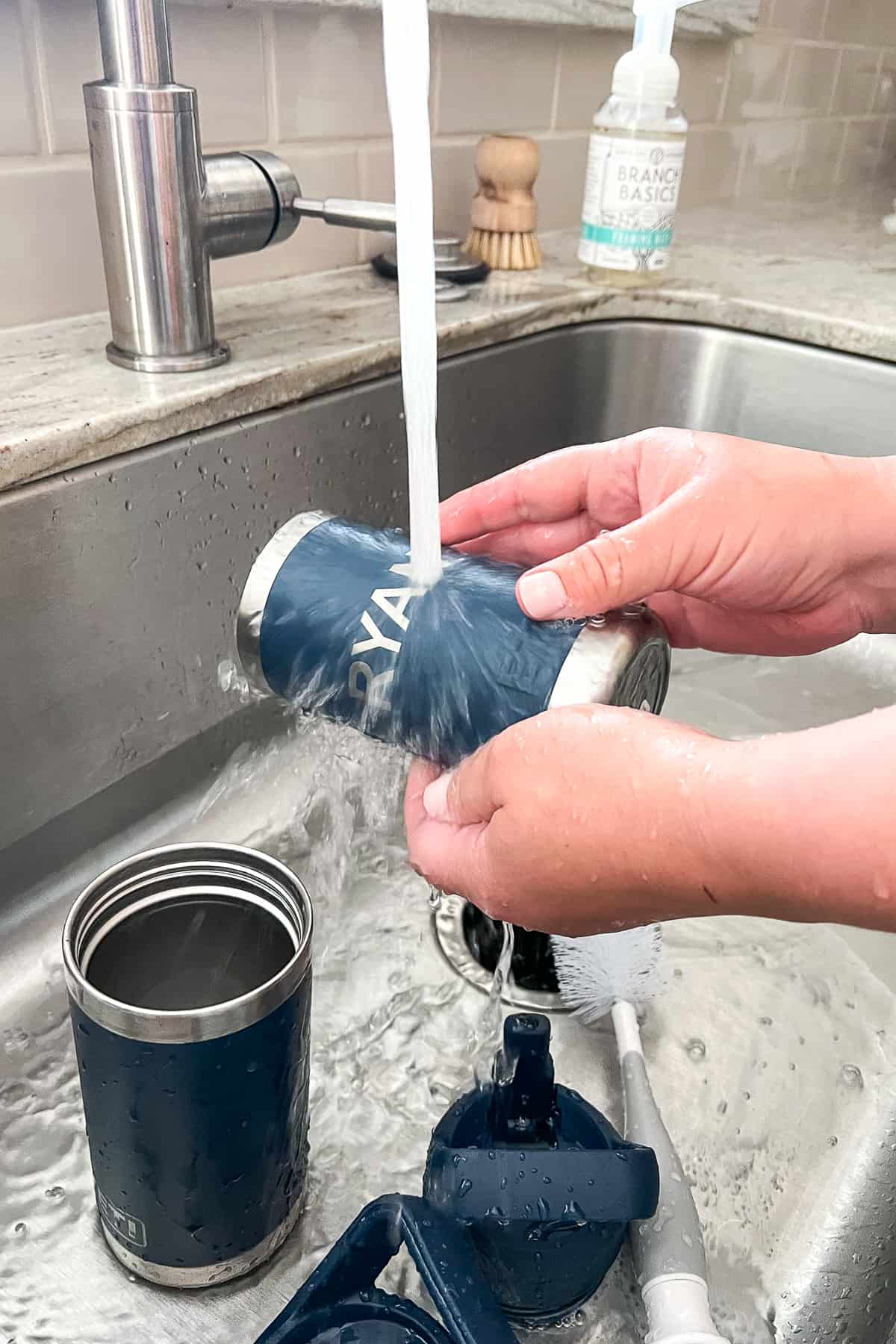 7. Rinse.
After you are done with the water bottle cleaning, give them a rinse to get all the soap off.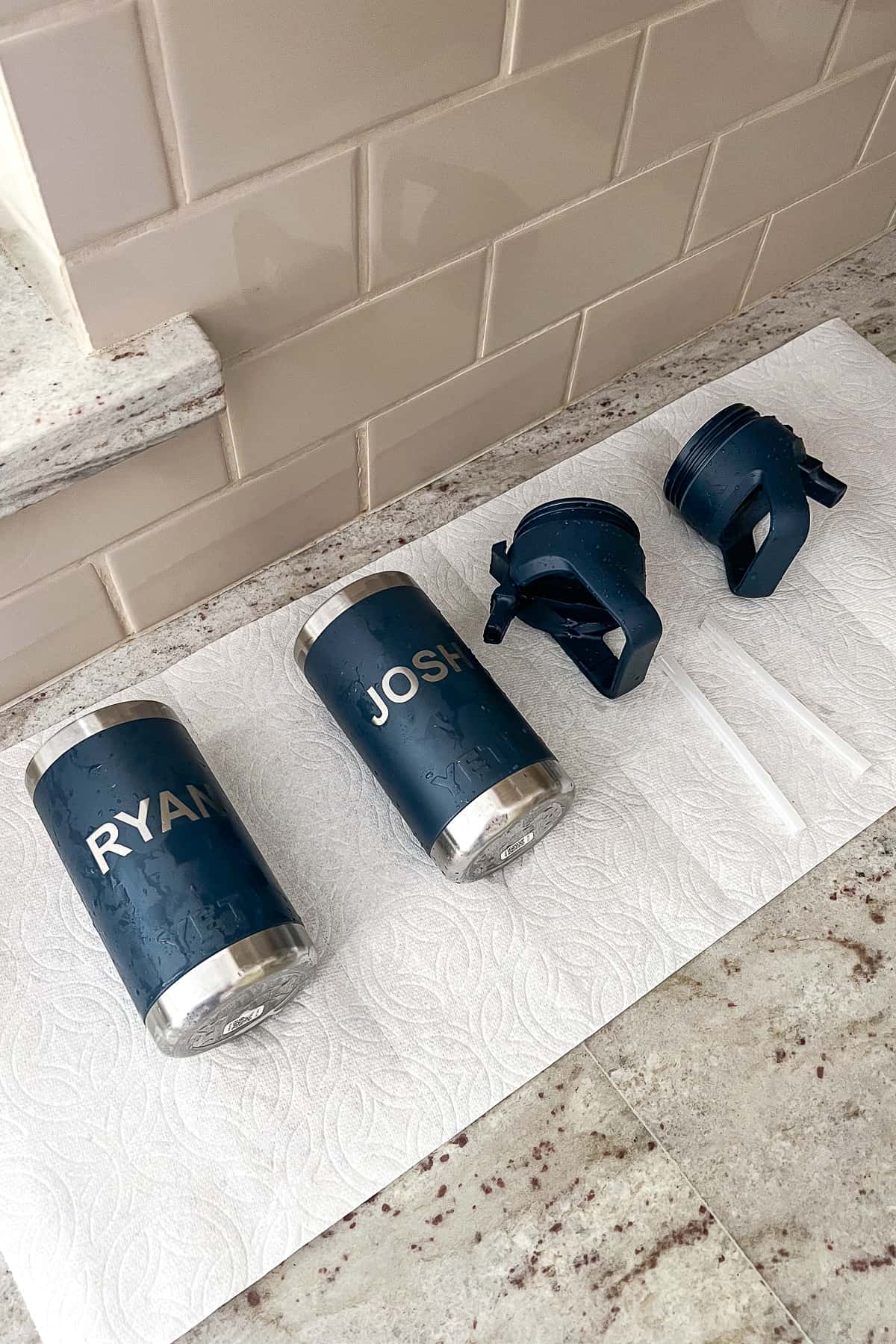 8. Air Dry.
Lay your eco friendly water bottles to air dry for several hours, or better yet, overnight. This is a very important step because you want the air to dry any moisture from the stainless steel or aluminum water bottles, which will also kill any bacteria that are lingering in the moist environment, especially in the lid and straw area.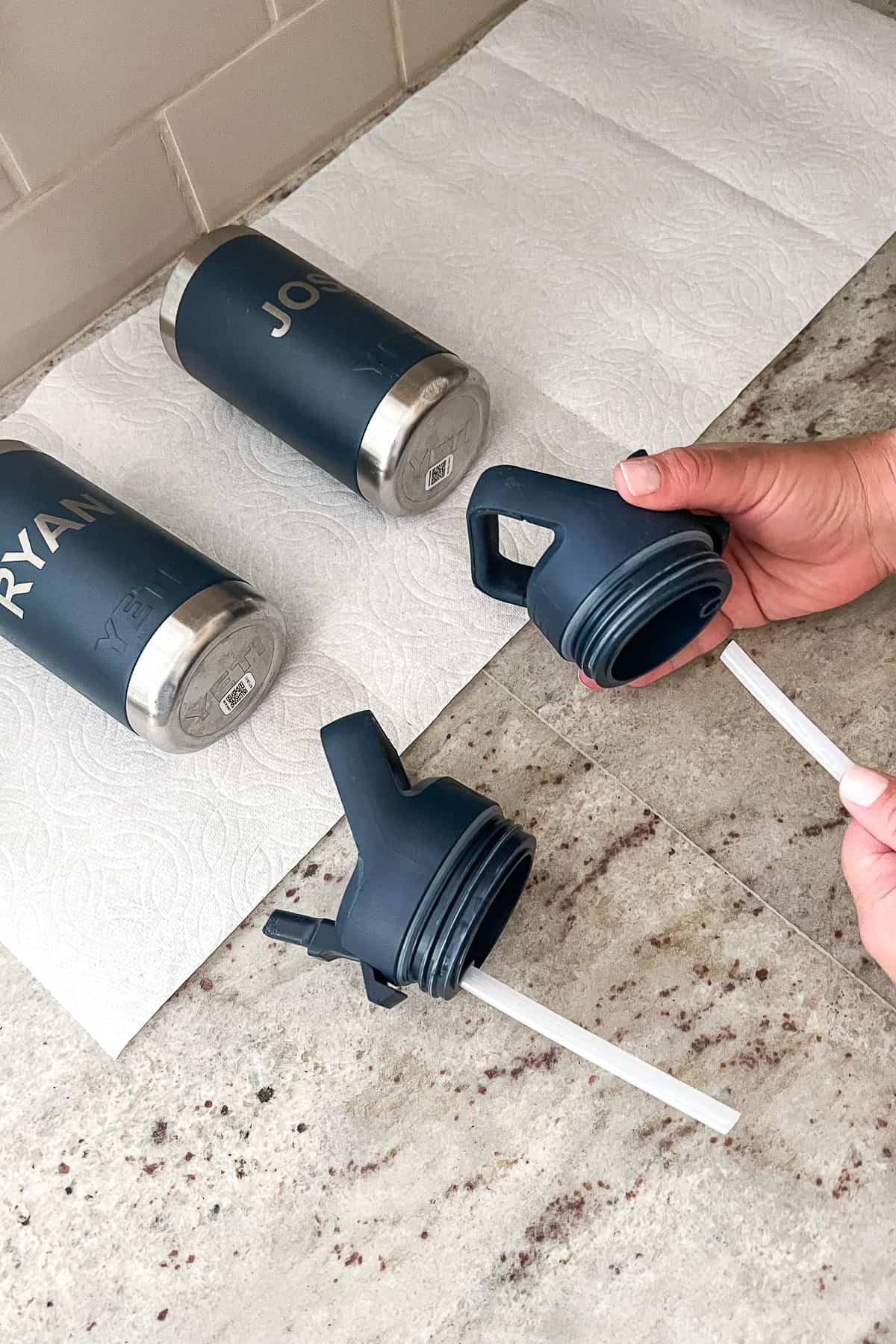 9. Reassemble.
Finally, when your water bottles are completely dry, reassemble them.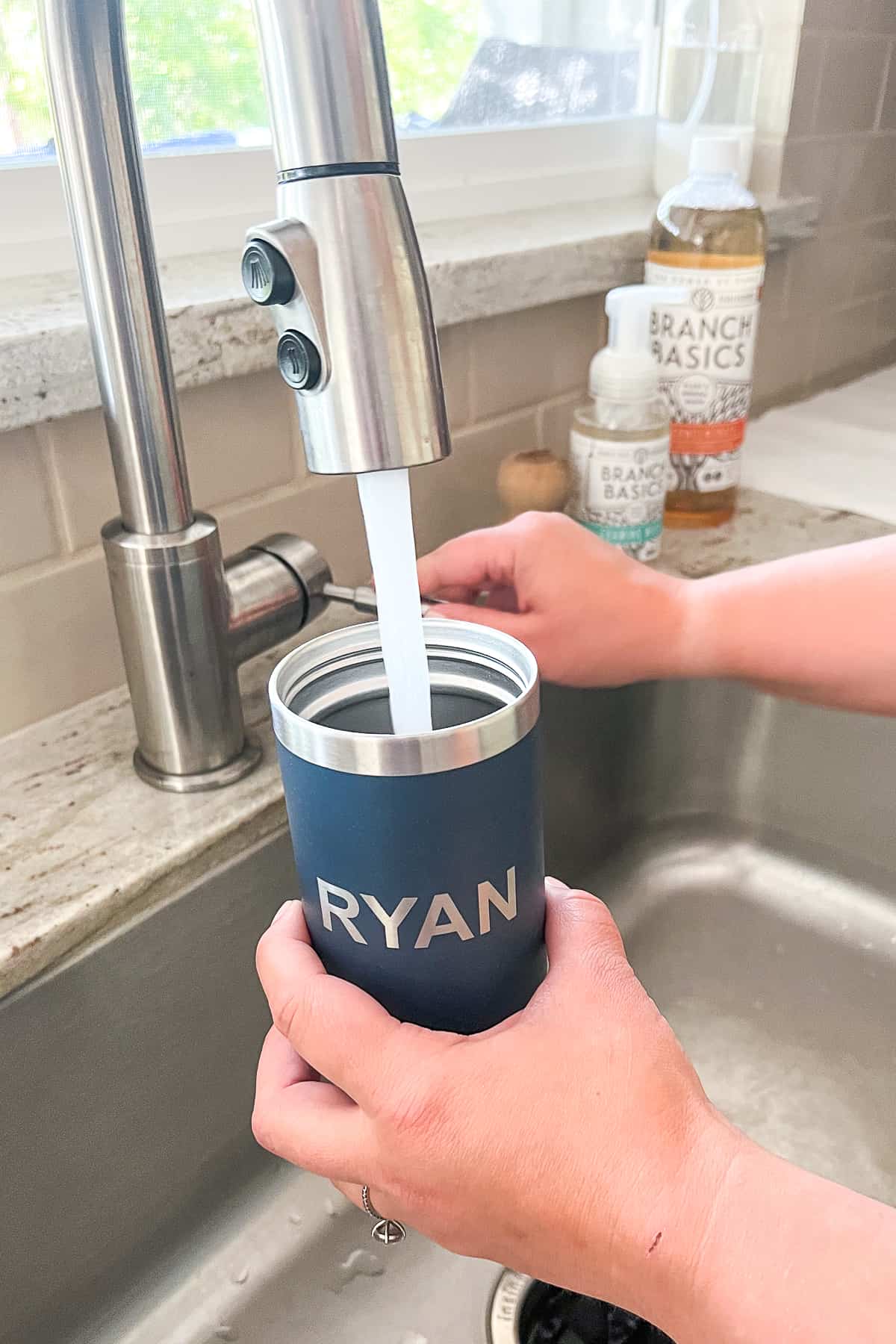 10. Refill with Water
After that, you have a clean bottle that you can refill to enjoy again and again! Repeat this water bottle cleaning process about once a week, or if you ever notice any foul smells in your water bottle.
Keeping a Clean Bottle FAQS
How often should I clean my stainless steel or aluminum water bottles?
It depends on how often you use it! In my house, we use them constantly and I have found that once a week works best for us.
Do you have a Branch Basics code?
Yes! Code TASTESLOVELY for 15% off any starter kit! Here's my honest review of their products if you want more in-depth information!
Do you clean the kids' water bottles for school more often?
Sometimes! Although I know what kind of wear and tear their stainless steel bottle goes through at home, and at school, I don't always know where they end up. So, I check them daily when the kids get home and if they need a quick water bottle cleaning scrub I do the steps above, and let them dry overnight so their water bottles for school are ready in time for the next day!
Thank you Branch Basics for sponsoring this post!