My Honest Branch Basics Review
My honest review of Branch Basics. Is eco cleaning worth the fuss? Does this popular, non-toxic cleaner work? Is it worth the investment? Read to find out!
Watch My Branch Basics Review
Branch Basics Toxic Free, Eco Cleaning Products
I started using Branch Basics because I wanted to purge my home of all toxic chemicals, and they seemed like the simplest solution to replace all my cleaning needs, without having to buy a million different products.
The idea of one simple concentrate that makes dish soap, hand soap, laundry detergent, all-purpose cleaner, bathroom cleaner, streak-free cleaner, etc was enough for me and my love for efficiency and organization to give it a try.
But Does it Really Work?
At first, I was skeptical. How could this non-toxic eco cleaning concentrate compete with tough chemical cleaners? A million cleans, and bottles and bottles of concentrate later, words cannot express how much I am completely in love with Branch Basics! (Code TASTESLOVELY gets you 15% off any starter kit!)
I've continued using them because Branch Basics is hands down the best cleaner I have ever used! I am shocked at how much better it cleans my surfaces, windows, laundry, etc compared to other cleaners with harsh chemicals. The bonus is that their entire cleaning system is human-safe, non-toxic, free of harmful preservatives, never tested on animals, and plant + mineral-based.
It's so safe to use, I even use it as a fruit and veggie wash when I come home with fresh produce from the grocery store or farmer's market! Not to mention, I have THREE very active and messy boys, and this cleaner often saves the day in the safest possible way!
It's such a win-win!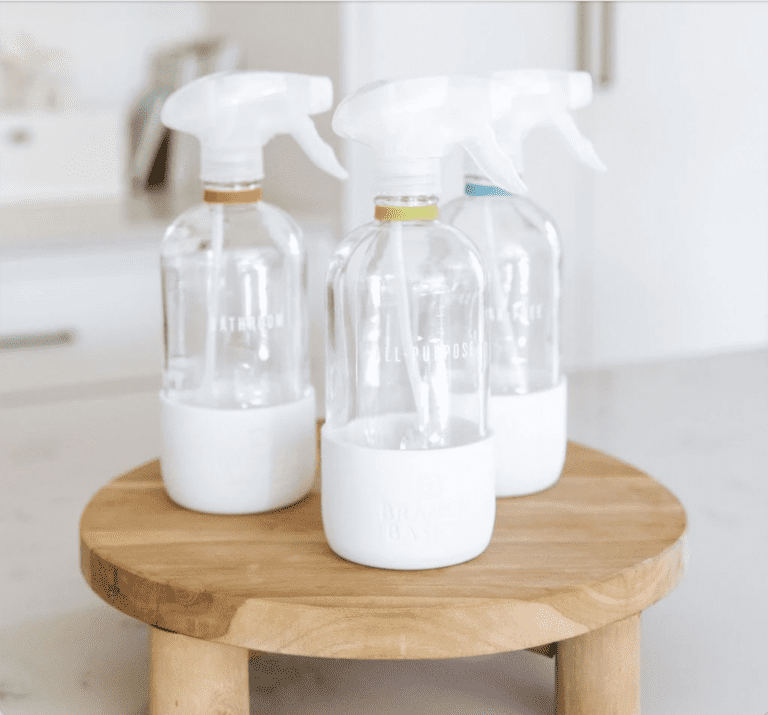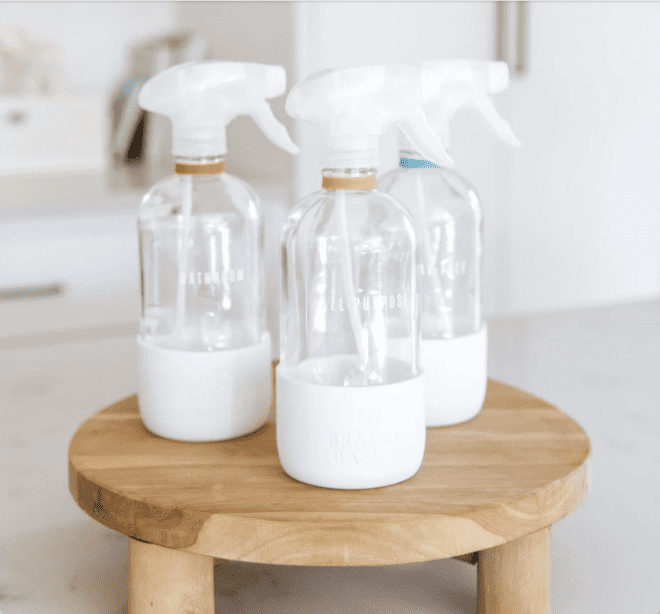 Which Eco Cleaning Products I Order from Branch Basics
I started off with the Starter Kit + Oxygen Boost. (Code TASTESLOVELY gets you 15% off!) This comes with everything you need for their whole system:
Empty bottles that you'll use for laundry, foaming hand soap, bathroom, all-purpose and streak-free
The concentrate to fill each bottle
Oxygen boost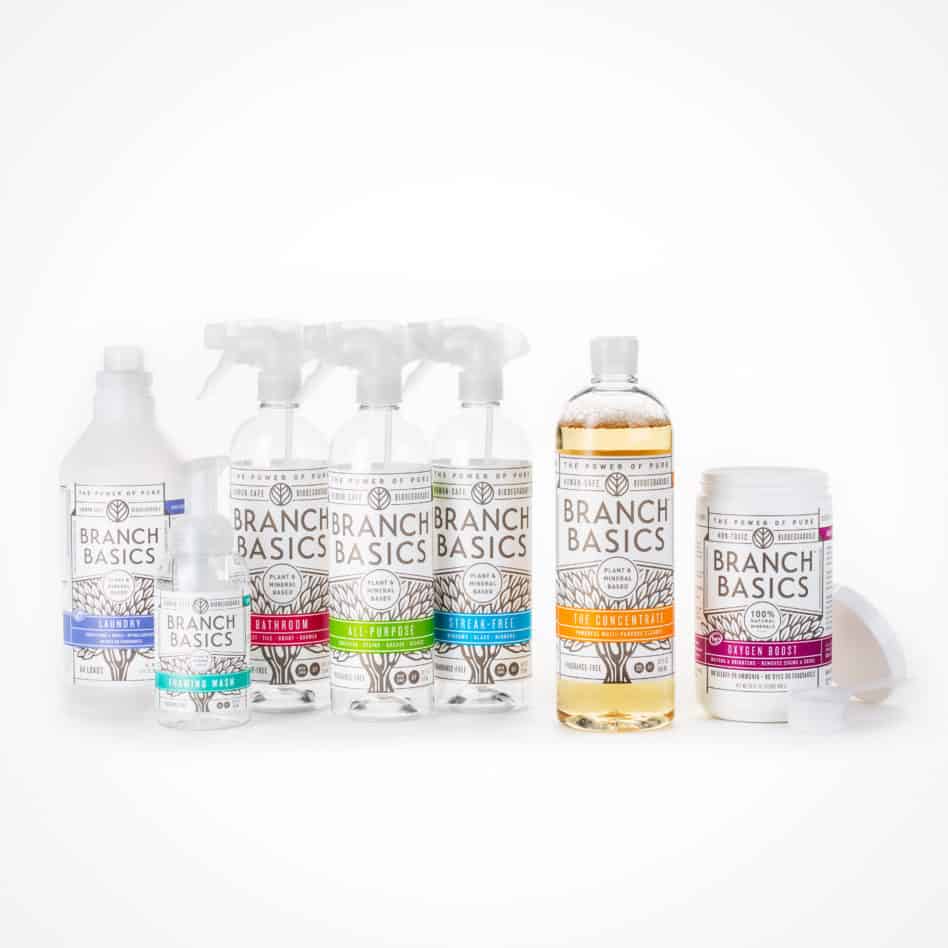 Each bottle is conveniently labeled on the side to show how much water and concentrate to add for each cleaning purpose. This is optional, but I love adding essential oils to give it a fresh smell while cleaning my house. My favorite combo is sweet orange and mint.
I currently subscribe to get 1 bottle of concentrate and 2 containers of oxygen boost every 2 months. By getting 3 items in the subscription, it saves me 20%! Such a bargain. It works perfectly for my family of 5, which includes my 3 little boys who are VERY messy and do their best to cover every surface in my house with something sticky and get their clothes covered in dirt and mud, haha!
I love that I can keep reusing the same spray bottles over and over, and just refill them with the concentrate and water. It's much less plastic waste, therefore much better for the planet.
How I Use Branch Basics
In this video, I share a few of the ways I use these products on a regular basis.
Ideas for Using Branch Basics Eco Cleaning Products
Non-Toxic Laundry Detergent
Car Seat Stain Remover
Basic Every Day Cleaning
Baby Stain Remover
Fruit & Veggie Wash
Carpet, Couch, & Floor Spills
Branch Basics has an entire user guide full of all the ways you can use their eco cleaning solution, along with an extremely helpful blog that covers cleaning tips and tons of healthy living topics.
Quality of Cleaning
I am shocked at how perfectly Branch Basics cleans my house. I especially love their oxygen boost, which is an eco-cleaning powerhouse! No stain stands a chance against it.
Once, I spilled red wine all over my new couch. I made a paste of oxygen boost + water, covered the stain for a day, then washed the cover. The wine stain was completely gone! And the oxygen boost didn't affect the fabric or fade it in any way. Just magically made the stain disappear. It is amazing!
Branch Basics Saves the Day! (& the couch!)
A while back, a friend of mine called panicking that her 4-month-old baby had pooped right on the couch. She had just bought Branch Basics but hadn't used anything yet. Her couch cushions didn't have removable covers and were attached to the base so they couldn't be removed at all! This was a nightmare!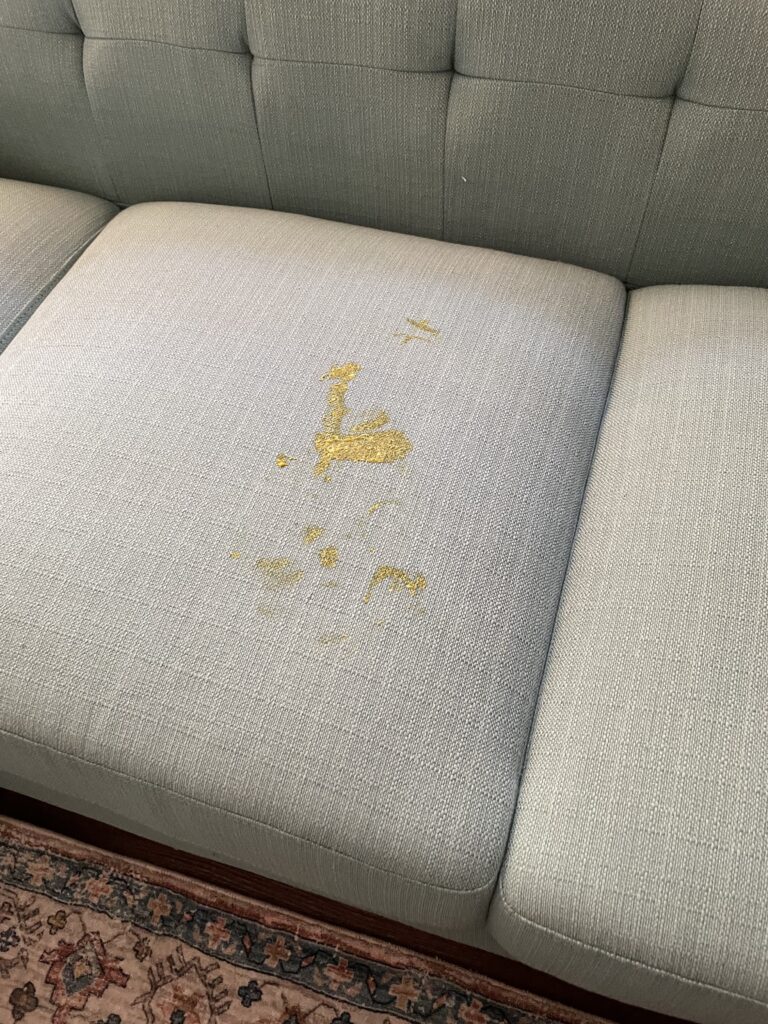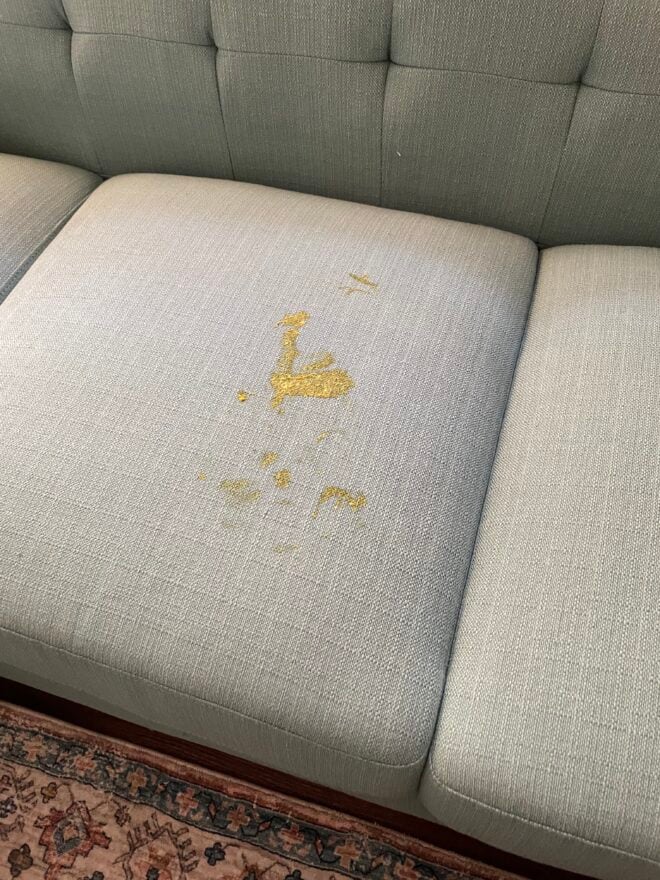 I walked her through how I get stains out, and with hot water, Branch Basics Bathroom Spray, and Oxygen Boost, her couch went from ruined forever to zero remnants of baby poop anywhere! Magical eco cleaning solution for the win!
White Sneaker Cleaning Hack
There are so many things you can clean using Branch Basics. One favorite is to use it to make my white sneakers look brand new again, without the risk of them turning yellow like they do from standard bleach.
Watch the video above to see how I do it!
(Note, you can also watch this video on YouTube.)
Branch Basics: Is It Worth It?
Without a doubt, Branch Basics is 100% worth it! Especially if you are health conscious and want to make healthier choices for your home and rid it of all toxic chemicals.
I feel so safe seeing my boys play around on the floor knowing it is cleaned with such a safe eco cleaner.
I also highly recommend it if you are immune-compromised, pregnant, have little kids, and want to do better for the planet.