Exactly How I Make Grilled Onions
Let's talk grilled onions, shall we?
It still blows my mind that such a strong vegetable (onions are vegetables, right?) can cook down to something so sweet and caramelized. It completely transforms the flavor.
I love sauteed grilled onions on my burgers, pizzas, sandwiches, even on my salads. But they have to be cooked just right. The first few times I made grilled onions it was a disaster. As in, the smoke detector went off and I was left with a pan full of charred remnants of what used to be an onion. It may have looked like I was crying, but that's only because I was slicing up a new onion to start the process all over again, and slicing onions make my eyes water like crazy.
So to help you avoid my same mistakes, here is exactly how I make grilled onions so they turn out perfect every time.
I think grilled onions taste way better when they're cooked in butter. But you have to make clarified butter, otherwise the milk solids burn and therefore your grilled onions will taste burnt. Just let the butter foam up, tilt the pan, and scrape off all the white foam.
The easiest way to get all the onions to fit in the pan is to cut the onion a little less than 1/2″ thick, and just lay those slices right in the pan. If you were to break all the rings up it's almost impossible to fit, and your onions will cook unevenly. After they've cooked for about 45 minutes, they're soft enough to break up and all fit.
The whole process takes 90 minutes, but by cooking them on the lowest heat possible for so long gives you perfect, evenly cooked grilled onions that are soft but still have the slightest hint of firmness in the middle.
Print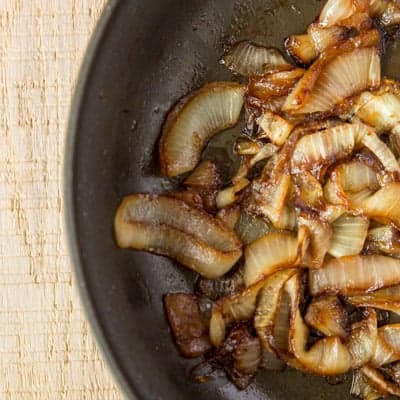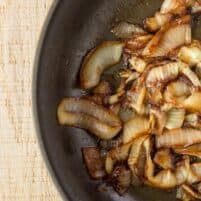 Exactly How I Make Grilled Onions
---
Author:

Total Time:

1 hour 35 mins

Yield:

2

people

1

x
1

large yellow onion, cut into thick slices a little less than 1/2″ thick

4 tablespoons

salted butter
pinch of salt
---
Instructions
Heat a large nonstick skillet over medium heat. Add in the butter, and cook until the butter begins to foam. When it begins to foam, tilt the pan and scrape off all of the white foam until you are left with clarified butter.
Reduce the heat to its lowest setting, and add in the onion slices (do not break apart the rings of onion).
Leaving the pan uncovered, cook the first side for 30 minutes, then flip and cook the other side for another 15 minutes. At this point the onions should be soft enough to break apart the rings and cook in an even layer. After you have broken up the layers, add a pinch of salt. Continue cooking on the lowest setting uncovered for another 45 minutes, stirring roughly every 5-10 minutes. In the end you want the onions to be very soft with the slightest hint of firmness in the middle.
Serve warm or cold. Will keep refrigerated in an airtight container for up to 10 days.
Prep Time:

5 mins

Cook Time:

90 mins
Nutrition
Calories:

125

Sugar:

4.5g

Fat:

12g

Saturated Fat:

7g

Carbohydrates:

6g

Fiber:

1.5g

Protein:

<1g