20 Keto Tomato Recipes
20 Keto Tomato Recipes- A variety of delicious keto recipes using ripe, juicy summer tomatoes. Featuring soups, sauces, casseroles, and more! Paleo, Whole30, gluten free, grain free, dairy free, sugar free, clean eating, real food.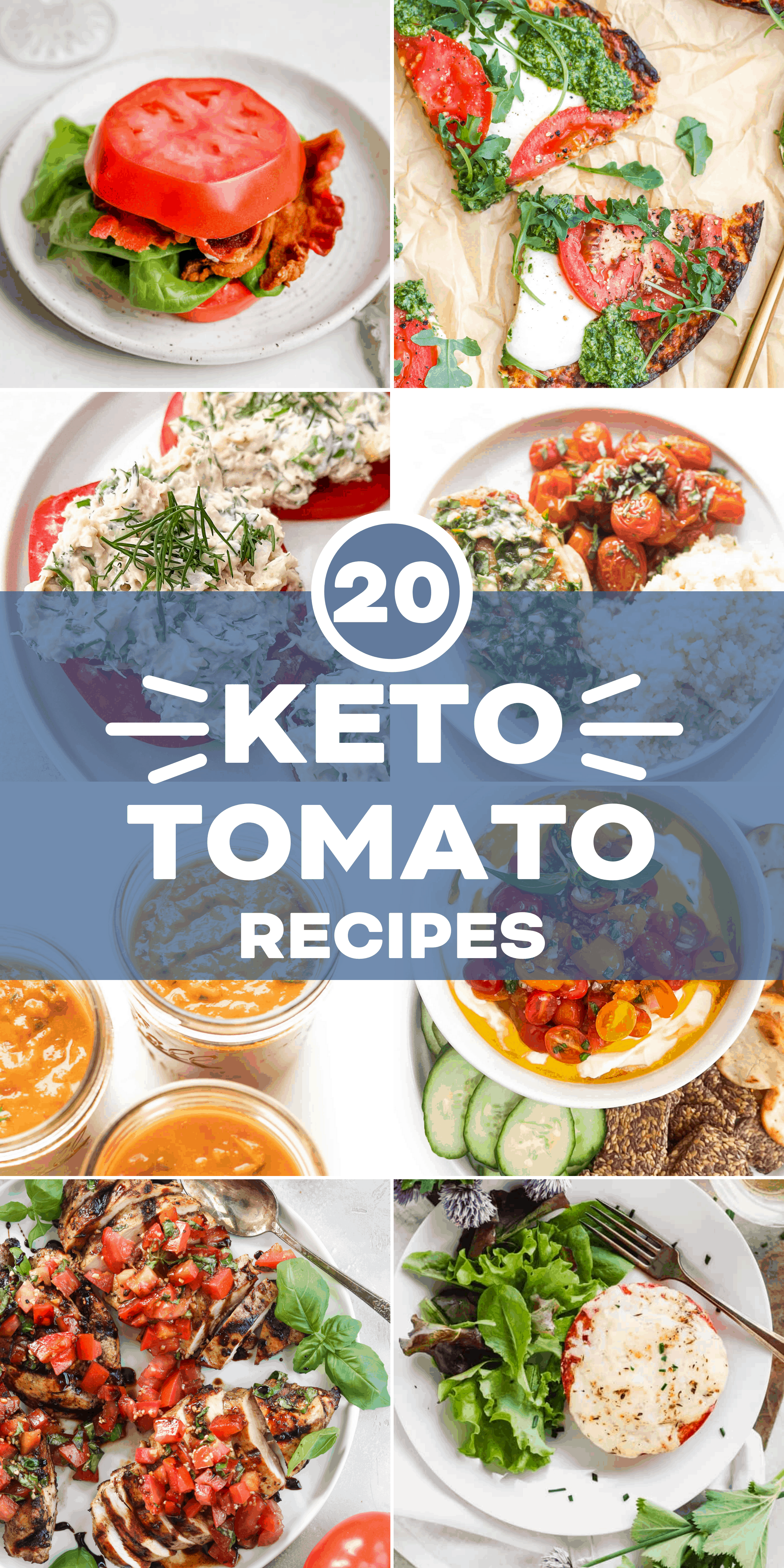 I Love Tomatoes!
Everywhere I turn I am seeing the most amazing tomatoes! From the Farmer's Market to the grocery store, tomatoes are ripe, juicy, and perfect for so many recipes!
Tomatoes are low in carbs and have some great health benefits, which make them perfect for Keto. I personally love that tomatoes are so versatile. Pop them on a salad, throw them in a sauce, chop them for salsa, blend them for soup, and so much more!
I've rounded up easy, yummy keto tomato recipes for every meal. From dips and sauces to casseroles and skillets, this list features the tastiest tomato recipes from some of my favorite bloggers!
Keto Tomato Recipes
Keto Tuna Salad on Tomatoes
Scrambled Eggs with Cherry Tomatoes & Pesto
Oven Roasted Basil Parmesan Tomatoes
Keto Roasted Tomato Basil Soup
Keto Skillet Chicken + Tomatoes with Basil Butter
Tomato Green Been Salad with Goat Cheese
Tomato & Sausage Frittata
Gemista: Baked Greek Stuffed Tomatoes
Homemade Egg Drop Soup with Tomato
Healthy Slow Cooker Chicken Cacciatore
Keto Sheet Pan Marinara Sauce
Grilled Bruschetta Chicken
Tomato Bun BLT
Fresh Homemade Salsa
Low Carb Pesto, Tomato, & Mozzarella Pizza
Cheddar Roasted Tomatoes
Keto Pesto Caprese Salad
Cherry Tomato Salad with Roasted Lemons
Cheesy Ranch Tomato Casserole
Keto Whipped Ricotta + Marinated Tomato Dip