Pork Chops with Vanilla Apples & Shallots
Sometimes I still can't believe I'm a grown up.
The other day I called Shawn on my way home from work and we talked about what we needed to have ready for our tax meeting in a few weeks, whether he had checked our PO box to see if our renters had mailed us our rent check for the month, when we should buy our plane tickets for our Hawaii trip this summer, and whether I had emailed over the contract and invoice to a potential client for our videography business.
I got off the phone and thought, "Whoa. When did we become such grown ups?"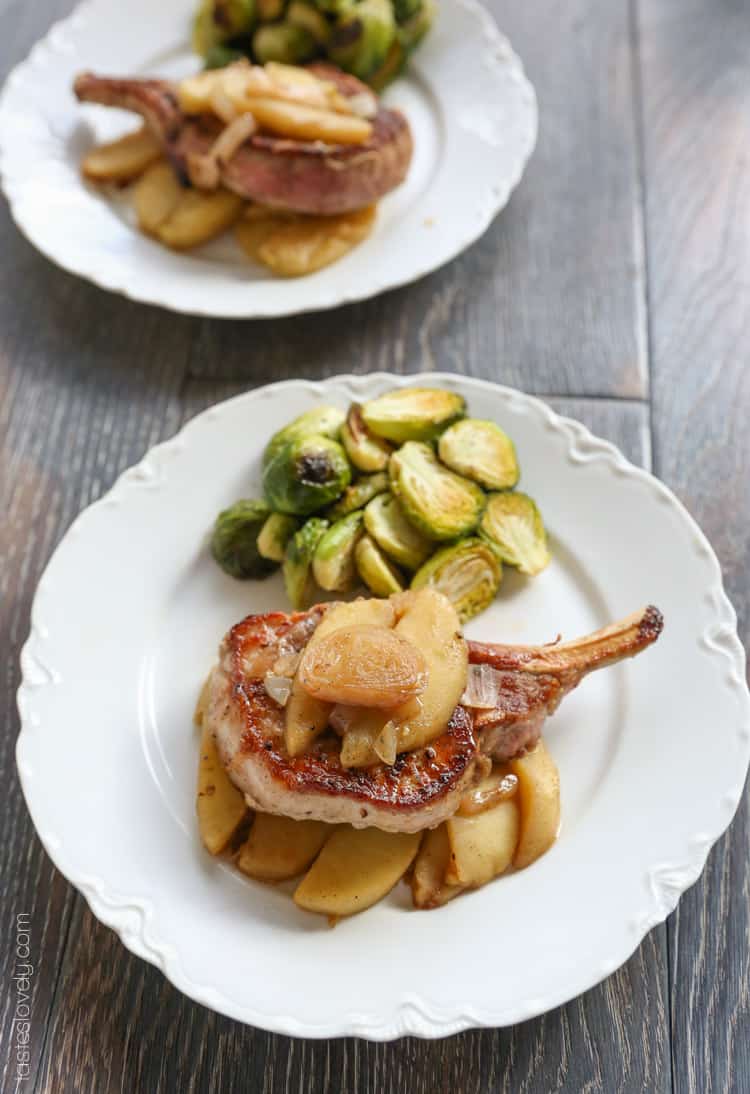 Was it really only 10 years ago that Shawn was asking me to senior prom? And only 6 years ago that we were graduating college? And it's already been over a year since we got married?
I can't believe how much we have already accomplished.
This might be the funnest time of my life. Shawn and I are in this great "in between" time where we are finally getting our careers and passions figured out like real grown ups should, but still young at heart and plan spontaneous weekends away at Lake Tahoe for Christmas.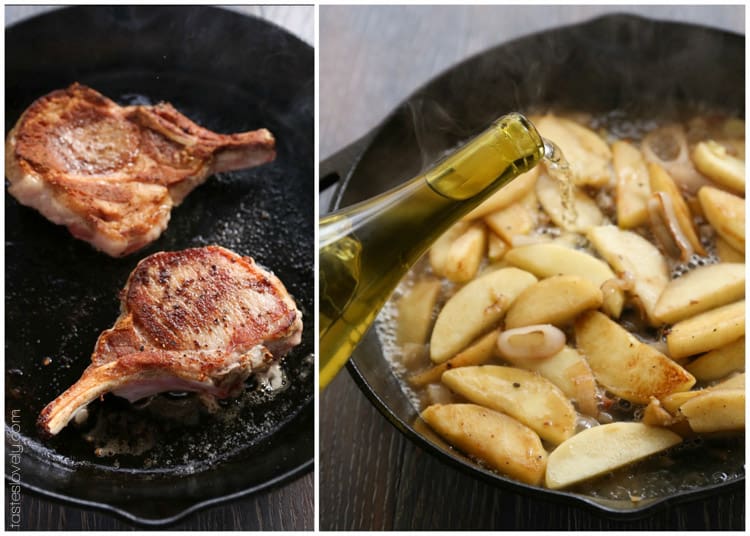 When I was little being a grown up seemed so daunting. So many responsibilities, so many bills to pay, so many balls to be juggling at once.
I thought being a kid was fun, but…dare I say it…being an adult is even more fun. Earning things on your own. Working toward dreams. Even buying myself a pack of gum when I'm filling my car up for gas just because I can.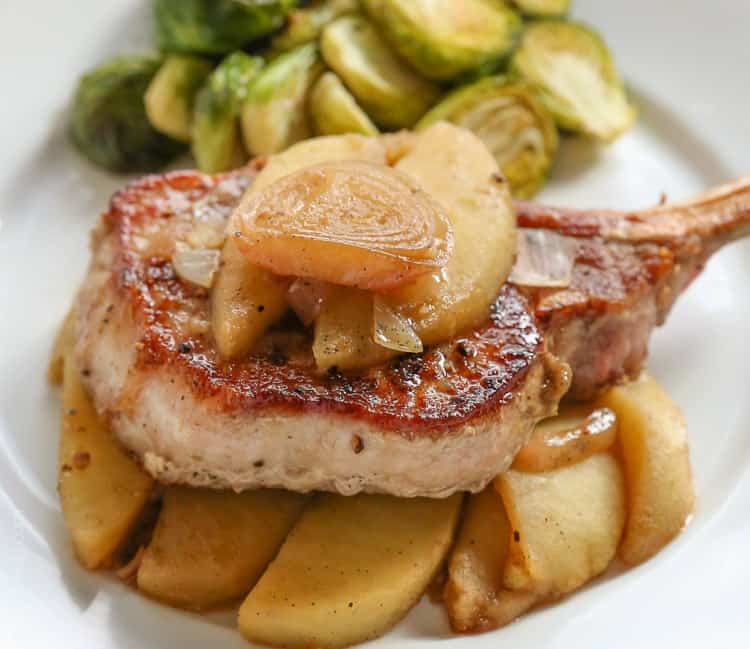 This pork chop dish is the perfect metaphor for life as a grown up. When you're a kid you think pork chops with store bought applesauce is just about the tastiest dish you can imagine.
Oh no little one. It gets better. A lot better.
The grown up version are these delicious bone in pork chops, moist and full of flavor. Instead of a jar of applesauce, these pork chops are topped with tart apples and savory shallots braised in white wine and flavored with vanilla bean seeds and butter. And now that you're a grown up, of course you love those brussels sprouts that you turned your nose up at when you were a kid. Were they ever really as bad as you thought?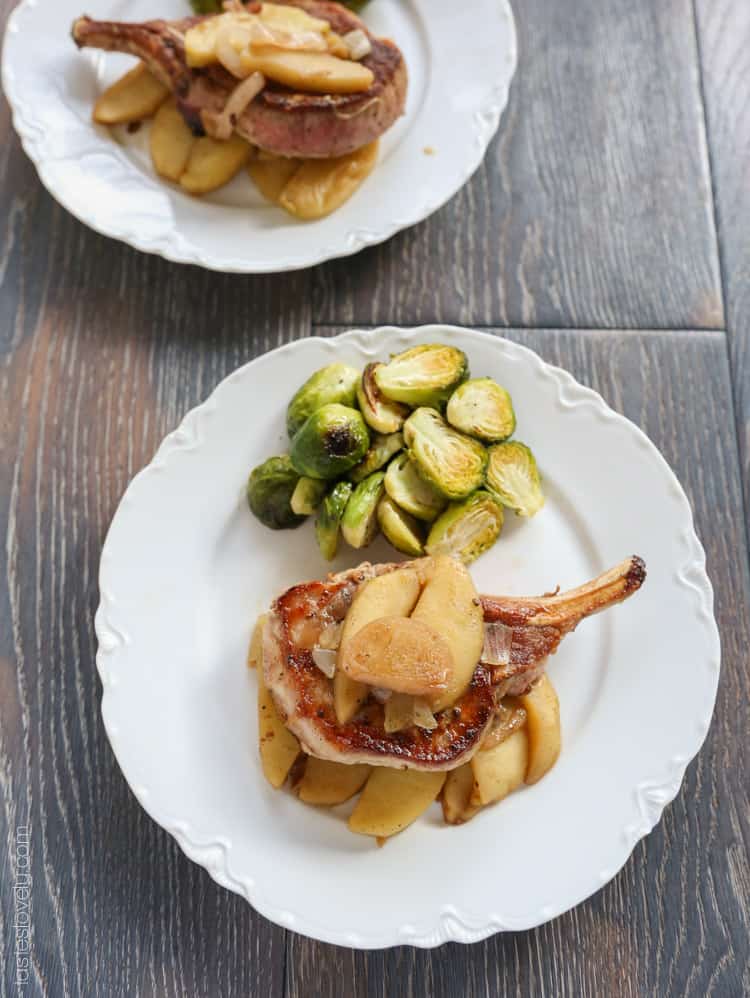 And just like being a grown up, it's a little more work, but in the end it is worth every minute of extra effort.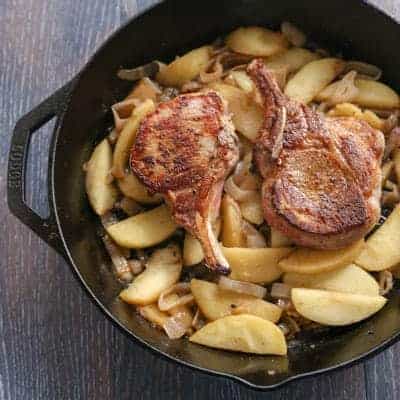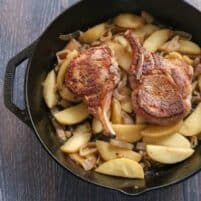 Pork Chops with Vanilla Apples & Shallots
These pork chops are seared in the skillet until golden brown, then simmered with apples and vanilla for a flavorful fall dinner!
Ingredients
Two 8 ounce bone in pork chops

2

tablespoon

olive oil

,

divided

2

tablespoons

butter

,

divided

3

teaspoons

salt,

divided

3

teaspoons

pepper

,

divided

2

shallots sliced 1/4" thick

,

about 1/2 cup

2

granny smith apples peeled and sliced 1/4" thick

,

about 2 cups

1

vanilla bean

,

sliced horizontally and seeds scraped out with a paring knife, stalk reserved

2

cups

white wine

,

I used chardonnay

1

tablespoon

heavy cream

,

optional
Instructions
Preheat a cast iron or heavy bottom skillet over medium high heat. Use 2 teaspoons salt and 2 teaspoons pepper to season both sides of the room temperature pork chops. Add in 1 tablespoon olive oil and 1 tablespoon butter, and cook the pork chops about 8-10 minutes per side, until golden brown. Once cooked, remove pork chops and tent with foil on a plate.

With the heat still at medium high, add in the remaining 1 tablespoon olive oil and 1 tablespoon butter, the apples, shallots, and remaining teaspoon of salt and pepper. Cook about 4 minutes until the shallots turn translucent and the apples begin to turn golden brown in parts. Add in the 2 cups of white wine, vanilla bean seeds and vanilla bean stalk. Cook until the apples are tender and the wine has reduced to about 1/4 cup, about 6-8 minutes. Add in the 1 tablespoon heavy cream (optional).

Serve the pork chops topped with the vanilla apples, shallots and pan juices while still warm. Will keep in an airtight container for 1 week.
Calories:
670
,
Total Carbs:
29.7
g
,
Protein:
52.3
g
,
Fat:
36.5
g
,
Fiber:
5.6
g
,
Net Carbs:
24
g
Did you make this recipe?
Please Leave a comment and give this recipe a rating!
This post contains affiliate links, thanks for the love!