Potato, White Bean & Kale Vegan Soup
Did you know I was once vegan for 7 months?
It's true. 7 months with no meat, dairy or eggs.
It started after what was supposed to be a very romantic getaway to Napa with Shawn in December 2011. After eating more than my fair share of cheese with all the wine we tasted, I was not feeling well for days after. I convinced myself that I must have an issue with dairy. This definitely had may have had something to do with having watched Forks Over Knives and Food Inc. documentaries a few days earlier. Either way, I decided to give up all animal products and was vegan from the January until July.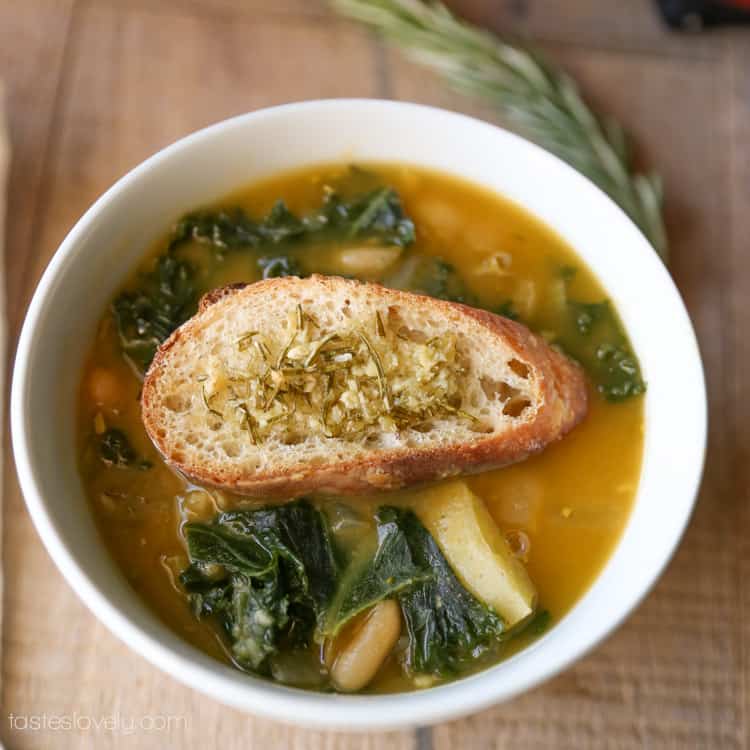 And like the good fiance he was, Shawn went vegan with me. Our entire diet was fruits, vegetables, nuts and whole grains. Our weekly grocery bill was cut by 2/3 and better yet we even lost a few pounds. We both felt amazing.
But…
I sure did miss pizza with cheese. Real cheese. Vegan cheese never cut it for me. And eggs cooked over easy with sourdough toast and avocado. And more than anything, I really missed deli sandwiches. Eating out was tricky too.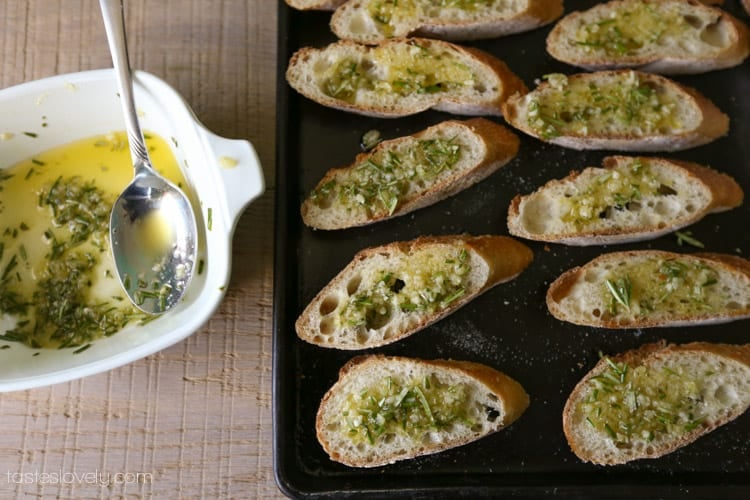 So when we went on a camping trip that July, the idea of chopping veggies and cooking brown rice on our Coleman stove sounded like too much of a pain. Turkey burgers it was!
I slowly started incorporating in all foods again, and now we're in a happy medium where we still have vegan meals from time to time, along with eating dairy and lean proteins. Everything in moderation is what works best for us now.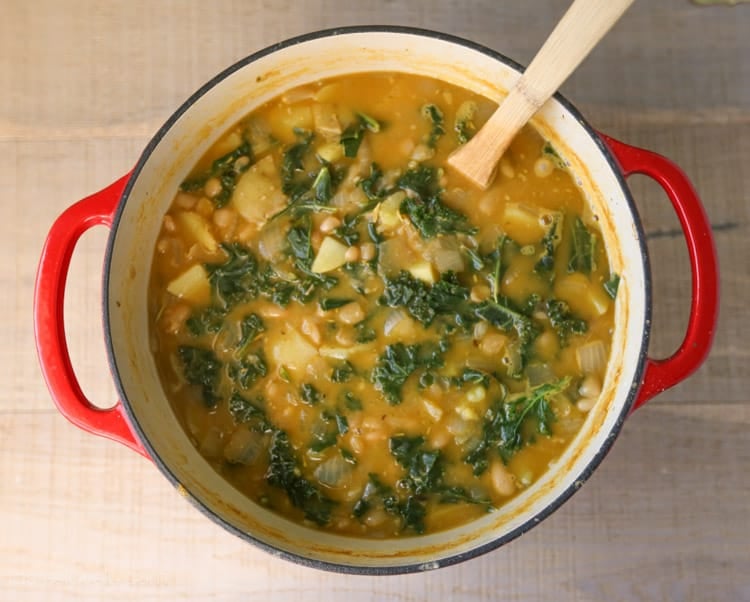 This vegan potato, cannellini bean and kale soup is one of my favorite recipes I created during our vegan months. It is so full of flavor, and the white beans give it a meaty texture and chew. You'll forget there isn't any meat.
What really makes this soup is the garlic rosemary crostini's. You slice up a sourdough baguette and top them with a flavorful garlic, rosemary and olive oil mixture then toast them up in the oven. Their crispiness and sourness makes this soup irresistible.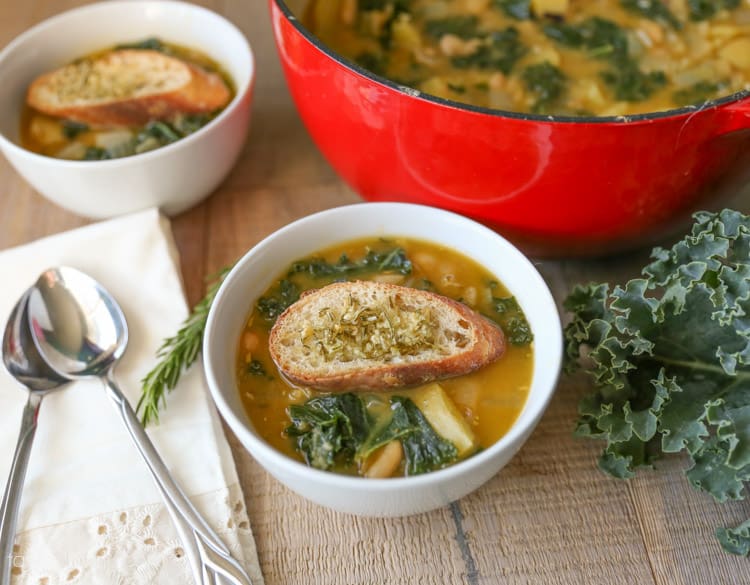 After weekends full of holiday parties, sugary cocktails & cookies galore, I love to reboot with this clean eating soup. After eating it you'll feel like a whole new person.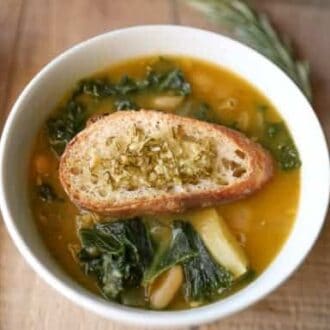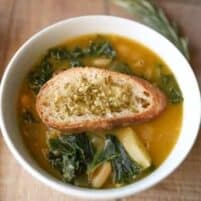 Potato, White Bean & Kale Vegan Soup
A comforting soup made with potatoes, white beans and kale, topped with a rosemary garlic crostini.
Ingredients
For the soup
1

large yellow onion chopped medium

,

about 2 cups

2

teaspoons

olive oil

3

garlic cloves finely minced

,

about 1.5 tablespoons

2 32 ounce containers of veggie stock

2

pounds

yukon gold potatoes chopped medium

,

about 4 cups

2

cans

cannellini beans (also known as white kidney beans)

2

tablespoons

fresh rosemary

,

finely chopped

3

cups

kale

,

ribs removed and torn into 2" pieces

salt & pepper
For the crostini's
1

baguette sourdough bread

,

sliced into 1/4" slices

4

tablespoons

olive oil

1

tablespoon

fresh rosemary

,

finely chopped

4

garlic cloves finely minced

,

about 1 tablespoon + 1 teaspoon

pinch

of salt
Instructions
Preheat oven to 350 degrees.

Heat a large pot over medium heat with 2 teaspoons olive oil. Saute onions for 5-7 minutes until translucent. Add in 1.5 tablespoons minced garlic and cook until fragrant, 1 minute.

Pour in vegetable stock, potatoes, cannellini beans and rosemary. Bring to a low boil, reduce heat to low and simmer uncovered for 30 minutes.

Make the crositini's by combining 4 tablespoons olive oil, 1 tablespoon fresh rosemary, 1 tablespoon + 1 teaspoon minced garlic and a pinch of salt. Press and smash the garlic & rosemary into the olive oil with the back of a spoon to release the flavors. Lay sourdough slices on a baking sheet. Evenly divide olive oil mixture on top of each slice. Bake with oven rack at upper third of oven until crostini's are crispy, 20-25 minutes.

Add the kale to the soup and cook 5 more minutes. Remove from heat, salt & pepper to taste, then allow to rest for 5 minutes. Serve warm topped with crostini's.

Will keep in an air container in the fridge for 7 days.
Notes
If cooking in a slow cooker, after the onions have sauteed add all remaining soup ingredients (except kale) to the slow cooker and cook covered over low for 6 hours or high for 3 hours. Add kale 30 minutes before serving.
Calories:
352
,
Total Carbs:
48.3
g
,
Protein:
8.5
g
,
Fat:
14.2
g
,
Fiber:
8.8
g
,
Net Carbs:
40
g
Did you make this recipe?
Please Leave a comment and give this recipe a rating!