Italian style sausage stuffed zucchini topped with tomato sauce and melted mozzarella cheese. One of my favorite 1 pot meals you can have on the table in less than 45 minutes. Low carb and full of flavor.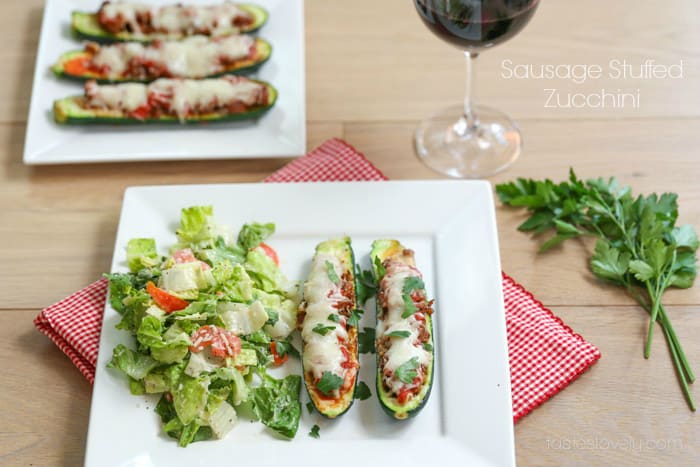 I first saw this recipe on Gina's blog Skinnytaste and knew it would be a great low carb recipe to add to our meal rotation. But after making it I wanted to find a way around boiling the zucchini and then cooking them in a separate baking dish. The less I have to clean up the better! I tweaked the recipe a bit and have finally perfected this one pot (and 1 mixing bowl) meal. Here's how you make it!
First, gather up your ingredients: sweet Italian sausage (also called mild Italian sausage), zucchini's, white onion, garlic, tomato sauce and shredded mozzarella. Plan on at least 2 zucchini halves per person, or more if you have a hungry husband like I do. The 2 sausage to 3 zucchinis ratio is just the right amount to fill 'em up.
Start by scooping out the flesh of the raw zucchini's. If you're like me and don't have a melon baller, you can use a basic spoon to get the job done. Cut the zucchini's in half and gently score around the seed and flesh area.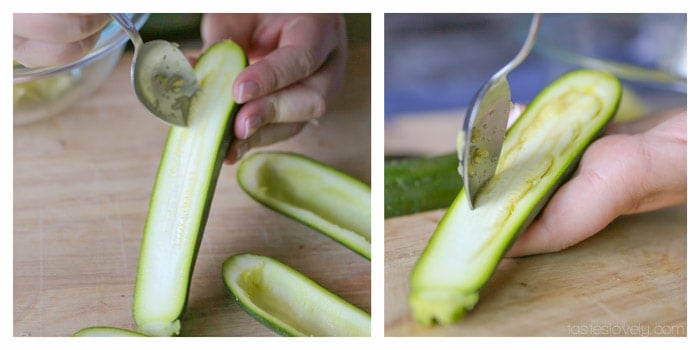 Then gently lift it out. After you get a majority of the seeds out, you can do a final scrape with the tip of the spoon. Just like scooping out the seeds of a pumpkin on Halloween, only less slimy. Sometimes the zucchini will break or crack. Don't panic. Just stuff them as normal, no one will know the difference.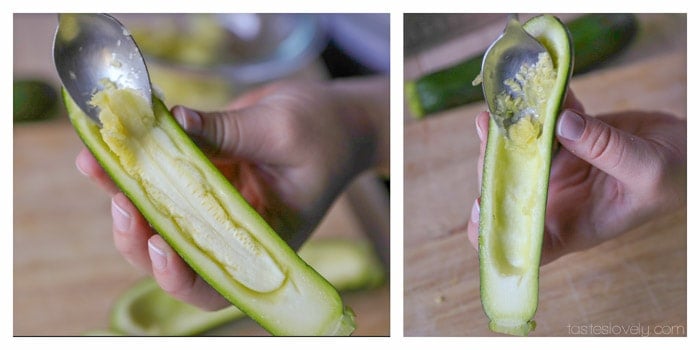 Repeat until you have scooped out all of your zucchini's. Set all of the flesh aside in a bowl, we'll be using it soon in the sausage filling.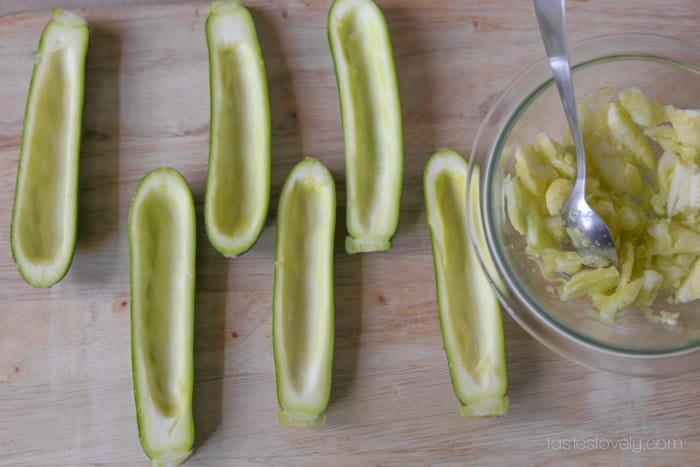 Next finely chop half of 1 yellow onion.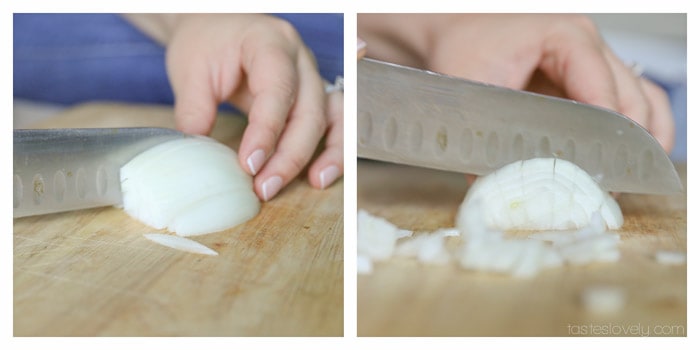 Grab an oven safe non-stick pan. I love my Calphalon 12″ Unison pan I got for my wedding, does the job perfectly. Start by cooking the onions in 1 tbs olive oil over medium until they start to turn translucent, 3-5 minutes, adding salt and pepper.
After the onions have turned translucent, snip the ends of the sausage casings and squeeze the sausage in to the pan. It is oh so attractive…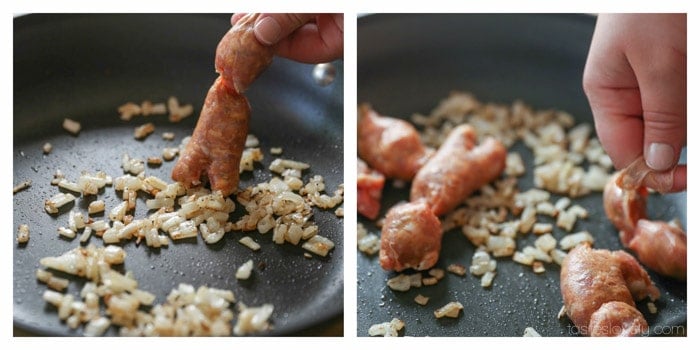 Then break up the sausage with a wooden spoon, stirring until it is almost cooked through. About 5 minutes over medium heat.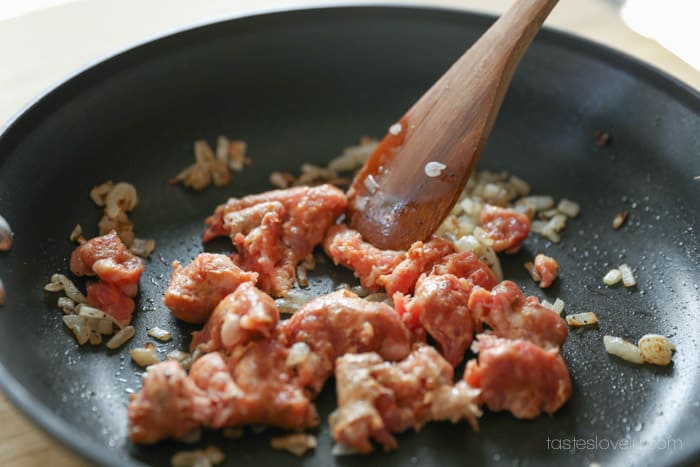 When the sausage is almost cooked through, add in the zucchini flesh.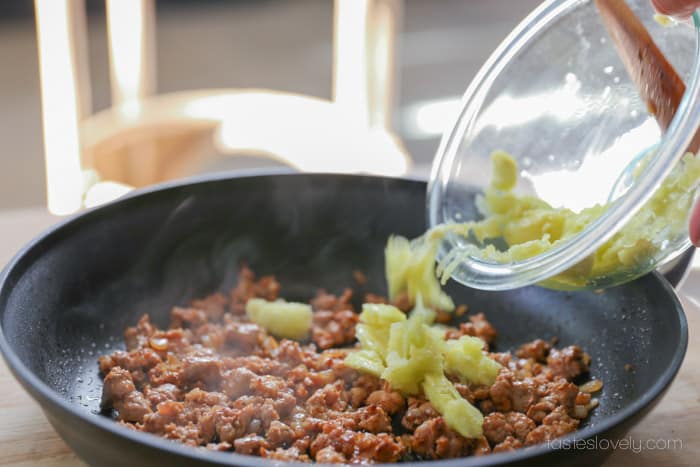 Break up the zucchini flesh as much as you can with a wooden spoon. The flesh will help to bind the sausage and give it great flavor.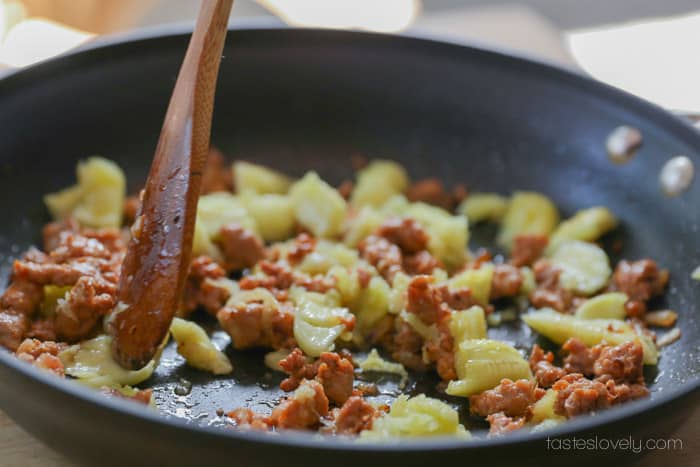 When the sausage is fully cooked, and the flesh has cooked down and looks like it has "melted" in to the sausage, add in the chopped garlic and cook for just 1 minute.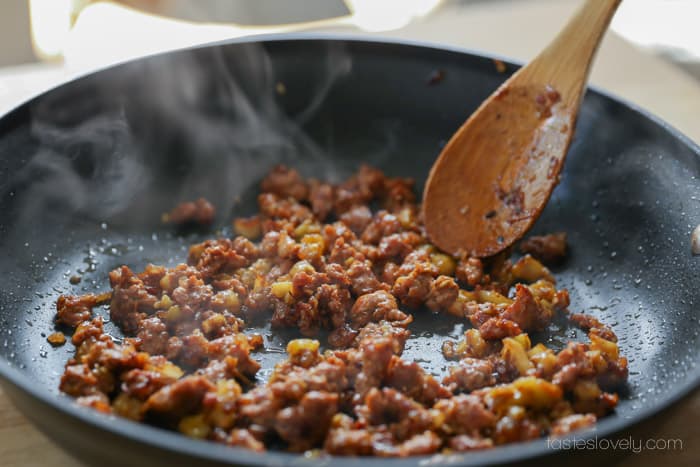 Then transfer everything to the same bowl that held the flesh.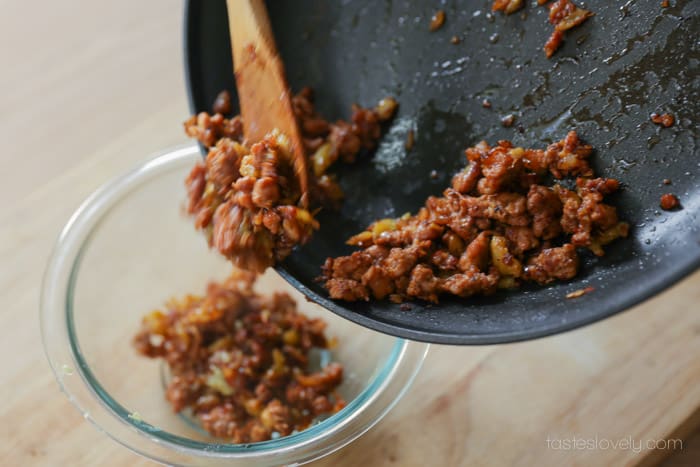 Wipe the pan with a paper towel to remove most of the sausage fat. Then put all the zucchini's face down and cook over medium heat for 1-2 minutes.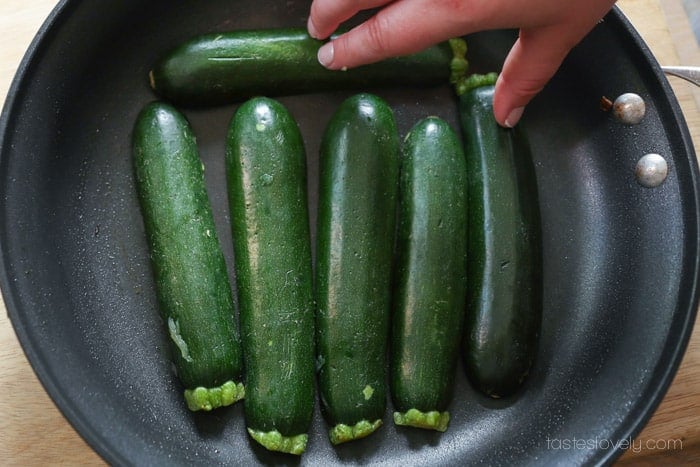 Flip the zucchini's over once they get a nice, brown crust.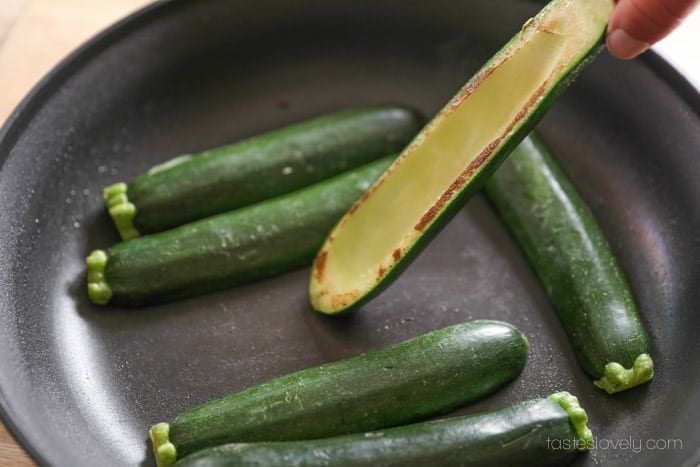 Take them off the heat, and salt and pepper the insides.
Time to stuff these babies! Spoon in about 2 tbs of the sausage mixture in to each.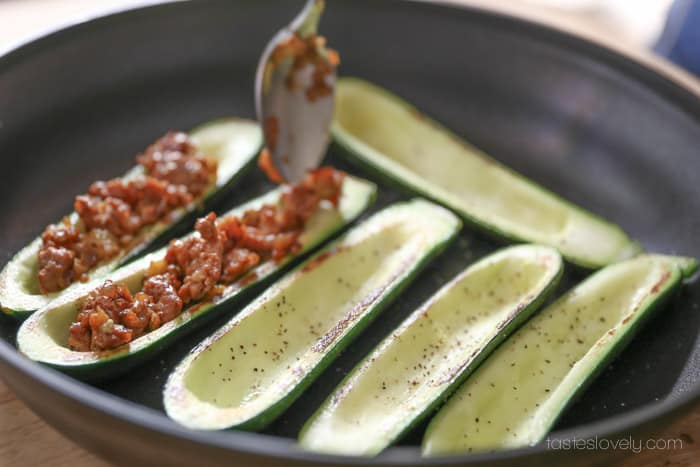 Keep stuffing until they are all full.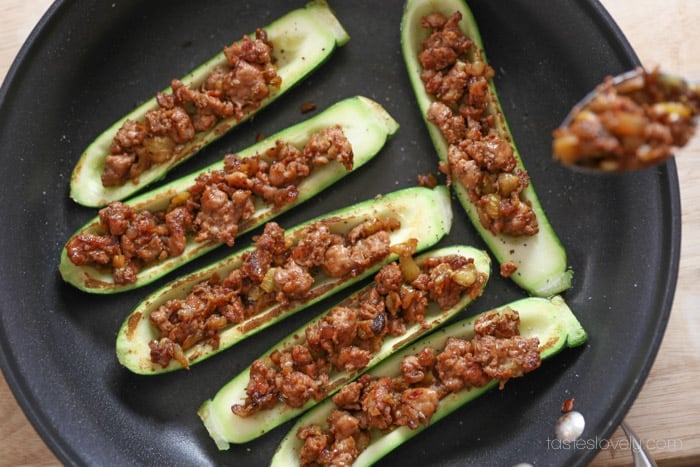 Now top each zucchini with tomato sauce. Sausage loves tomato sauce.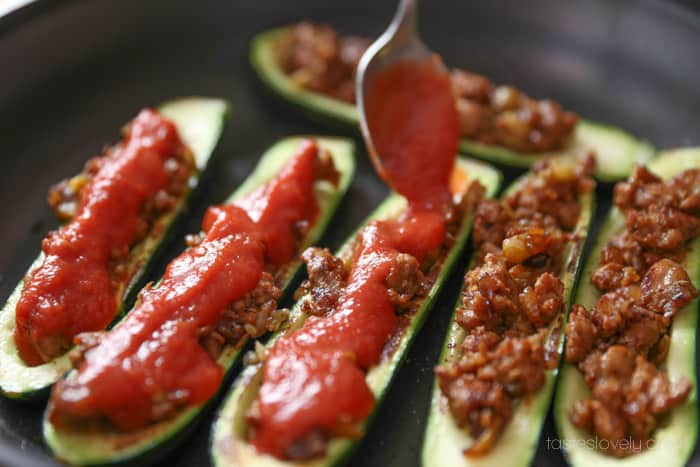 Then top each zucchini with shredded mozzarella. Tomato sauce loves mozzarella.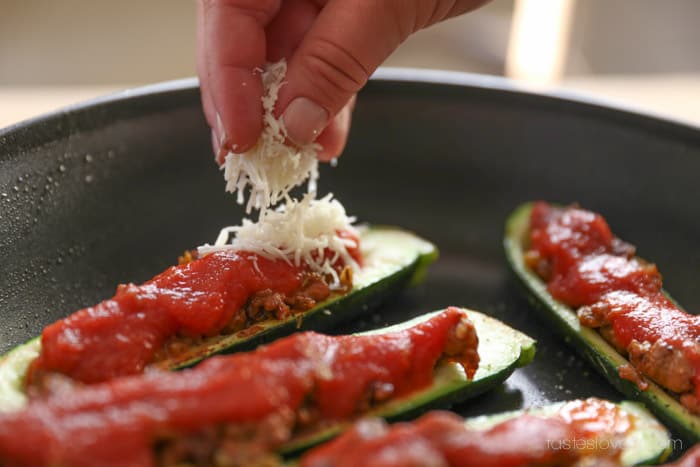 Look at all these happy, cheese and tomato covered, sausage stuffed zucchini's. All set to pop in the oven.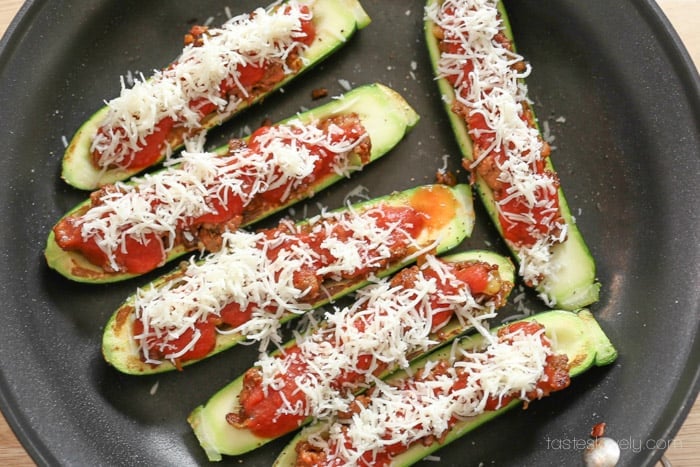 Put your oven safe pan in a preheated 400 degree oven and cook until the cheese is bubbling, 10-15 minutes.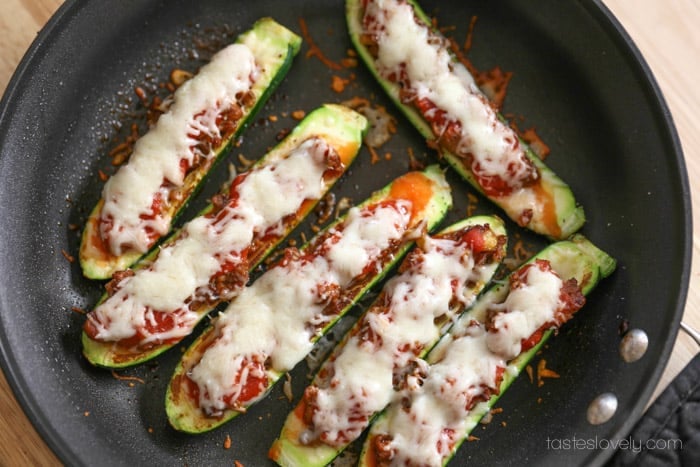 You, zucchini's, are going to make a very yummy dinner.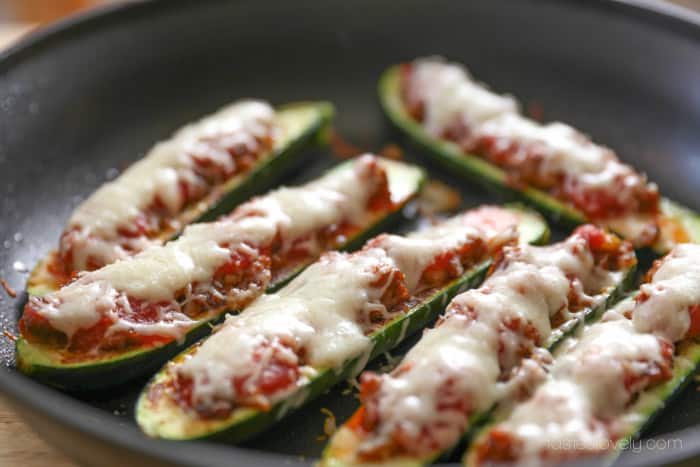 Keep it light and serve them with a caesar salad. Or pig out and serve them along pasta that you've tossed in olive oil or tomato sauce. Whatever you fancy. A glass of red wine is a must. You've earned it. Enjoy (the zucchini and the easy peasy cleanup)!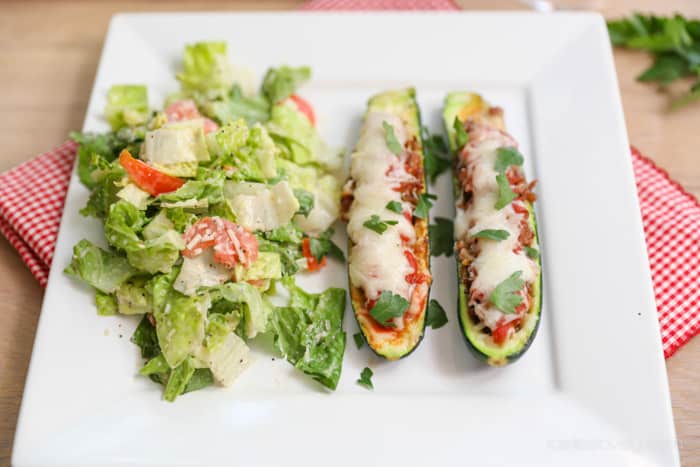 Print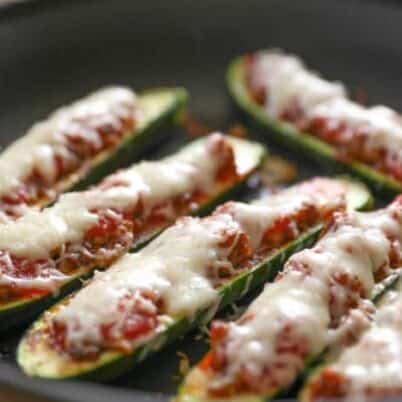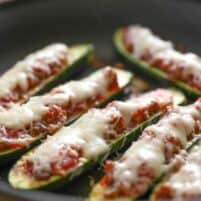 Sausage Stuffed Zucchini
---
Prep Time:

20 minutes

Cook Time:

15 minutes

Total Time:

35 minutes

Yield:

2

-

3

1

x
2

sweet Italian sausages

3

medium zucchini's

1/2

medium yellow onion, finely chopped

1/2 cup

shredded mozzarella

1/2 cup

tomato sauce

2

garlic cloves, chopped

1

tbs olive oil
salt & pepper
---
Instructions
Cut all the zucchini's in half, scoring around the seeds and scooping out the flesh. Set all the flesh aside in a mixing bowl
In an oven proof pan, cook the onions over medium heat for 3-5 minutes until they start to turn translucent, salt & pepper
Snip the top of the sausage casing and squeeze out the sausage meat, breaking up the meat with a wooden spoon, cook until almost cooked through, 5 minutes
When the sausage is almost cooked through, add in the zucchini flesh, breaking up with a spoon, cooking for 3 more minutes
Add in chopped garlic, cook until fragrant, 1 minute
Transfer sausage mixture to the same mixing bowl, and wipe pan clean of most of the sausage fat
Cook the zucchini's cut side down for 1-2 minutes over medium heat until they get a brown crust, take them off the heat, flip over, and salt and pepper the inside
Fill the zucchini with the sausage mixture, top with tomato sauce, then sprinkle on the cheese
Cook in 400 degree oven until cooked through and cheese is melted and bubbling, 10-15 minutes
Serve 2 zucchini halves per person with your favorite salad or pasta
Never Miss a Recipe!
Get new posts delivered straight to your inbox! For free!