Homemade Ranch Dressing Mix from Scratch
As a self diagnosed ranch-aholic, I can give you my personal guarantee that this is the best, most delicious homemade ranch dressing you have. ever. had. Just look at it.
I love ranch. I put ranch on…well…basically everything. It's meant for so much more than just salads. My pizza? I'm dipping it in ranch. My fries? Going for a ranch dive. My burger? Getting a nice layer of ranch right on the bun. It's serious.
I was never able to buy bottled ranch that is anything close to that yummy goodness you can get at a restaurant. They shouldn't even be able to call that stuff ranch. Then I worked at a restaurant. And guess what? They homemade their ranch! Actually, they "homemade" their ranch by using ranch seasoning packets mixed with milk and mayo. Bingo! I could finally make good ranch at home. The Hidden Valley Ranch Buttermilk mix is very good. Problem? It's a little pricey. And, it has ingredients that don't seem like they should be in ranch. Monosodium Glutamate? Maltodextrin? Huh? No thanks.
So I researched, and have come up with the perfect dry seasoning mix. I buy all the dried herbs in bulk on Amazon, and it comes out to only $0.56 per serving of 2 tbs! That is way better than the 2 tbs Hidden Valley packet at $2.99. Here's what you'll need: dried buttermilk powder (tricky to find in stores, recommend getting online), dried chives, dried onion flakes, dried parsley flakes, garlic powder, onion powder, and dried dill.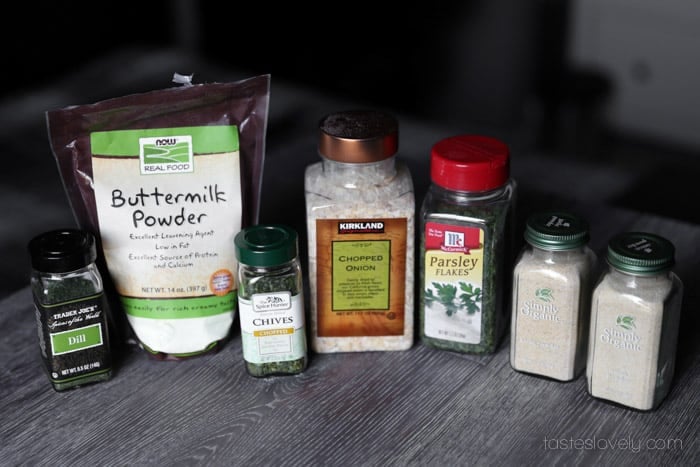 Portion out your dried ingredients (measurements listed at the end of post).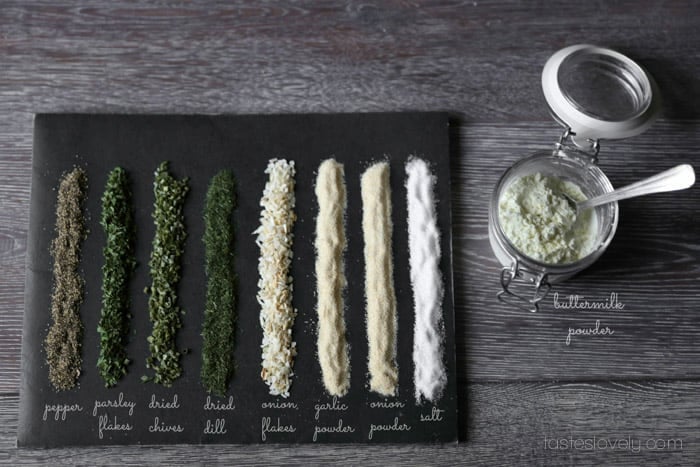 So pretty.
Mix all of your dried ingredients in an air tight container.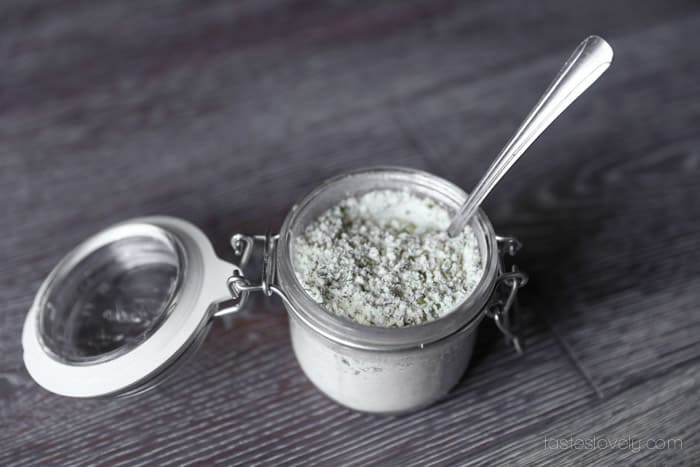 I love this one I got because it has a rubber liner that prevents the mix from escaping. And it's so darn cute! Perfect size for the amount of mix I make, about 1 cup.
This mix will last you for a long time. As long as you keep it sealed tight, it shouldn't go bad.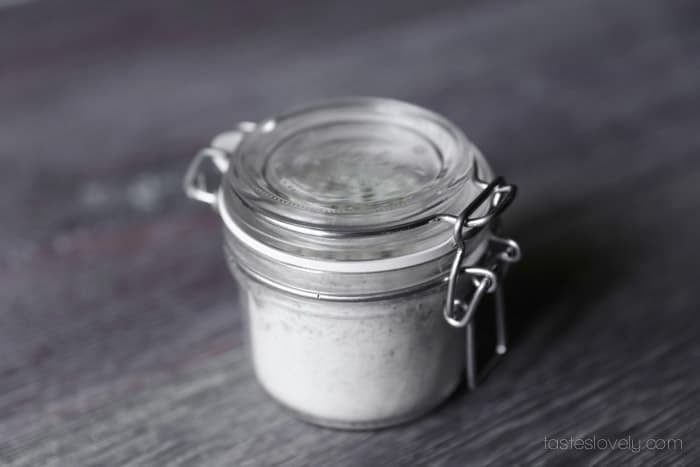 The best combination for making the salad dressing is milk (I use 2%) and Best Foods mayonnaise. If you want to go dairy free, leave out the dried buttermilk and use unsweetened almond milk or soy milk instead of cows milk. Add in a little vinegar or lemon juice for some "tang". I've make it with almond milk before and you can barely taste a difference. If you want to lower the amount of calories, use Greek yogurt instead of mayonnaise. However, I can taste a pretty significant difference when making it with Greek yogurt. Has more tangy flavor rather than creamy. But it's still pretty good. But if you want it to taste restaurant style, you've got to stick with milk and mayo.
Mix 1 cup of mayonnaise with 2 tbs of the dry seasoning mix. If you mix the seasoning with the mayo first it is easier to incorporate evenly with no lumps. I like to make mine right in my Oxo salad dressing bottle, which I love! It even has the measurements right on the bottle. They think of everything.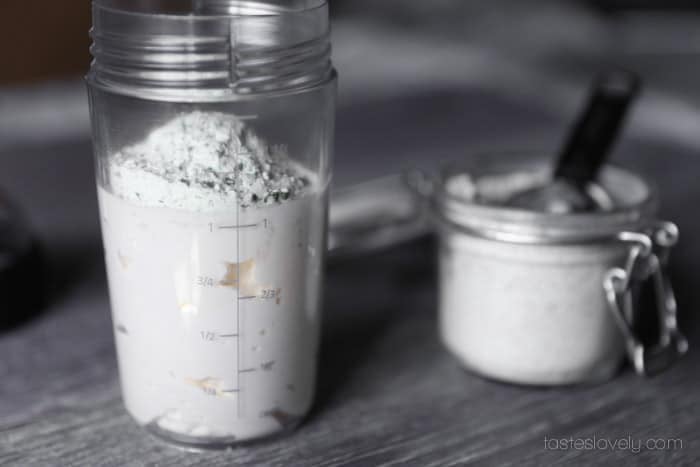 Once you've mixed it all together, add in 1/2 cup of milk. Screw the cap on, mix it all up, refrigerate for about 20 minutes, and it will be the perfect salad consistency.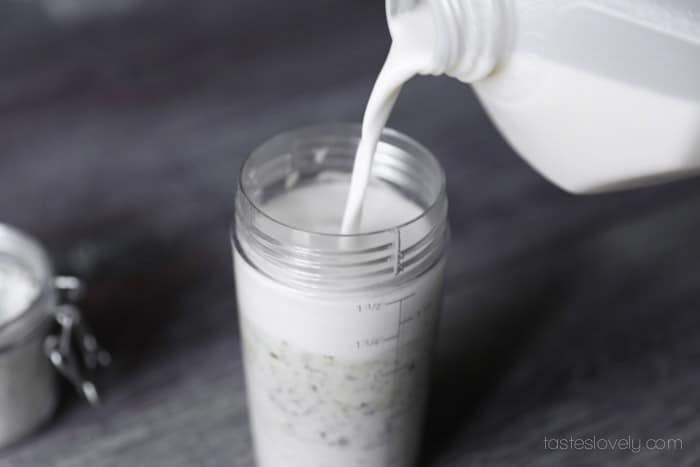 To all my fellow ranch-aholics, enjoy!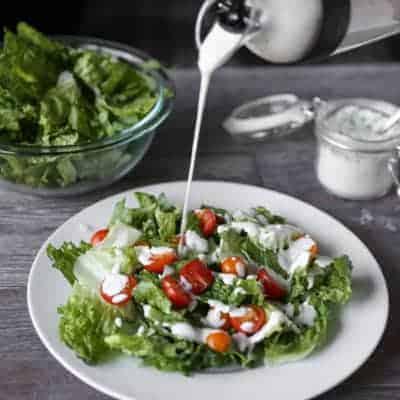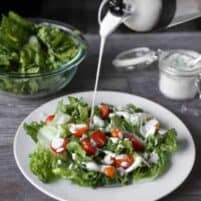 Homemade Ranch Dressing Mix from Scratch
The best homemade ranch dressing mix using dried seasoning. Just add milk and mayonnaise and you have the tastiest ranch!
Ingredients
Ranch Dressing Recipe:
2

tbs

dry seasoning mix

1

cup

of mayo

1/2

cup

of milk

,

I use 2%
Instructions
Ranch Seasoning Mix:
1. Combine all the dried ingredients in an airtight jar or container, will keep for up to 1 year
Ranch Dressing Recipe:
1. Mix ranch dressing mix in to mayonnaise until combined

2. Stir in milk, then refrigerate for 20 minutes

3. Store in air tight container in the fridge, will keep for 10 days
Notes
I recommend buying all of the spices in bulk online to save money, especially the dried buttermilk which can be tricky to find in stores. See post for links to where I get mine.
Make the dressing dairy free by leaving out the dried buttermilk, using unsweetened, unflavored almond milk or soy milk, and adding in a little lemon juice for "tang". Lower the calories by using Greek yogurt.
Calories:
179
,
Total Carbs:
4.9
g
,
Protein:
1.7
g
,
Fat:
17.2
g
,
Fiber:
0.9
g
,
Net Carbs:
4
g
Did you make this recipe?
Please Leave a comment and give this recipe a rating!