Sparkling Peach Basil Sangria
Every day, regardless of whether I set my alarm or not, I wake up at 5:47 or 5:48. It's like magic.
On weekdays I'll roll over and lightly doze for a few more minutes until my alarm goes off at 6:00. On weekends, I smile to myself and think "eff you clock, I'm sleeping in," then roll over and fall back asleep.
Which is why I was so SHOCKED when I accidentally slept in on Saturday and narrowly missed picking Shawn up from the airport.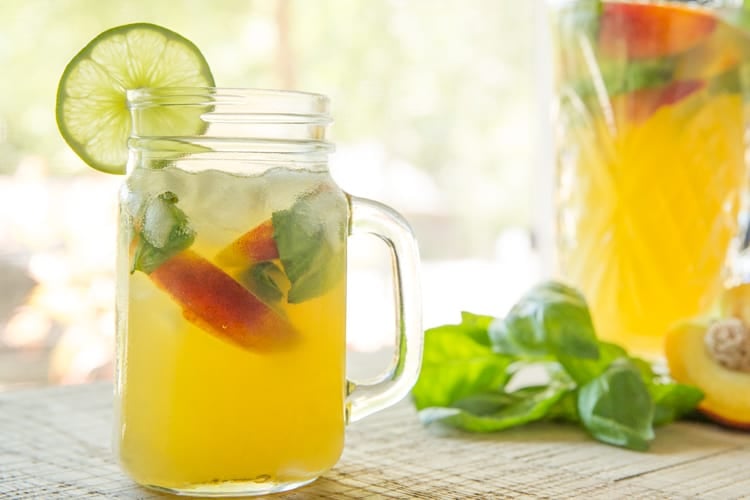 I was in wine country Friday night for a girlfriends bachelorette party, and maybe had a few too many peach basil sangria cocktails. I was smart enough to set my alarm, but I wasn't smart enough to remember that my alarm only goes off Monday thru Friday unless I manually go in and change the days it goes off. Whoopsie poopsie.
Shawn texted me at 7:30am saying he misses me and can't wait to see me, which luckily woke me up. I checked my phone, panicked, packed in about 30 seconds and was out the door. I made it to the airport with 5 minutes to spare.
Phew.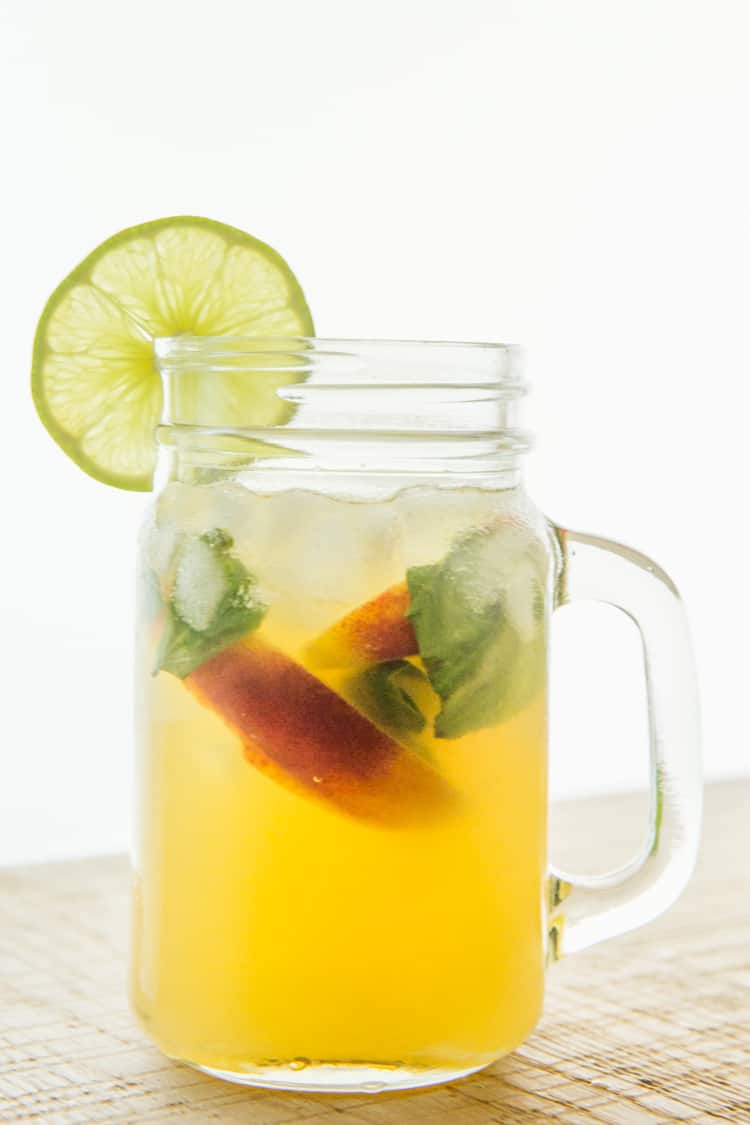 The fact that I had a fun night with my girls, and enjoyed more than my fair share of delicious sparkling peach basil sangria made the mad dash to the airport totally worth it.
This might be my favorite cocktail for summer. I was inspired by my friend Karen's basil lemonade to try adding some warm, earthy basil to a sweet drink. Ermygod is it good. Nothing like warm & savory mixed with sweet. Takes sangria to a whole new level.
Since I like being fancy, I made this peach basil sangria with champagne, but you could definitely use white wine instead. And if you're really looking to get the party started, add in some vodka.
Just make sure your alarm is properly set before glass number 3 if you have somewhere important to be the next morning, *wink*.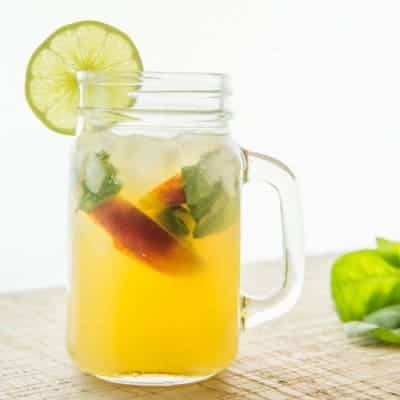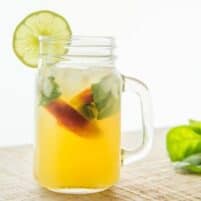 Sparkling Peach Basil Sangria
A bright and refreshing sangria with peach and basil. Perfect for a spring brunch or get together!
Ingredients
4

cups

peach nectar*

1/2

cup

white sugar

1-1/12

cup

basil leaves

,

separated

1/4

cup

lime juice

1 750

ml

bottle of sparkling white wine

1

peach

,

sliced

1

limes

,

sliced

3/4

cup

vodka

,

optional
Instructions
In a medium size sauce pan, combine the peach nectar, sugar and lime juice. Bring to a boil over high heat and cook until the sugar is dissolved, just 1 or 2 minutes.

Remove from heat, and add in 1 cup basil leaves. Crush and muddle the basil leaves in the mixture to release the flavor. Pour the peach basil mixture into a heat proof container, then refrigerate for at least 2 hours, or up to 4 days. The longer it sits, the more basil flavor there will be.

When ready to serve, strain the peach basil in large pitcher, discarding the used basil leaves. Combine the strained peach basil mixture with the sparkling wine and vodka (if using vodka), then add in 1 sliced lime, 1 sliced peach and 1/2 cup basil leaves. Stir to combine. Serve in a tall glass with ice and garnish with a wedge.
Notes
*If you can't get peach nectar, you could use a peach mixture juice. Trader Joe's has a great Orange-Peach-Mango juice.
Calories:
398
,
Total Carbs:
72.9
g
,
Protein:
1.6
g
,
Fat:
0.2
g
,
Fiber:
2.5
g
,
Net Carbs:
70
g
Did you make this recipe?
Please Leave a comment and give this recipe a rating!