Steakhouse Style Baked Potato
The very best steakhouse style baked potato you will ever have! The skin of the baked potatoes are coated with olive oil and salt for a crispy and flavorful skin and baked in the oven until it is creamy and fluffy.
When I was 20 years old, I worked at the nicest steakhouse in town as a hostess. I would get dressed up in slacks and fancy Forever21 tops, and spend my days answering phones, taking reservations, mapping out the seating plan for the reservations that night, and hearing all the latest gossip from the waiters and cooks.
The best part? Shawn worked there too. As a food runner. Whenever he would drop off food at a table, he would purposefully take the long way back to the kitchen and walk past the hostess station and give me a wink.
To pass the time I would write down riddles on a scrap of paper and hand them to him when he would walk by. I would stealthily slip it to him during a handshake. Trying to keep our little game secret made it even more fun.
"What has an eye but cannot see?"
As he walked by the hostess station throughout the night he would quickly lean over and whisper his guess.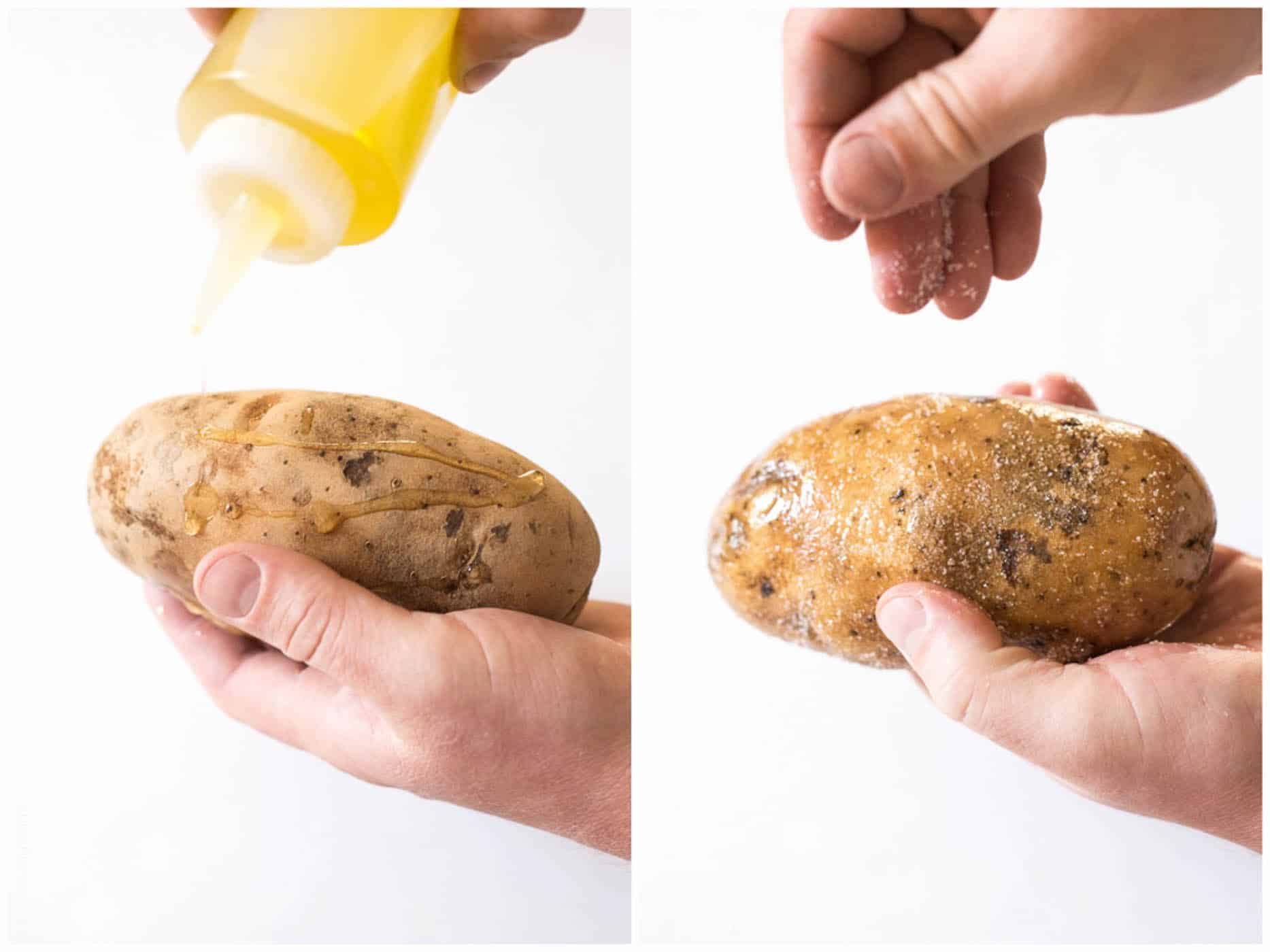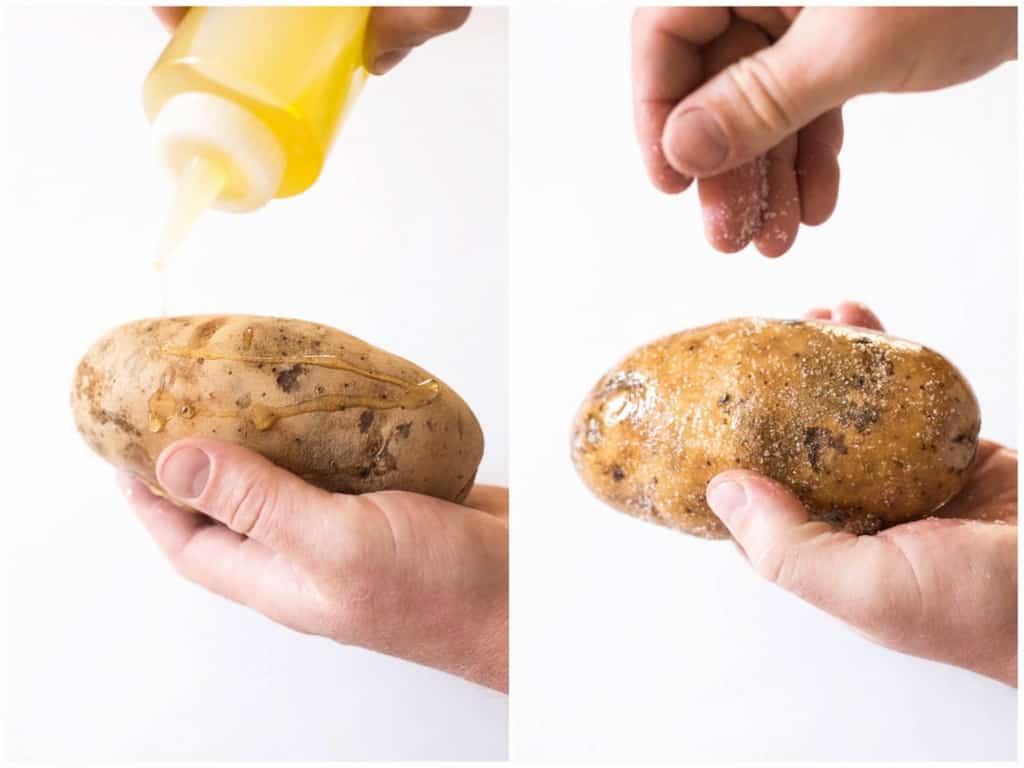 "Is it a certain type of deep ocean fish?"
No. But keep guessing.
"Is it a word that only has the letter i in it once?"
Nope. You're stumped aren't you?
"No! Don't tell me. I'm going to guess it."
Always so determined to solve it himself. This was before iPhones, so I knew he couldn't cheat and Google the answer.
"A storm!"
Yes! You got it!
"Write me another riddle Nat. I like this game."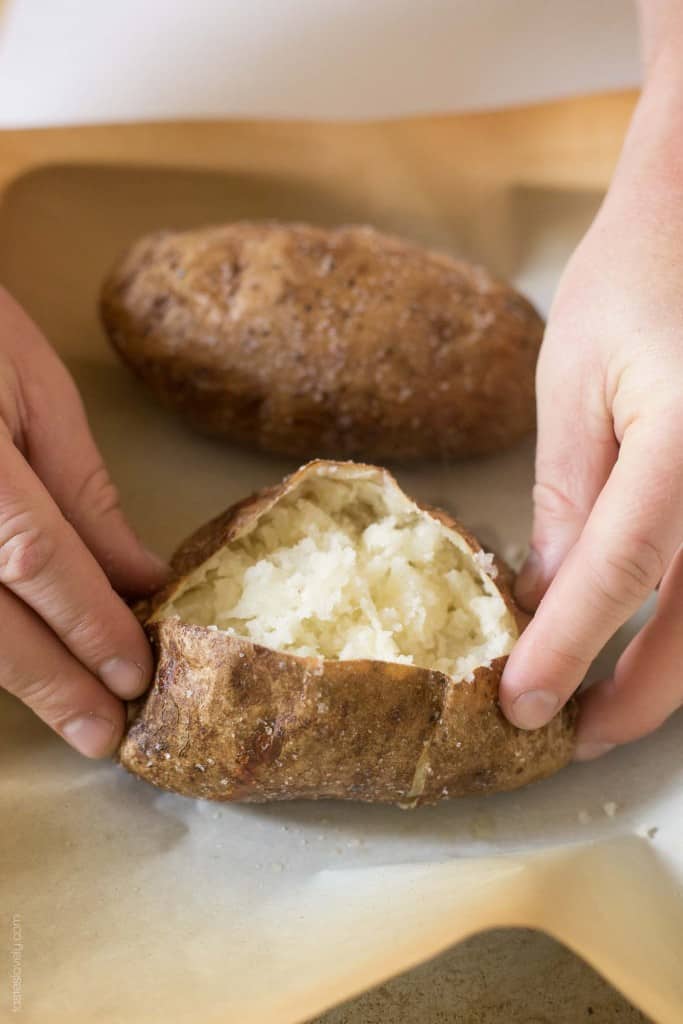 When he would take the trash out he would leave a nice note for me to find on my windshield when I would leave at the end of the night. He would ask me if I wanted a refill on my water, he's heading to the back anyway. He'd bring it back with a fresh lemon slice each time.
I would peek over the tall hostess station every now and then to see where he was, usually to find him carrying plates of delicious food. Whenever I would look at him, I swear he could feel my eyes on him and he would look my way within seconds and give me a wink.
It was flirting at its very best.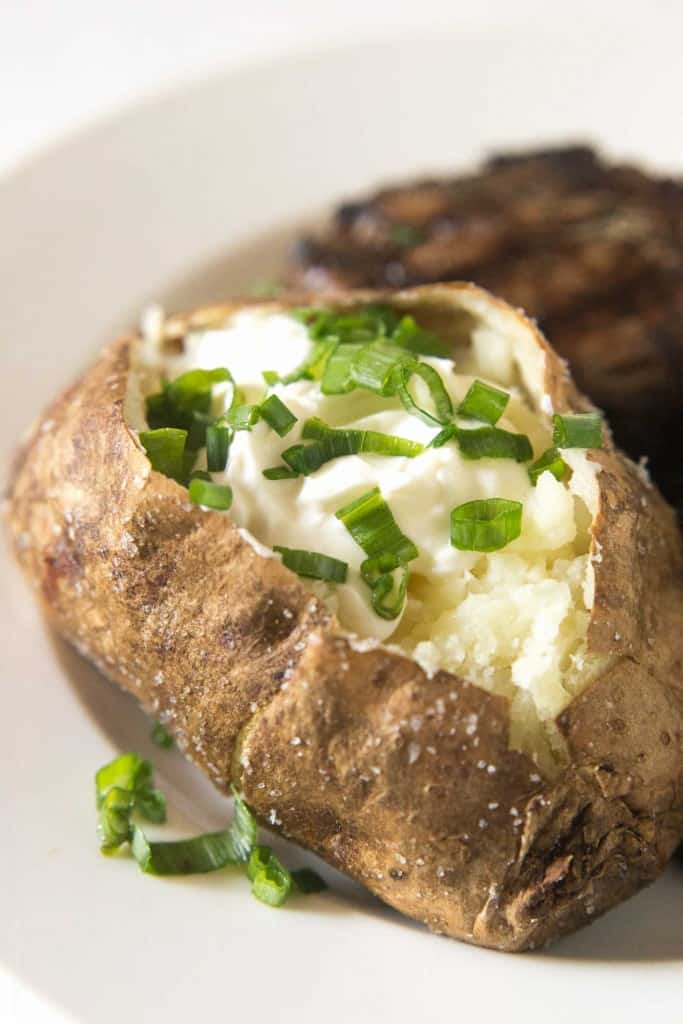 All of the food we served there was delicious. The restaurant didn't give it's employees free meals, and if we ordered food we only got a 15% discount. 1 meal would have cost more than I made that whole day working! But we did get free bread rolls. Many nights my dinner was just 3 rolls of bread with whipped butter and an iced tea.
On verrrry lucky nights, if I was one of the last employees there, and the mean manager had already gone home, and there were baked potatoes left over that hadn't been served to customers, the chef would give me one. Nothing tasted better than that free, leftover, end of the night steakhouse baked potato. I would sit in the corner of the almost empty restaurant, resting my weary feet that I had been standing on for the past 6 hours straight, eating my baked potato and feeling like the luckiest girl in the world.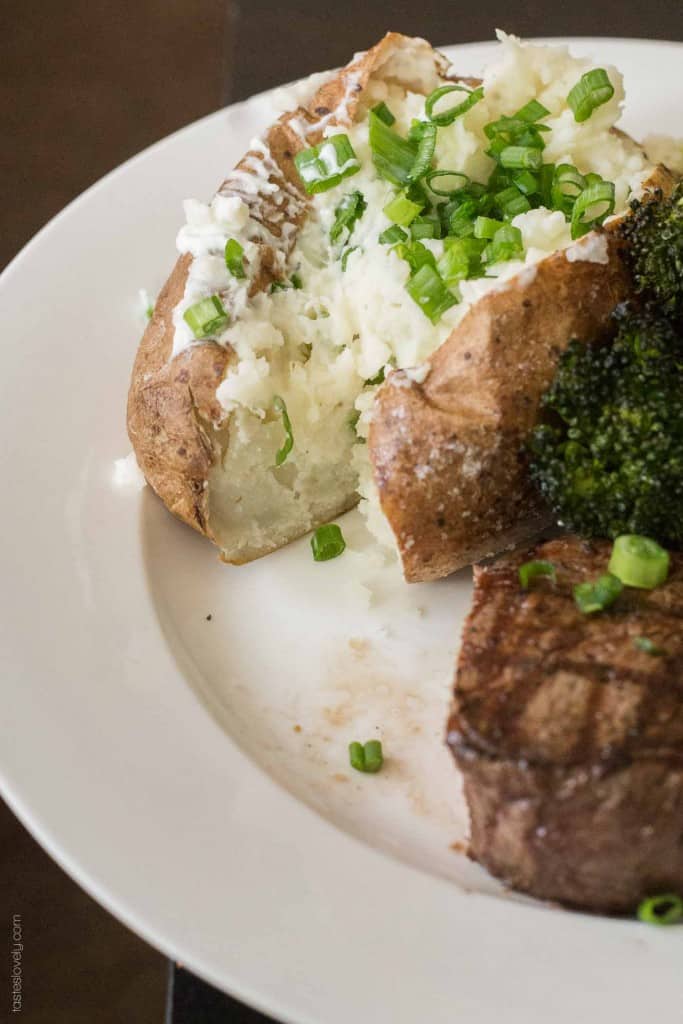 I was convinced this steakhouse style baked potato perfection could only be achieved at a steakhouse. One day I got brave and asked one of the chefs what the secret to it is. He shared the secret with me, and now I'm going to share the secret with you.
You coat the outside of the baked potato with olive oil and a very generous amount of salt. This gets the skin crispy and flavorful. When you roast it, roast it whole, don't poke any holes in it. You want to trap the steam so it gets the inside of the potato nice and tender. Roast it at 425 degrees until it is soft when you squeeze it with your hand. And last, when you take it out of the oven, drop it onto a plate or cutting board from about 10″ up. When it drops, it will jostle the inside of the potato and break it up so it is very light and fluffy inside when you cut into it.
At the steakhouse they served the baked potato with just butter, sour cream and green onions. Simple and perfect. And now, that is exactly how I like it. And every time I eat it, I flash back to our young love that year we both worked at the steakhouse.
Print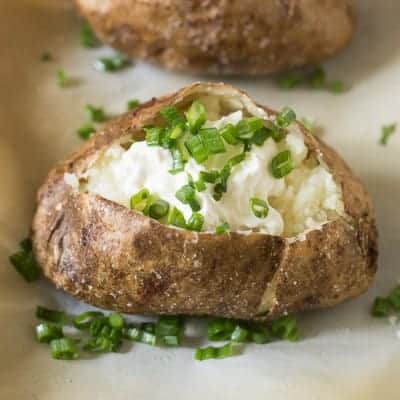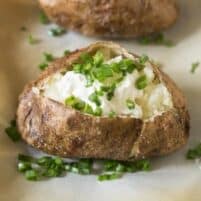 Steakhouse Style Baked Potato
---
Author:

Total Time:

50 mins

Yield:

2

baked potatoes

1

x
---
Instructions
Preheat your oven to 425 degrees with the oven rack in the middle. Line a baking sheet with parchment paper.
Rub the potato with olive oil until it is well coated and sprinkle with salt and transfer to the parchment lined baking sheet. Roast the potato whole (don't poke any holes in it) until it is soft when you squeeze it with your hand. The baking time will depend on the size of your potato, but usually 45 minutes – 1 hour.
When you take the baked potato out of the oven, drop it onto a plate or cutting board from 10″ up. By dropping it, you loosen the inside of the potato so it is light and fluffy inside when you cut into it.
Cut a slit down the length of the baked potato, pinch the edges together to make the opening bigger, and fill the baked potato with desired amount of the fillings.
Prep Time:

5 mins

Cook Time:

45 mins