Summer Keto Cheese Board
Summer Keto Cheese Board Inspiration – a low carb cheese board with cheese, meats, olives, cucumber, nuts + berries. Gluten free, grain free, sugar free, clean eating, real food.
Summer Keto Cheese Board
With many summer get together's planned this summer, one of my favorite appetizers to make a cheese board. It makes it VERY easy to stick to low carb, and it's also an appetizer that everyone will enjoy (both keto and non-keto!).
Plus, it has such a beautiful presentation. And has something for everyone to graze and enjoy.
Buy My Hand Selected Cheeses
Choosing the right combination of cheeses to use is key when planning out your cheese board. I put so much thought in to it.
If you want to replicate this exact cheese board, I am SO EXCITED to tell you that you very easily can! I'm collaborating with The Cheese Lover Shop, and you can buy all the cheeses, meats and olives you need for this cheese board! It's so reasonably priced, and will ship right to your door!
Click here to get the Tastes Lovely Keto Friendly Cheese Board via The Cheese Lover Shop!
Cheeses Used
This cheese board has the perfect variety of cheeses and sides to stand alone, or add in fresh fruit and veggies to take it to the next level. Here are the cheeses I hand selected, and why they are a must on my Keto cheese board:
Alouette Garlic + Herbs: Tons of herby flavor, and very soft and spreadable. Love that it is made with milk from cows not treated with rBST!
 Supreme Brie Cheese: My absolute favorite brie cheese. Always ultra creamy, especially at room temperature.
 Dorothy's Diggin' Truffles: The ultimate cheese for truffle lovers. A soft cheese with black truffle shaved right in to it.
Rogue Creamery Oregon Blue Cheese: This blue cheese has a touch of honey in it, which balances out the strong blue cheese flavor perfectly. Great combo of savory and sweet!
Chavrie Goat Cheese Pyramid: Mild, tangy flavor that is soft and spreadable. I love the height the pyramid gives the cheese board. Goat cheese is also a great option for those with cow dairy sensitivities!
Esquirrou Ossau Iraty Sheep's Milk Cheese: This cheese was awarded The World's Best Cheese in 2018. And for good reason! It is a hard cheese with nutty notes.
D'Artagnan French Cured Ham: Super thinly sliced cured ham that melts in your mouth. Perfect balance of earthiness and salt. No antibiotics, hormones, nitrates or nitrites!
D'Artagnan Le Saucisson Sec: A hard, dried sausage with tons of flavor. Makes the perfect 0 carb vessel to enjoy paired with the cheeses. Also no antibiotics, hormones, nitrates or nitrites!
Divina Pitted Greek Olive Mix: A mix of Kalamata, Mt. Athos, Mt. Pelion olives in a bright and flavorful brine.
These cheeses and sides are plenty for a good keto cheeseboard. If you want to jazz it up even more, add on some sliced cucumbers, halved strawberries, whole blueberries, whole raspberries, some marcona almonds (or any nut!) and garnish with sprigs of fresh rosemary.
Watch Me Style My Keto Summer Cheese Board
Click here to get the Tastes Lovely Keto Friendly Cheese Board via The Cheese Lover Shop!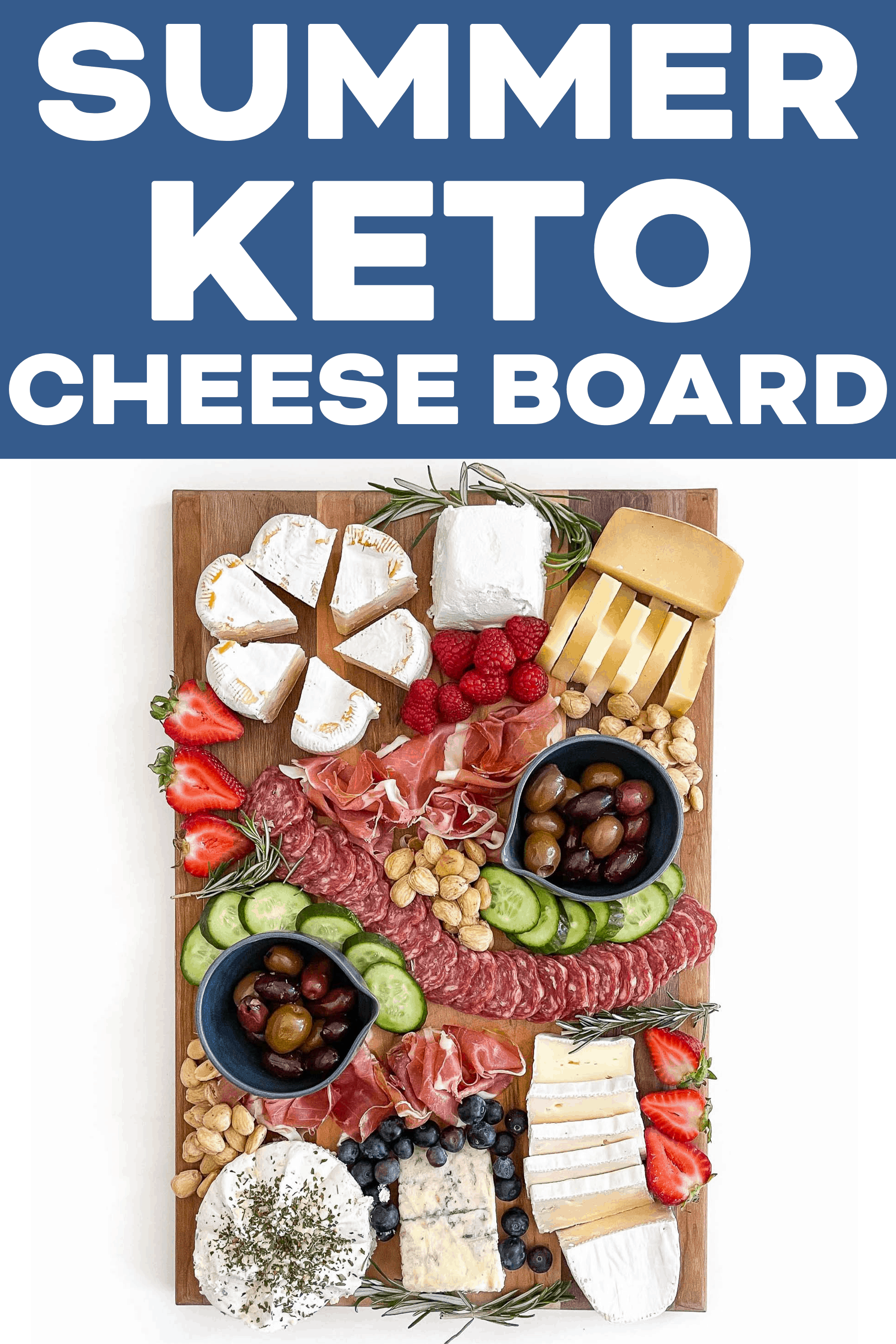 This post contains affiliate links, thanks for the love!