Turkey & Arugula Stuffed Bell Peppers
Ground turkey & arugula stuffed bell peppers topped with melted mozzarella cheese. Perfect back to school dinner that kids love, and you can have on the table in less than 30 minutes. Plus, the secrets to the perfect stuffed bell pepper!
It's back to school time here in California. I know this, because the grocery store was about 90 times more crowded at 4:00pm with moms and kids than it was last week. And, the ends of the grocery store aisles are lined with juice boxes and lunch box baggies of gold fish and fruit snacks.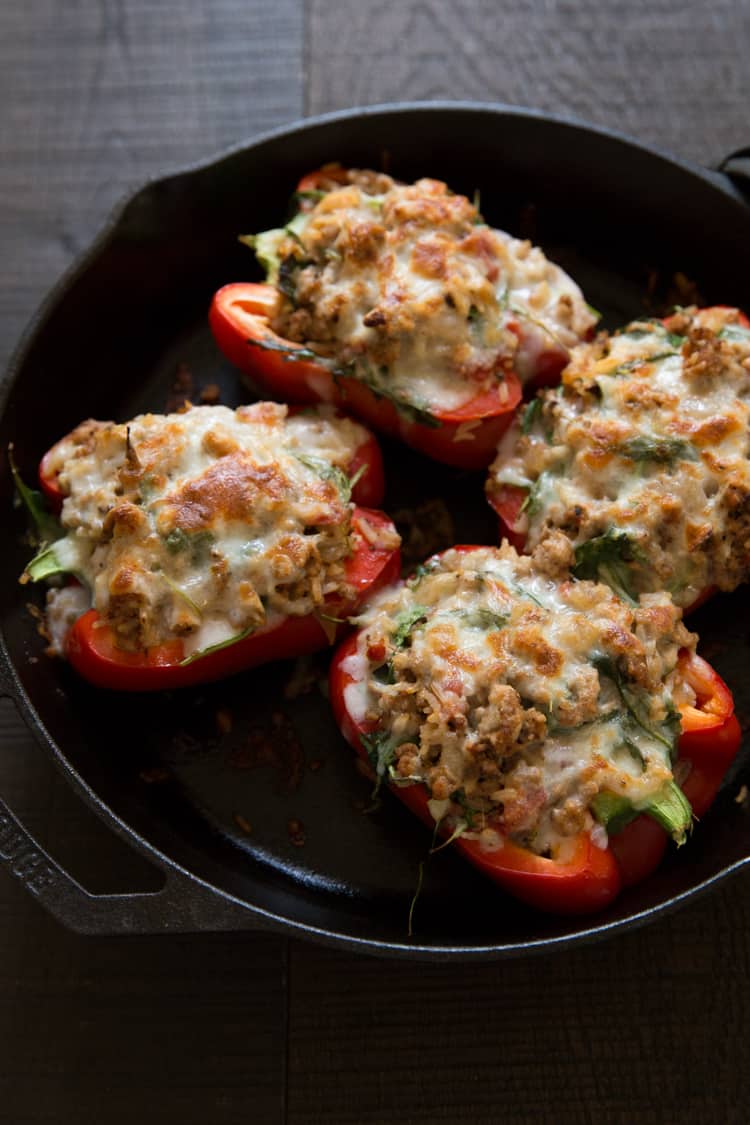 Even though I'm long since out of school, I still feel the need to get more organized and on a schedule at back to school time. Today after work, I came home and cleaned my house top to bottom, and planned out my dinner menu for the whole week. (I'm not the best at dinner planning, I'm a figure-out-what's-for-dinner-every-day-on-my-way-home-from-work kind of girl)
At the top of my dinner menu list are these healthy and delicious turkey & arugula stuffed bell peppers. They are tasty, and you can have them on the table in less than 30 minutes. Perfect back to school dinner!
These aren't the mushy stuffed bell peppers from your childhood. Thru much trial and error, I've discovered a few secrets to perfect stuffed bell peppers.
1. Stuff the bell pepper with pre-cooked rice. This is a great use of left over rice from the day before! When you use uncooked rice, you have to add a lot of moisture to the stuffing to make sure the rice can get cooked properly. This usually leads to soggy bell peppers, and you're not guaranteed that the rice will turn out perfect. Using pre-cooked rice cuts the cooking time way down.
2. Rather than cutting the top off the pepper in and stuffing it, cut the bell peppers in half length wise. This gives you more surface area to cover with cheese and get a melty topping, which everyone knows is the best part of a stuffed bell pepper.
3. A lot of recipes I've tried have you boil the bell peppers for several minutes to get them soft. Don't do this! The bell pepper will end up too mushy by the time it's done cooking. Instead, just stuff the bell peppers raw. They will cook enough in the oven, and will come out perfect crisp tender.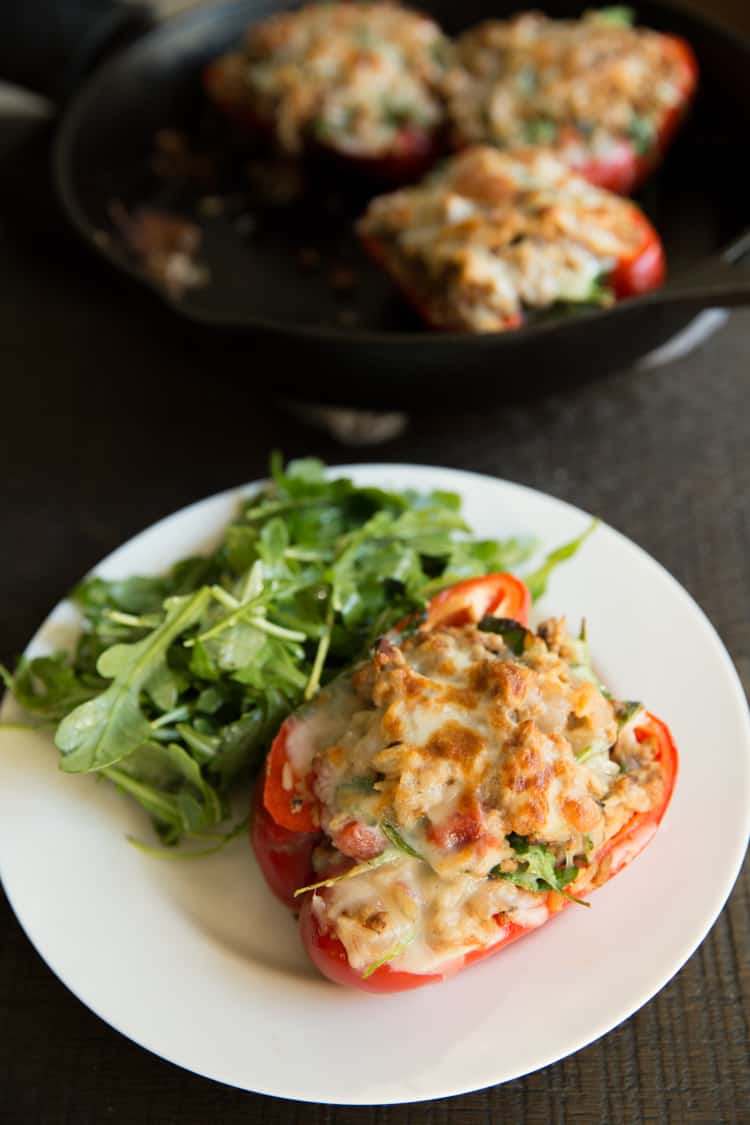 Your family will love this ground turkey and arugula stuffed bell peppers. It's filling, but still light and doesn't leave you feeling heavy and full. I love this with my favorite simple arugula salad. Great end of summer dinner. Enjoy!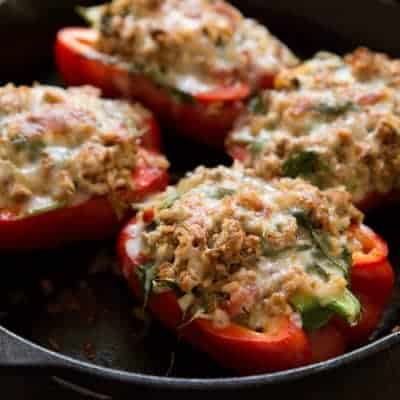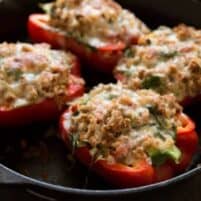 Turkey & Arugula Stuffed Bell Peppers
These bell peppers are stuffed with ground turkey, arugula and topped with cheese.
Ingredients
2

large red bell peppers

,

cut in half length wise, ribs and seeds removed

1

tablespoon

olive oil

1

medium yellow onion

,

chopped

1

pound

ground turkey

1

cup

cooked rice

,

made from 1/2 cup uncooked rice

2

garlic cloves

,

grated or finely chopped

14.5

ounce

can diced tomatoes

,

drained

2

cups

baby arugula

1-1/2

cups

shredded mozzarella

,

divided

1/2

cup

chicken stock

salt and pepper to taste
Instructions
Preheat oven to 400 degrees.

In a large non stick skillet over medium high heat, cook the onions in the olive oil until the onions begin to turn translucent, about 5 minutes. Season with salt and pepper. Add in the ground turkey, and cook until cooked thru, about 8 minutes. Add in the rice, garlic, diced tomatoes, baby arugula, 1 cup mozzarella and 1/2 cup chicken stock. Stir to combine.

In an oven safe baking dish or skillet, add raw bell peppers and season with salt and pepper. Fill each bell pepper with the turkey and arugula mixture. Top the bell peppers with the remaining 1/2 mozzarella, and drizzle the tops with a small amount of olive oil.

Roast in the oven for 15-20 minutes, until the bell peppers start to become tender and the cheese is melted.
Calories:
385
,
Total Carbs:
26.6
g
,
Protein:
31.1
g
,
Fat:
17.3
g
,
Fiber:
2.9
g
,
Net Carbs:
24
g
Did you make this recipe?
Please Leave a comment and give this recipe a rating!