Wine Marinated Chicken with Lemon & Rosemary
My big, tough husband has been plagued with scary dreams lately.
He does work installing high end home theaters and security systems, and has to crawl under houses to run the cables from room to room. Which basically means he crawls over rat poop and is surrounded by spiders and cobwebs.
Occasionally around 3am he'll have a dream that he is in a crawl space and spiders start falling on him. He'll start whimpering and scooching down the bed under the covers, as if he were in a crawl space trying to escape. The dreams seem too real to him, and it takes him a while to calm him down and be convinced he's not under spider attack.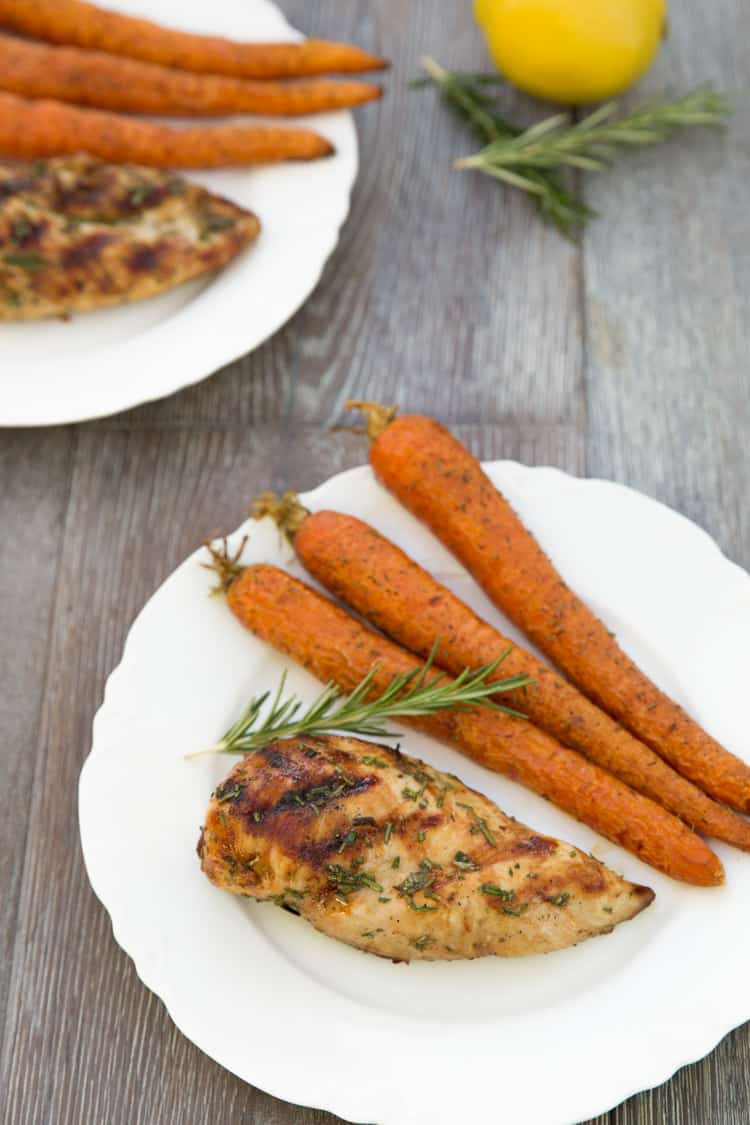 Me: Shawn, what's wrong?!
Shawn: Spiders! A spider fell on my head!
Me: REALLY!?
Shawn: Ya, I was under the house and a spider fell right on my face!
Me: Under the house? *pauses, confused* I think you're dreaming.
Shawn: No!
Me: Shawn, it's the middle of the night and we were sleeping. You weren't under the house. It was just a dream, you're ok. There's no spiders.
Shawn: Oh. Good.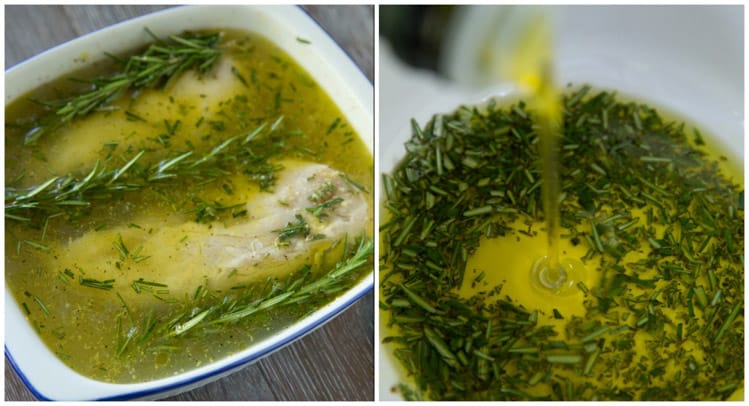 Now that it's happened WAY more than a few times, he's much easier to calm down. He'll start whimpering or scooching, and I'll reach over, rub his arm, and say, "You're dreaming again." He'll go, "Hmmm? Mmmm." Then fall back asleep.
I'm basically a nightmare comforting pro.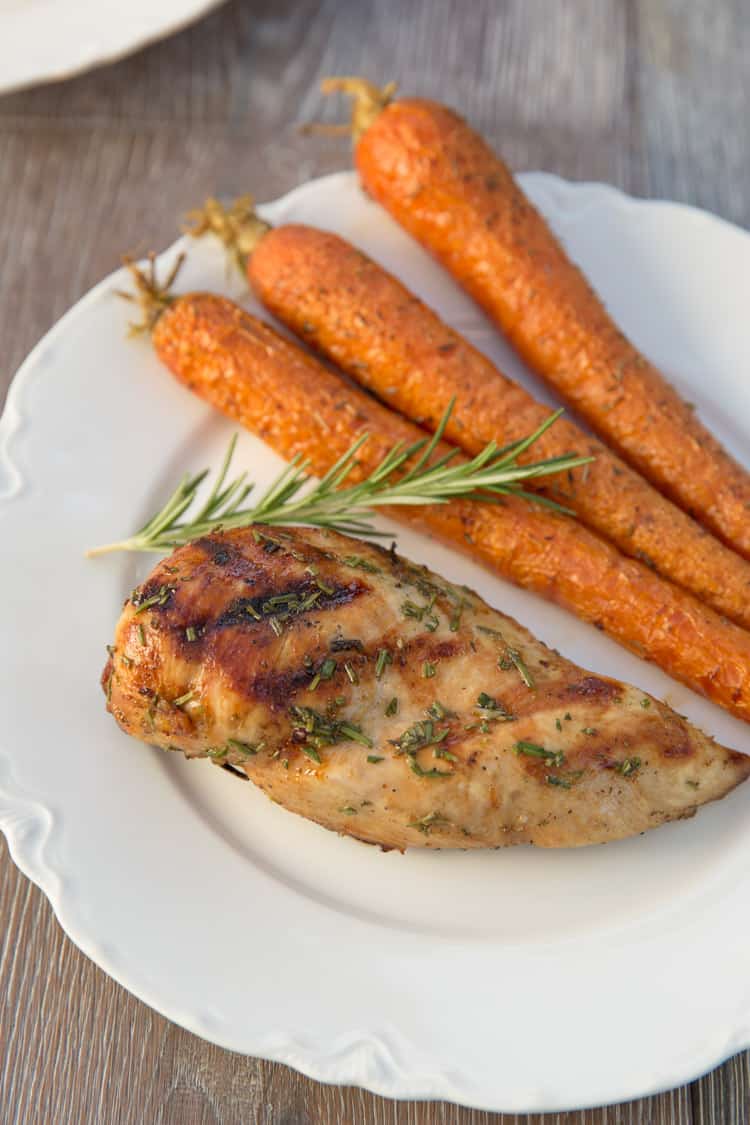 Along with being a nightmare comforting pro, I'm now a wine marinated chicken dinner pro.
This wine marinated chicken is seriously a-ma-zing. The chicken breast is marinated in white wine along with lots of lemon zest, fresh rosemary and some garlic. Grill it up on the BBQ for even more flavor, and during the last minute of cooking you brush it with a rosemary olive oil mixture.
The wine marinated chicken is full of flavor yet it's very light on calories, low carb, is gluten free and paleo. We've already made this wine marinated chicken twice this summer, and I see us making it many, many more times. I love it served along salad or roasted veggies.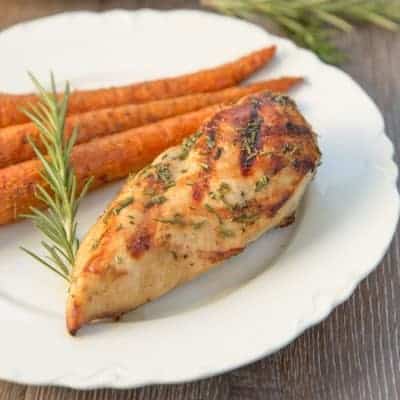 Wine Marinated Chicken with Lemon & Rosemary
This chicken breast marinated in white wine, lemon and rosemary then grilled on your outdoor grill.
Ingredients
2

chicken breasts

, about 6 ounces each (I get my chicken from ButcherBox, which I highly recommend)

zest of 2 lemons

5

sprigs of rosemary

,

3 of them removed from the stem and the leaves finely chopped

4

cloves

of garlic

,

smashed

2

cups

white wine

,

I use sauvignon blanc

6

tablespoons

olive oil

,

divided

salt and pepper
Instructions
Make the marinade by combining the white wine, 3 tablespoons olive oil, lemon zest, 2 of the chopped stems of rosemary, 2 full rosemary sprigs, smashed garlic and the chicken. Marinated the chicken in a baking dish covered in saran wrap or gallon size ziploc bag. Marinate in the fridge for at least 2 hours, or up to 2 days.

In a small bowl, make the olive oil rosemary mixture by combining the remaining 3 tablespoons olive oil and the last stem of finely chopped rosemary. Set aside.

Preheat your grill over medium-high heat, and brush the grates with olive oil. Remove the chicken from the marinade and grill for minutes roughly 8 minutes per side, occasionally using a brush to baste the chicken with the wine marinade. Cook until the chicken is cooked thru and reaches an internal temperature of 165 degrees. During the last 1 minute of cooking brush both sides of the chicken with the rosemary olive oil mixture. Remove from heat and allow to rest for 3 minutes.

Serve warm along with desired sides. Leftovers will keep in an airtight container for 5 days.
Calories:
681
,
Total Carbs:
7.3
g
,
Protein:
39
g
,
Fat:
47
g
,
Fiber:
2
g
,
Net Carbs:
5
g
Did you make this recipe?
Please Leave a comment and give this recipe a rating!
This post contains affiliate links, thanks for the love!