4 Ingredient Classic Potato Salad
Filming the wedding on Saturday went off without a hitch! We got so much great footage, and the bride was just beautiful. I still get a little chocked up during the ceremony when they're reading their vows. I just love love!
It is so much fun working with Shawn. We were able communicate with each other from across the room using just hand motions and trying to mouth the words. Most of the time it worked great. If he was in my shot, I could look at him, give him the universal "move over a tad" hand motion and he would scooch a few feet to the left and get out of my shot. Other times he would have no clue what I was saying. Like when I was trying my darndest to somehow mime "move over on the fireplace so the photographer can get up there and get an overhead shot too". It involved a lot of hand motions and pointing. Shawn just looked at me and shrugged his shoulders, started laughing, and mouthed, "What?!"
On the drive home we decided we need to get some walkie talkies. Or even better, I want to get us some of those secret service ear pieces with a microphone around my wrist. That would make us look pretty fancy.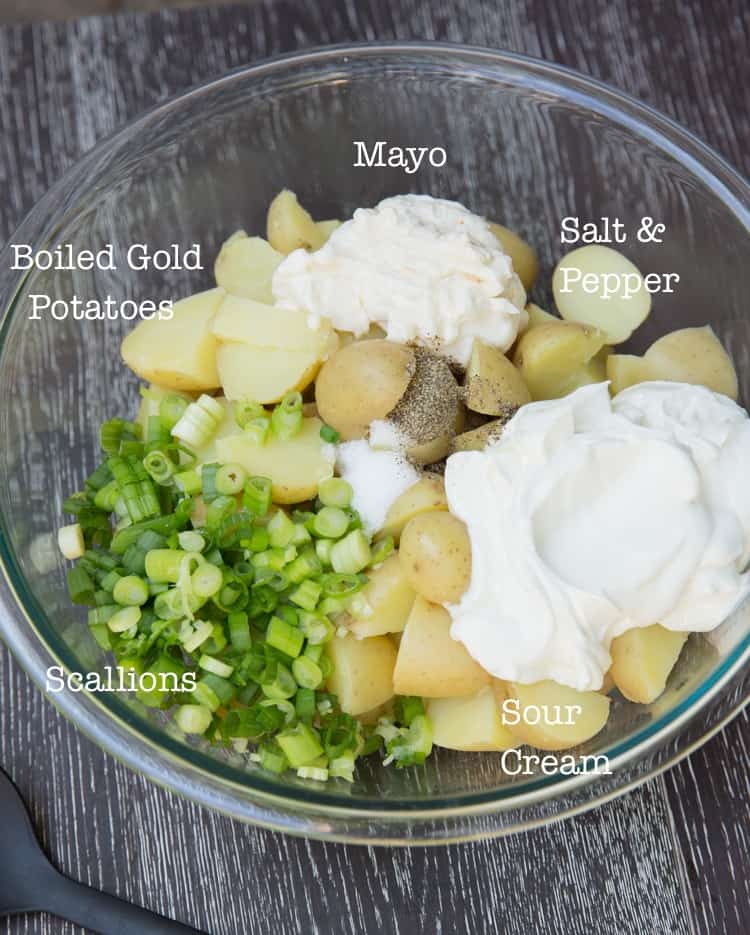 I learned a few things about filming a summer wedding this time around.
1. Should probably slather up in sunscreen, because you will be standing outside for several hours in the direct sun. I now have a very unattractive t-shirt sunburn.
2. Sacrifice style for comfort and wear your black running shoes rather than pretty black flats. Standing and running around for 9 hours is much easier if your feet are comfortable.
3. Around hour 2, that 5 pound camera is going to feel like it's about 90 pounds. Get a monopod.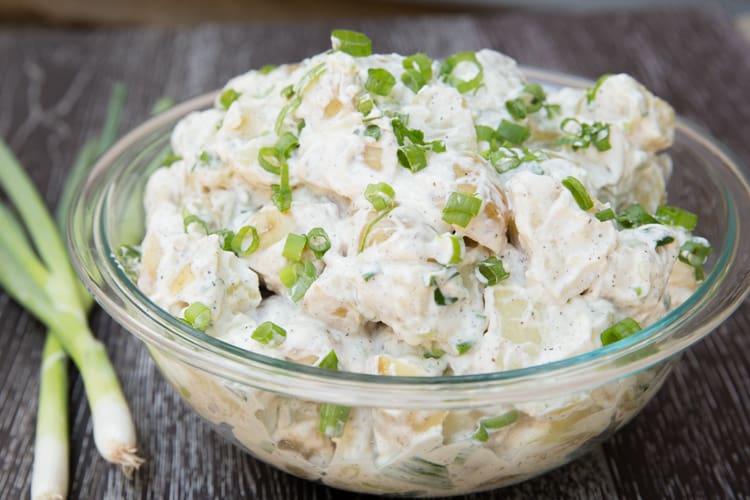 My arms are crazy sore after holding that camera for so long. It even hurt to pick up the bag of potatoes to make this classic potato salad. But it was worth the pain, because this potato salad is delicious. It is everything I love in a potato salad.
The potatoes are cooked perfectly, and are still be big and hunky. Otherwise, they're really just mashed potatoes. There is no sweetness in the dressing because…ew. And for some reason adding hard boiled eggs to potato salad has always seemed weird to me. Personally I've never been a fan, so this is a no egg potato salad. But if you like hard boiled eggs, chop 'em up and throw them in!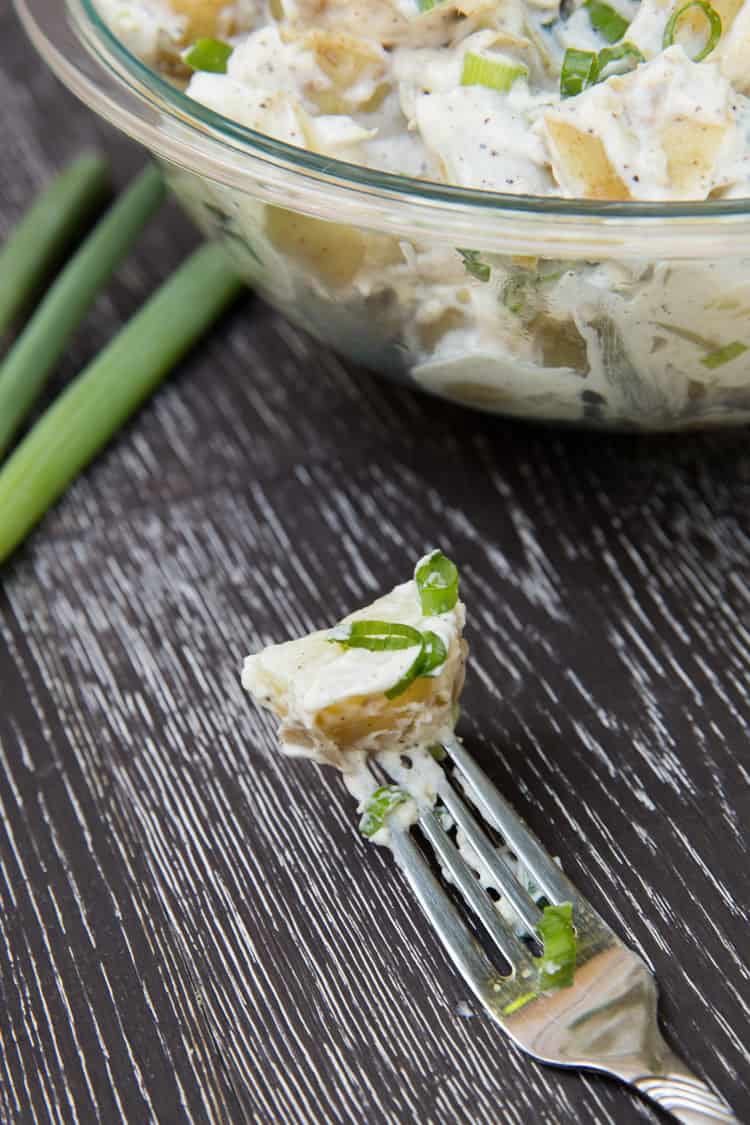 It doesn't get much easier than this 4 ingredient classic potato salad. I used golden potatoes since they are so much creamier and luscious than russet potatoes. The dressing is a simple mix of mayonaisse for creaminess and sour cream for tart bite. Throw in some chopped green onions for color and flavor, some salt and pepper, and you have a perfect, classic potato salad.
Simple is better.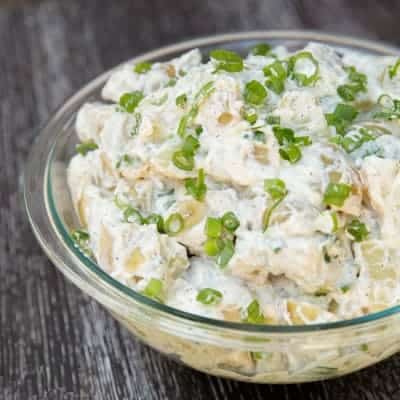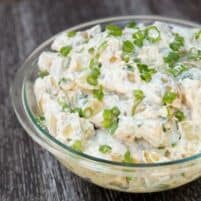 4 Ingredient Classic Potato Salad
The simplest potato salad made with just 4 ingredients!
Ingredients
3

pounds

yukon gold potatoes

,

cut into 1/4

1

cup

sour cream

1/4

cup

mayonnaise

4

scallions

,

green and white parts sliced

1

teaspoon

salt

1

teaspoon

pepper
Instructions
In a large pot of boiling water, cook the potatoes for about 10 minutes until tender and can easily be pierced with a knife. Drain and add to a large mixing bowl while still warm.

In the same large mixing bowl with the warm potatoes, add in the sour cream, mayonnaise, sliced scallions, salt and pepper. Gently toss to combine.

Can be served warm, or covered with saran wrap and refrigerated for 1-2 hours and served cold. Will keep in an airtight container for 4 days.
Calories:
308
,
Total Carbs:
42.9
g
,
Protein:
7.5
g
,
Fat:
12.5
g
,
Fiber:
4.9
g
,
Net Carbs:
38
g
Did you make this recipe?
Please Leave a comment and give this recipe a rating!