Carrot Cake Cupcakes with Cream Cheese Frosting
If you put a vegetable into a cupcake, it's basically like eating a salad, right?
Because that's what I'm telling myself, as I am eating my 5th carrot cake cupcake from this batch. My keyboard is getting a little bit sticky from the cream cheese frosting. Worth it!
Did you all have a nice Easter? Ours was just great. We kept it low key and had a fun dinner at my parents house. The weather was so nice, we played cornhole outside after dinner. I sat with the dogs, and proceeded to be attacked by mosquitoes. I now have 5 mosquito bites. And one of them is right on my neck. On my NECK! It's driving me berserk.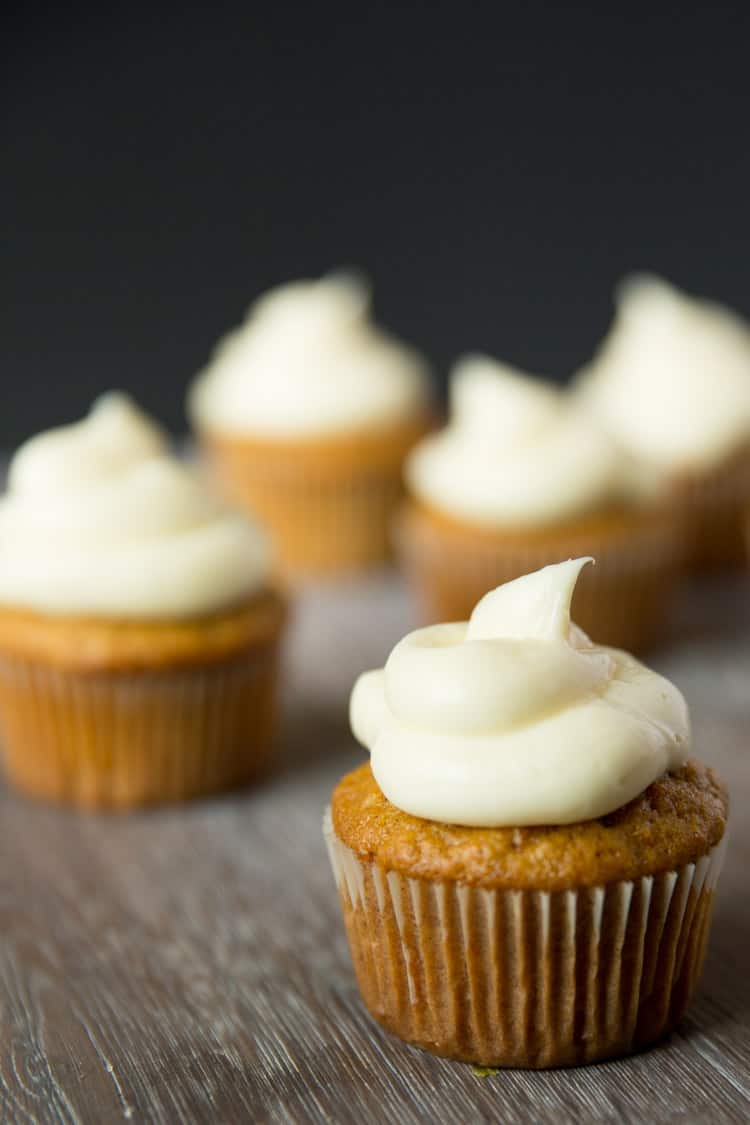 And to make it worse, out of the 6 of us outside I'm the only one who got bit. Just me!
Shawn said it's because I have sweet blood. But I think it's because I spent the afternoon baking these delicious carrot cake cupcakes. While frosting them, I definitely swiped a few tastes of the cream cheese frosting. And of course I'm going to lick the frosting bowl. I'm not going to waste a drop of the cream-cheesy goodness.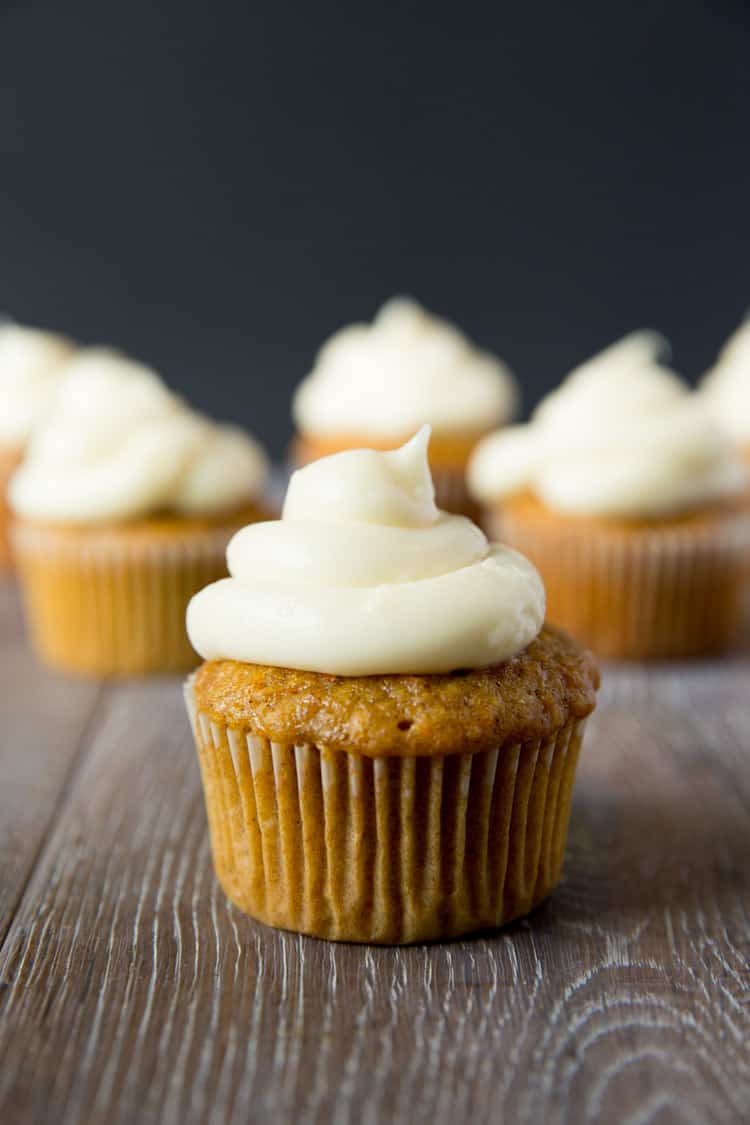 I must have had a slight layer of carrot cake cupcake sweetness to me, which the mosquitoes found irresistable. I can't say that I blame them, because these cupcakes are honestly the best carrot cake cupcakes I've ever had.
They have a soft and delicate crumb that melts in your mouth as you take a bite. There are 6 whole shredded carrots in there, so it is loaded with carrot flavor, but still light and airy. There is just enough cinnamon and nutmeg spice to compliment the carrots without overwhelming them. And they are finished off with a sweet and tangy cream cheese frosting.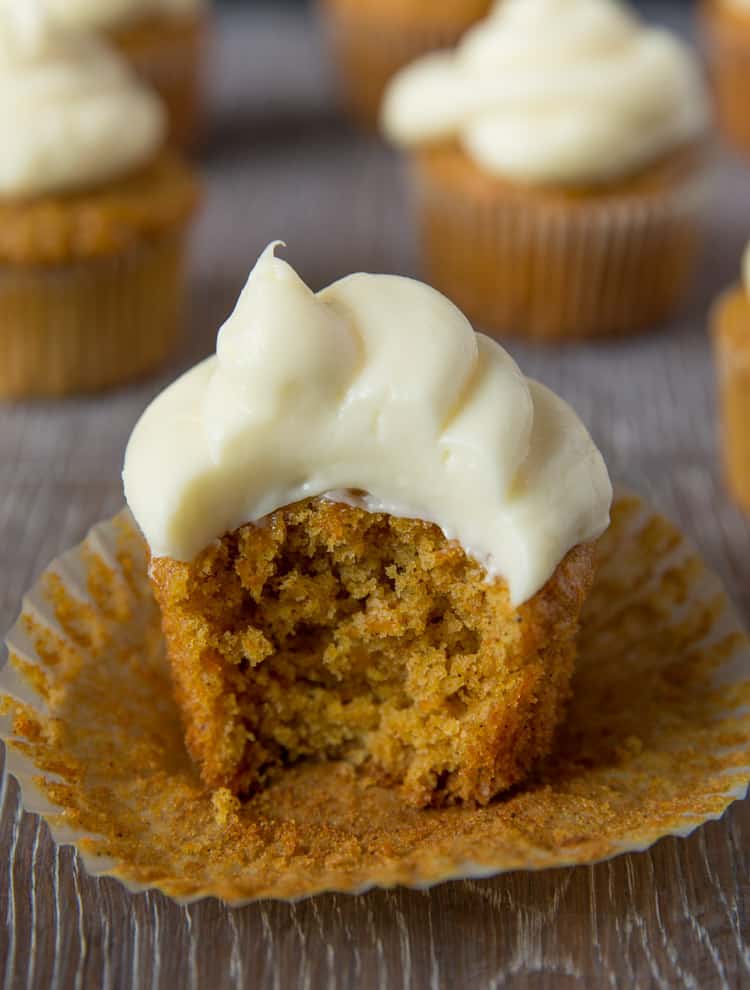 It just doesn't get any better than carrot cake cupcakes.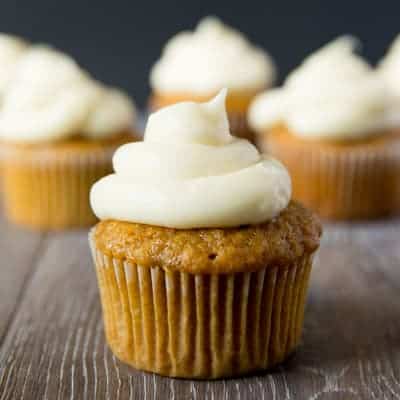 Carrot Cake Cupcakes with Cream Cheese Frosting
These carrot cake cupcakes have a soft and delicate crumb that melts in your mouth as you take a bite. And they are finished off with a sweet and tangy cream cheese frosting!
Ingredients
Carrot Cake Cupcakes
2 1/2

cups

unbleached all-purpose flour

1 1/4

teaspoons

baking powder

1

teaspoon

baking soda

1 1/4

teaspoons

ground cinnamon

1/2

teaspoon

ground nutmeg

1/8

teaspoon

ground cloves

1/2

teaspoon

salt

1

pound

medium carrots

,

about 6, grated on a box grater or in your food processor

1 1/2

cups

granulated sugar

1/2

cup

packed light brown sugar

4

large eggs

1 1/2

cups

vegetable oil
Cream Cheese Frosting
8

ounces

cream cheese

,

room temperature

4

tablespoons

butter

,

room temperature

2

tablespoons

sour cream

1/2

teaspoon

vanilla extract

1 1/4

cup

powdered sugar

,

confectioners sugar
Instructions
Preheat oven to 350 degrees with the trays in the upper and lower third. Line 2 cupcake cans with paper liners.

In a medium bowl, whisk together the flour, baking powder, baking soda, cinnamon, nutmeg, cloves and salt. Set aside.

In stand mixer (or do by hand in a large mixing bowl), whisk together the eggs, granulated sugar and brown sugar for about 1 minute. Slowly drizzle in the vegetable and whisk for another 1 minute until emulsified. Mix in carrots and whisk for 20 seconds. Add in the dry ingredients in 2 batches and mix until just combined and no streaks of flour remain.

Fill the cupcake liners 3/4 full. Bake until the cupcakes are set and a wooden skewer comes out clean, about 30 minutes, rotating the pans halfway thru. Remove and allow to cool completely before frosting. There will be enough batter remaining to make 4 more cupcakes if you wish to use all the batter.

Make the frosting by whisking together the cream cheese, butter, sour cream, vanilla and powdered sugar. Transfer to a plastic bag, snip the end off, and pipe the frosting onto the cupcakes.

Will keep in an airtight container for 4 days. The cupcakes freeze wonderfully. Just transfer to an airtight container before frosting. Freeze up to 6 months. Allow to thaw in the fridge for about 12 hours, then frost them.
Calories:
294
,
Total Carbs:
34.2
g
,
Protein:
2.8
g
,
Fat:
17.1
g
,
Fiber:
0.9
g
,
Net Carbs:
33
g
Did you make this recipe?
Please Leave a comment and give this recipe a rating!