Coconut Oil Lemon Meringue Pie
Dairy free coconut oil lemon meringue pie. A graham cracker crust filled with a coconut oil lemon curd, and topped with meringue. Light as a cloud and full of lemon flavor!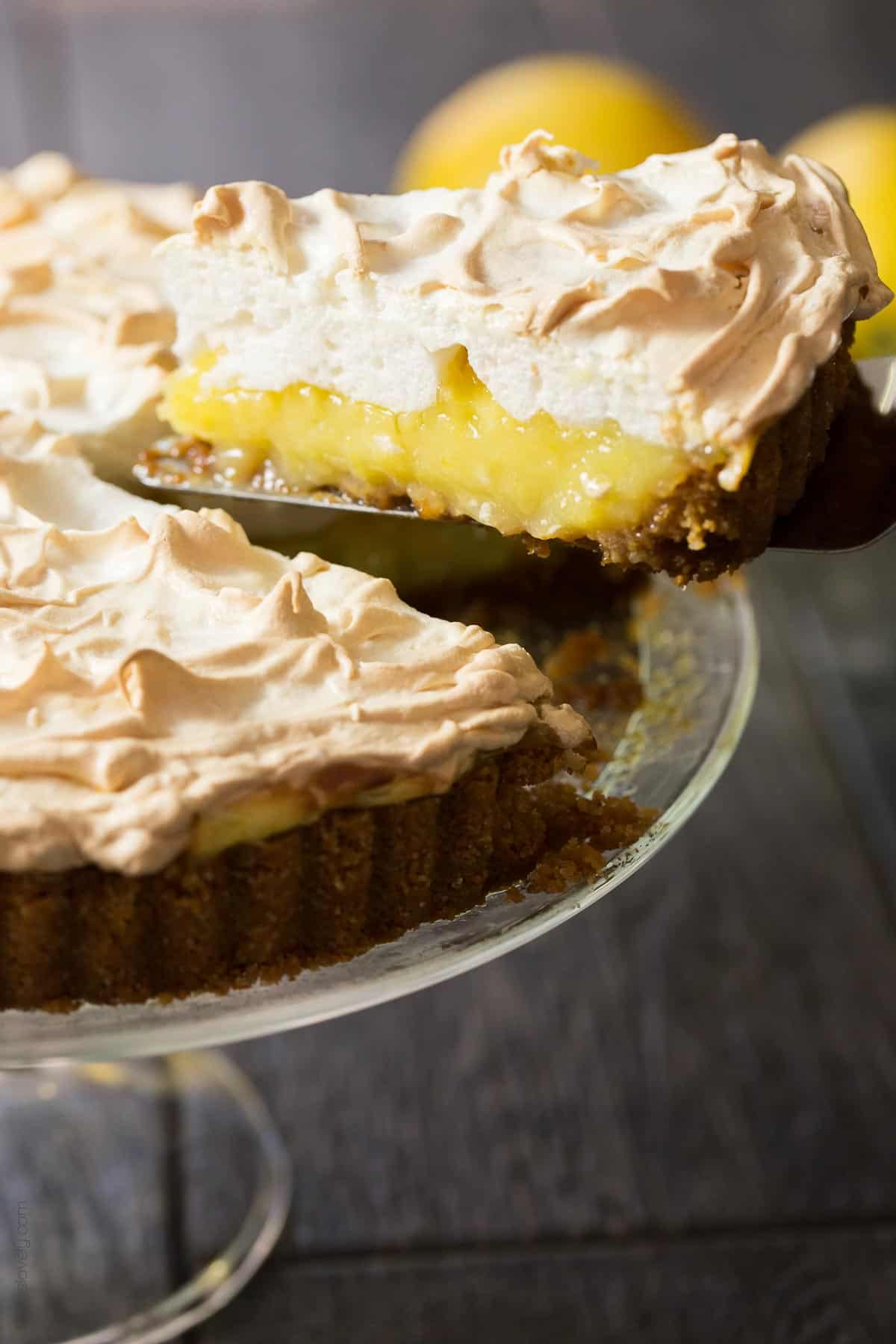 Whenever I'm out and about, I'm constantly listening in on other people's conversations. I'm a major eavesdroppers.
I think I may have heard the best one of all.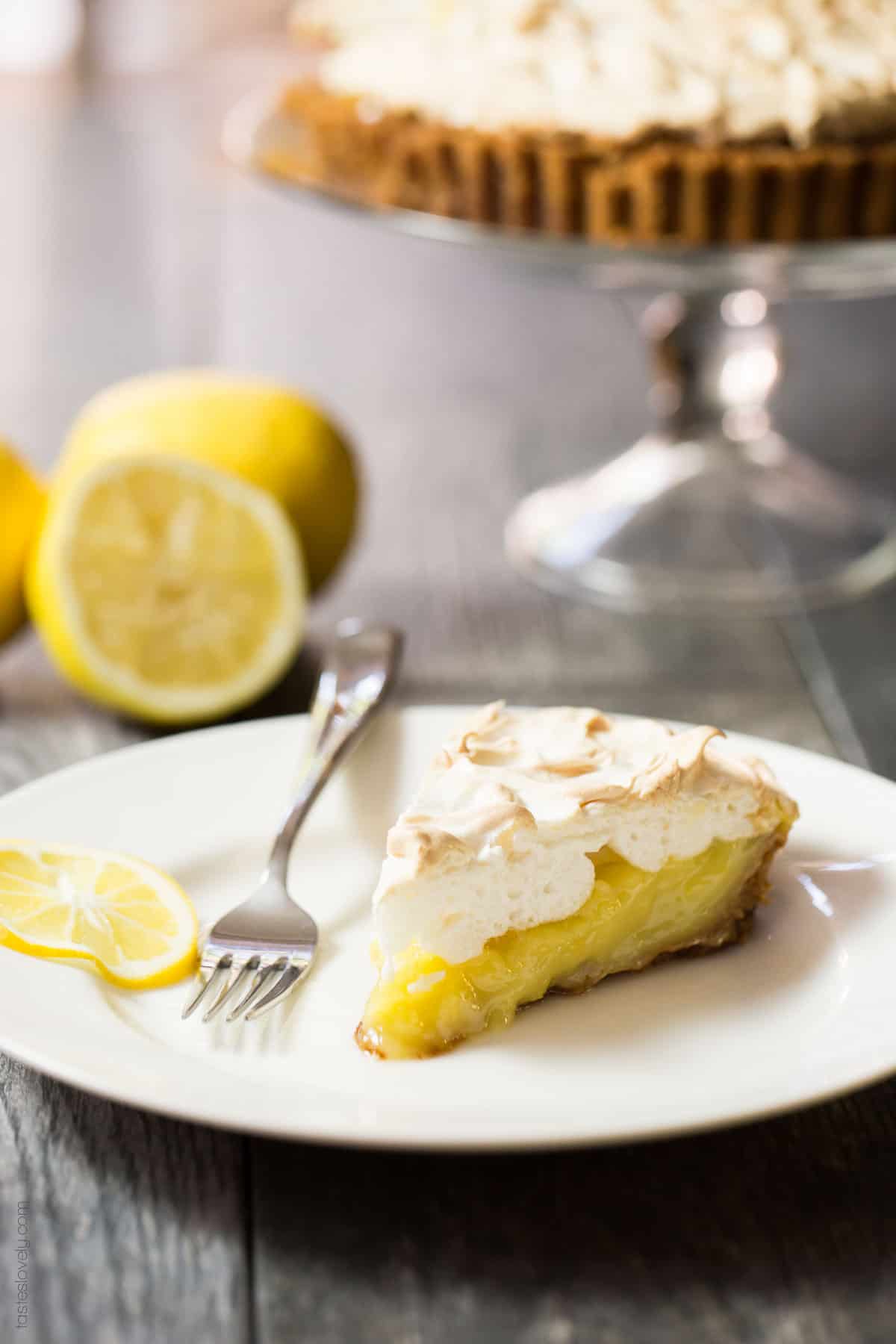 My grocery store has a Starbucks inside of it. As I was walking past it with my grocery cart, I heard the Starbucks cashier say to the customer,
"Sorry, but you can't buy gift cards with gift cards…if that makes sense…"
I have sooooo many questions about this.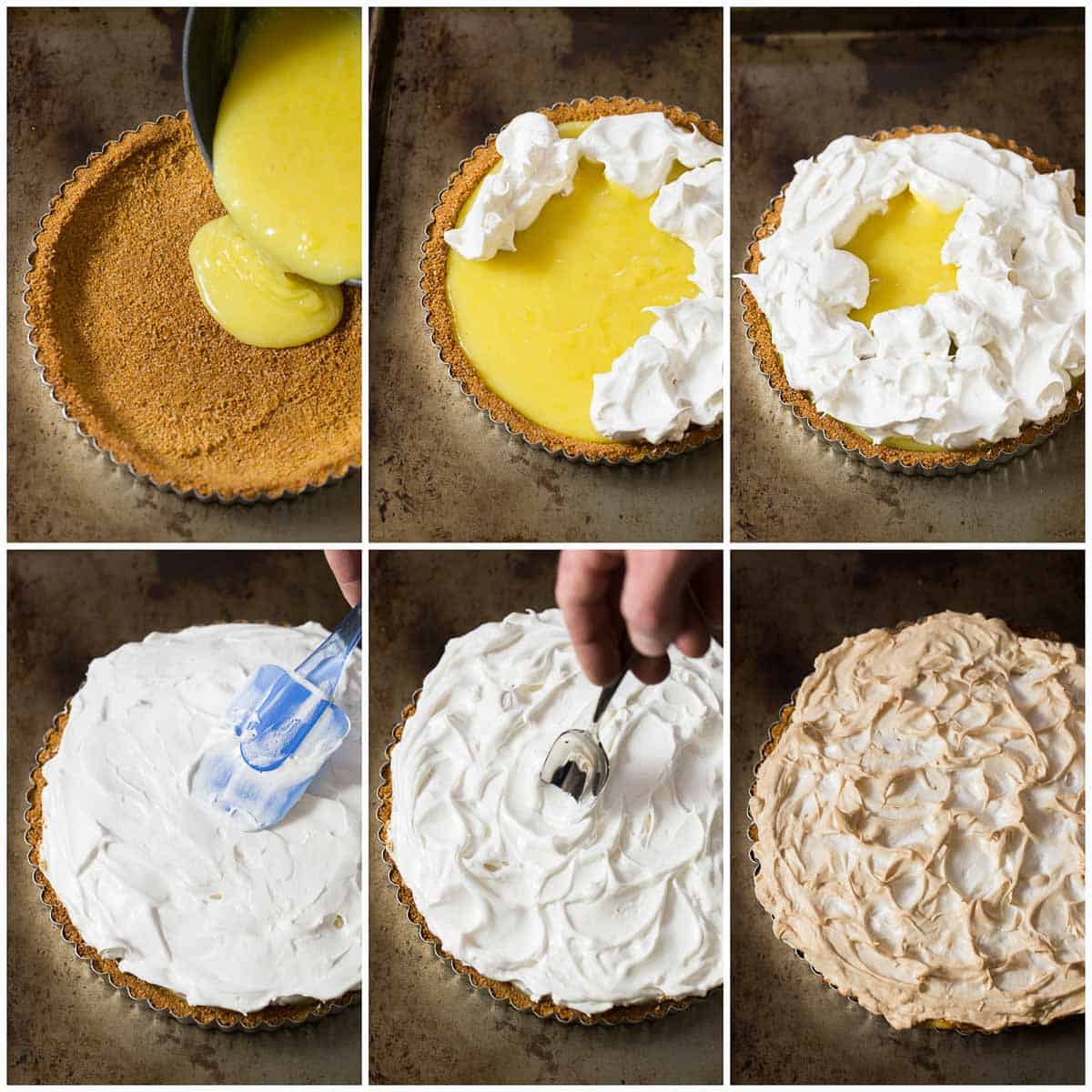 First of all, why can't you buy gift cards with gift cards?
And why does this lady want to buy another Starbucks gift card and pay for it with her current Starbucks gift card? You already have the gift card! Just add more money to your current gift card.
It's seriously been a month since I overheard this, and I still think about this several times a week. I'm worried I'll never know the answer. Someday I'll be 100 years old sitting in my rocking chair and mumbling Why buy a gift card with a gift card? It makes no sense!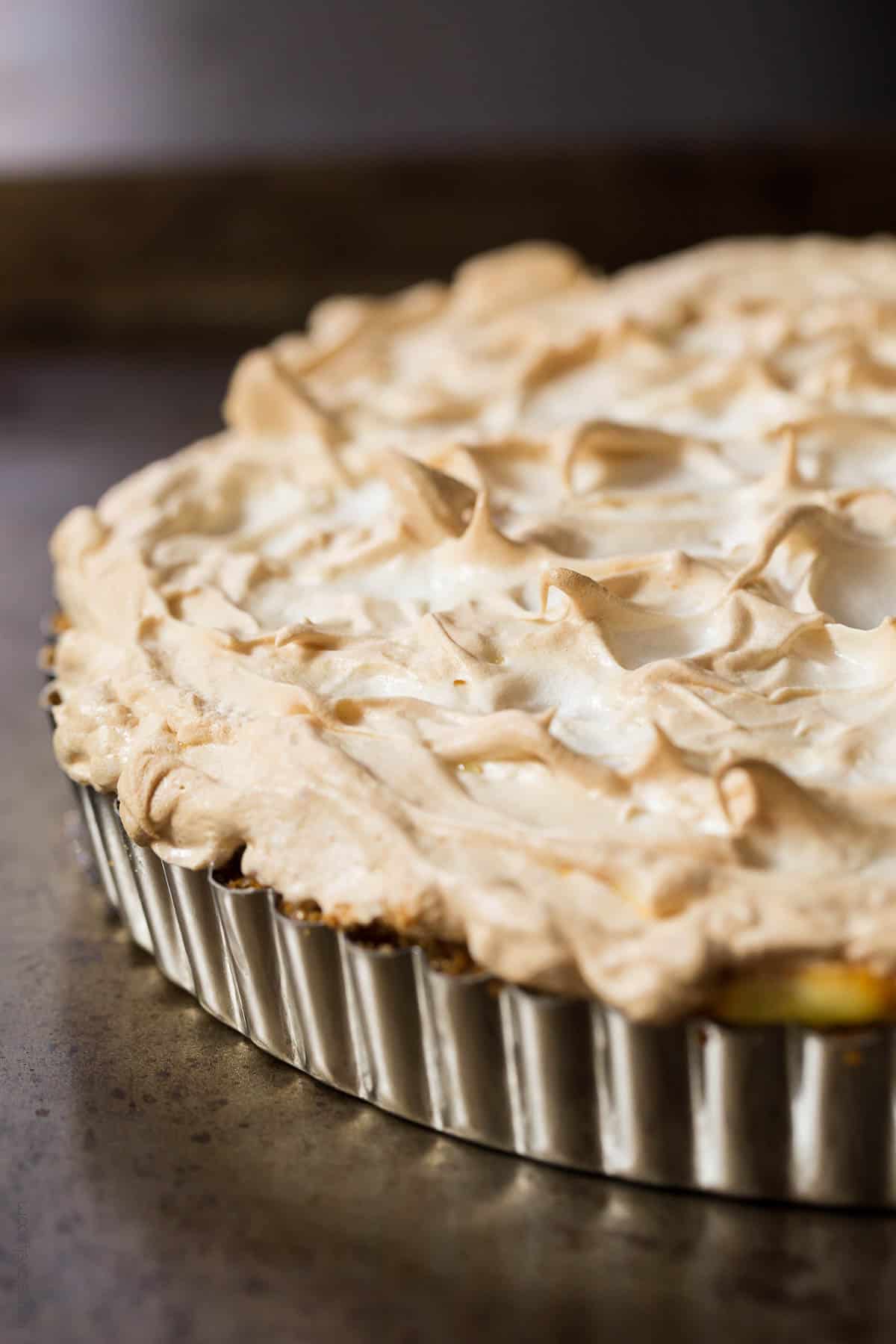 What does make sense is using coconut oil instead of butter in lemon meringue pie. It tastes better, and makes it dairy free!
This is another lemon dessert I made with all of the lemons Shawn's co worker gave us. And like the coconut oil lemon bars I made with the first bag of lemons, this lemon meringue pie is the perfect dessert for me to make because it uses a ton of lemons and a ton of eggs. Both of which I have in abundance for free (thanks chickens!) and need to use up.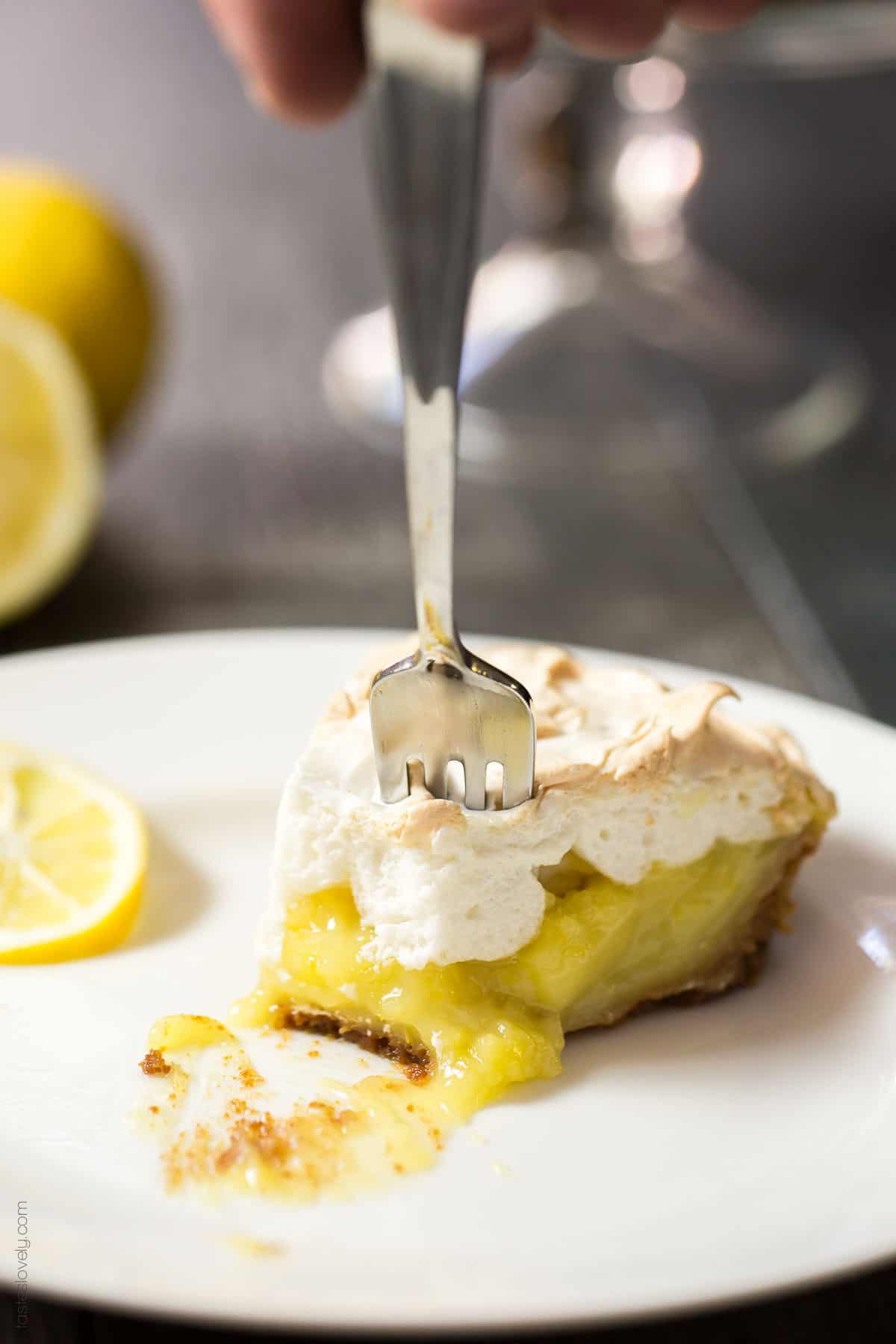 The pie crust is a graham cracker crust. I used coconut oil instead of butter, and it worked perfect. I love graham cracker lemon desserts. They go so well together.
I adjusted my usual lemon curd recipe, and substituted coconut oil for butter in that too. It is a great addition, and I actually like it way better! The subtle sweetness of the coconut oil and the lemon is delish.
It's topped with meringue. I love how wonderfully the egg whites from my chickens' fresh eggs whipped up. So pretty.
Print
Coconut Oil Lemon Meringue Pie
---
Author:

Prep Time:

30 mins

Cook Time:

30 mins

Total Time:

1 hour

Yield:

9

" pie

1

x
Graham Cracker Crust
1

–

1/2

cups graham cracker crumbs (from

10

graham cracker sheets)

1/2 cup

granulated sugar

6 tablespoons

coconut oil, melted

1/4 teaspoon

salt
Lemon Curd Filling
1 cup

granulated sugar

1/4 cup

cornstarch

1/8 teaspoon

table salt

1

–

1/2

cups water

1/2 cup

lemon juice from 2 to 3 lemons

6

large egg yolks

2 tablespoons

lemon zest from 2 lemons

2 tablespoons

coconut oil
Meringue
4

large egg whites

1/2 teaspoon

pure vanilla extract

1/2 cup

granulated sugar

1/4 teaspoon

cream of tartar
---
Instructions
Graham Cracker Crust
Preheat your oven to 350 degrees with the oven rack in the middle. Spray a 9″ tart pan with non stick spray, and put it on a rimmed baking sheet to make it easier to transfer in and out of the oven.
In a food processor, combine the graham crackers, sugar and salt. Pulse until crumbs. Add the melted coconut oil, pulse until it looks like wet sand.
Pour the graham cracker crust into the tart pan. Spread in an even layer across the bottom and up the sides of the tart pan. Use medium pressure and a measuring spoon to press in to the tart pan.
Bake for 15 minutes, or until golden brown.
Remove from the oven and set aside.
Reduce the oven temperature to 325 degrees, with the oven rack in the bottom of the oven.
Lemon Curd
In a medium size pot over medium heat, combine the sugar, cornstarch, salt, water and lemon juice. Cook until it just starts to bubble.
While the sugar mixture is heating up, in a small bowl combine the egg yolks and lemon zest. Whisk to combine.
As soon as the sugar mixture just starts to bubble and turns translucent, temper the egg yolks by slowly pouring in a ladle full of the hot sugar mixture while whisking the egg yolks. Once the egg yolks are slowly heated, then add all the egg yolks to the sugar mixture. Cook until it just starts to bubble.
Once it bubbles, turn off the heat and add in the coconut oil. Whisk until it is melted. Set aside.
Meringue
After the lemon curd is off the heat, make the meringue.
Combine the sugar and cream of tartar in a small bowl.
Pour the egg whites and vanilla into the bowl of the stand mixer with a whisk attachment. Whisk the egg yolks over medium speed.
Once they start to form bubbles and get frothy, pour in the sugar/cream of tartar mixture 1 tablespoon at a time in 1 minute increments.
Continue to whisk over medium speed until all the sugar is added and stiff peaks form.
Assembling the Lemon Meringue Pie
Pour the warm lemon curd onto the graham cracker crust.
Dollop the meringue on the curd, starting on the outside, working your way inside to the center. Then use a rubber spatula to smooth it in an even layer.
Use the back of the spoon to swirl the meringue into a pretty swirly pattern, and poke the spoon in and out to give it little peaks.
Bake the pie for 15-20 minutes, or until the top of the meringue is just starting to turn a light golden color.
Allow the pie to cool to room temperature before slicing, about 1 hour.
Cut into slices and serve.

More Lemon Desserts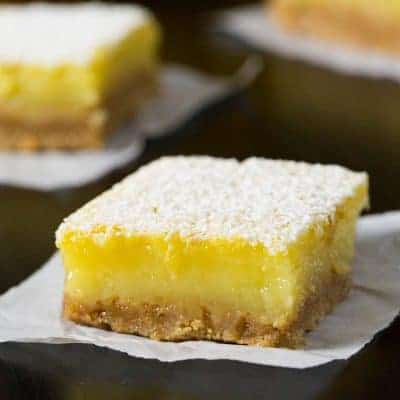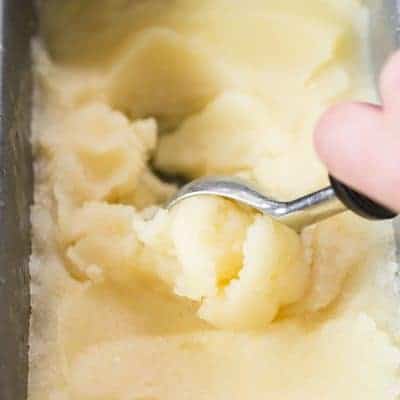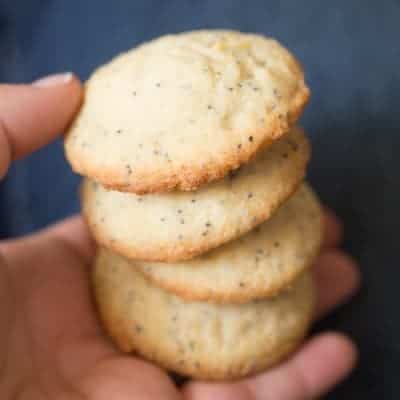 Never Miss a Recipe!
Get new posts delivered straight to your inbox! For free!