Paleo Lemon Sorbet – a sweet and tart dessert recipe that is just 3 ingredients! Can be made with or without an ice cream maker. Paleo, vegan, gluten free, dairy free and refined sugar free.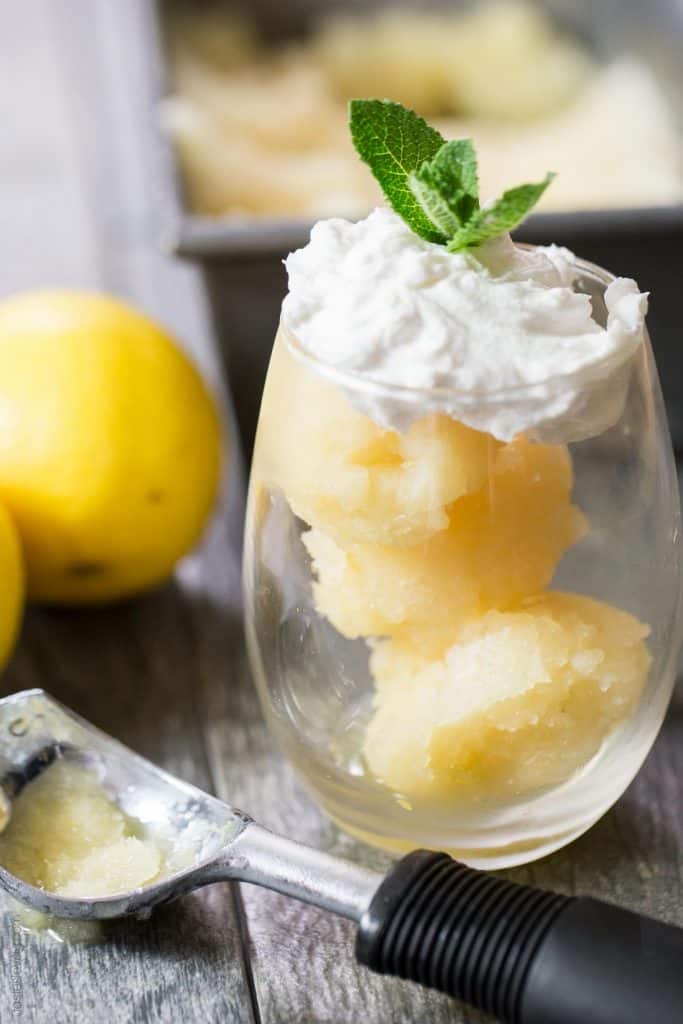 Every morning, Shawn and I take Josh for a walk around the neighborhood. Our loop takes us about an hour to walk, and Josh falls asleep within the first 10 minutes.
That means we get about 50 glorious minutes together every morning, just my fella and I.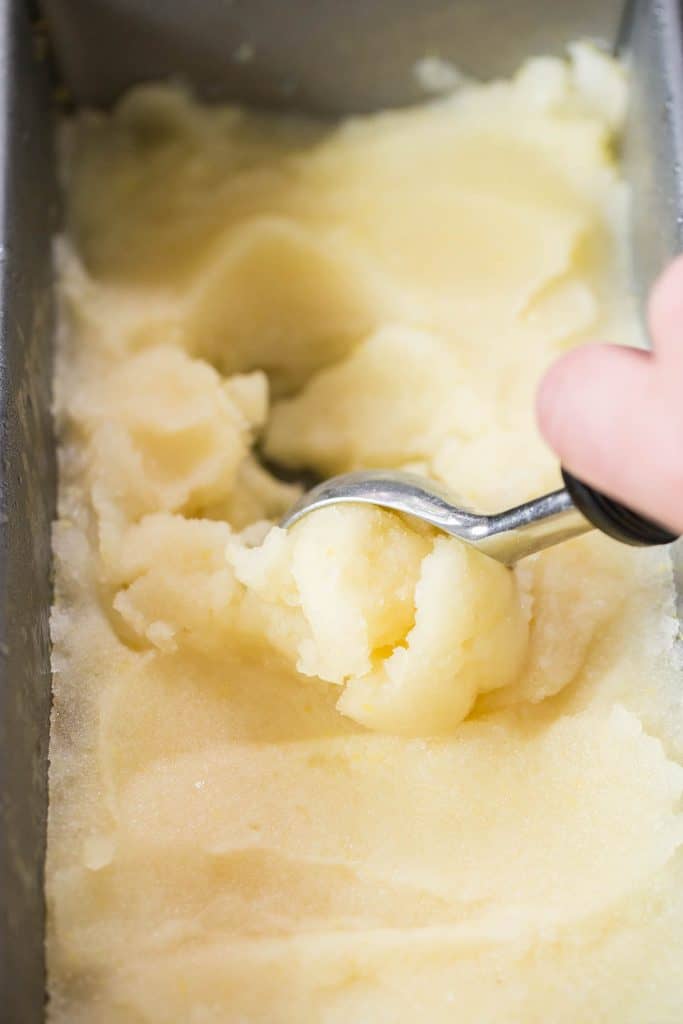 We bring our headphones in case we want to listen to music or a podcast and zone out, but rarely end up using them. Instead we just talk, talk, talk. There's just something about talking and walking. My favorite conversations with Shawn are while we're on these walks.
He tells me about his job. I tell him about cute things Josh did the day before when he was at work. He tells me about how he wants to contribute more to our retirement account. I tell him about that crazy lady at the grocery store. We dream of vacations we want to take in the fall, always to Hawaii. We talk about it all.
I just love that every day we get that hour to connect, and never run out of things to say. It's my favorite way to start the day.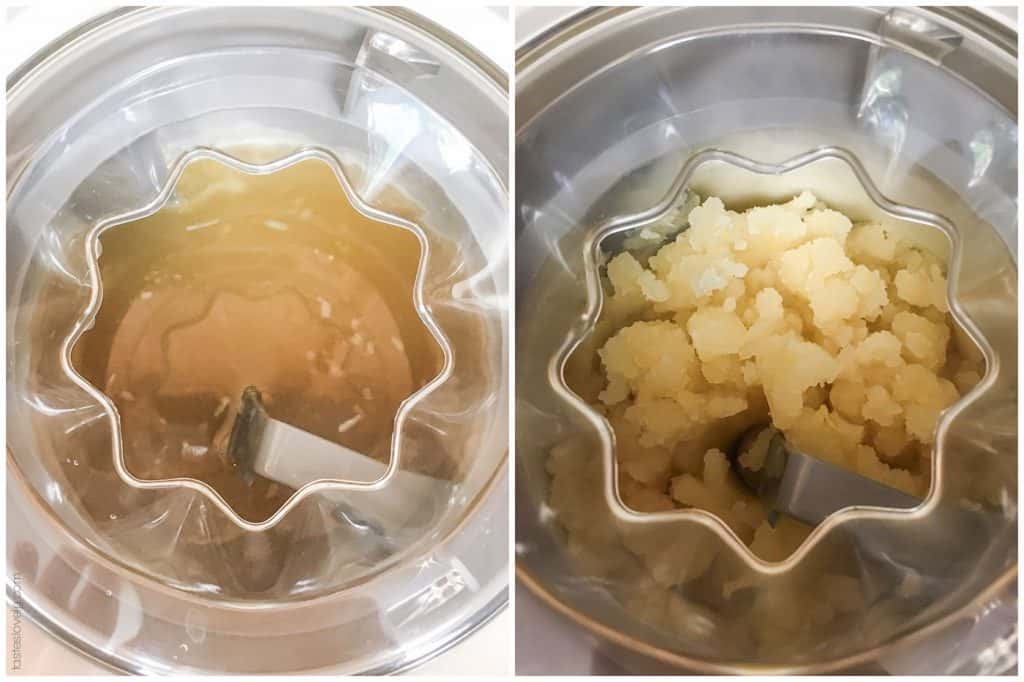 My favorite way to end the day is with dessert, and my current dessert crush is this paleo lemon sorbet.
Before making my own sorbet, I never really liked it. The stuff I bought at the store tasted chemically and fake. But after making my own, I am hooked. It's light and bright, and the perfect palate cleanser after dinner. It tastes like the fruit in the purest form.
And no wonder, because this lemon sorbet is only 3 ingredients, and 1 is water! It's just zest and juice from lemons, honey and water. You warm it slightly until the honey is dissolved, cool it, churn it in your ice cream maker, then freeze it. Couldn't be easier.
I have this ice cream maker and I love it. But if you don't have an ice cream maker you can still make this paleo lemon sorbet, I have separate directions in the recipe.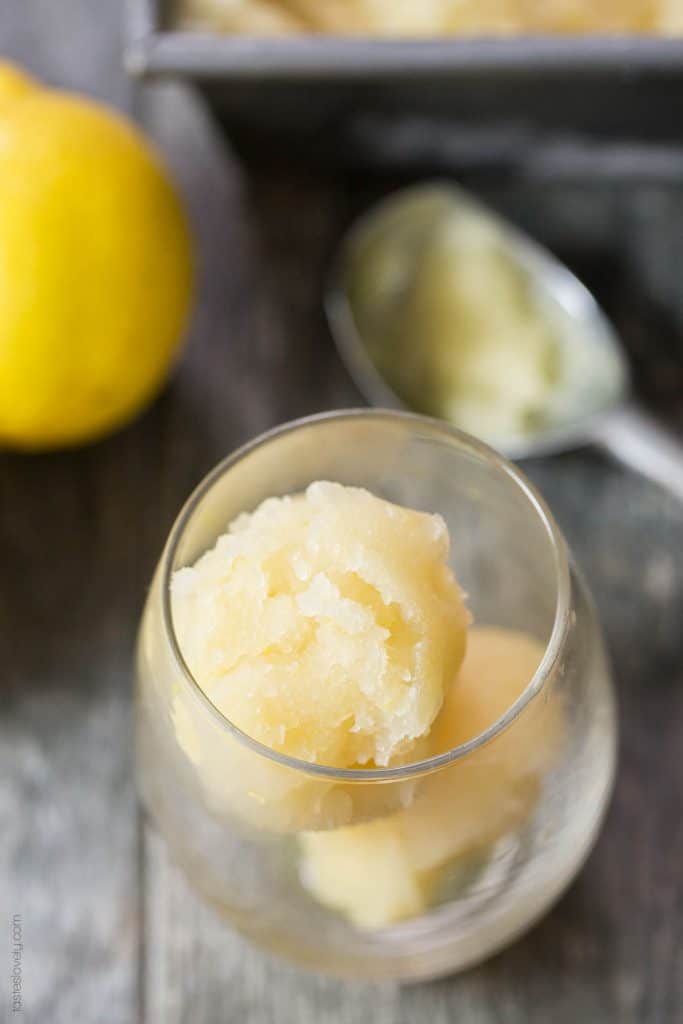 I tried making this lemon sorbet with different paleo friendly sweeteners, and honey was my favorite. Lemon and honey go so well together. Coconut sugar also tasted great, but since coconut sugar is so dark it made the sorbet a dark brown color. Wasn't as pretty.
You can eat this sorbet plain, but I especially like it topped with my paleo coconut whipped cream. Great balance of tart and creamy and sweet and tangy. It's a delicious spring dessert that is so healthy! Paleo, vegan, gluten free, dairy free and refined sugar free.

Paleo Lemon Sorbet
Serves:
1.5 pints, or about 4 cups
Ingredients
2 cups water
1-1/2 cups fresh squeezed lemon juice (from 8-10 lemons)
½ cup honey (or more to taste)
2 tablespoons lemon zest (from 2 lemons)
Paleo coconut whipped cream (optional)
Instructions
hours before making, put your ice cream maker tub in the freezer.
In a small pot over medium heat, combine the water, honey and lemon zest. Warm until the honey is dissolved. It doesn't have to get hot, just warm.
Remove the pot from heat, and add the lemon juice. Stir to combine. Taste for sweetness. Add more honey if desired.
Transfer to an airtight container, and refrigerate until cold, 2 hours.
Transfer the cold lemon sorbet liquid to your ice cream maker, and freeze according to manufacturers instructions.
Spoon to frozen sorbet to a freezer safe container (I use a metal loaf pan), and freeze another 2 hours until frozen solid.
If you don't have an ice cream maker, just pour the lemon mixer right into a metal loaf pan and freeze it for 2 hours. Every 20 minutes or so, scrape with with a spoon to get air in to it.
Scoop and serve. I love mine topped with my paleo coconut whipped cream!
Notes
*I've also made this with coconut sugar, but the coconut sugar is such a dark color it makes the sorbet brown instead of yellow. Still tastes great! If using coconut sugar instead of honey, use 1 cup or more to taste.

More Paleo Desserts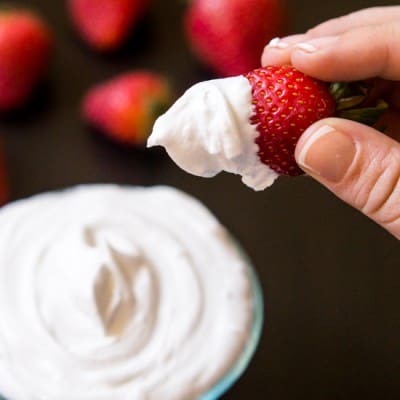 Paleo Coconut Whipped Cream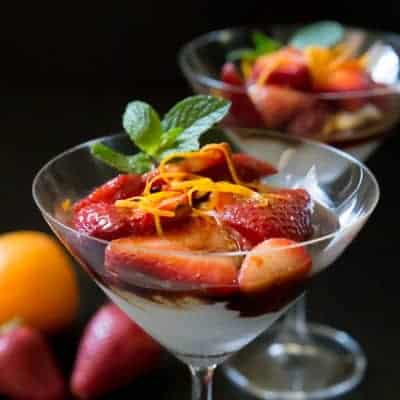 Paleo Orange Balsamic Strawberries with Coconut Whipped Cream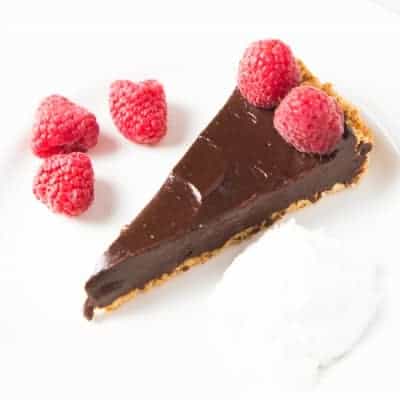 Paleo Chocolate Tart