Balsamic Strawberries with Coconut Whipped Cream
Orange balsamic strawberries with coconut whipped cream – a sweet and sour dessert that is full of flavor yet still low in calories, paleo, vegan and gluten free!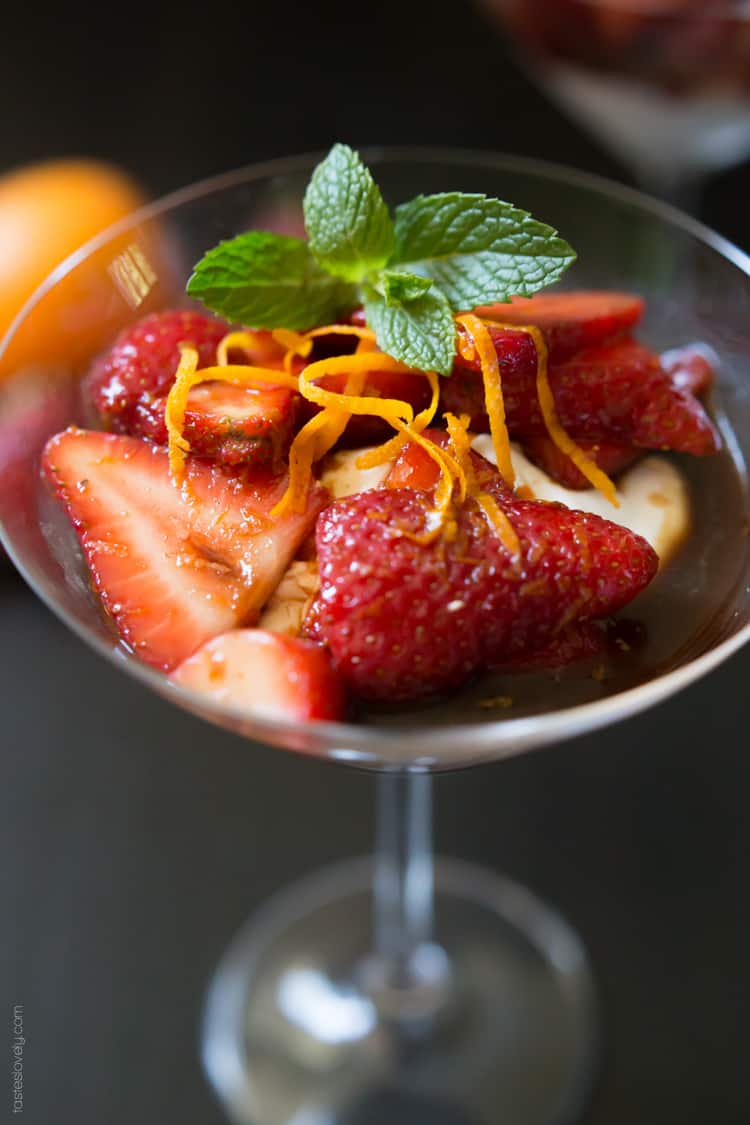 I am the complete opposite of a hoarder.
There are few things I enjoy more than de-cluttering and throwing things out that we do not use. Living in a house that is less than 800 square feet that doesn't have a lot of room for storage makes this a great quality to have. Feel free to open any cabinet or drawer in my house, you will only find things that are actually used. No junk around here!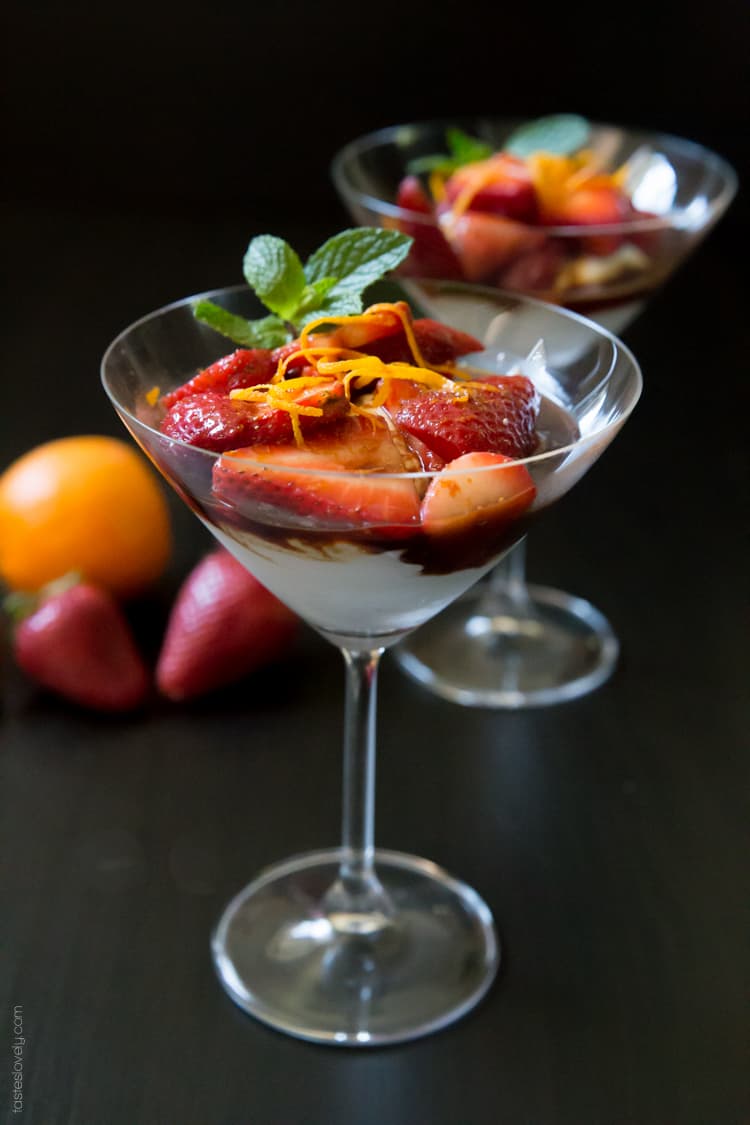 Shawn, on the other hand, loves to keep everything. And I mean everything! When we were moving I discovered 2 huge boxes that were full of his homework and tests from elementary school thru high school. I'm talking worksheets, math homework, book reports, the works! I asked him why he kept it and he said it was for "just incase."
After gently explaining to him that he is 27 years old and probably doesn't need to hang on to Chemistry homework from 12 years ago, he agreed that box didn't need to take up space in our 1 (yes 1!) storage closet. I haven't been as successful at talking him into getting rid of the Mario Bros. bobble head he keeps in his desk drawer. That thing is here to stay.
However, if there is one thing I have waaaay too many of, it's vinegars. I just counted how many are in my spice cabinet right now. There are 12 different vinegars. And our kitchen is teeny tiny! I just can't bear to part with any of them! They're best way to make different varieties of salad dressings and marinades for meat and vegetables.
We recently went out of town, and while exploring the shops I discovered an olive oil store that sold nothing but different varieties of olive oils and vinegars. It was better than a candy store for me. And while there, I found the most delicious 18 year aged balsamic vinegar. Naturally, I bought (3) 1.5 liter bottles of it, along with 4 other vinegars. It's an addiction!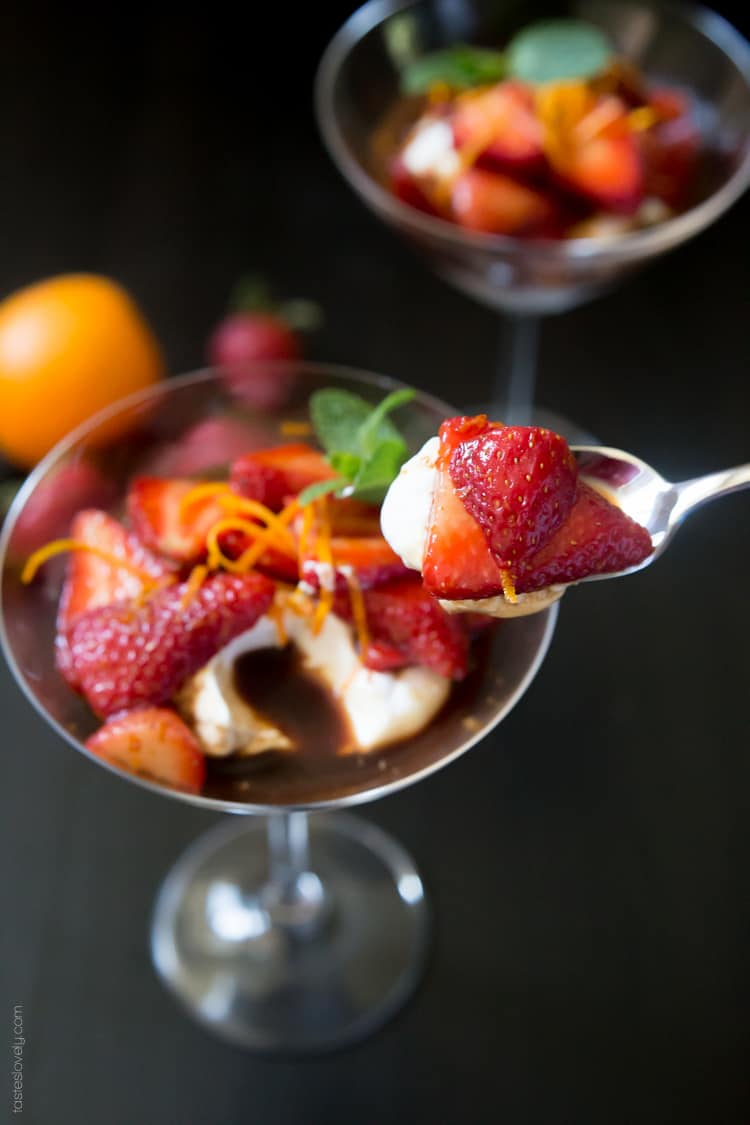 These orange balsamic strawberries with coconut whipped cream is one of the more unique ways I like to use vinegars. They're not just for savory foods, vinegars are great paired with sweets too. I'm personally not a fan of super sweet desserts. I still enjoy cookies and cake and ice cream, but the desserts that get me the most excited have a combination of salty and sweet or sour and sweet. That's what I love about these orange balsamic strawberries with coconut whipped cream. You have the sweet from the strawberries, honey and coconut whipped cream balanced with the tart/sour from the orange zest and balsamic vinegar. The flavor combination is simply delicious.
This is a great make ahead dessert that everyone loves. It's what I'll be serving up on Easter Sunday, since we'll be getting enough sweet on sweet from the chocolate candies and jelly beans. And since it's so healthy, paleo, vegan and gluten free it's a dessert that anyone can enjoy guilt free.
Print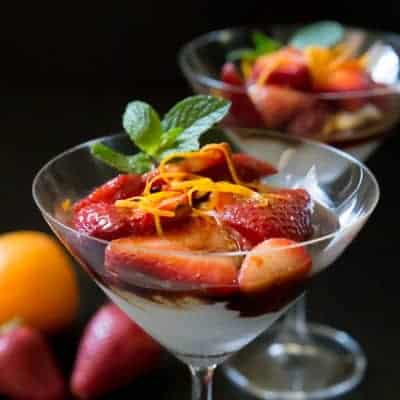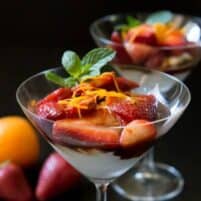 Balsamic Strawberries with Coconut Whipped Cream
---
Author:

Prep Time:

30 mins

Cook Time:

10 mins

Total Time:

40 mins

Yield:

4

servings

1

x
Orange Balsamic Strawberries
2 cups

strawberries, stems removed and sliced
zest from

1

orange, about

1 tablespoon

2 tablespoons

good quality balsamic vinegar

1 tablespoon

(or more to taste) honey, or agave nectar for vegan
mint for garnish, optional
Coconut Whipped Cream
---
Instructions
Orange Balsamic Strawberries
In a medium size mixing bowl, combine all the ingredients for the orange balsamic strawberries and toss to combine. Let the strawberries marinate for at least 30 minutes on the counter, or up to 2 days in the refrigerator.
Coconut Whipped Cream
Chill your mixing bowl and whisk attachment in the freezer for 10 minutes before making the coconut whipped cream. When bowl is chilled, remove the thick and hardened coconut cream from the can and transfer to your mixing bowl, leaving any excess moisture/coconut water in the can. If your can of coconut cream did not harden up, unfortunately you got a dud can of coconut cream and it won't whip into soft peaks. Use this can for cooking or baking instead, and try another can.
Using a whisk attachment, beat on medium high for 2 minutes, until light and fluffy and soft peaks form. Scrape down the bowl. If adding sweetener, add coconut sugar or honey, then continue beating for another 2 minutes. I usually don't add sweetener, since the coconut cream has its own natural sweetness. But if you like it sweeter, feel free to add it.
Assembly
In a martini glass or small bowl, make the dessert by adding desired amount of coconut whipped cream and topping with desired amount of balsamic strawberries. Garnish with mint and serve.

More of my Strawberry Desserts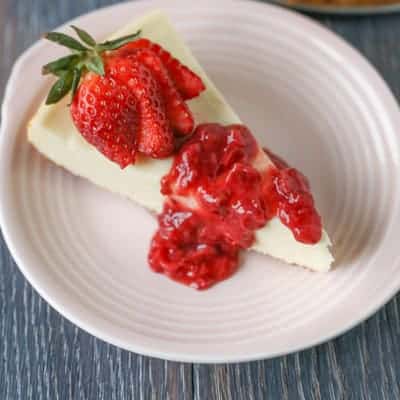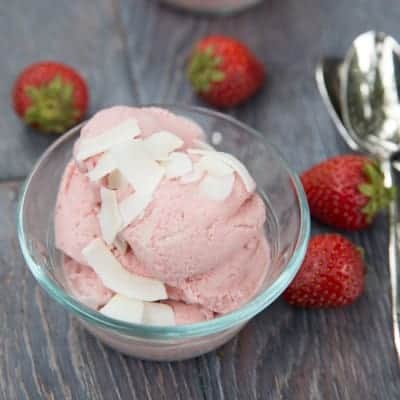 Strawberry Coconut Milk Ice Cream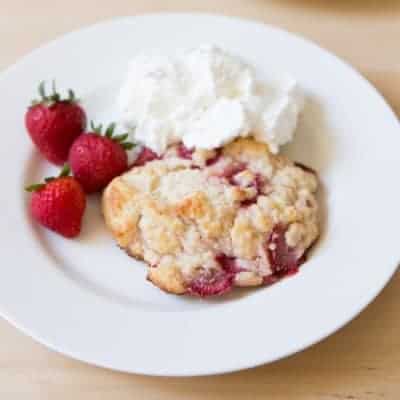 Buttermilk Strawberry Shortcake Biscuits
More Strawberry Balsamic Combinations by my Blogging Friends
Skinny Strawberry Balsamic Ice Cream by Mariah's Pleasing Plate's
Grilled Salmon with a Strawberry Balsamic Reduction by Sweet Peas and Saffon
Shredded Chicken Tacos with Balsamic Strawberry Salsa by Food Faith Fitness
Never Miss a Recipe!
Get new posts delivered straight to your inbox! For free!