Crispy Chicken and Saffron Rice Skillet
Easy 1 pan meal of bone-in skin-on crispy chicken thighs cooked in a savory saffron rice. Flavorful, warm and ideal for a crisp fall weeknight dinner.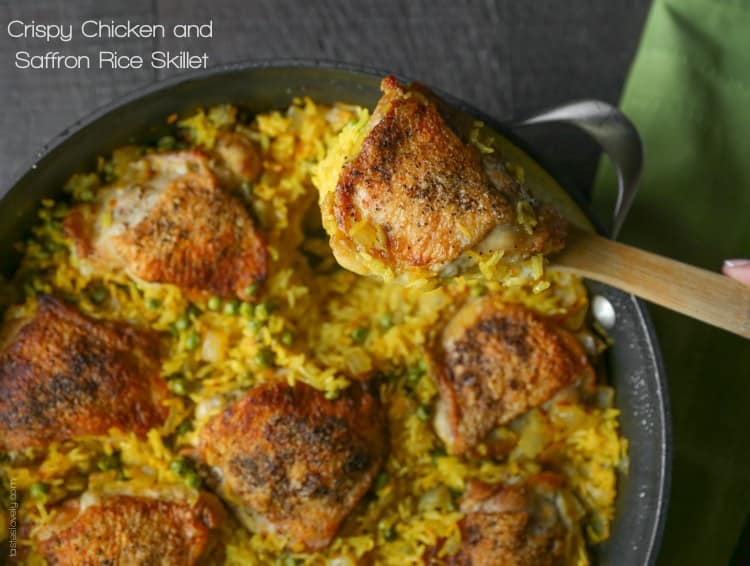 The temperatures here in California have dropped to about 65 degrees, which is about as frigid as I like it. It has cooled down so much that I now only sleep with my window half open, instead of all the way open. I've even busted out my Ugg boots. Well, actually they're fUgg boots (fake Ugg boots). Have you guys tried the Costco brand ones? I swear, I cannot tell the difference! Actually, I can. Because Costco only charges $40 compared to Ugg charging $195. So I don't have to have a heart attack when a little bit of water or olive oil spills on them. So they feel even comfier since I can really relax in them. Highly recommend.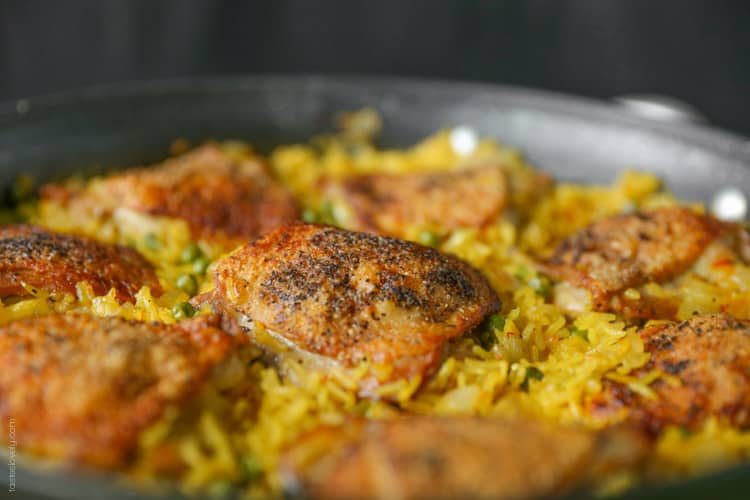 So now that your feet are warm and toasty, let me show you how to make my brand new number 1 favorite meal for fall.
This chicken and saffron rice skillet is a-mazing. First of all, you must start cooking more chicken thighs. You must! Not only are they cheap cheap cheap (I got 3 lbs for $3 athankyou), but they have much more flavor than a chicken breast. And since you're saving money by using chicken thighs, it's ok to splurge a little on saffron. A little tip, Trader Joe's just started carrying saffron at the best price I've seen in stores. You get a whopping .02oz for $5.99. Ok, well, maybe not whopping, but it's all you need. Oh saffron, how can you be so delicious?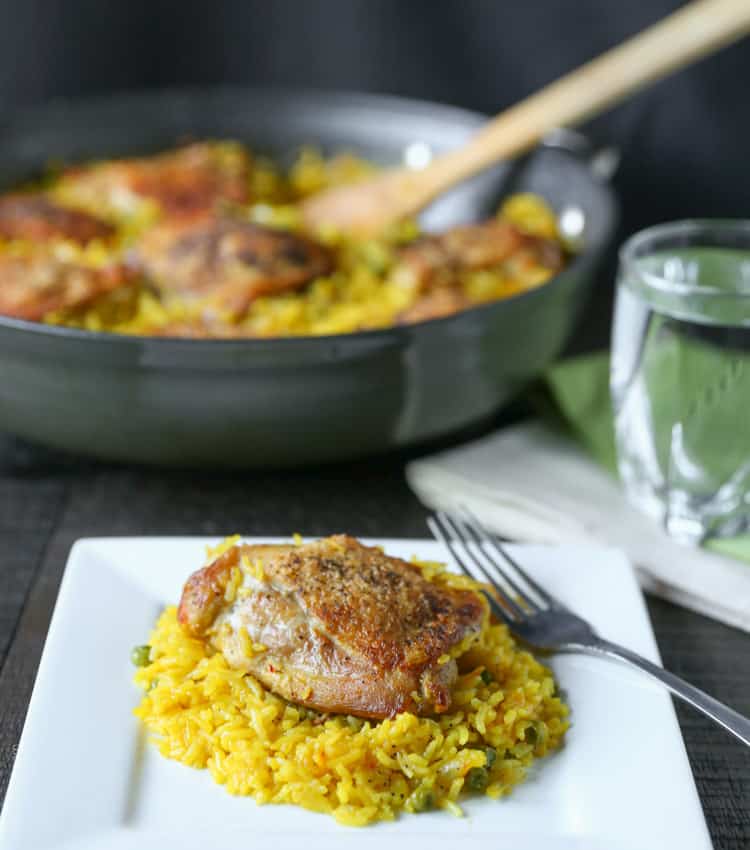 Let's get cooking.
Start by heating up 1/2 tsp of olive oil in your biggest non-stick straight-sided oven-safe skillet. I'm in love with my 6 quart Calphalon pan, perfect for this meal. If you don't have something big enough (roughly 13″ across and 2″ deep) just cook the chicken and prep the rice in any pan, then assemble the "skillet" in a 9×13″ baking dish. Will turn out just the same.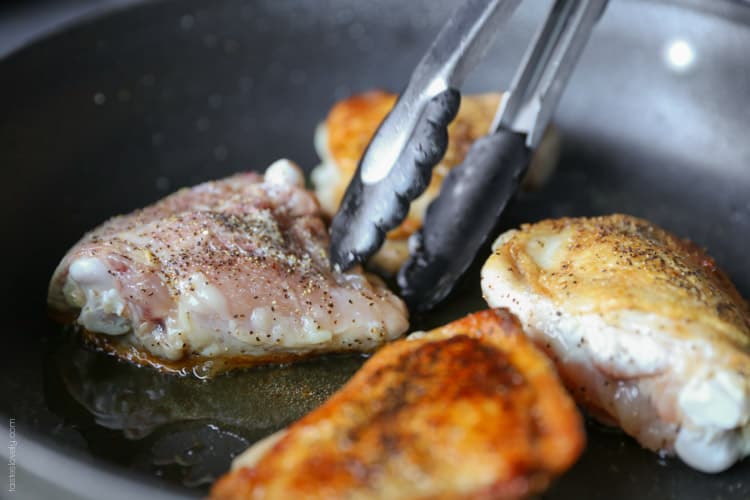 Cook the chicken thighs 4 at a time over high heat until they are nice and golden brown, about 4 minutes per side.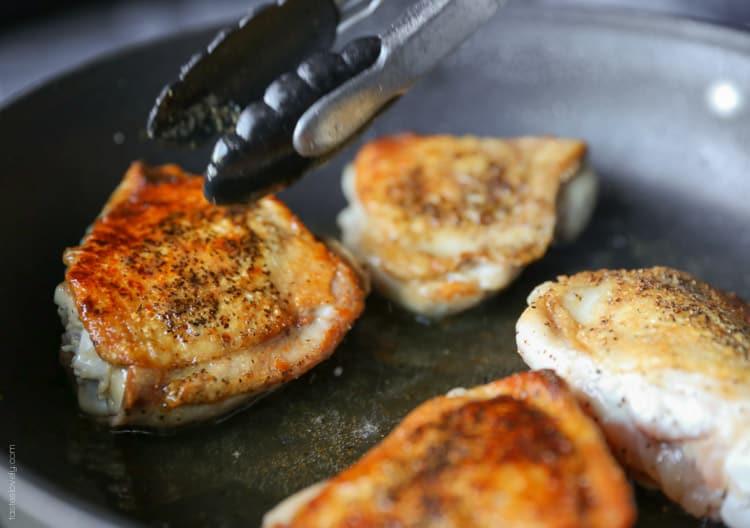 Transfer the chicken thighs to a platter to rest while you get the rice ready.
Discard all but 1 tsp fat from the pan. Add in the onions and cook until they just start to turn translucent, about 5 minutes. Add in the garlic and cook for 1 minute until it is fragrant.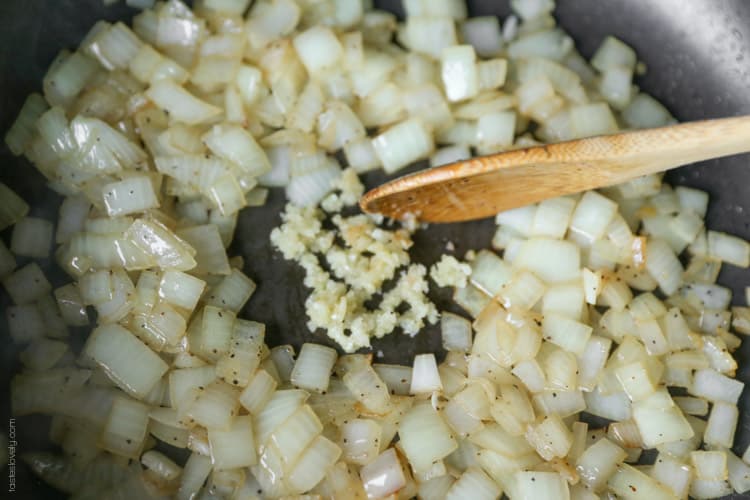 Next add 2 cups of white rice.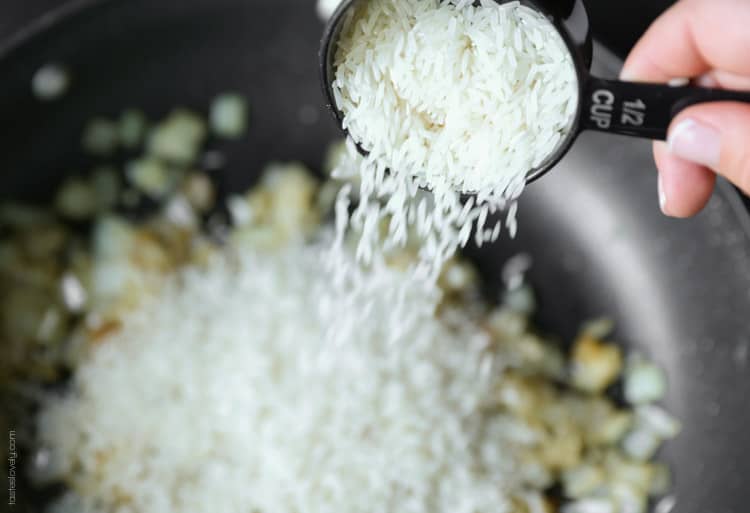 Stir to combine.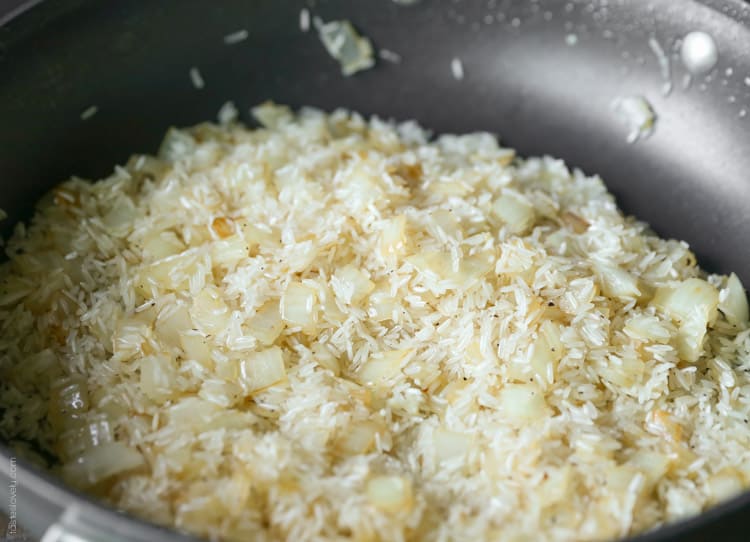 Add in 4 cups chicken broth.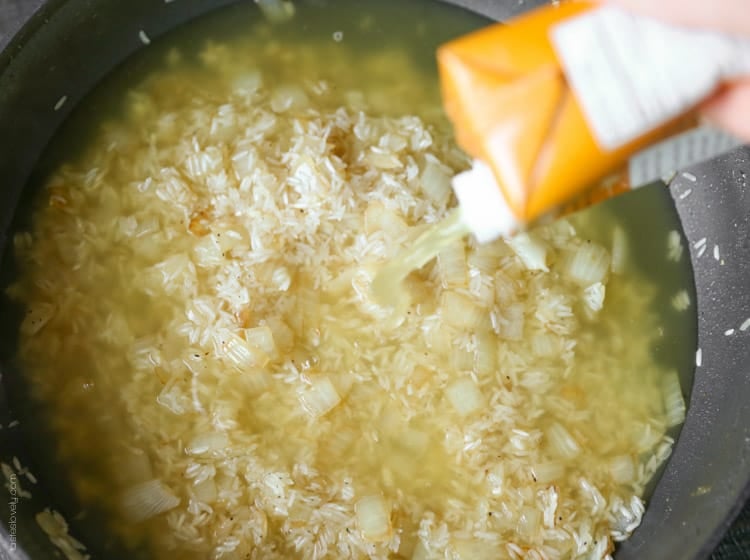 Now it's time for the star ingredient…saffron! So red and beautiful.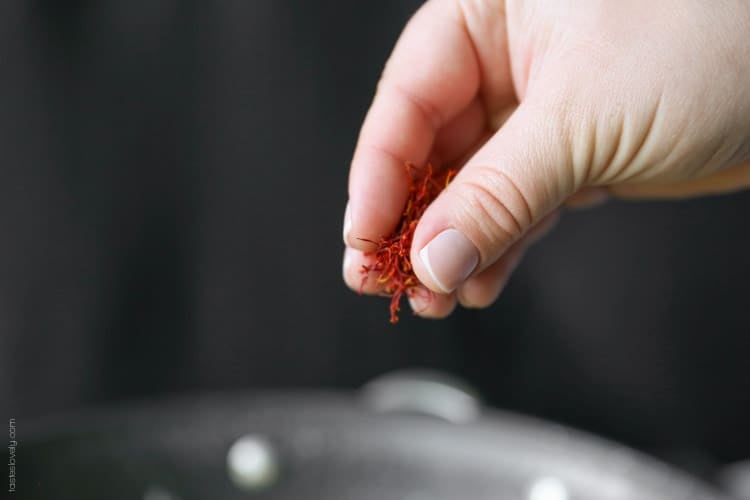 Add in about a gram of saffron (I only had .7 grams since that's the amount Trader Joe's sells). Break it up in your fingers as you sprinkle it in to release the oils in the spice.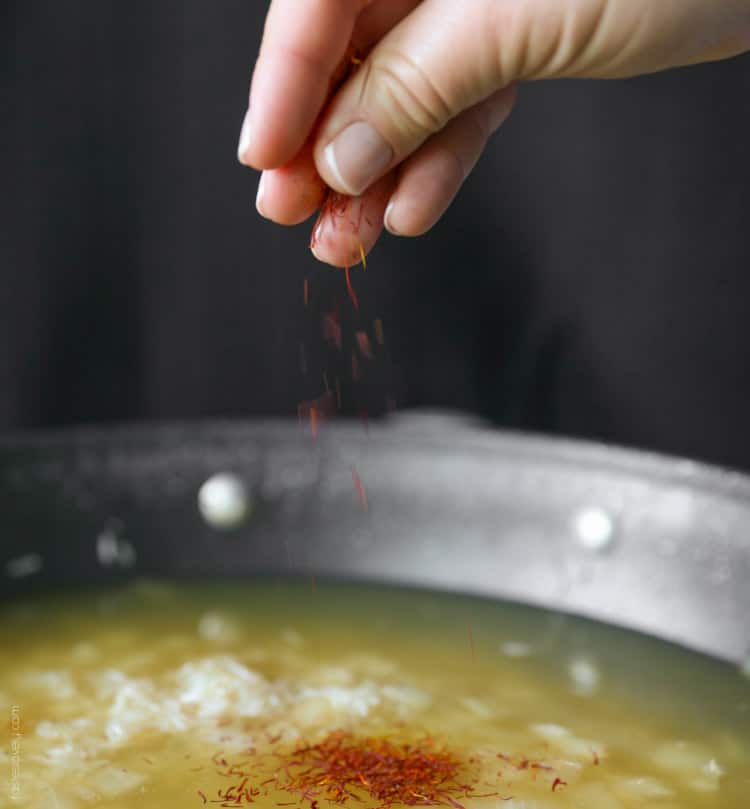 Then add in 1 cup of frozen peas.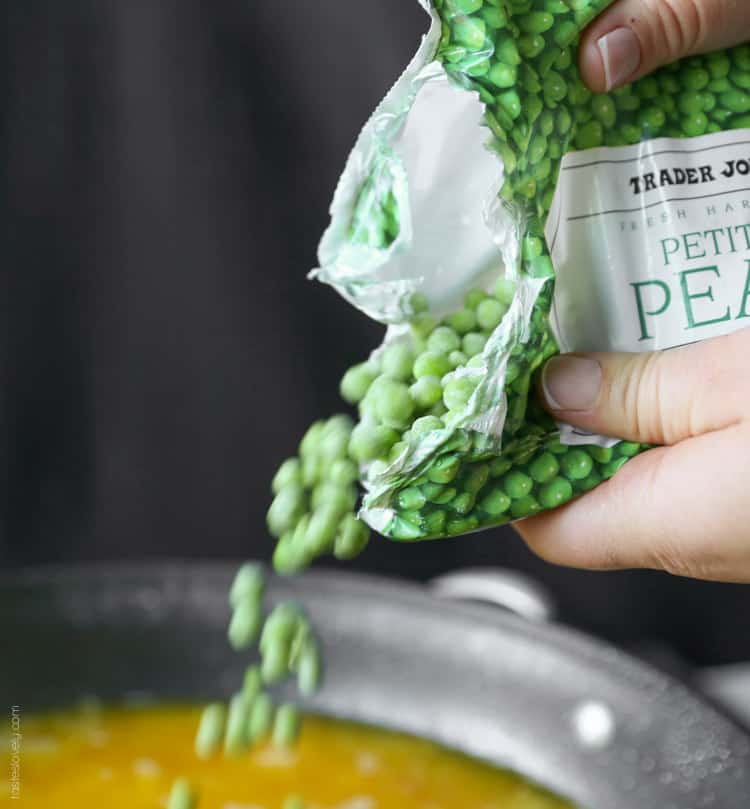 And 1 tsp salt. Stir to combine. The saffron turns the broth into a beautiful deep golden color.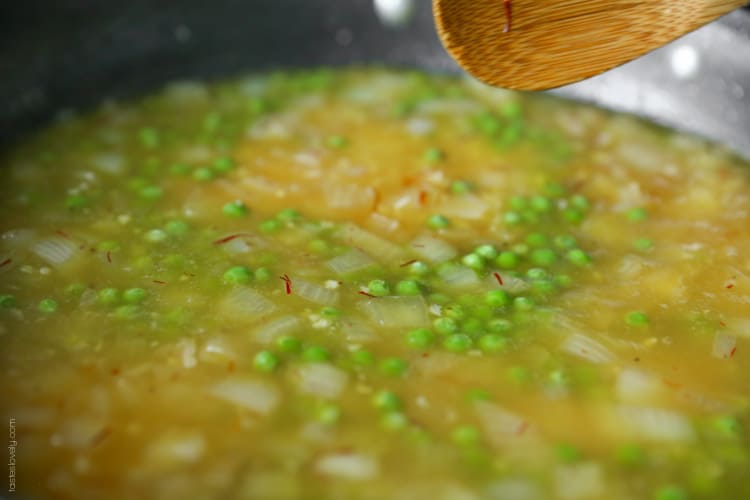 Add the chicken thighs back in.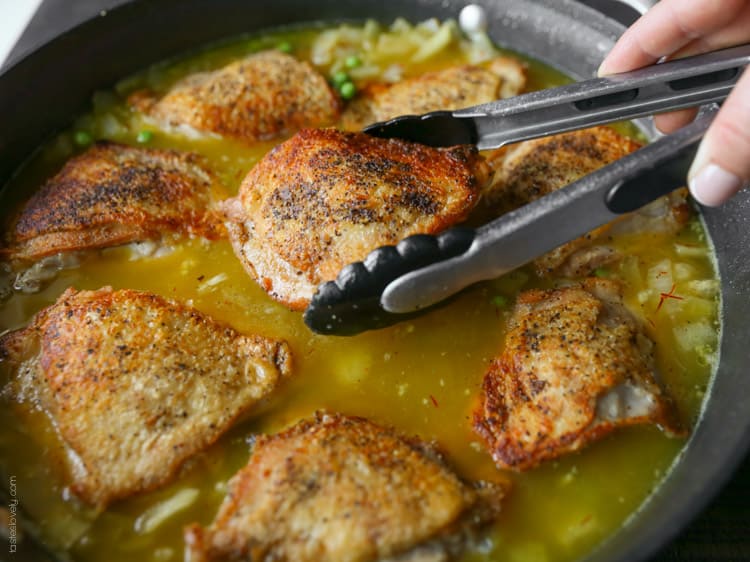 Put them skin side up. This is important! Otherwise, the skin won't stay crispy.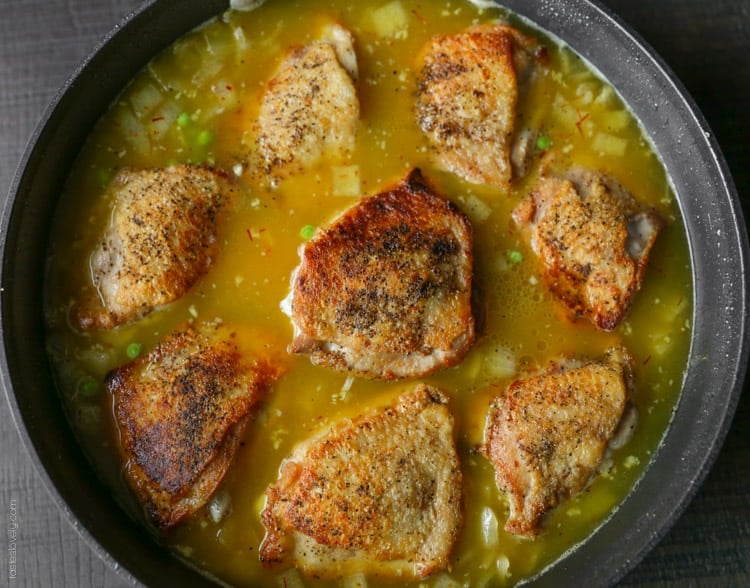 Cook in a preheated 450 degree oven until the rice has absorbed all the liquid and the chicken is cooked through, about 35 minutes.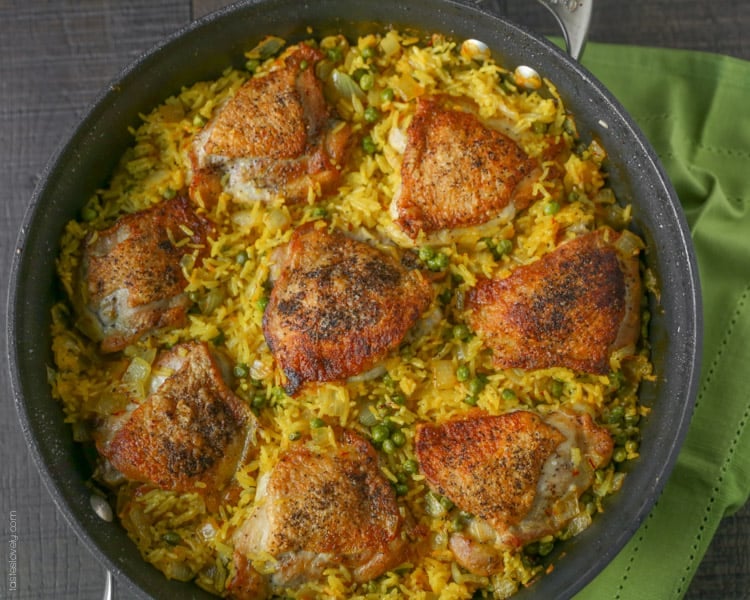 Let rest for 5 minutes before serving, then dig in!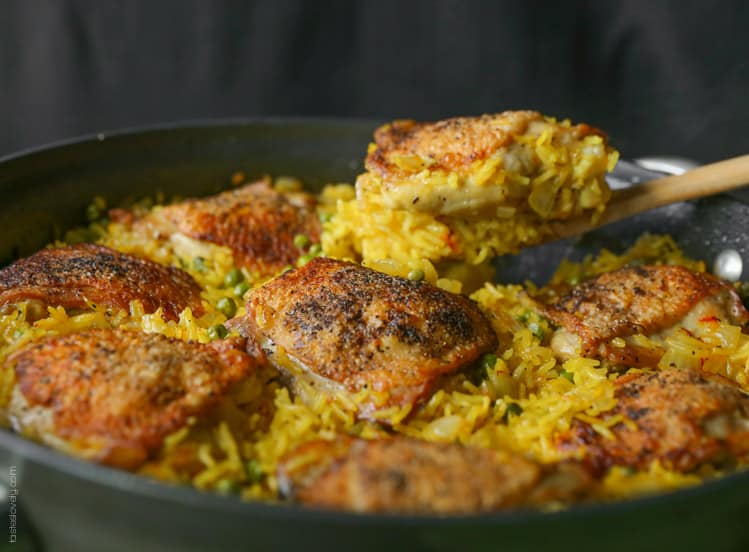 Just wait until you hear the crunch from that crispy chicken. And the rice? Delicious. Oh. My. Yum. You are going to love this.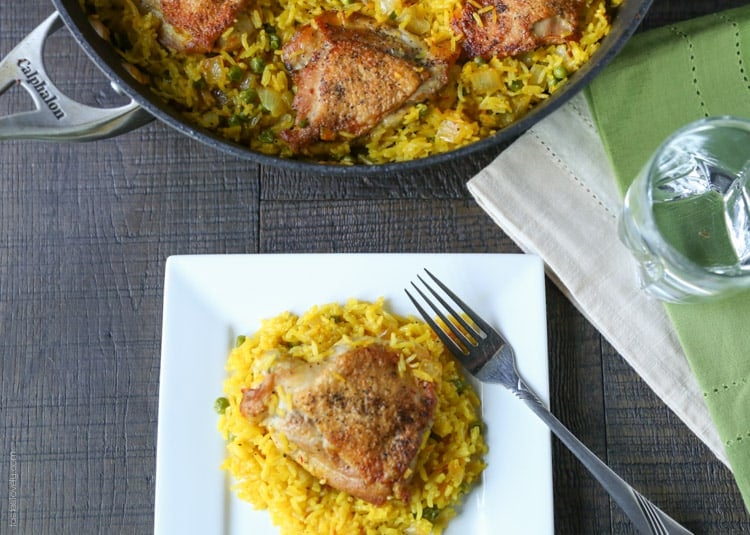 My husband loved this so much the first time I made it for him he gave me a kiss after his first bite even though his mouth was full, so I knew it was a winner.
Print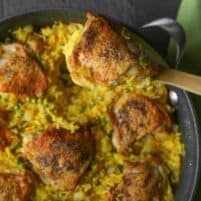 Crispy Chicken and Saffron Rice Skillet
---
Prep Time:

25 minutes

Cook Time:

35 minutes

Total Time:

1 hour

Yield:

4

1

x
8

bone-in skin-on chicken thighs, about 3 pounds (I get my chicken from ButcherBox, which I highly recommend)

1

medium onion, chopped medium

3

garlic cloves, diced small

2 cups

white rice

4 cups

chicken broth

1 gram

of saffron

1 cup

frozen peas

1/2 tsp

olive oil
salt & pepper
---
Instructions
1. Preheat oven to 450 degrees, and preheat your largest non-stick oven-safe skillet (13″ across and 2″ deep) over high heat for 2 minutes.
2. Dry chicken thighs well, and trim of excess skin and fat. Salt and pepper both sides generously.
3. Cook the thighs in batches of 4 at a time in the olive oil, starting with the skin side down, over high heat until deep golden brown, about 4 minutes per side. Transfer chicken thighs to a plate.
4. Discard all but 1 tsp of fat. Add in chopped onion and cook until just turning translucent, about 5 minutes. Add in garlic and cook until fragrant, 1 minute.
5. Stir in 2 cups of white rice, then 4 cups of chicken broth, 1 gram saffron, 1 cup of peas and 1 tsp salt. Return skillet to heat until the liquid just starts to boil.
6. Add in chicken thighs skin side up. Put skillet in the oven and cook uncovered until all the liquid is absorbed and the chicken is cooked through, about 35 minutes.
7. Remove from oven, allow to rest for 5 minutes before serving.
Notes
If you don't have a large enough oven safe skillet, follow directions as normal, but after rice and liquid has reached boiling, transfer rice and liquid to a large 9×13 baking dish and put chicken skin side up on top of rice mixture. Follow the rest of the directions as written.
Also, the nutritional info is for 1 chicken thigh and 1 cup of rice, but realistically I usually eat 2 thighs. It's just too good!
This post contains affiliate links, thanks for the love!
Never Miss a Recipe!
Get new posts delivered straight to your inbox! For free!