Crispy Oven Baked Potato Wedges
Baked potato wedge fries are better than fried. Who's with me?
Not only are they less calories, but there's no chance of oil splatter burns. Plus your house won't reek of frying oil for the next couple days. What is up with that strong smell of frying oil? I swear furniture just absorbs it. Ick.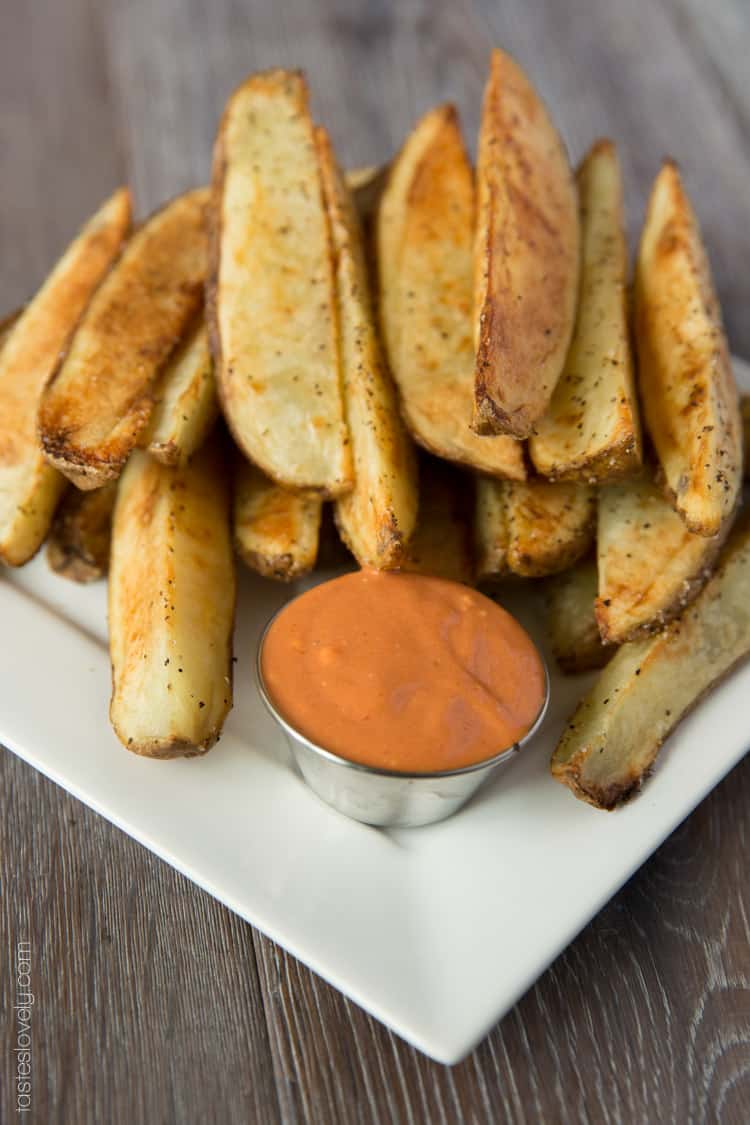 Potato wedges hold a special place in my heart because they are the first thing I cooked for Shawn when I was a 17 year old novice cook. Looking back now, I'm surprised he liked them because they were just…wrong. Soggy, dripping in extra oil, unevenly cut. Basically everything you don't want in your wedge fries.
I've come a long way in my cooking skills in the past 10 years, and I can confidently say that I've perfected crispy-on-the-outside, tender-on-the-inside oven baked potato wedges. I'll let you in on my secrets so you can enjoy these in your home.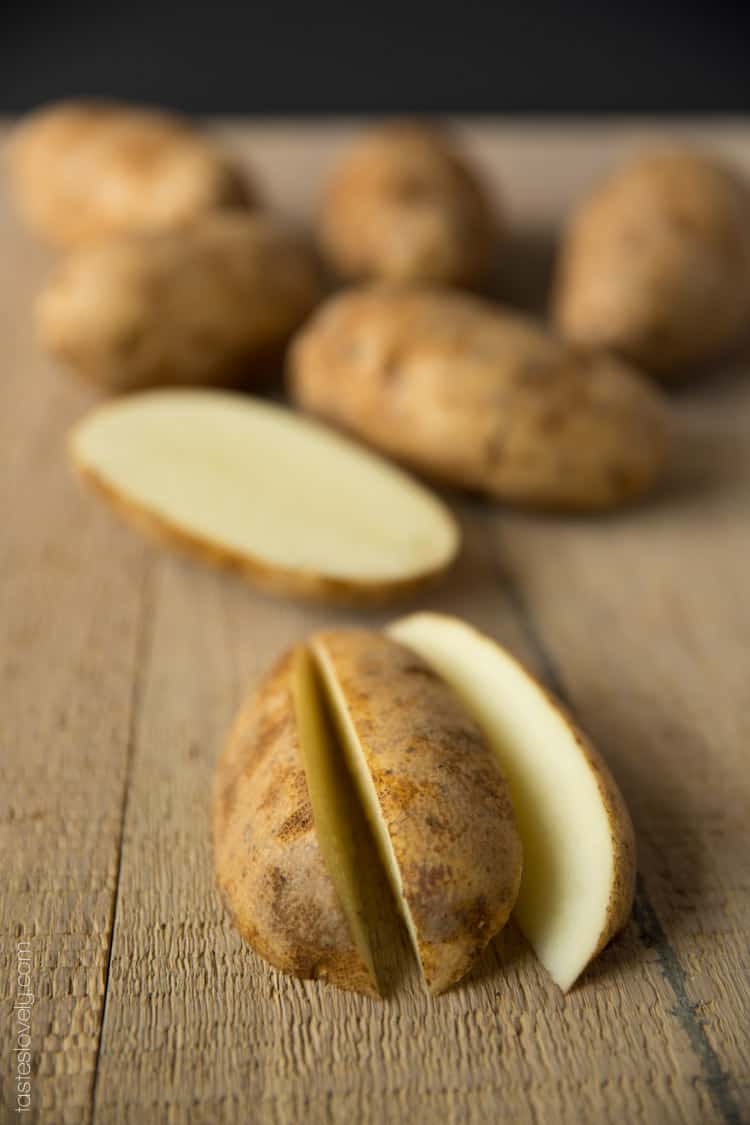 Choose even sized potatoes so they will cook up evenly. Cut them in half, then cut those halves into thirds. Perfect wedge fry size.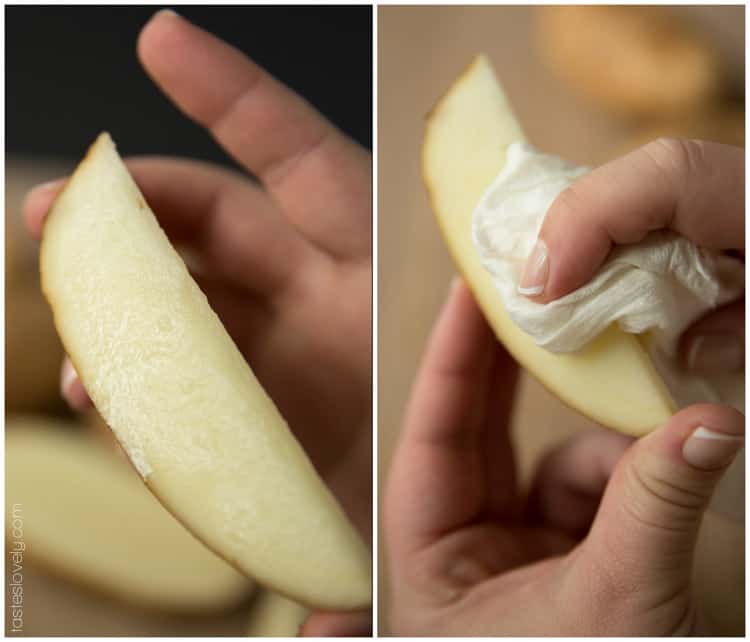 When you cut the potatoes, they release moisture. This moisture prevents them from getting crispy. Get a paper towel and wipe away all the moisture until they're dry. It's a little time consuming, but this step is crucial if you want them crispy.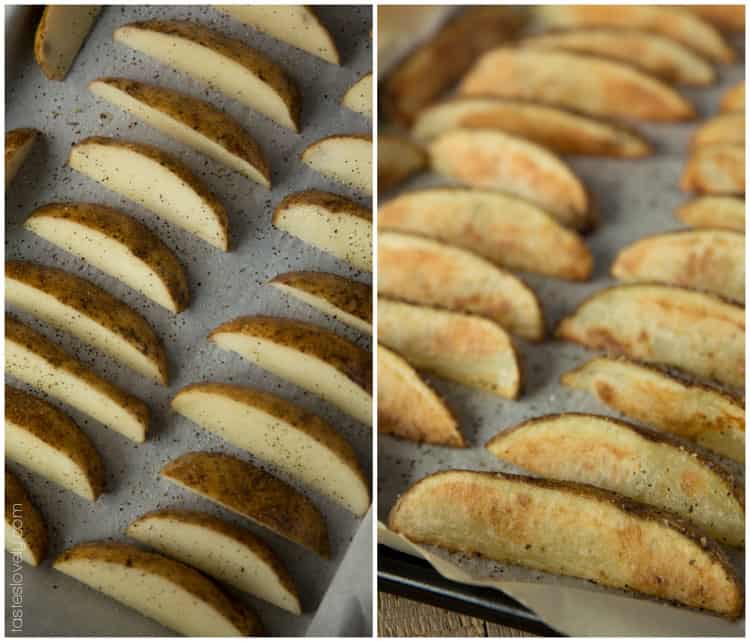 Roast them on parchment paper so they don't stick to the pan, and space them out so air can circulate between the potatoes. If they're too crowded they will steam instead of crisp up.
And of course, potato wedges are nothing without a great dipping sauce. I've recently discovered sriracha and I'm obsessed! It gives so much great flavor with just the right amount of spice. This sriracha ketchup is amazing. I want to put it on everything.
Happy potato-wedge-dipping!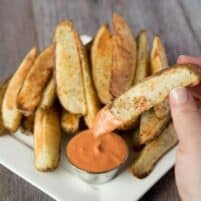 Crispy Oven Baked Potato Wedges
These oven baked potato wedges are crispy-on-the-outside, tender-on-the-inside, and super simple to make!
Ingredients
Potato Wedges
4

medium russet potatoes

,

washed, scrubbed and dried

2

tablespoons

olive oil

salt & pepper
Sriracha Ketchup
2

tablespoons

ketchup

2

tablespoons

mayonnaise

1

tablespoon

sriracha
Instructions
Preheat your oven to 425 degrees with the rack in the upper third.

Cut your potatoes in half, then cut the halves into thirds. Use a paper towel to completely dry any moisture the cut potato releases.

In a large bowl, toss the cut potato wedges with 2 tablespoons olive oil. Arrange the wedges cut side down on a parchment lined baking sheet, spaced out so they are not touching. Sprinkle with salt and pepper.

Roast for 30 minutes then remove from oven. Reduce heat to 350 degrees, flip the wedges so the other cut side is down and sprinkle again with salt and pepper. Return to oven and roast for another 15 minutes.

Make the sriracha ketchup by combining the ketchup, mayo and sriracha.

Serve the potato wedges warm with the sriracha dipping sauce.
Calories:
268
,
Total Carbs:
36.7
g
,
Protein:
3.7
g
,
Fat:
12.4
g
,
Fiber:
5.2
g
,
Net Carbs:
32
g
Did you make this recipe?
Please Leave a comment and give this recipe a rating!