Cucumber & Carrot Noodle Thai Salad
I have a new theory. If you buy bandaids at the store, you are basically giving your brain permission to allow your body to get major cuts so you can use those bandaids up.
After moving into our new place, I headed to Target to buy a few essentials: advil, hair bands, Tums, allergy medicine. I walked right past the first aid aisle and thought I should probably grab a few things, just in case. I bought bandaids, neosporin, and rubbing alcohol.
I honestly can't remember the last time I had to wear a bandaid. But ever since buying some I have been cutting myself non-stop! First was when opening a box with a pair of scissors. I was holding these brand new scissors too tight, and sliced my thumb open, deep. And right on the crease, the worst spot to get a cut! That was 5 days in a row of bandaids.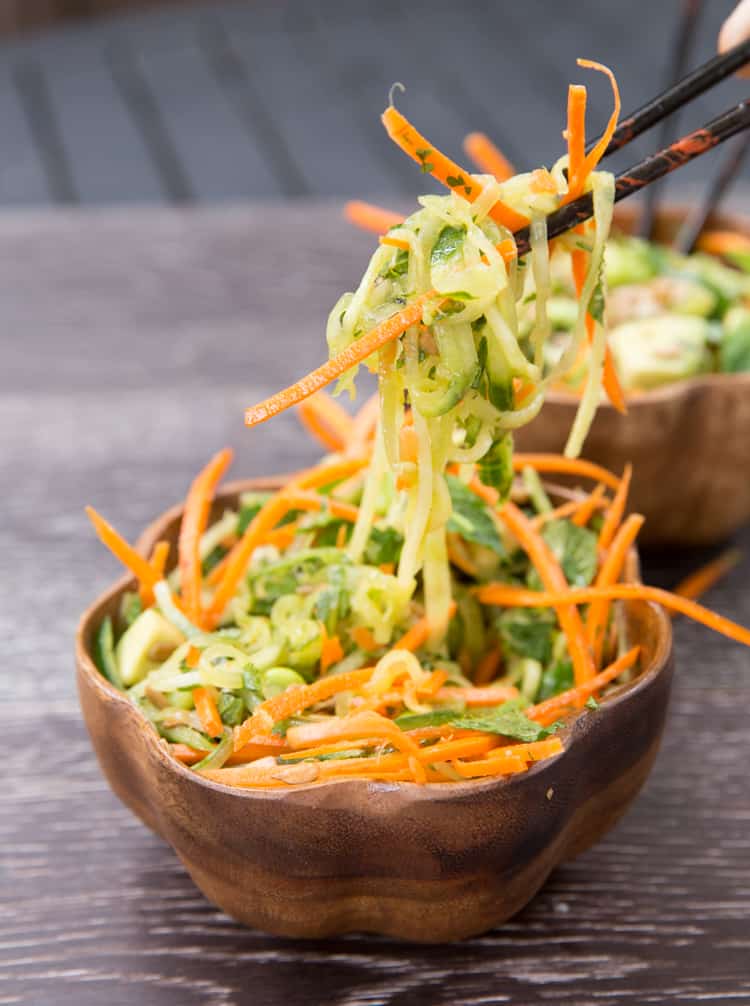 Then I was walking too fast out the door, and jammed my leg into the corner of the hanging blinds. Gashed myself. Didn't help that I already had mosquito spray on, that one stung. Luckily it was nothing some neosporin and a bandaid couldn't fix.
The final straw was cutting my ankle last night shaving. I've been shaving my legs since middle school! How did I make such a rookie mistake?
Oh, that's right, because I jinxed myself by buying bandaids.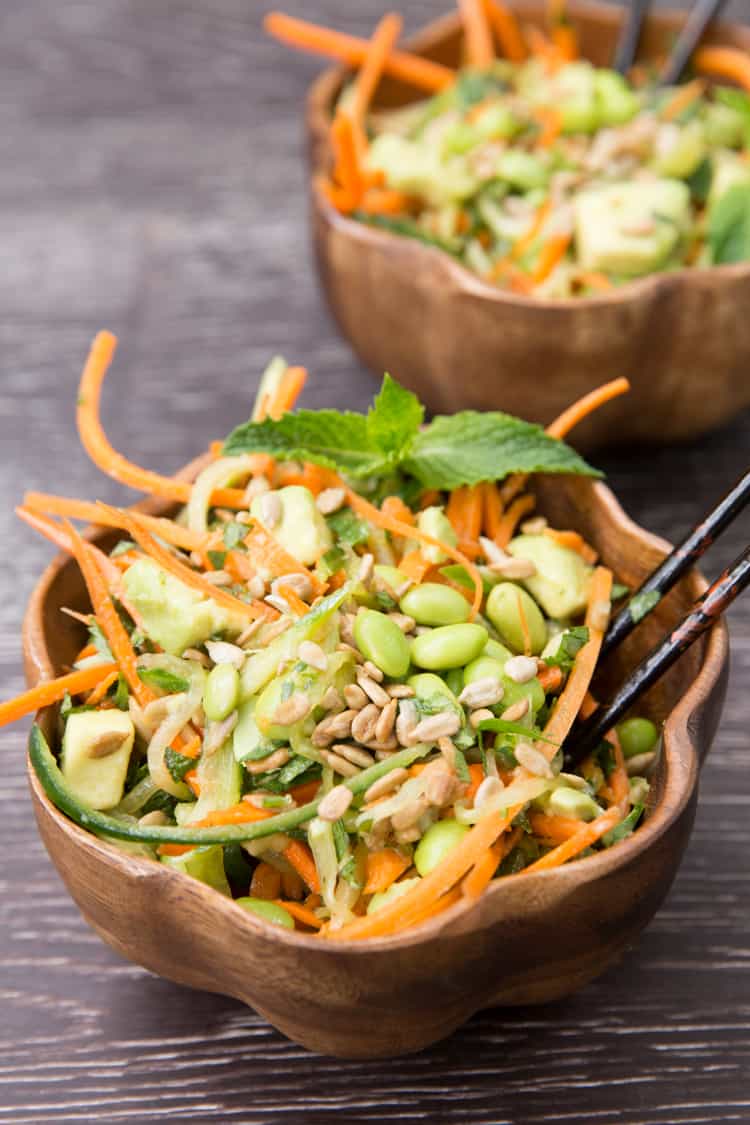 Given my bad luck, I am shocked that I didn't cut myself making the veggie noodles for this cucumber & carrot noodle Thai salad.
Have you guys made veggie noodles yet? I am obsessed! Like, really obsessed. Even though it's the same vegetable, the fact that they are in noodle form makes them somehow taste way better. You can use them to substitute pasta, and it really tricks your brain into thinking you're eating pasta. You eat first with your eyes, right? Or, you can use the veggies raw like I did in this cucumber & carrot noodle Thai salad.
So far I've tried 2 methods to make the veggie noodles. I bought this hand held vegetable spiral slicer, and would give it a B+. It cuts medium size vegetables like cucumbers and zucchinis perfectly. The opening is too small to do sweet potatoes or eggplants, and it is not very good for skinny vegetables like carrots or parsnips. To make carrot noodles I use my mandoline with the julienne blade, as you'll see in the video. Even better would be to use this Paderno spiral slicer, which I have been wanting to buy for a while. I just wish it wasn't so big! I might just have to make some room in my kitchen for it, because I have heard nothing but great things about it. It is able to handle vegetables of any size. Plus! You can make 3 different sizes of noodles!
The flavors in this cucumber & carrot noodle Thai salad are amazing! You have the cold and crunchy cucumber noodles tossed in a sesame peanut dressing then topped with cilantro, mint, edameme, avocado and sunflower seeds. Gahhh, drooling just thinking about it. I could eat this salad every day. And I just might because we don't have AC, and the thought of having to turn on the oven makes me cringe. I'm all about cold salads, and this cucumber & carrot noodle Thai salad really hits the spot!
This cucumber & carrot noodle Thai salad is not only full of flavor, but it's healthy too. It's vegetarian, vegan and gluten free. Plus, I can make this entire cucumber & carrot noodle Thai salad and have dinner on the table in less than 15 minutes.
Now get to making veggie noodles!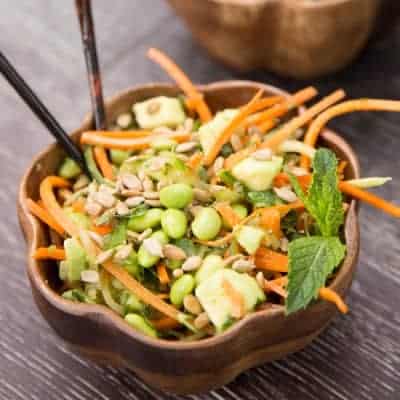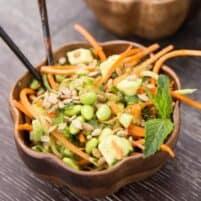 Cucumber & Carrot Noodle Thai Salad
This cucumber & carrot noodle thai salad with light and refreshing, tossed in an thai inspired peanut dressing.
Ingredients
Dressing
3

tablespoons

olive oil

1

tablespoon

+ 1 teaspoon smooth peanut butter or almond butter for paleo

1

teaspoon

soy sauce

,

or tamari for gluten free, or coconut aminos for paleo

1

teaspoon

sesame seed oil

1

teaspoon

honey or agave nectar

zest and juice of 1 lime

pinch

of salt and pepper

1

teaspoon

of red pepper flakes or 1 teaspoon Thai chili peppers finely chopped

,

optional**
Salad
1

large english cucumber

,

cut into noodles*

2

large carrots

,

cut into noodles*

1

large handful of cilantro

,

chopped

1

small handful of mint

,

chopped

1

avocado cut into 1" cubes

3/4

cup

edamame beans

1/2

cup

sunflower seeds

,

or peanuts
Instructions
In the bottom of your large salad bowl, make the dressing by whisking all the ingredients together until combined.

In that same salad bowl, add all the salad ingredients and toss in the dressing until it is evenly coated.
Notes
Use either a spiral slicer or a mandoline with a julienne blade attachment. Read the post for links to ones I recommend.
I don't like spice, so I left these ingredients out in the video. But if you like a little kick to your salad add them!
Calories:
681
,
Total Carbs:
33.5
g
,
Protein:
13.9
g
,
Fat:
59.6
g
,
Fiber:
14.2
g
,
Net Carbs:
19
g
Did you make this recipe?
Please Leave a comment and give this recipe a rating!
This post contains affiliate links, thanks for the love!