Homemade Almond Butter made in your food processor! I like using raw, organic, unpasteurized almonds for the healthiest and best quality almond butter. Paleo, whole30, gluten free, dairy free, grain free.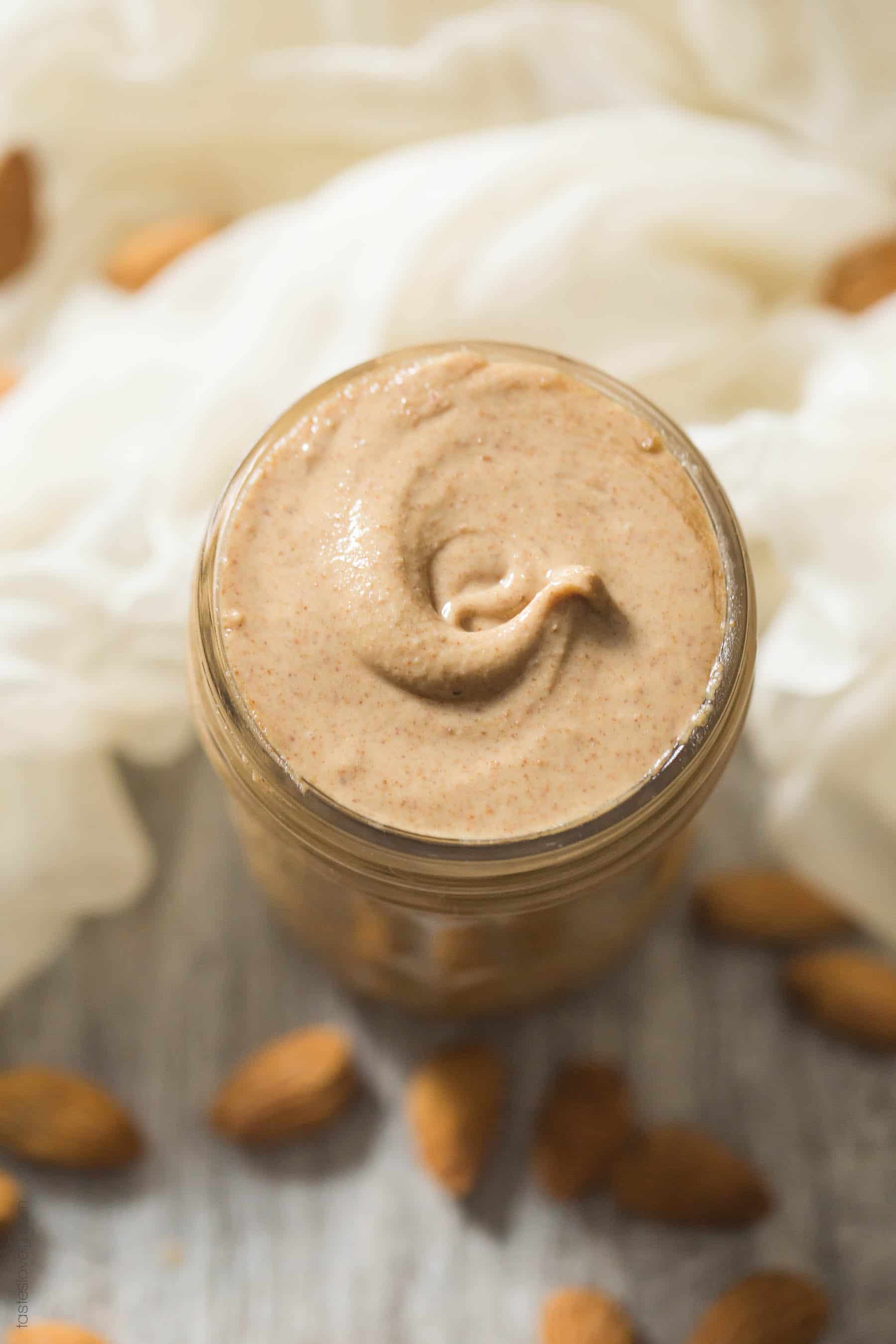 I just started making my own almond butter, and I will never buy it in the store again! It tastes better than anything I've bought from a store. Ultra smooth and creamy, and has the most intense, nutty almond flavor.
When I make it myself, the butter and oil doesn't separate like it does with store bought. Bonus! I think it's because it is really fresh and hasn't been sitting around on the shelves for who knows how long.
It is so easy to make using my food processor. I have the Cuisinart Food Processor and it works like a charm to make this almond butter. But it does take a while to get them completely smooth. An entire 30 minutes of the food processor running, to the point of the food processor getting hot the touch from the motor running for such a long time. I like making it in the food processor rather than my Vitamix because I have a much easier time scraping it down and scraping out the almond butter when it's done. Don't want to waste a drop!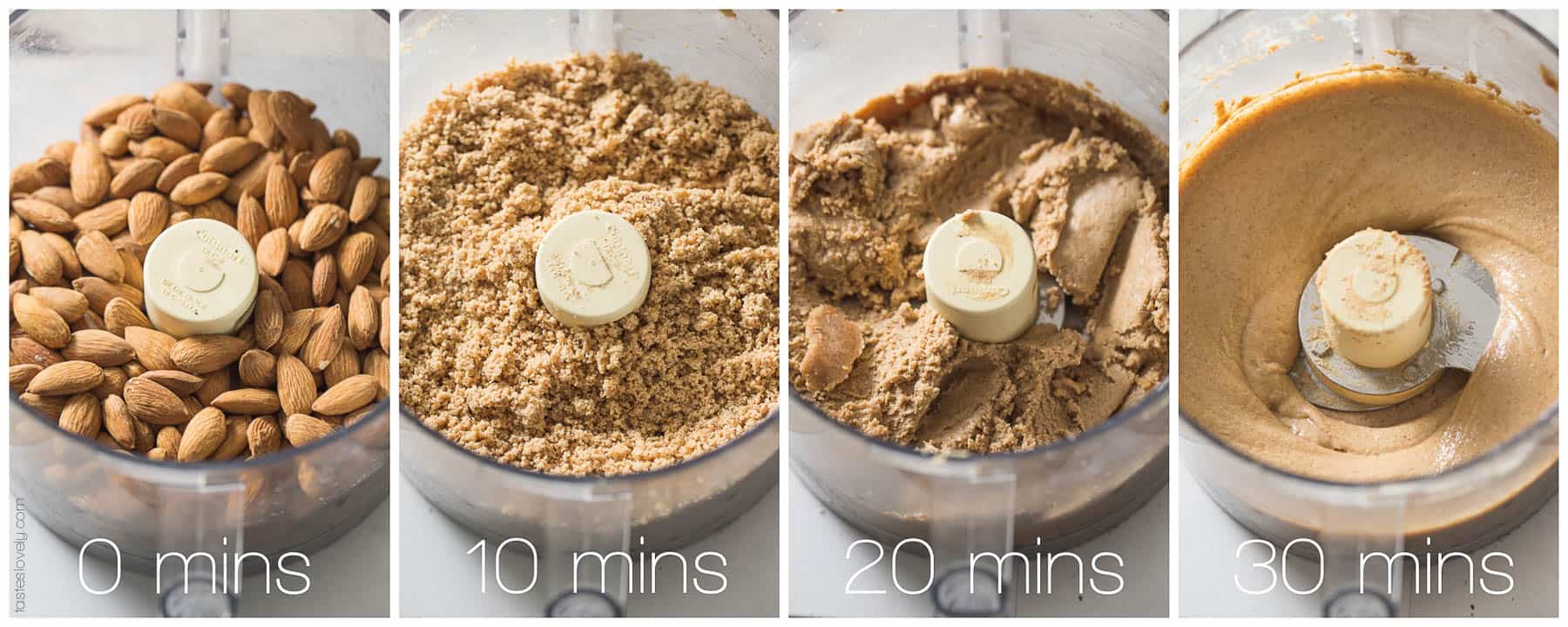 Even better than the taste and simplicity of making it, I like making my own almond butter because I know what kind of almonds are being used.
After doing my research, I've become very careful about the almonds I buy. All almonds sold in stores have to be pasteurized by food regulations. And shockingly, most almonds are pasteurized by being sprayed with a chemical called propylene oxide (PPO), which is a known carcinogen. Even almonds labeled Raw are not truly raw since they have been pasteurized.
A few almonds are pasteurized by steaming, which is much better. Trader Joe's, Whole Foods, Sprouts and Costco raw almonds are pasteurized by steaming for sure, so those are the best source for store bought organic, raw almonds.
But a majority of other almonds are pasteurized by being sprayed with PPO.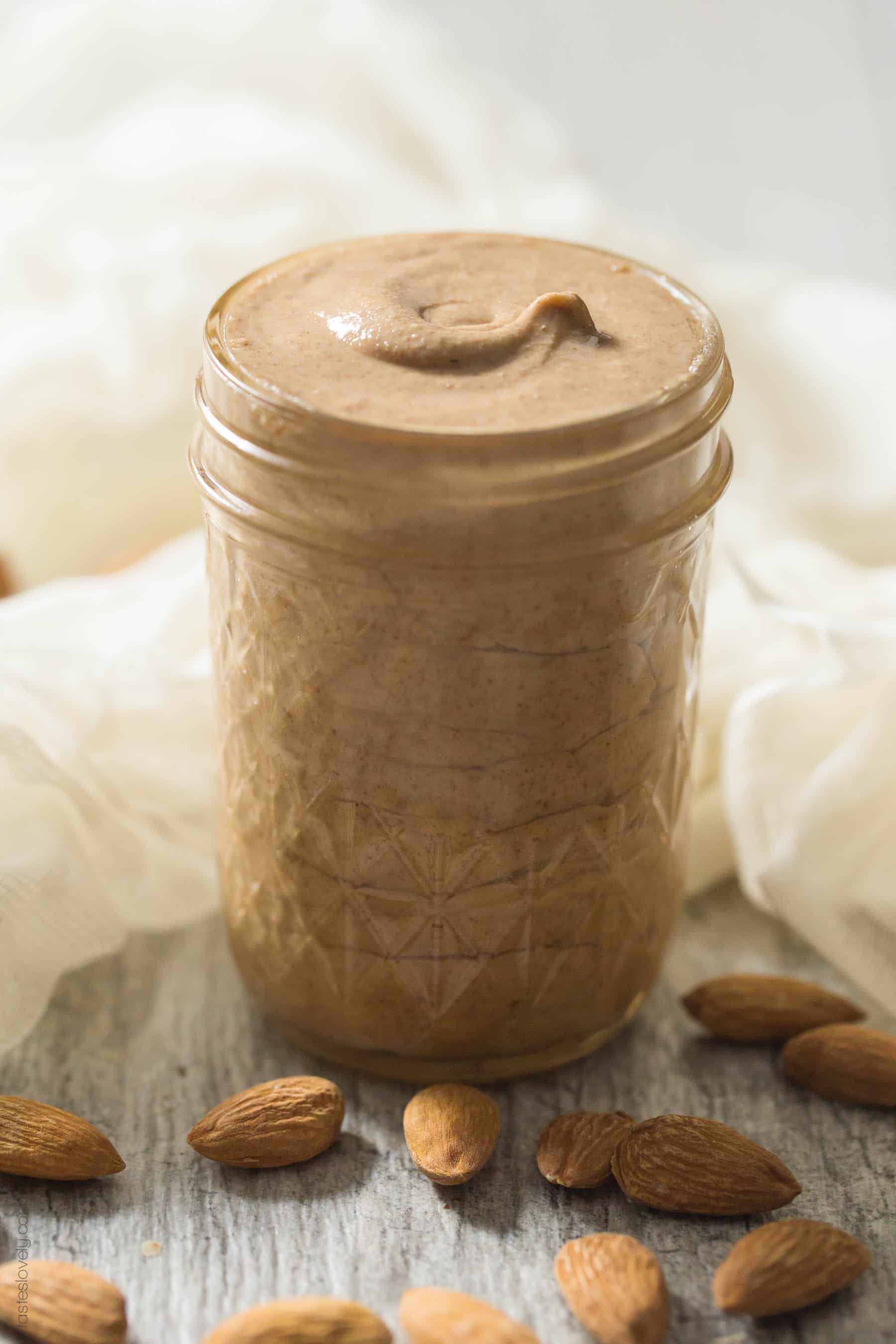 The best resource for high quality almonds are farmers markets! Since they are not sold in stores, they don't have to be pasteurized at all. I was so excited when I talked to the farmer selling his almonds at my farmers market (in Danville, CA) that they are organic, raw and not pasteurized. They're straight from the tree, just as nature intended.
I get such a better price buying them in bulk directly from the farmer at my farmers market. He was originally selling a 5 pound bag for $30, which is already an amazing price. But I asked him if I could get a better price if I bought 15 pounds. He dropped the price of each 5 pound bag to $25! So I got a whole bunch of almonds for just $5 a pound! At Trader Joe's they're $15 a pound. HUGE savings! So not only is my homemade almond butter much healthier than store bought, but MUCH cheaper too.
The best value for store bought is Costco. You get a 3 pound bag for $12.99, which has 9 cups of almonds in it. You'll need 3 cups of almonds to make this almond butter. So each jar works out to $4.33 a jar! So cheap!
I keep all of my almonds in a freezer bag in my deep freezer, and they will easily stay fresh for a year. But I know I'll go through them much faster than that.
I'm spoiled here in California to have lots of almond farmers to buy high quality almonds from. The best price I've found for organic, raw unpasteurized almonds is nuts.com (not an ad or an affiliate, I just really like them!), so head over there to source high quality almonds to use.
Print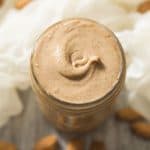 Homemade Almond Butter (Paleo + Whole30)
---
Author:

Prep Time:

0 mins

Cook Time:

50 mins

Total Time:

50 mins

Yield:

2 cup

s

1

x
Ingredients
3 cup

s organic, raw almonds

1 teaspoon

salt (or more to taste)
---
Instructions
Put the raw almonds and salt in a food processor with the S blade. Blend for 50-55 minutes, scraping down the bowl and lid with a spatula when it clumps up and is needed.
Keep in an airtight container in the refrigerator. I like storing mine in pint mason jars. Will keep for at least 1 month.

This post contains affiliate links, thanks for the love!
Never Miss a Recipe!
Get new posts delivered straight to your inbox! For free!