Dairy Free Lactation Cookies
Dairy free lactation cookies, made with coconut oil. Packed with oats, brewers yeast, flax seed and hemp seed that will increase your milk supply while breastfeeding. Or, just a delicious and healthy chocolate chip oatmeal cookie if you're not nursing!
Ok nursing mamas, these lactation cookies are for you.
After my 6 week postpartum check up, my doctor cleared me for exercise. After all that time I spent on hospital bedrest, and then having extremely limited mobility while recovering from my c section (ouch!), I was excited to be able to go outside with Josh strapped to my chest for long walks in the sunshine.
We go for an hour walk every day around the neighborhood. I do 3 laps up what I lovingly refer to as "hell hill" – a very steep and long street that leaves me breathless and sweating, even in the middle of January. The walking has been so therapeutic for me. I love getting out of the house, getting my heart rate going, and seeing all the people stop and smile as they sneak a peak at little Josh. He is just so dang cute!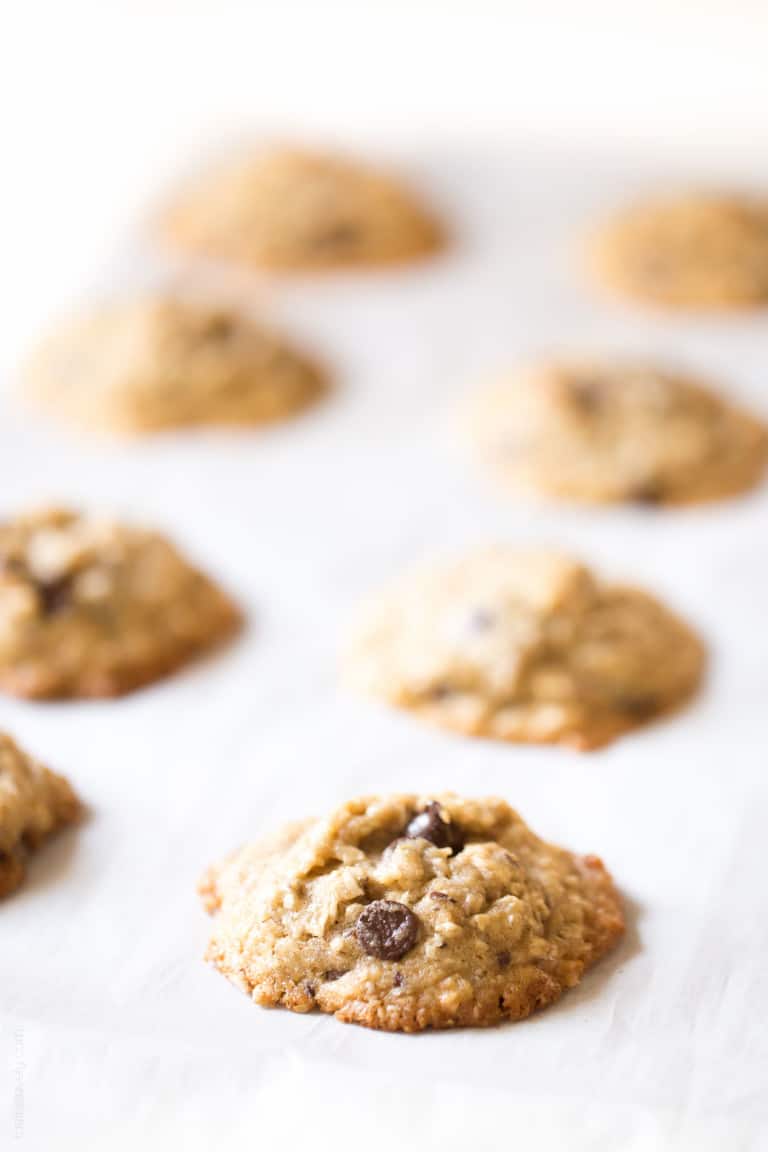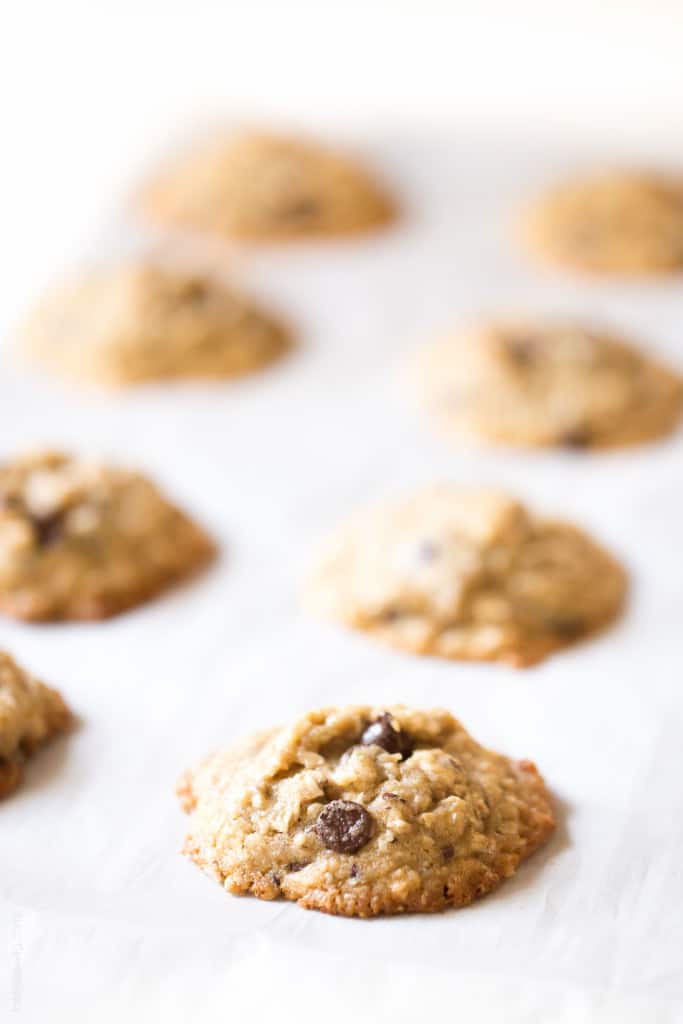 A few days after I started exercising, I noticed a decrease in my milk supply. Eeek! I didn't want to give up my walks, so I started researching ways to boost it naturally. Mother's Milk Tea and lactation cookies were the biggest recommendations.
I was skeptical about whether or not lactation cookies would really work. If anything, I thought it was just a great excuse to eat more cookies. And with all the extra calories my body is burning while breastfeeding, I'll take all the cookies I can get. I am craving sweets, and feel way more hungry than I ever did pregnant.
I needed a dairy free lactation cookie, since Josh has acid reflux and eating dairy provokes it. I tried a few different versions. Some that used shortening (ick), some that used Earth Balance vegan "butter". As much as I love Earth Balance on toast or when scrambling eggs, I don't like the taste it gives to baked goods.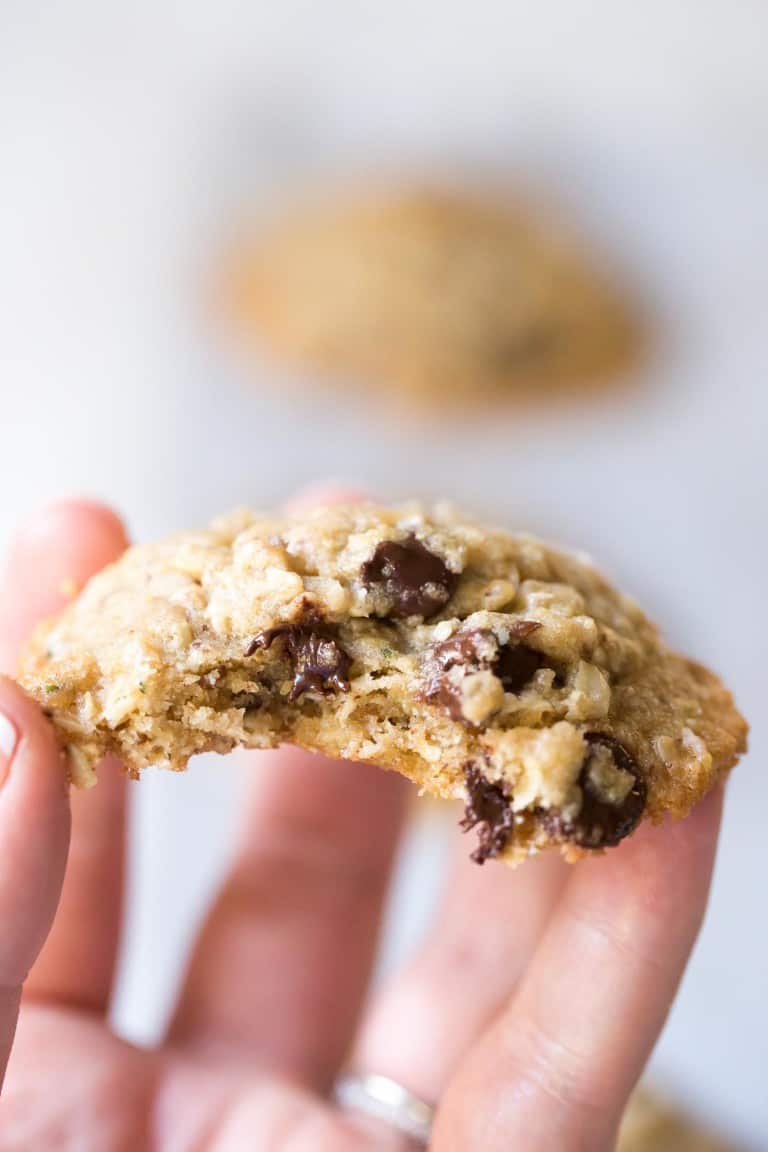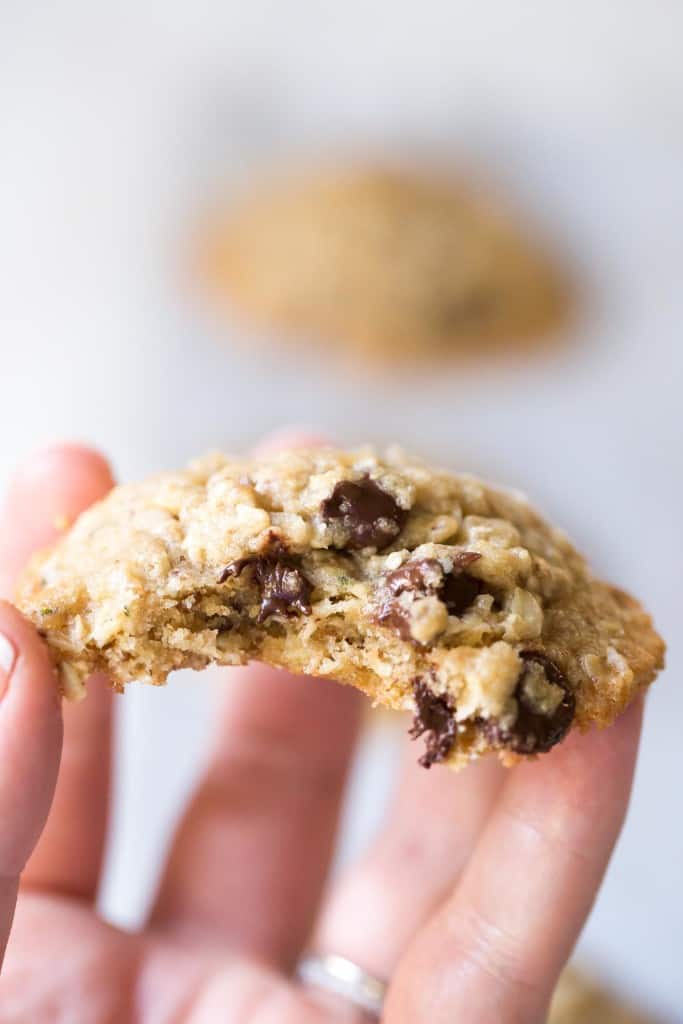 I experimented with my own version, and wanted to try one that used all coconut oil since I love the subtle flavor and sweetness of coconut oil. Plus, coconut oil has great health benefits. After a few tries, I finally perfected the BEST dairy free lactation cookies made with coconut oil. They are also packed with oats, brewers yeast, flax seed, and hemp seed, which are all nutrient dense and will naturally boost your milk production.
These dairy free lactation cookies are delicious! Shawn is obsessed with him. When he saw them on the counter and ate one, he proclaimed them the best chocolate chip cookies he's ever had. I told him they are actually lactation cookies, and he stopped mid-chew.
"Are these going to make me lactate Nat?"
I wanted to trick him and tell him yes. Ha! But no, they're just nutrient dense and can be enjoyed by all.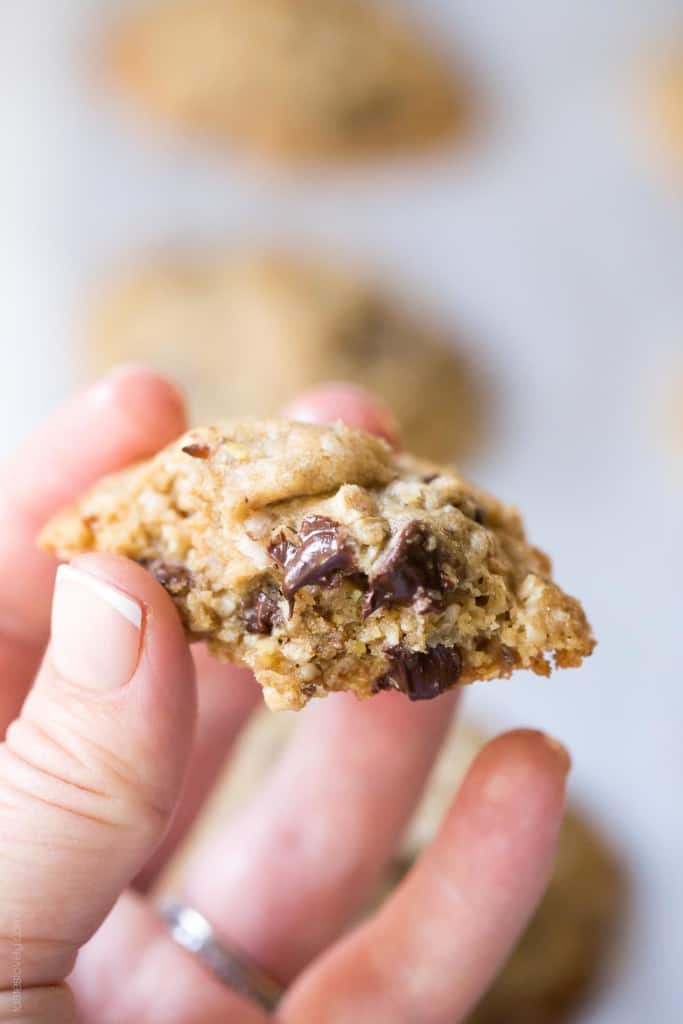 These cookies have crispy edges, and have a semi soft interior. They're not dense hockey pucks like other lactation cookie recipes I tried. The oats give them a delicious chew, and the coconut oil gives it a light and pillowy texture, along with giving them a subtle sweet coconut flavor. You do not taste the brewers yeast, flax seeds or hemp seeds at all. And of course the chocolate chips are delicious. I use Trader Joe's or Kirkland semi-sweet chocolate chips, which are naturally dairy free.
But even better than tasting great? They really do work! I noticed within a few hours that my milk production was back up to what it was before exercising. Josh was back to being a full and happy baby.
And all thanks to eating cookies! I also started eating oatmeal every morning for breakfast and adding a tablespoon of flax seed and hemp seed to it after I heat it up which I think also helps.
Glad to have a happily fed baby once again!
And if you don't have time to make your own, or want even more lactation boosting snacks, check out these dairy free lactation granola bars from Oat Mama!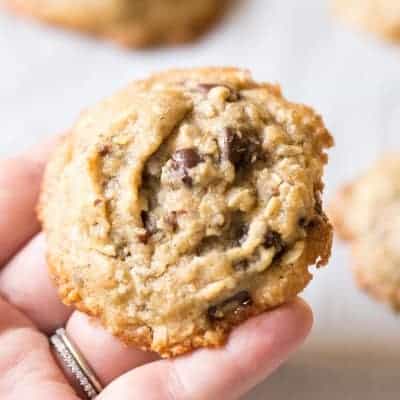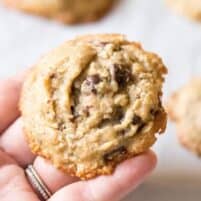 Dairy Free Lactation Cookies
These are dairy free lactation cookies, made with coconut oil. Packed with oats, brewers yeast, flax seed and hemp seed that will increase your milk supply while breastfeeding. Or, just a delicious and healthy chocolate chip oatmeal cookie if you're not nursing!
Ingredients
1-1/2

cups

old fashioned rolled oats

,

NOT quick cooking oats

3/4

cup

all purpose flour

3

tablespoons

brewers yeast

1

tablespoon

ground flaxseed

1

tablespoon

ground hemp seed

1/4

teaspoon

baking soda

1/4

teaspoon

baking powder

1/4

teaspoon

salt

1

cup

virgin coconut oil

,

room temperature (not melted)

1/2

cup

granulated sugar

1/4

cup

light brown sugar

1

egg

1

teaspoon

pure vanilla extract

3/4

cup

dairy free semi-sweet chocolate chips

,

I prefer Trader Joe's or Kirkland brands, both are dairy free
Instructions
Preheat oven to 350 degrees with the oven rack in the upper and lower third. Line 2 baking sheets with parchment paper.

In a medium size bowl, combine the oats, flour, brewers yeast, flaxseed, hemp seed, baking soda, baking powder and salt. Stir to combine. Set aside.

Using your stand mixer (or in a large bowl with a hand mixer) beat the coconut oil, granulated sugar and brown sugar over medium high until light and fluffy, about 3 minutes. Add the egg and vanilla extract. Beat another minute until combined. Turn the speed down to low, and slowly add the dry ingredients. Beat until combined. Add the chocolate chips and beat briefly until just combined.

Chill the dough for at least 30 minutes, or up to 2 days.

Using a medium size cookie scoop (1.5 tablespoons), scoop the cookie dough onto the cookie sheets, 12 per sheet. Will make exactly 24 cookies.

Bake for 12-14 minutes, or until the cookies are just starting to turn golden on the edges. Remove from the oven and allow to cool on the sheet for 5 minutes before eating. Will keep in an airtight container for 1 week.
Notes
Freezer Tip: Scoop all 24 raw cookie dough balls onto 1 parchment lined baking sheet. Freeze on the baking sheet, about 1 hour. Put all the frozen raw dough balls in a freezer safe Ziploc bag. Bake frozen dough balls at 350 degrees for 13 minutes.
This way is great if you only want to bake a few cookies at a time, rather than all 24 at once!
Calories:
177
,
Total Carbs:
16.3
g
,
Protein:
2
g
,
Fat:
11.6
g
,
Fiber:
1.2
g
,
Net Carbs:
15
g
Did you make this recipe?
Please Leave a comment and give this recipe a rating!