Pomegranate Soy Glazed Salmon
Pomegranate soy glazed salmon – salmon baked with a sticky, sweet and tangy pomegranate soy glaze. Delicious and easy 30 minute fish dinner that is gluten free, paleo, and dairy free!
Shawn and I took Josh to see a movie over the weekend. I wasn't sure how it would go bringing a 2 month old baby to a movie. What if he cried, and we're that annoying couple? We really wanted to get out of the house, but with all the rain we've been having, our options were pretty limited.
My love of Leo demanded that I had to see Revenant in theaters. I decided that rather than going during prime date time on Friday or Saturday night, we would go to the 11:00am showing on Sunday morning. It lined up perfectly with Josh's nap time, and I figured there wouldn't be too many people seeing a movie that early on a Sunday. I pumped a bottle (how do people nurse in public?!), fed him right when we got there, and he slept like an angel the whole time.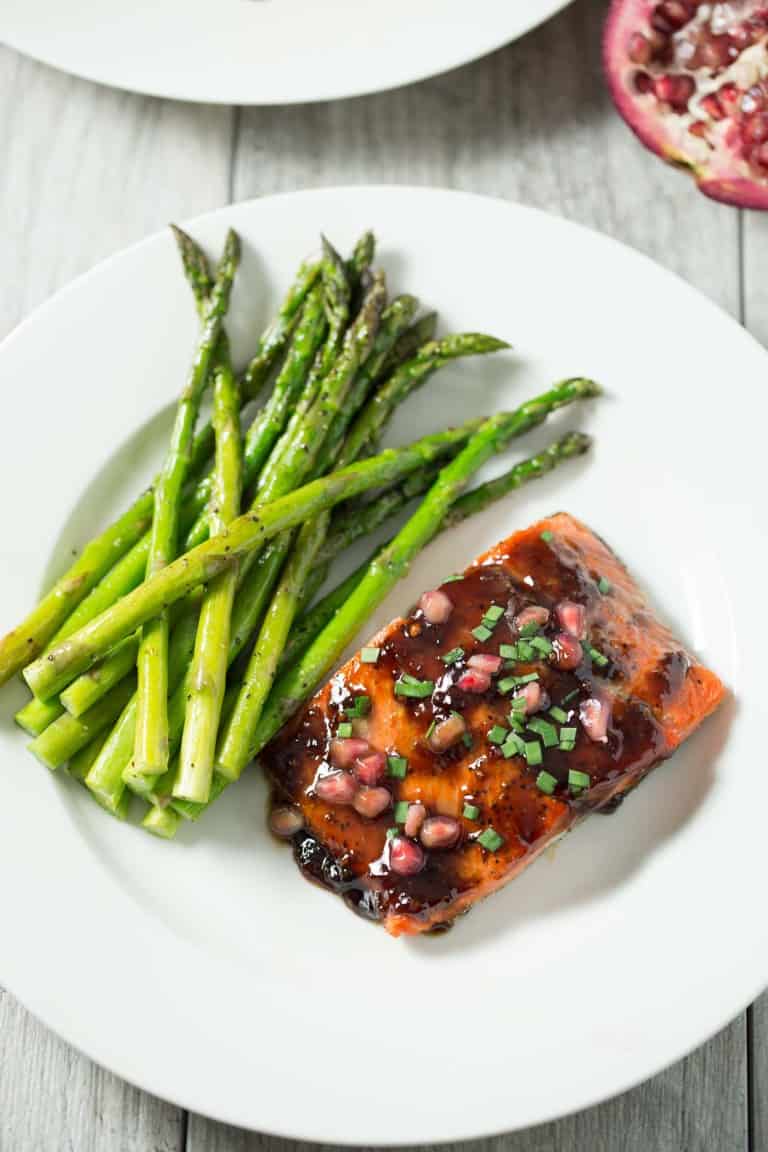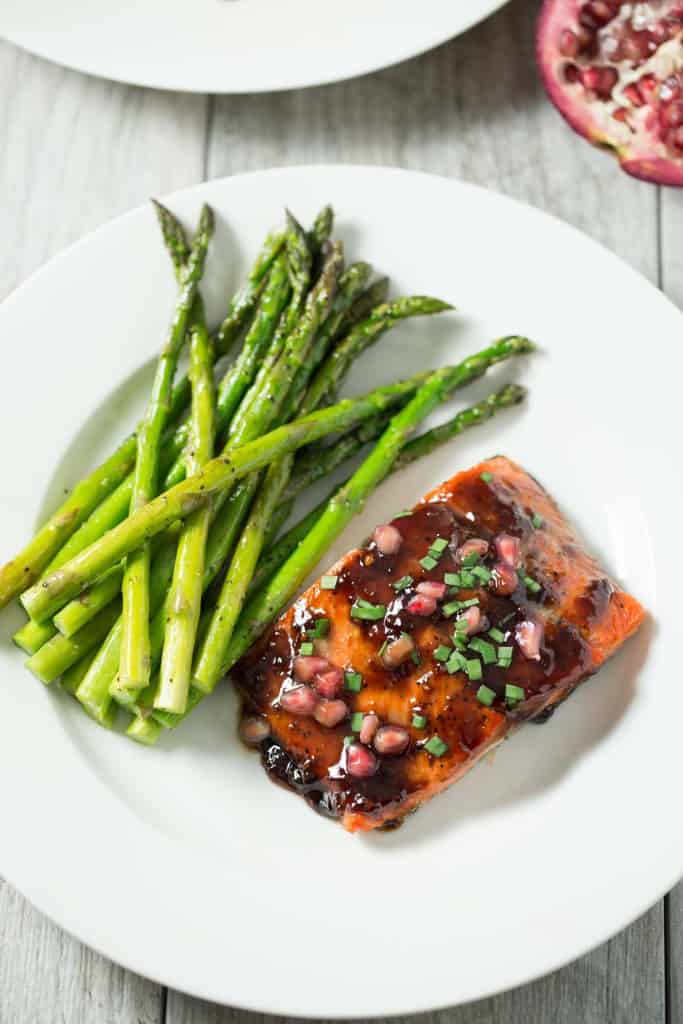 Thank goodness, because Revenant is the QUIETEST MOVIE OF ALL TIME! There would be whole scenes where no one is talking, and the only sound is the wind in the trees, or snow falling, or a babbling river. Josh would make the teensiest little squeak, and the whole theater could hear it. Luckily it was just little squeaks, and no crying.
(By the way, Revenant was amazing)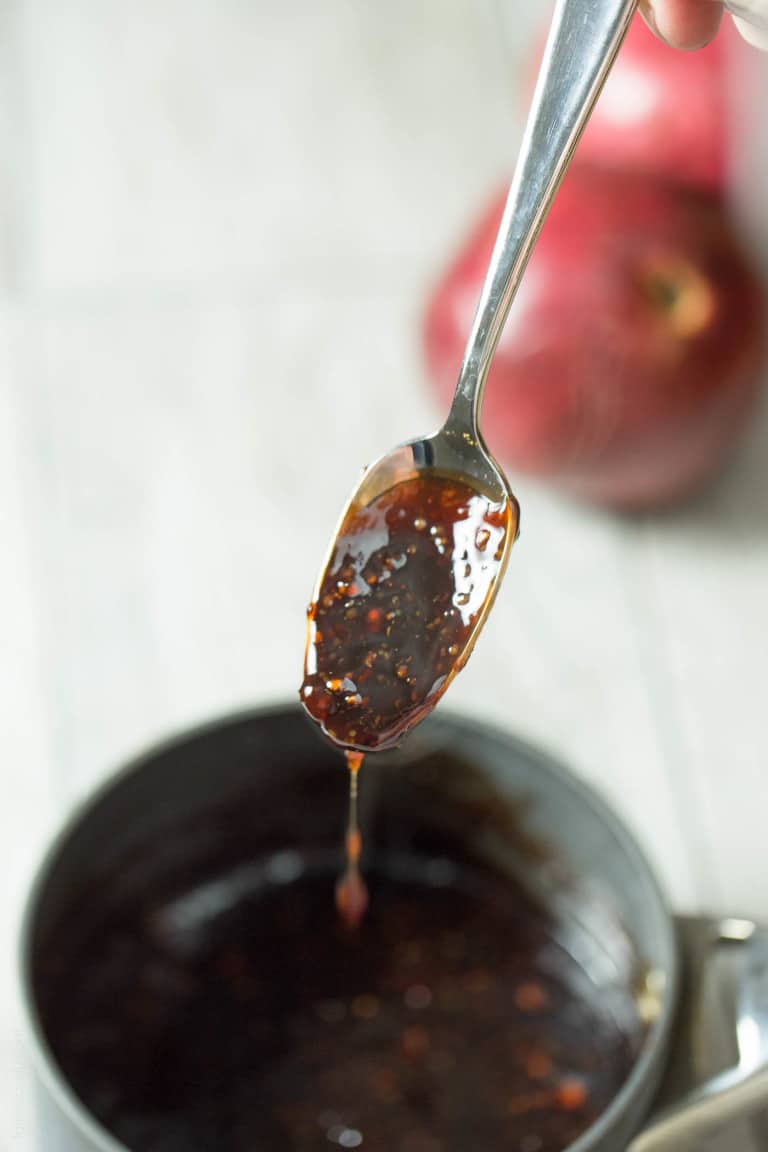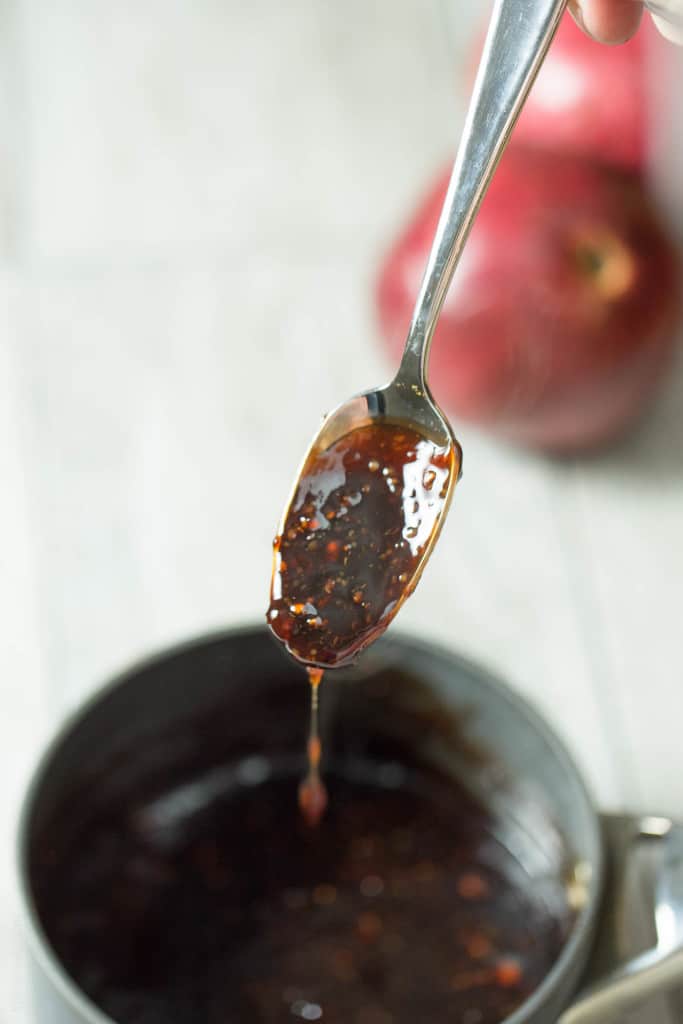 I should have taken him somewhere really loud, like the Chinese New Year Parade they throw here in San Francisco every year.
Did you know Lunar New Year is coming up? It's February 8, just around the corner. I worked with 3 women who immigrated from China, and they told me you will have a lucky year if you eat fish on the Lunar New Year. So now every Lunar New Year we have fish for dinner. And I must say, my years do feel full of luck and good fortune.
I have so many healthy fish recipes here on the blog that I've cooked for Lunar New Year in years past, like my pan seared salmon with dill butter, paleo blackened cajun mahi mahi, or my pan seared mahi mahi with mango papaya salsa. But this pomegranate soy glazed salmon is my new favorite recipe to serve. Red is a lucky color for Chinese New Year, and you can't get more red than pomegranates! (Ask my white t shirt that is now permanently stained after spilling pomegranate juice on it.)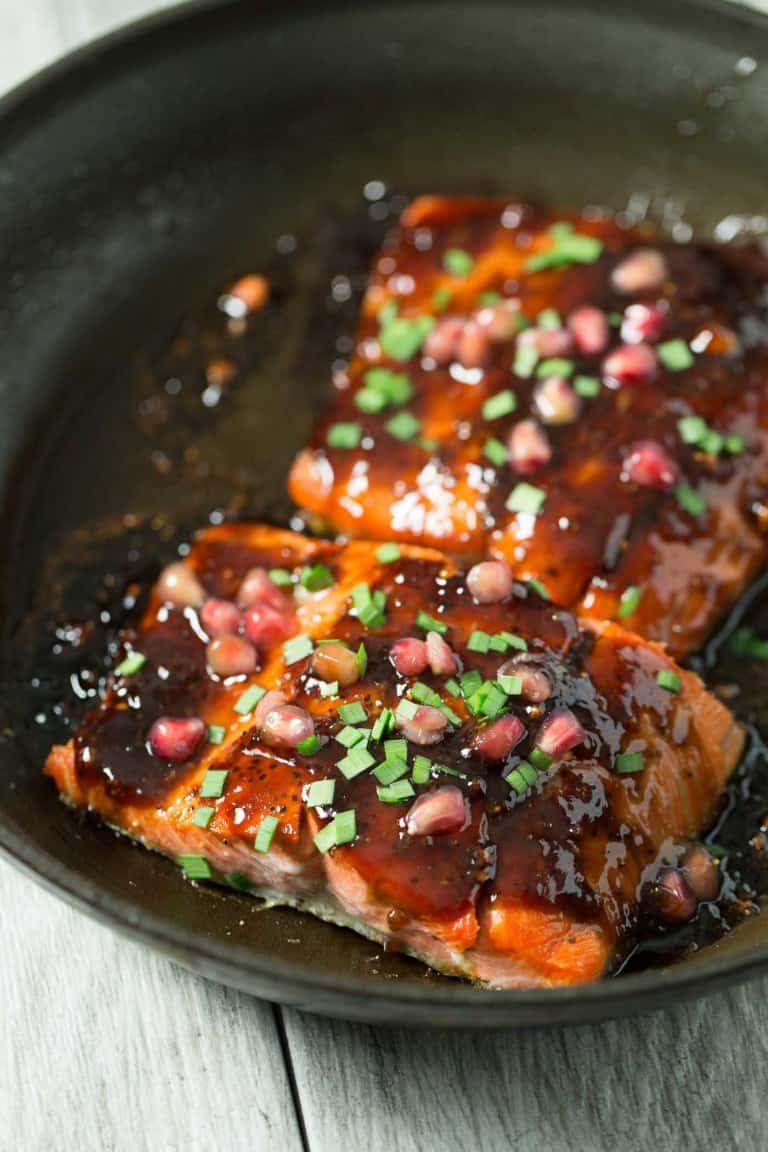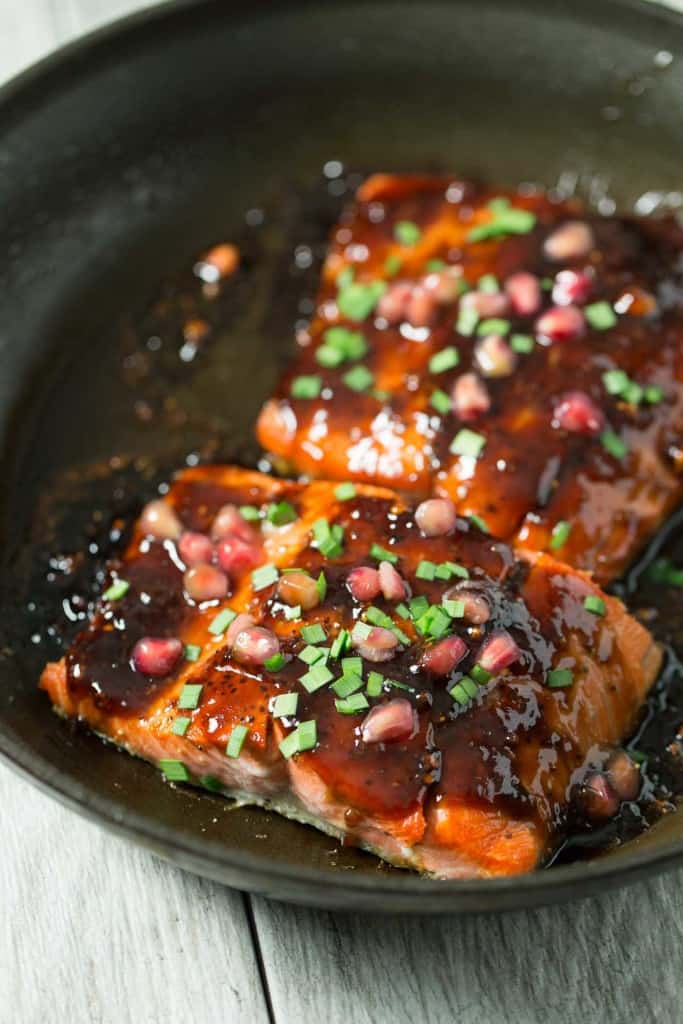 This pomegranate soy glazed salmon has the most delicious pomegranate soy glaze on top. Sticky, sweet and a little salty tang thanks to the Kikkoman Soy Sauce. Kikkoman Soy Sauce is traditionally brewed and a flavor enhancer. Like fine wine, Kikkoman Soy Sauce is aged for several months to develop its characteristic rich, yet mellow flavor, appetizing aroma and distinctive reddish-brown color. Making it the perfect addition to this pomegranate soy glazed salmon.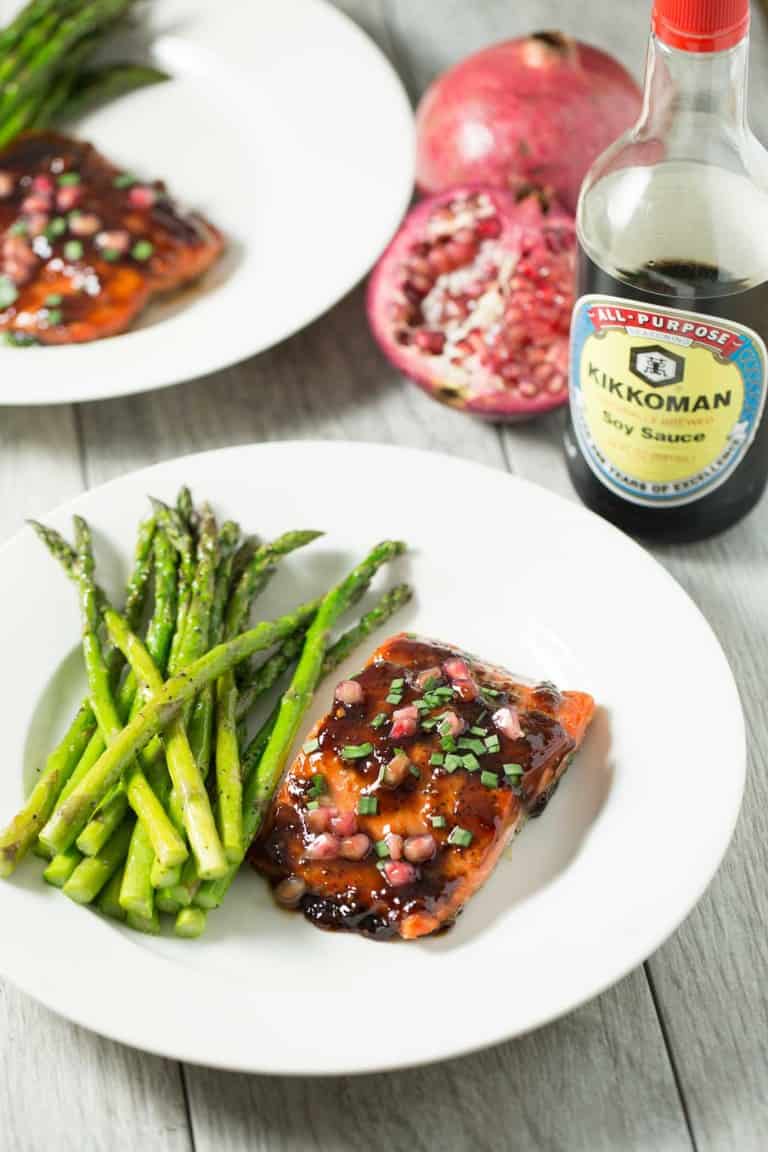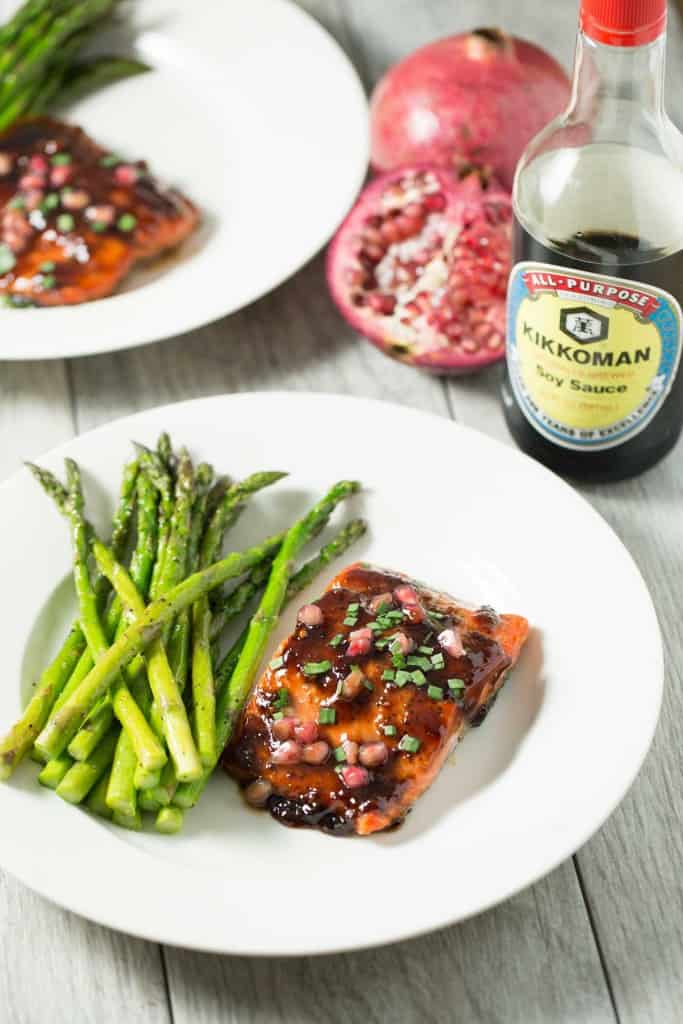 This dinner is so quick and easy, making it perfect for a weeknight. It's ready in less than 30 minutes! You do a quick sear to the salmon in a pan, then top it with the pomegranate soy glaze and finish baking it in the oven. By cooking at a low temp of 300 degrees, the salmon stays tender and juicy. I find that when I cook salmon completely in a pan on the stove, it can get dry. So bake your fish low and slow!
This pomegranate soy glazed salmon is made with all real ingredients, making it very healthy. Use the gluten-free version of Kikkoman Soy Sauce, and it will be gluten free and paleo too!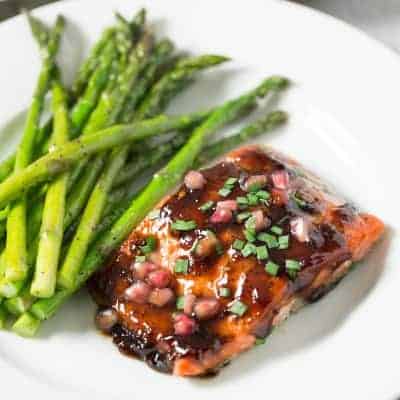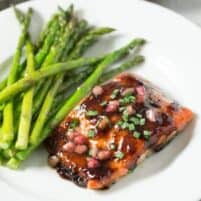 Pomegranate Soy Glazed Salmon
This pomegranate soy glazed salmon is baked with a sticky, sweet and tangy pomegranate soy glaze. Delicious and easy 30 minute fish dinner that is gluten free, paleo, and dairy free!
Ingredients
Pomegranate Soy Glaze
3

tablespoons

honey

3

tablespoons

pomegranate juice

2

tablespoon

balsamic vinegar

1

tablespoon

Kikkoman Soy Sauce

,

use the gluten-free version if needed for diet*

1

tablespoon

whole grain mustard

2

teaspoons

corn starch

,

or arrowroot

pinch

of cayenne pepper
Salmon
4 8oz salmon filets

1

tablespoon

coconut oil

salt and pepper

pomegranate seeds and sliced green onions for garnish

,

optional
Instructions
Preheat oven to 300 degrees with the oven in the middle rack.

Make the pomegranate soy glaze by combining all ingredients in a small sauce pan over medium heat. As soon as the mixture starts bubbling, simmer for 1 minute until the sauce has thickened. Remove the pan from heat, cover with a lid to keep it warm, and set it aside.

Pat the salmon dry, and season with salt and pepper. Preheat a large oven safe skillet over medium high heat. Add the coconut oil. Cook the salmon skin side up for 1 minute. Flip the salmon to be skin side down, and cover the filets in the pomegranate soy glaze. Transfer the skillet to the oven, and cook until the salmon reaches an internal temperature of 125 degrees, about 7-10 minutes depending on how thick your salmon is. Remove from the oven, and serve warm.
Notes
*substitute coconut aminos for soy sauce if paleo
Calories:
482
,
Total Carbs:
18.5
g
,
Protein:
66.3
g
,
Fat:
16.4
g
,
Fiber:
0.4
g
,
Net Carbs:
18
g
Did you make this recipe?
Please Leave a comment and give this recipe a rating!

More Salmon Recipes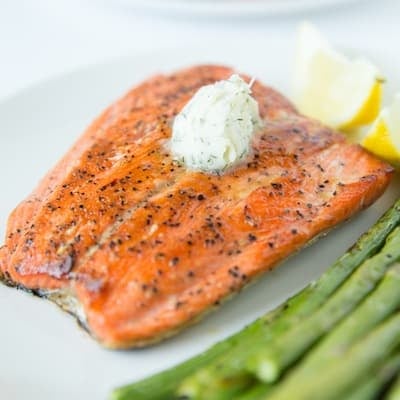 Pan Seared Salmon with Dill Butter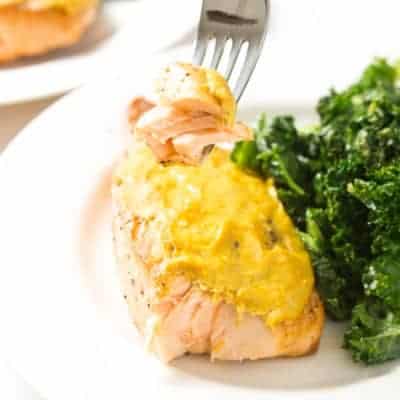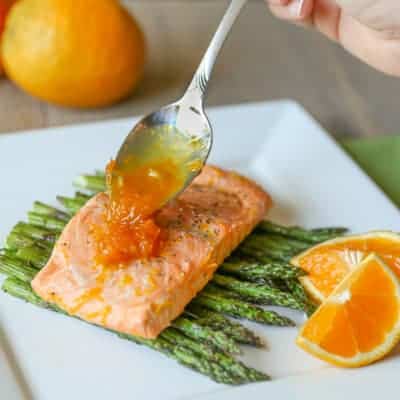 Grilled Salmon with Orange Maple Glaze
Thank you Kikkoman for sponsoring this post. All opinions are my own. Thanks for supporting the brands that support me!