Disneyland Travel Tips with 2 Toddlers
Tips, Hacks + Tricks for traveling to Disneyland with 2 toddlers! Where to stay, where to eat, how to navigate the park, how to keep kids entertained when waiting in line and more!
We just got back from our first trip to Disneyland with the boys and had the most fun ever! Josh turned 4 a few days later, and Ryan is 16.5 months old. Was the perfect time to take them. Josh had a blast, and Ryan was in heaven.
I've gotten so many questions about our Disneyland trip, so thought I'd share our tips and tricks of visiting Disneyland with toddlers here!
When to Visit Disneyland
A great hack we learned about is this Is It Packed Crowd Forecast Predictor for Disneyland. I'm so glad I went off this. Originally we thought about having our travel days be during a weekend. It was so crazy packed on the weekend, I'm glad we went during the weekday instead.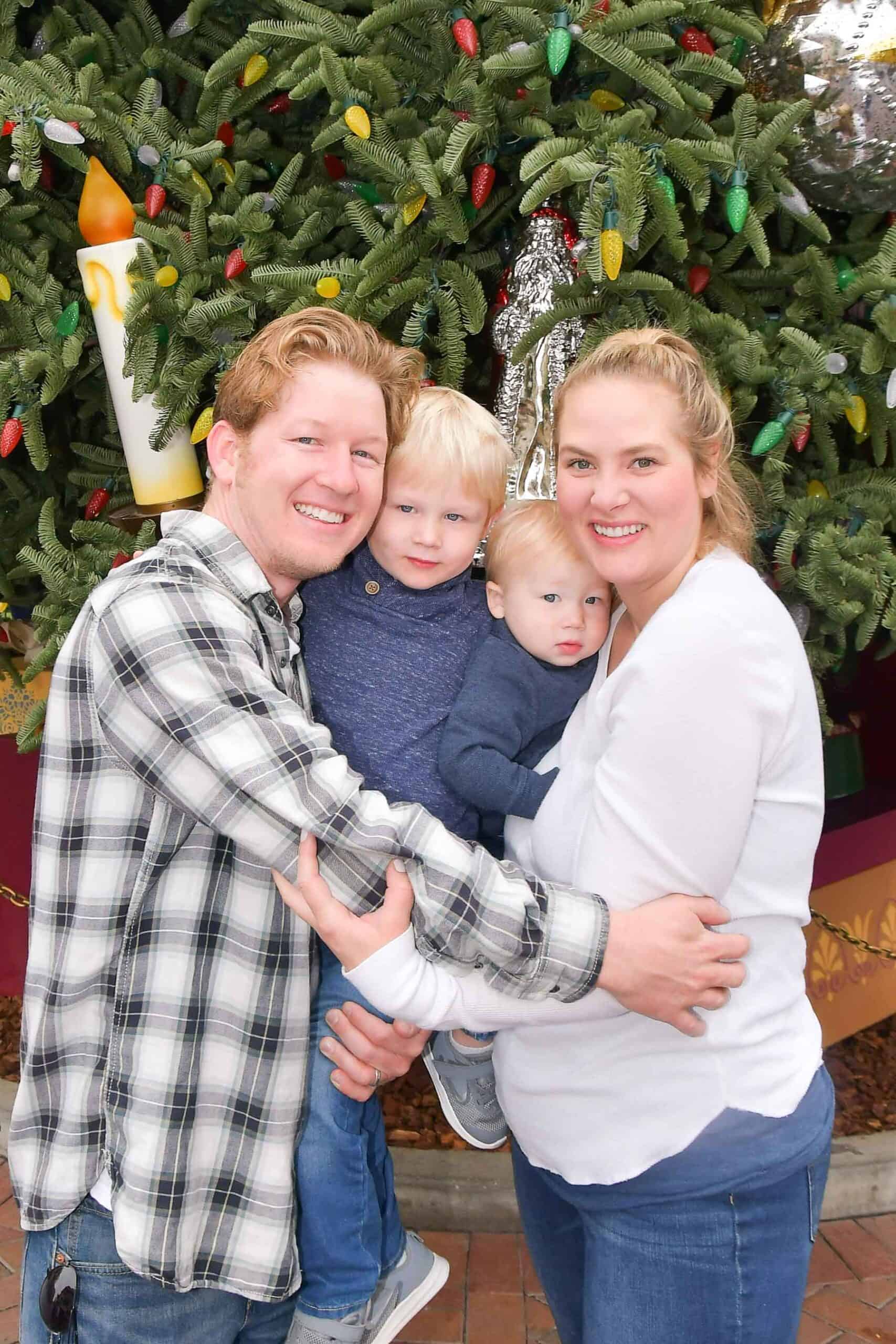 We went to Disneyland the 2nd Thursday of November. We did a full day Thursday, a full day Friday and a half day on Saturday. Disneyland decorates for Christmas usually the 1st or 2nd Friday of November. It is their busiest time. Going during the week was much less crowded. I think the longest we ever waited in line was 30 minutes for Peter Pan.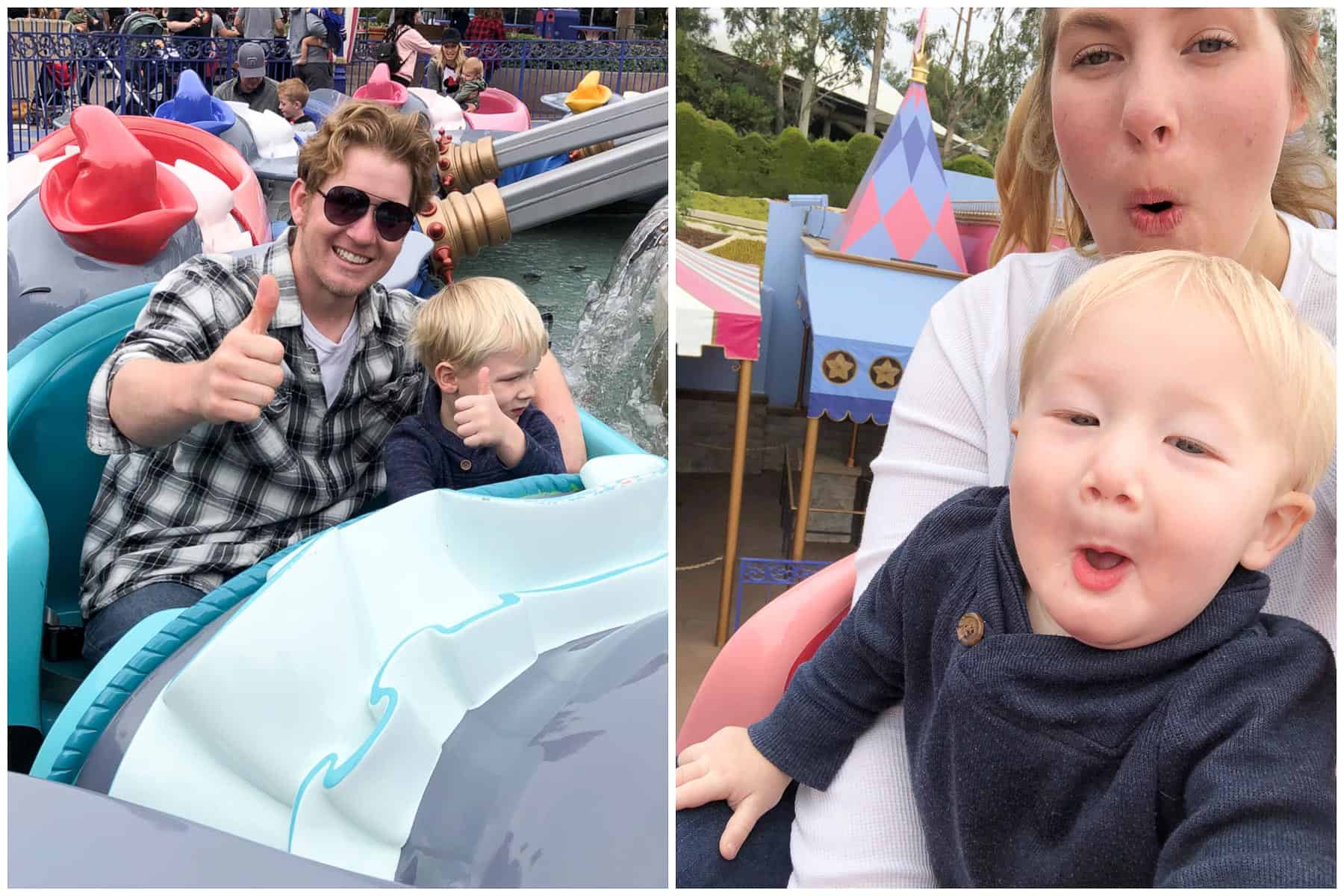 Where to Stay in Disneyland
We stayed at the Residence Inn Marriott in Garden Grove, which is about a 10 minute drive to the park. It worked out great! It was SO much cheaper than the Disneyland hotels, and the hotels that are right across the street from the park (by 75% or more!). It felt like an apartment, and I love how much space we had!
It had a full kitchen, which was so nice since we could bring food and cook our own breakfast. The hotel has a free breakfast downstairs, but being in our room is much easier.
It had 2 separate bedrooms and a living room. The kids sleep way better when they're in a different room than us. Plus, it was fun to be able to hang out with Shawn in the living room after the kids fell asleep and have some wine (which we earned after a full day of Disney).
Here is a video tour of our hotel room:
There was plenty of room for our huge stroller. If we were in a regular hotel room I feel like our stroller and luggage would have taken up the whole room.
Kids Sleeping Arrangements
The kids room came with a bunk bed, but Josh and Ryan are still too little for those (1 and 3 years old). I brought Josh's toddler air mattress that I am obsessed with, and his toddler sleeping bag. I brought Ryan's pack-n-play. They both fit in the 2nd room great.
I brought their video monitors from home and set them up in the room. I am so that mom that likes to be able to see my kids sleeping, especially when we're traveling and in a new place. and their white noise/ok to wake machine. It was just like sleeping at home! The boys slept so great, and so did mom and dad!
Getting To Disneyland
Our hotel had a shuttle that left every 30 minutes for the park. Made it so easy! You did have to buy tickets downstairs to ride it ($6 per adult, $3 per child). But that is still cheaper than parking at Disney, and easier since the shuttle drops you off right in front of the park.
We never had an issue getting a seat on the shuttle there and back.
Should I Bring a Stroller to Disneyland?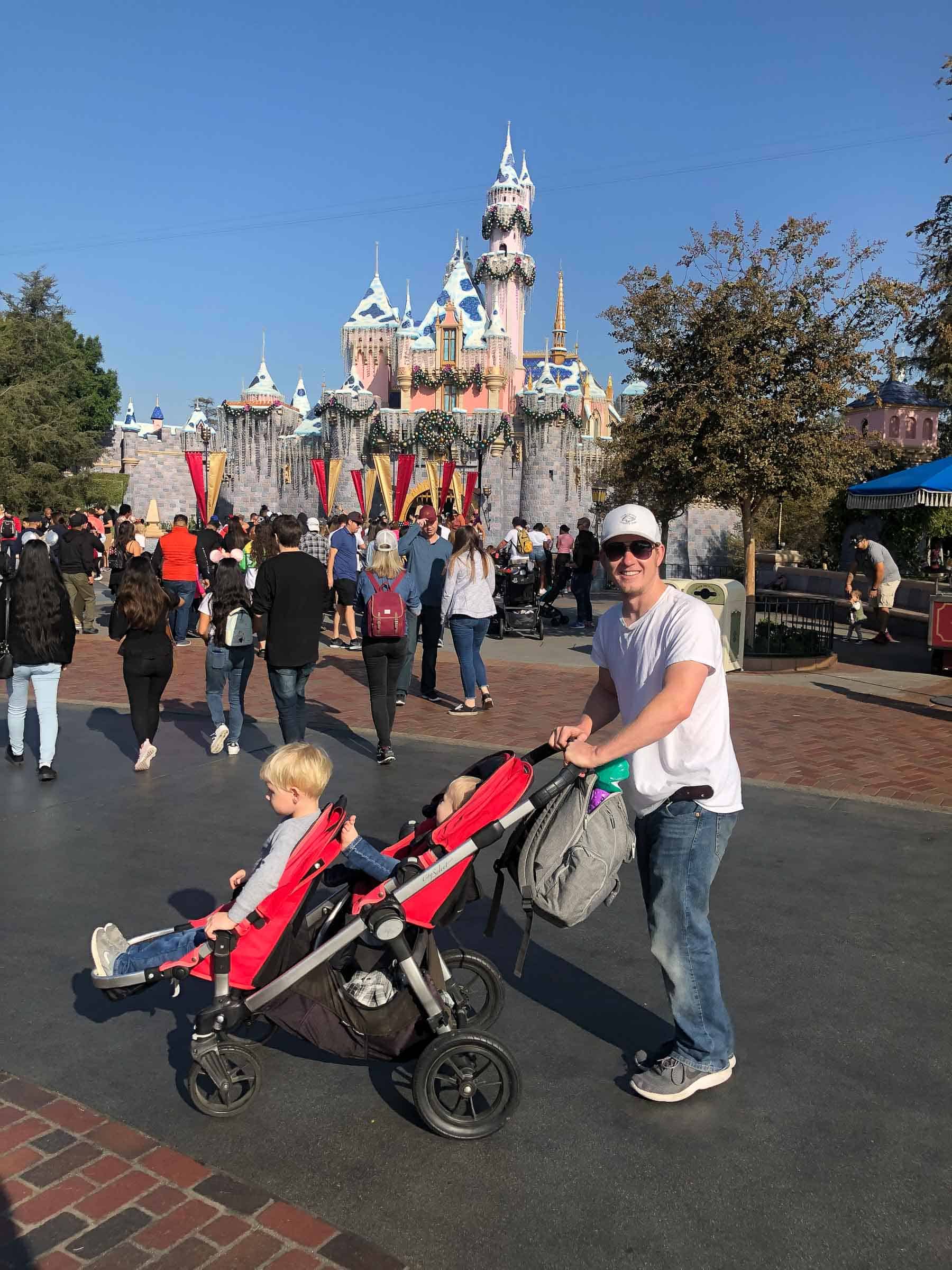 100% yes! We are not a stroller family at all. If we're going places, we just each carry a kid. But at Disney a stroller is a must. You're walking all over the places for 10-12 hours, your kids are going to want to sit.
We debated what kind of stroller to bring. Our only double stroller is my duallie bob stroller that I use for jogging, but it is so big and heavy, and takes up almost the entire trunk of the car. Wouldn't work great for our road trip down and fitting our luggage in the trunk. Plus, having to fold it and take on shuttles would have been a nightmare.
I also thought about renting a stroller at Disneyland, which you can do! But that's $25 a day for a double stroller. And then we'd have the extra time standing in line and renting it each day. Luckily we didn't do this, because they're strollers weren't the best set up.
Last minute, I found this City Select Double Stroller used on Nextdoor for just $75! Score! Can't believe I got it so cheap! It is red, which originally I wasn't excited about, but now LOVE that it's red because it made it so easy to find when parking your stroller! Disneyland rearranges parked strollers all the time to keep it organized, so when you come back after going on a ride your stroller can be in a totally different spot. 90% of the strollers are black. But our red one stood out and made it easy to find.
The seats can be arranged in all sorts of configurations. They leaned back a lot which was great for when the boys fell asleep for a quick nap around the park. Even though Josh is so tall, he still fit fine. And it was really easy to fold it up and bring on the shuttle or Disneyland train around the park.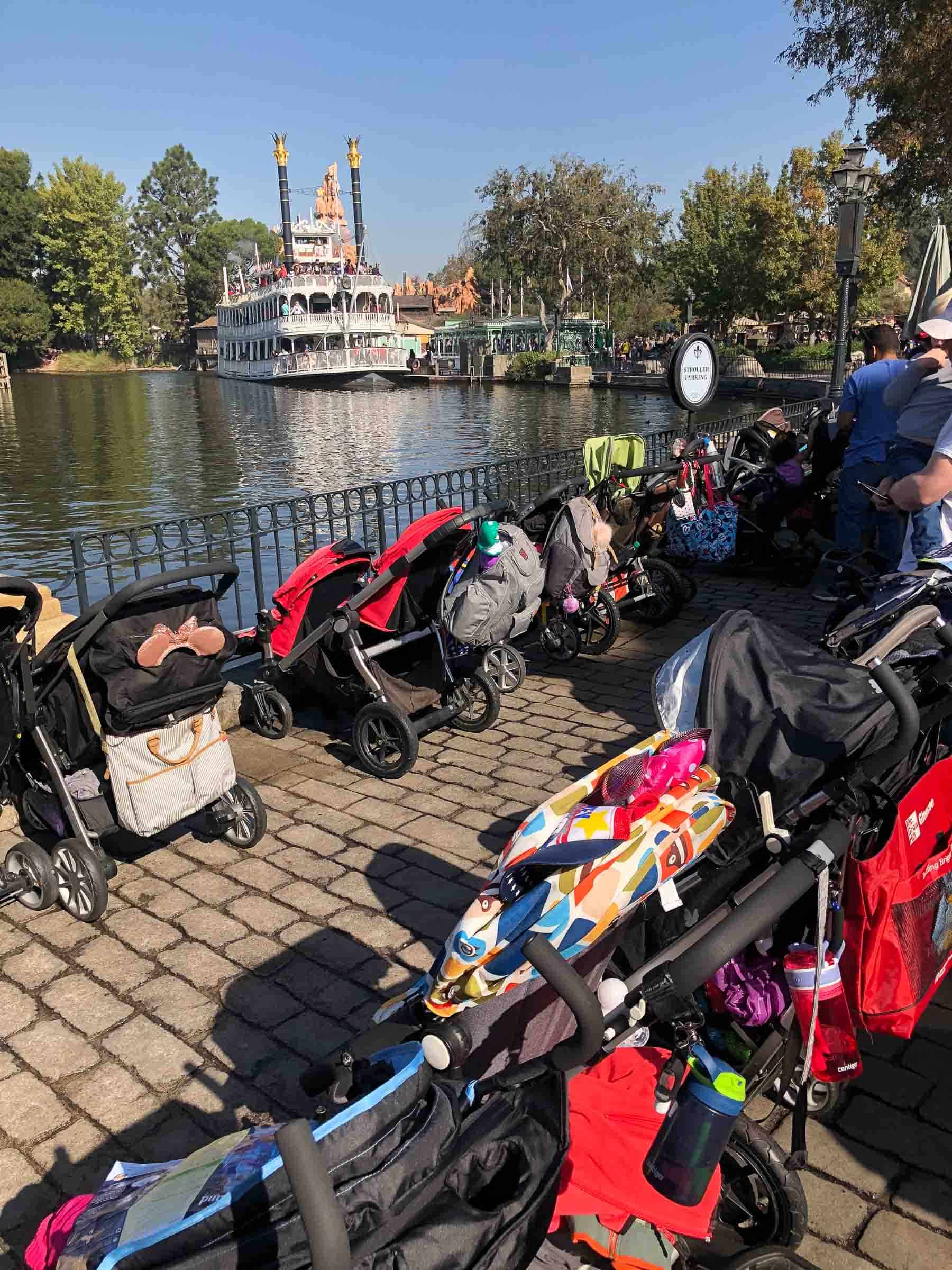 The best part? This stroller is so steady and strong, we could leave our heavy backpack clipped on to it with no kids inside, and it never tipped over! No way an umbrella stroller could have held it up.
We left our backpack on the stroller the whole time and never had issues with theft. It was just full of extra clothes/hats/sunscreen and snacks. Nothing too risky to lose. Was easier not having to wear it all day, especially standing in line when you're usually holding a kid too.
I'm glad we went with a double stroller rather than a side by side stroller because we could maneuver through the crowds much easier. I would walk in front of the stroller and clear a path while Shawn pushed it behind me. A side by side stroller would have taken up much more room.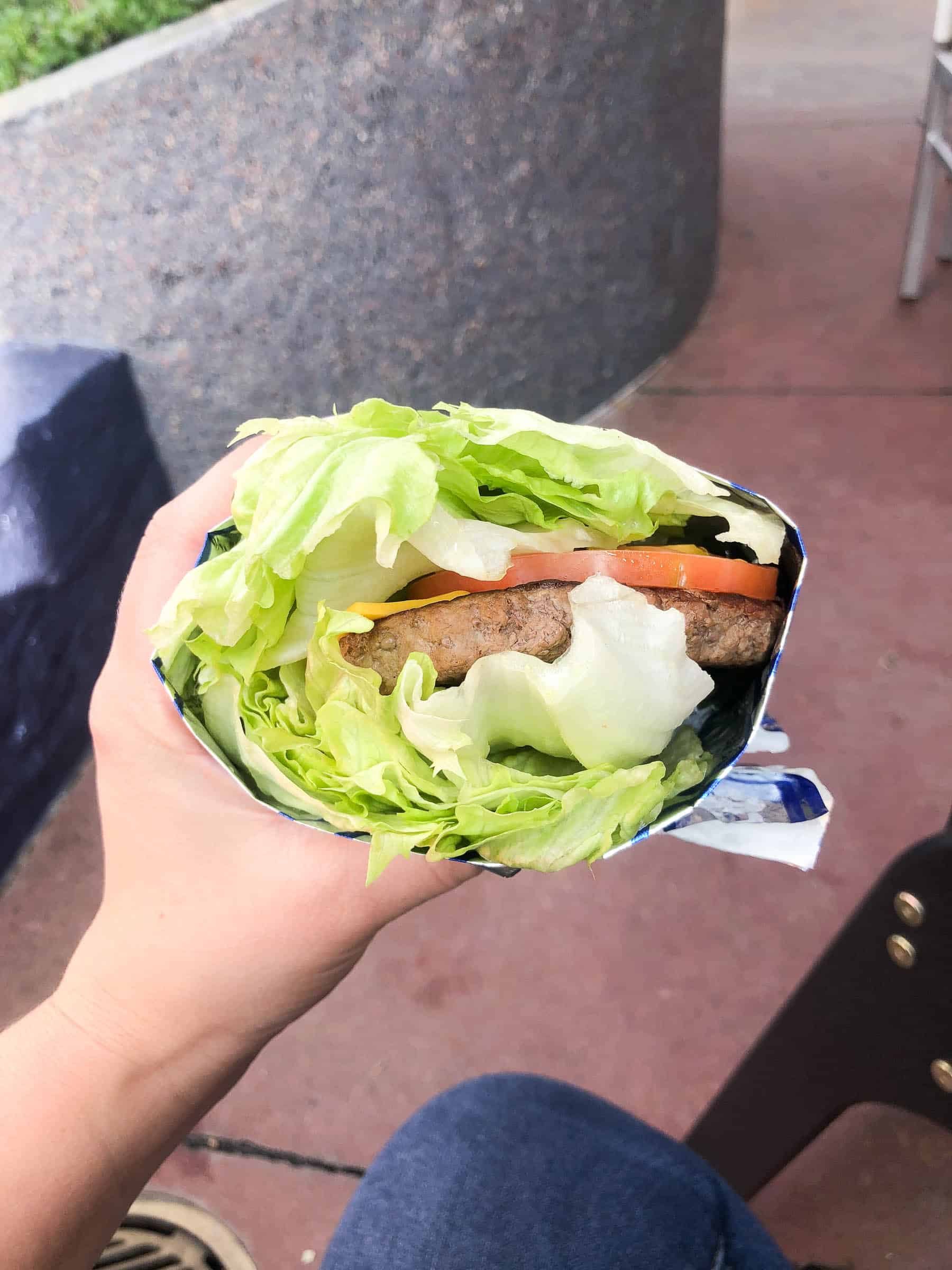 Eating At Disneyland
You're able to bring in any food and drinks you want to the park. If you want to save a ton of money, you can pack all your meals.
We took it easy, and just packed snacks and bought meals there.
You can look at all the food options on the Disneyland App, read the full menu, and even preorder food from the app to pick up when you get there!
Shawn and I ate keto the whole time we were at Disneyland. I have a whole post on it if you want clean eating Keto tips for Disneyland!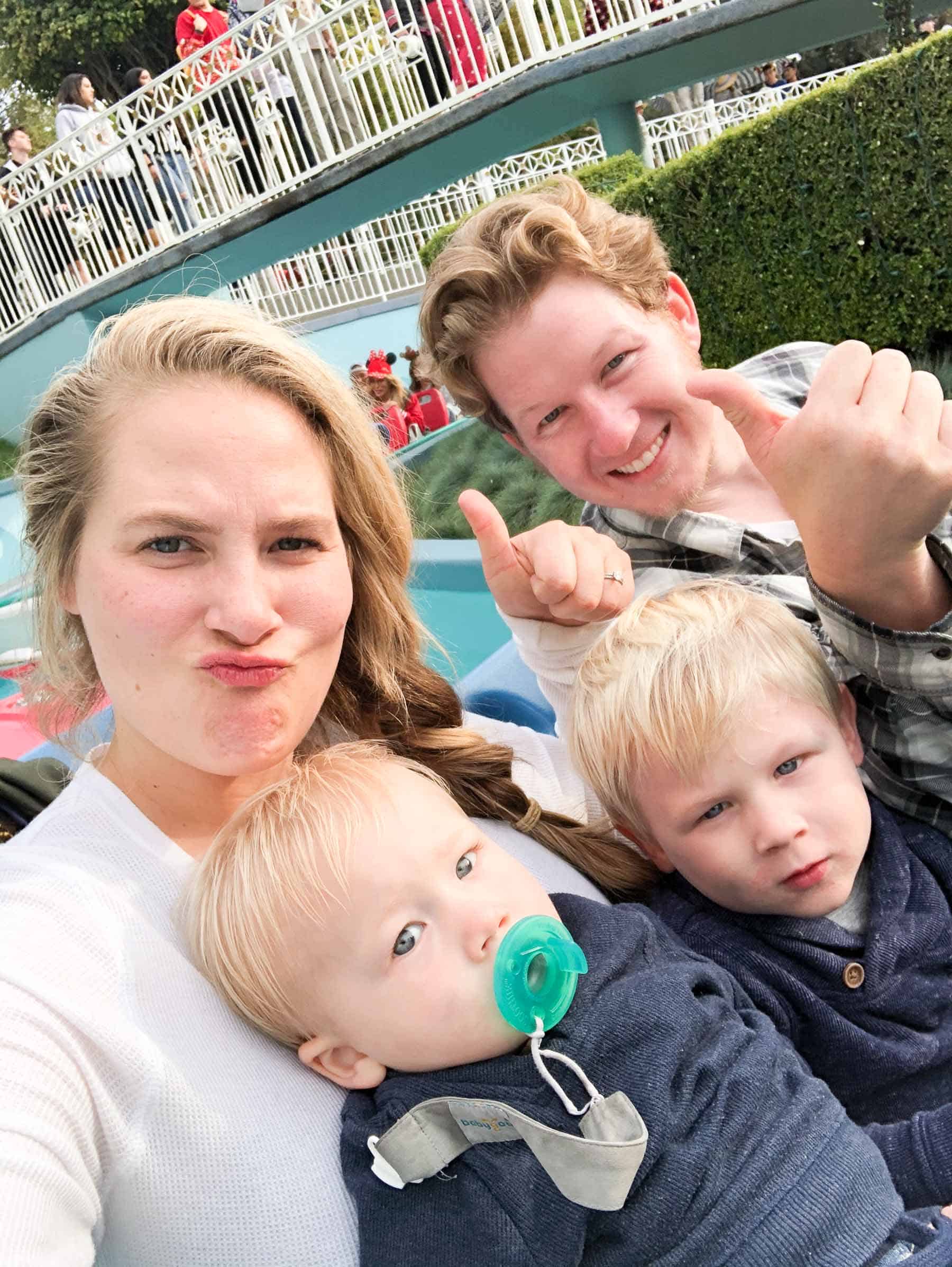 Keeping Kids Entertained Standing in Line at Disney
This was the part that I was most worried about. How will my kids hold still standing in line for so long?
It wasn't an issue AT ALL! Disney does a great job of keeping the line moving, and also having there be interesting things to look at while waiting.
Get as many fast passes as you can. You'll move through much faster. And for lines that were long when I knew we wouldn't have a fast pass, I would bring a snack. Keeping them eating kept them occupied. We didn't bring games, or bust out or cell phones once. We chatted and laughed and had a great time. I'm shocked it was so simple and effortless!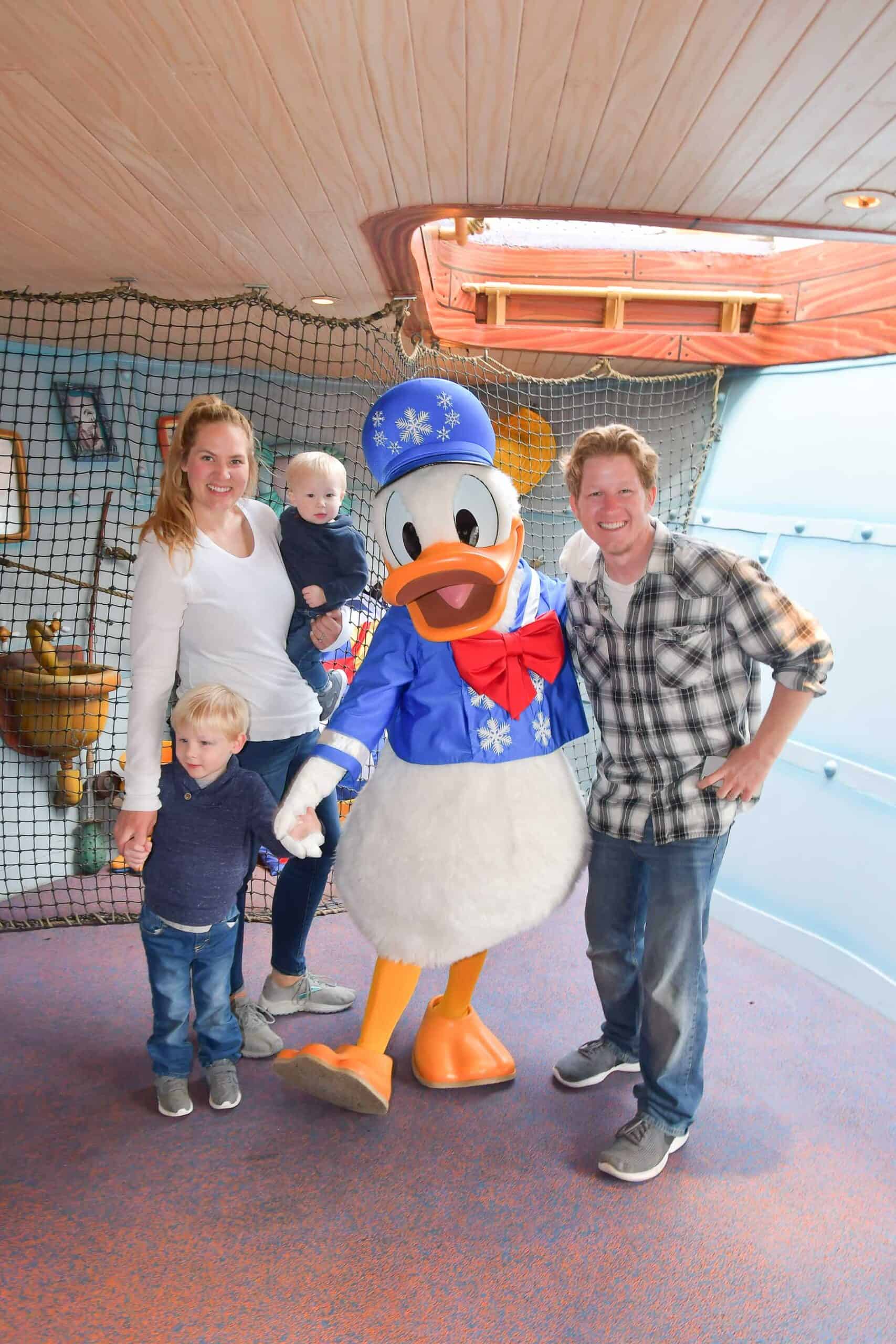 Quick Tips for Visiting Disneyland:
Get there as soon as the park opens. It is much less crowded in the morning than it is at night. We would go to the rides that don't offer fast passes first thing in the morning when the lines were the shortest. Like Peter Pan and all the Fantasy Land rides that the kids loved.
Get the Disneyland App. This app is a lifesaver! It has a map of the park, the wait times of every ride, menus of every restaurant in the park, you can preorder and pay for food to pick up as soon as you get to the restaurant, make reservations for the fancier restaurants, stores your park tickets to easily scan when going from park to park, has the full parade and show schedule, you can get Fast Passes, and it links all your photos you take around the park that you can download FOR FREE!
Get the MAXPASS. It's an extra $15 per ticket, but it will make your life way easier. MAXPASS lets you get fast passes for all the rides on your phone.
With MAXPASS, you can have more than 1 fastpass at a time! I would have like 4 at a time all staggered throughout the day.
When you get your fastpass, it sets a time limit until you can get your next one. Usually 30 minutes-1 hour depending on the ride. It will tell you the exact time you're allowed to get your next one. I would set an alarm on my phone to go off at that time so I knew to book my next fastpass. Genius!
With MAXPASS, you get to link all the photos the workers around the park take of you to the app and you can download for free! The photographers are all over the park, and with all the character meet and greets. (You can look up photographer spots on the app map!). When they take your photo with their good camera, they'll scan your QR code and it links it right to your app. Such an easy way to get good family pics!
To save time, I took a screenshot of my photo QR code and made it my lock screen. So when we got a picture, they could just scan that rather than having to open my phone and navigate to it. Saved me tons of time!
Bring a portable cell phone charger. You're going to be using the disney app a lot, and gone for an entire day. You'll be glad you can charge your phone on the go!
A lot of rides have single rider lines, which is a fun way to ride busier rides while kids are napping and your spouse stays with the kids.
Hit up busier rides during parade and show times, the lines are much shorter.
Kids under 3 are free! You don't need to buy them a ticket. And they are included in your fastpass.
I'm glad we got park hopper tickets, rather than doing different parks on different days. We spent a majority of our time in Disneyland, but there were a few great rides the kids loved at California Adventure (Mater, Little Mermaid, Monsters Inc, Toy Story). We'd go for maybe 2 hours a day? The rest of the time we were at Disneyland
The Disney App has the height requirements for every ride. 40″ is the most popular cut off. Josh (4 years old) is about 42″ tall, and could go on almost every ride. I was shocked how many rides Ryan (1 years old) could go on too! Even Pirates of the Caribbean!
You'll for sure want to go for 2 full days. That's plenty to fit in all the rides and shows. We did 2 full days and a half day Saturday.
When you're little kids get really wiggly after being in the stroller or holding still in lines, take them to Goofy's Playhouse in Toon Town. It's padded floor, and they can run all over and climb and play. There's even a slide.
Bring an insane amount of snacks. We are not snackers AT ALL. At home, we rarely have a snack. Just eat our meals. (The kids are always hungry when it's lunch and dinner time!) But at Disney, it was snack central. We would portion them out during the day to keep the kids occupied and distracted when they had to get back in the stroller, and occasionally when we were in line. I brought peanut butter pretzels, crackers, fruit snacks, goldfish, you name it. I love this snack container to give to the boys to hold in the stroller, and love these water bottles for the boys. Everything fit in our backpack which I am obsessed with.
Bring reusable water bottles, and refill them at the restaurants. They have filtered water and ice.
Treat yourself to a coffee in the afternoon to keep you going. There is a Starbucks on Main Street and in California Adventure.
You can't bring your stroller on rides or into restaurants, but they have stroller parking everywhere. Remember they sometimes rearrange the strollers and move them around, so don't panic if you come back and your stroller isn't where you left it.
Bring sunscreen and layers. In the morning and not it got pretty chilly, but during the day it was warm and sunscreen was a must.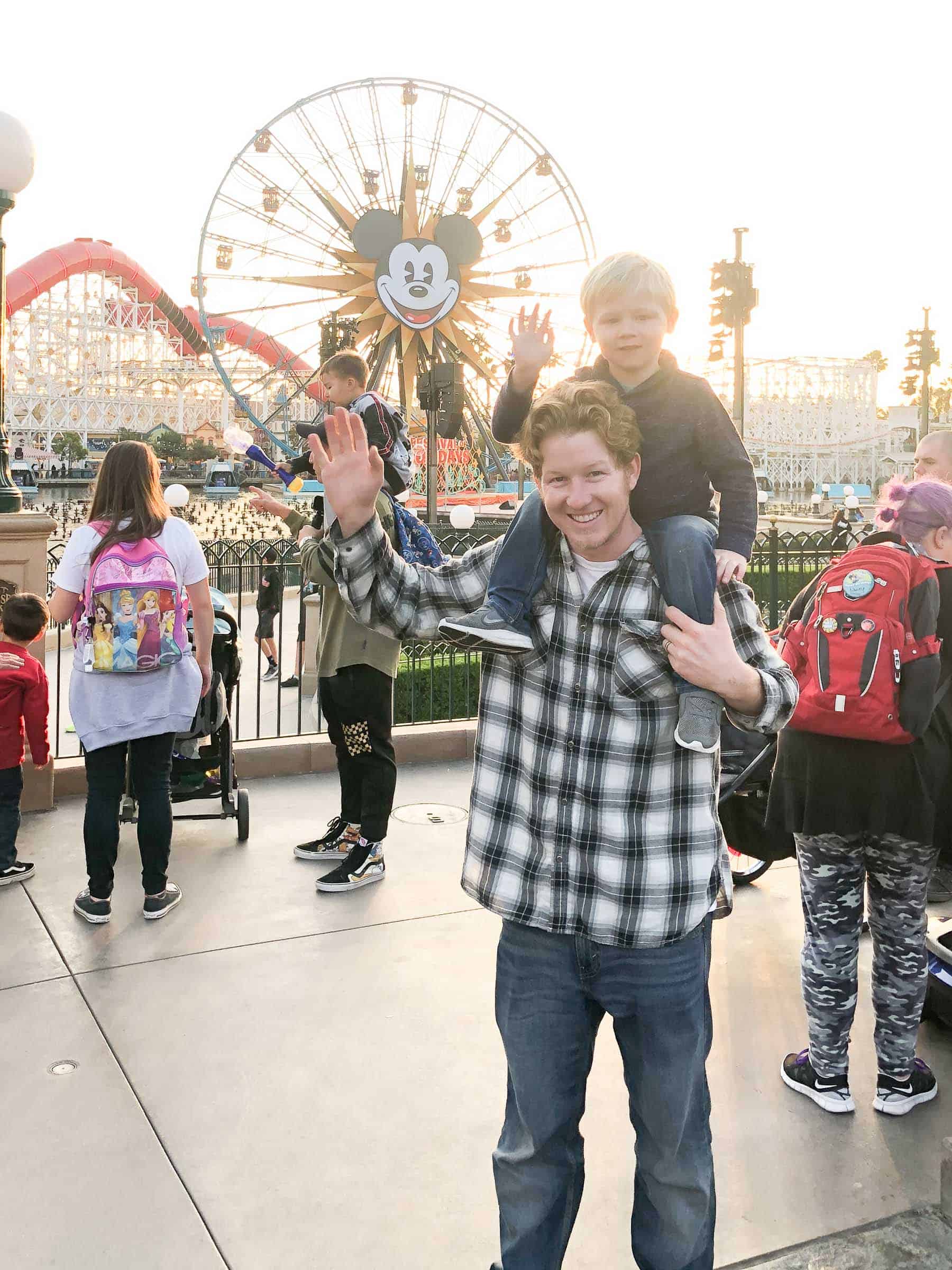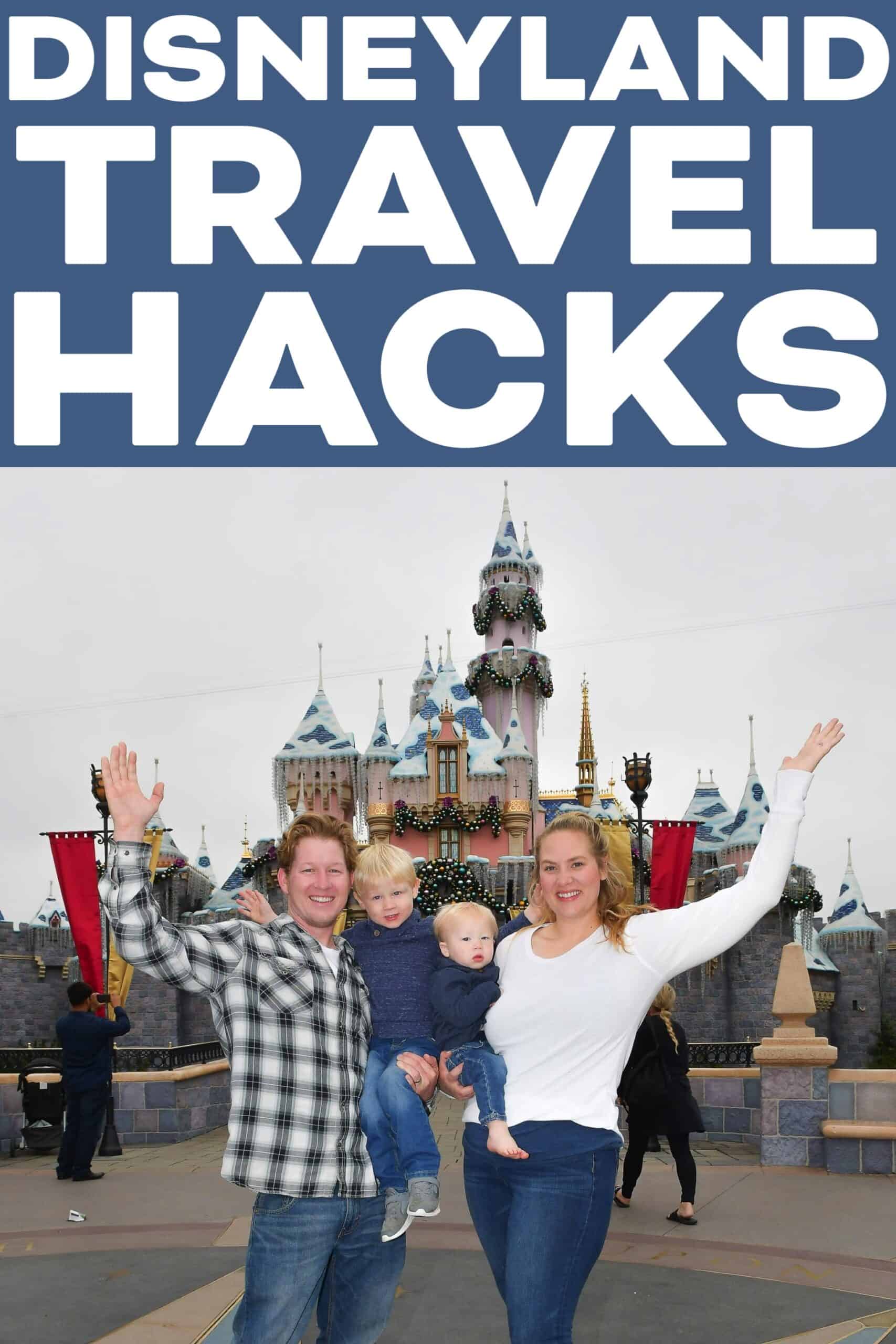 This post contains affiliate links, and is not sponsored in any way. Just sharing about our trip that we paid for. Thanks for the love!