Easy Apple Crumble Pie
A simple apple pie recipe with a crunchy, buttery oatmeal crumb topping is a tasty spin on the traditional apple pie.
I have yet to be called up to the "big leagues" to cook and host my own Thanksgiving dinner. I can handle making dinner for 6-8 people. But 30? Eeeek! I start getting the kitchen sweats just thinking about it.
You guys get the kitchen sweats too, right?
You know, that light layer of sweat the starts to accumulate about 5 minutes before dinner is ready when you have company over? And then kicks in to high gear as you're plating up? And you sneak in to the bathroom to try and dab it away with a Kleenex and hope that if you put on more face powder no one will  notice? The kitchen sweats.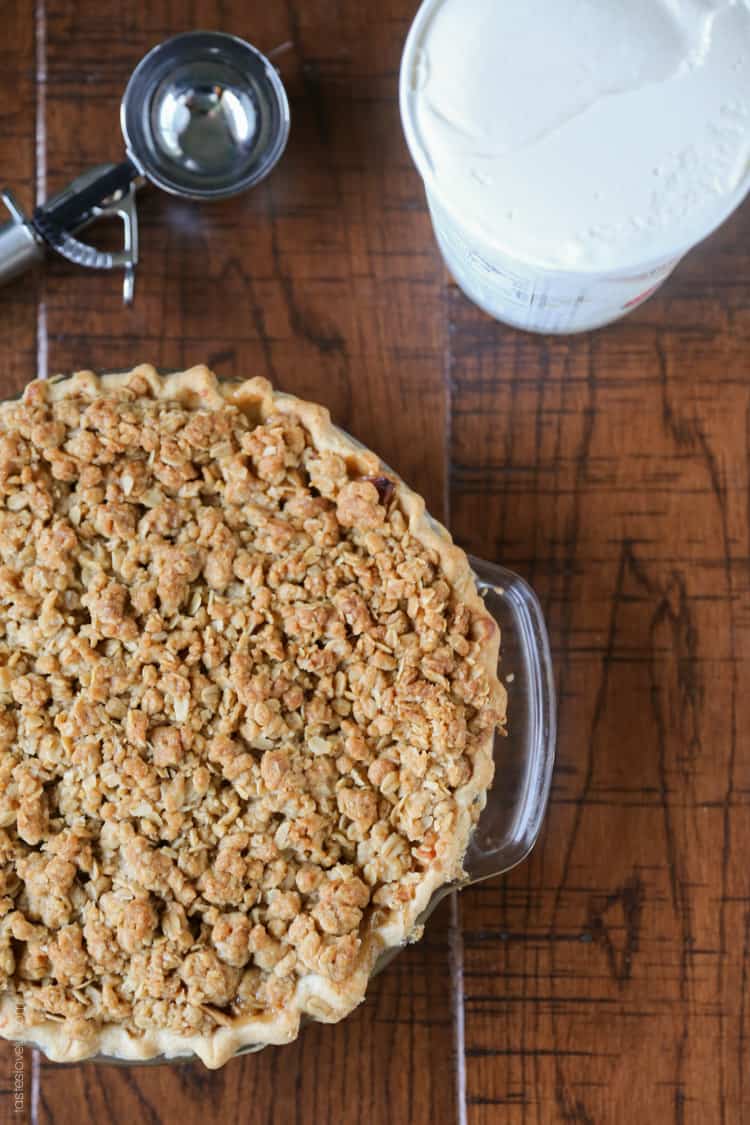 Anyway, back to pie talk…
Instead of cooking the day of, I am cooking the day before making appetizers and desserts. Isn't it funny that on a day of eating such a big dinner we have food for "before we eat" and then more food for "after we eat". Hey, it's Thanksgiving, let's eat all the food!
And if there is one dessert that is mandatory after eating turkey and stuffing it is apple pie.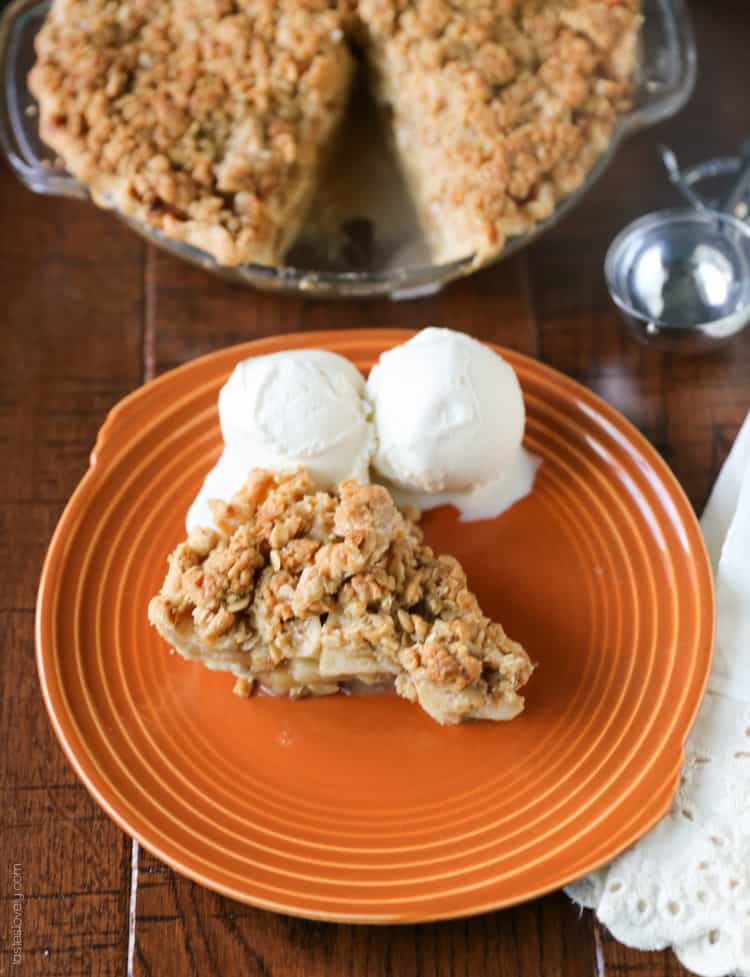 And even better than apple pie is apple crumble pie. You know what traditional apple pie is missing? Crunch. After much trial and error, I have created the crunchiest oatmeal topping for you to top your apple pie with to bring it to a whole new level of crunch.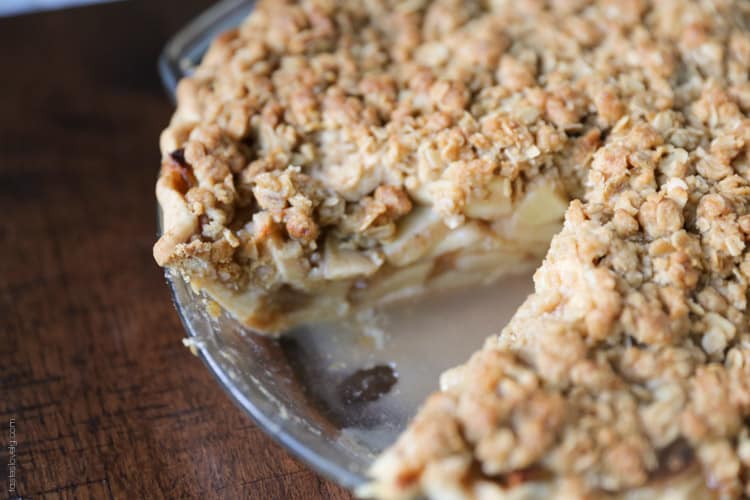 Shall we talk easy? Let me let you in on a little secret, this apple crumble pie uses store bought pie crust. Trader Joe's makes a delicious pie crust that tastes just as good and flaky as anything I can make. You can of course use a homemade pie crust, but when it comes to the holidays easier is always better. Am I right?
I will be making several of these to bring to my family Thanksgiving dinner. I highly suggest you try this new spin on apple pie, you may never go back.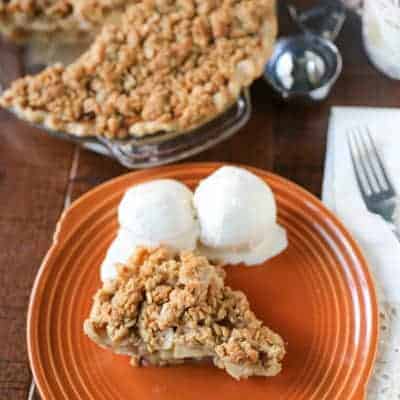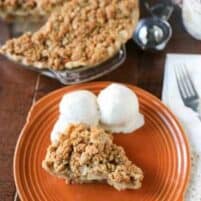 Easy Apple Crumble Pie
 simple apple pie recipe with a crunchy, buttery oatmeal crumb topping is a tasty spin on the traditional apple pie.
Ingredients
For the Pie
1

sheet frozen pie crust

,

thawed per package instructions (or your favorite pie crust recipe)

5

large granny smith apples

,

about 6-7 cups

Zest of 1 lemon

,

about 1-2 teaspoon

Juice of half a lemon

,

about 1 tablespoon

1/2

cup

granulated sugar

1/4

cup

packed brown sugar

2

tablespoons

all-purpose flour

1 - 1/2

teaspoons

cinnamon

1/2

teaspoon

nutmeg
For the Crumble
1

cup

rolled oats

1/2

cup

packed brown sugar

6

tablespoons

all-purpose flour

8

tablespoons

cold butter cut into small pieces
Instructions
Preheat oven to 400 degrees

Press the pie crust into a 9 inch pie plate, trimming off the excess and crimping the edges. Put in the fridge.

In a medium size mixing bowl, make the crumble topping by combining 1 cup rolled oats, 1/2 cup packed brown sugar and 6 tablespoons all-purpose flour. Toss the ingredients together to evenly combine, breaking up any chunks of brown sugar. Combine the cold butter into the dry ingredients by squeezing and breaking it up with your fingers until crumbs form. Cover with saran wrap and put in the freezer.

Peel and core the granny smith apples. Slice the apples into slices that are 1/8" thick and 1" long. In a large mixing bowl, toss the apple slices with the lemon zest and lemon juice. Then add in the 1/2 cup granulated sugar, 1/4 brown sugar, 2 tablespoons all-purpose flour, cinnamon and nutmeg. Toss to evenly combine.

Take the pie crust out of the fridge and pour in the apple mixture. The apples should be about 1/4" - 1/2" taller than the edge of the pie pan.

Take the crumble topping out of the freezer. Should be very cold and almost hard. This is good. Take a knife or pastry cutter and break up into large pieces. Then, use your fingers to break into smaller crumb pieces, using medium pressure to press into an even layer to the pie.

Place the pie plate on a parchment lined baking sheet to protect your oven if it bubbles over. Bake at 400ºF degrees for 20 minutes, then lower the oven to 350ºF degrees and bake for another 35-40 minutes, or until the crumb topping is golden and the pie is bubbling.

Allow to cool for at least 6 hours at room temperature uncovered. I like to make mine 24 hours in advance, and leave it uncovered on the counter.

Serve at room temperature or reheated in the microwave for 45 seconds. Serve with ice cream or whipped cream.

Refrigerate after 24 hours. Will keep in the fridge for 1 week.

See Recipe Notes below for more tips, tricks and recipe substitutions!
Notes
Apples: Granny smith apples are the best to use for this pie. They stay firm when baked, and their tartness mellows to leave them sweeter with tons of apple flavor. Sweetener: The original recipe uses white and brown sugar. You could swap white sugar for maple sugar, and the brown sugar for coconut sugar. Same quantity for both substitutions. Lemon zest: This is my favorite secret ingredient that adds tons of brightness and freshness to the pie. The lemon helps to balance out the sweet. Freezing: This pie can be frozen. After pressing in the crumble, but before baking, place the pie uncovered in the freezer for 12 hours, the cover tightly with aluminum foil for long term storage. Will keep for 6 months.
Calories:
343
,
Total Carbs:
50.5
g
,
Protein:
2.2
g
,
Fat:
10.2
g
,
Fiber:
3.5
g
,
Net Carbs:
47
g
Did you make this recipe?
Please Leave a comment and give this recipe a rating!