Italian Sausage and Vegetable Soup
A filling soup packed with the flavors of Italian sausage, zucchini, tomatoes, spinach and topped with Parmesan cheese. A hearty one pot meal that is freezer friendly and can be made in the slow cooker.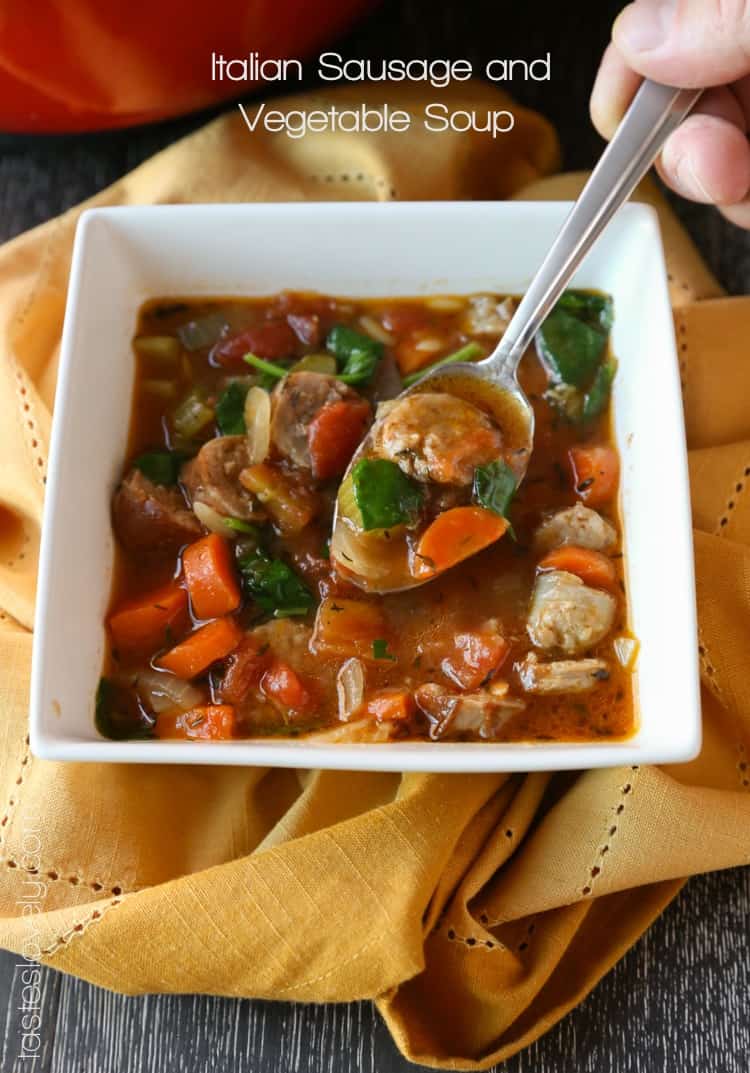 I like to think this is the soup that landed me my husband.
Sure we were high school sweethearts who had been dating since we were 17, and soul mates, and made for each other. But the winter I mastered this sausage soup was followed by the summer we got engaged. Coincidence?
We were talking on a rainy day in February 2011 when he said, "You know what I really want you to make? Sausage soup. It's my favorite." To which I replied, "Sausage soup? I've never even heard of sausage soup." How could his favorite soup be something I had never eaten?!
I had him describe this childhood favorite soup of his. "There's sausage, and zucchini, maybe carrots? It's in, like, a broth?"
I had my work cut out for me.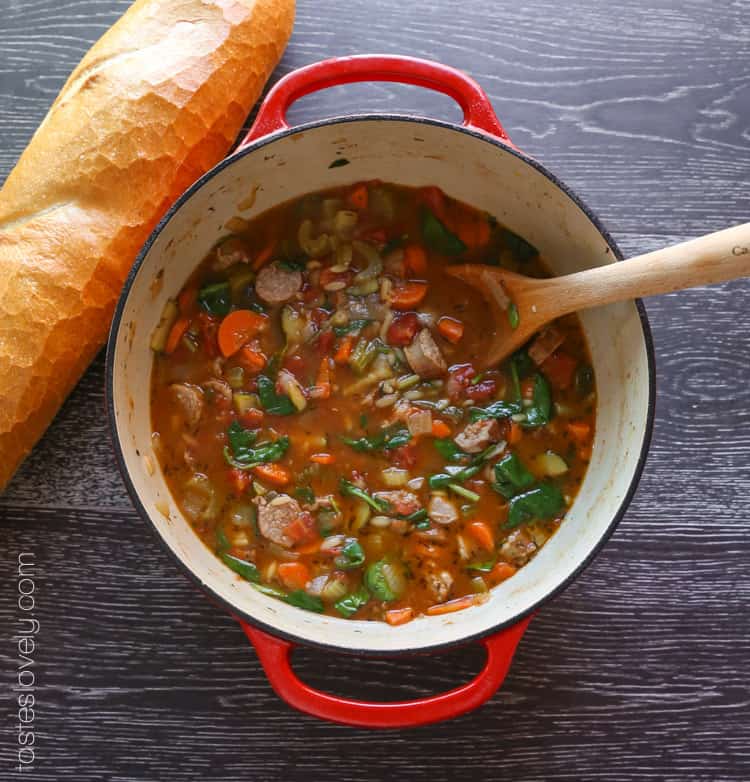 After some experimentation I created what I hoped was the perfect sausage soup.
I served it up to him, and watched as he took his first bite.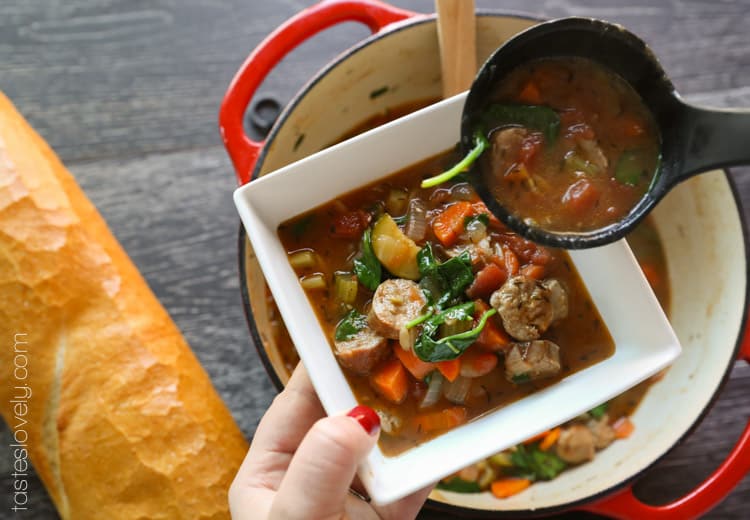 At first he was quiet, just for a moment.
Then he looked up at me and smiled.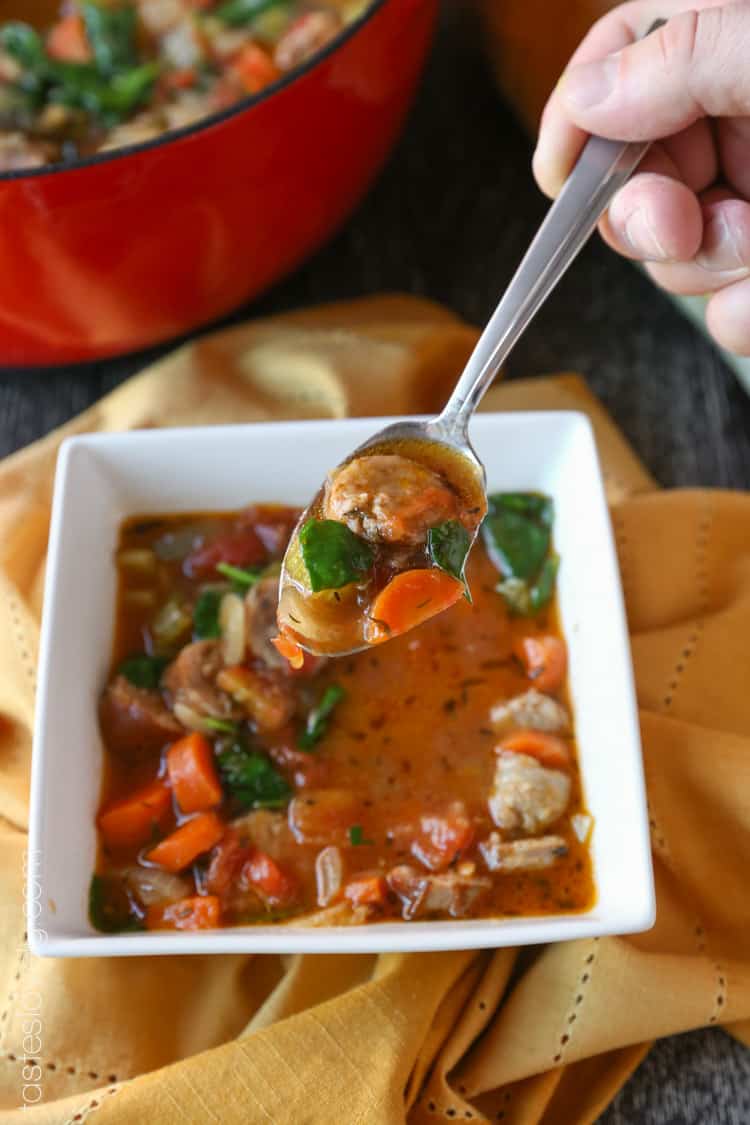 "Nat. This is the BEST sausage soup I have ever had! God I love you." I felt like I had just won Top Chef.
Then he asked, "Can I have more Parmesan on top?"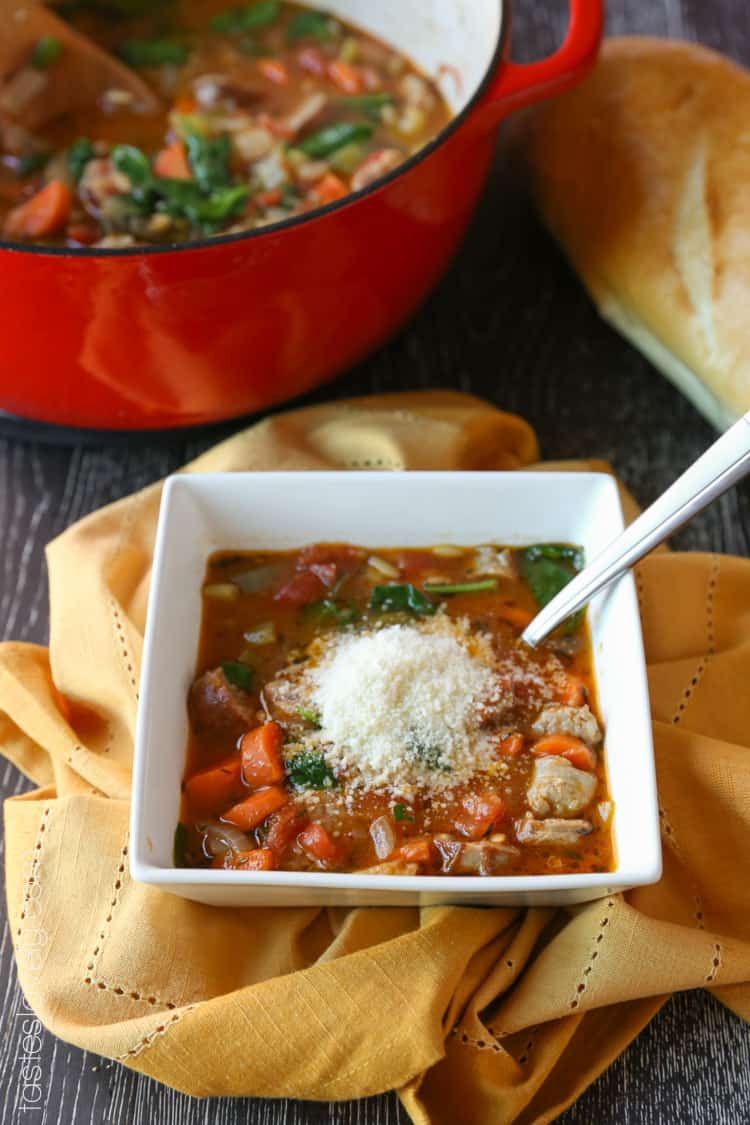 The man likes his cheese.
And 4 months later we were engaged.
So make this engagement worthy soup. Your man will love it.
Print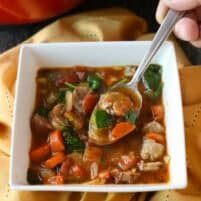 Italian Sausage and Vegetable Soup
---
Prep Time:

30 minutes

Cook Time:

1 hour

Total Time:

1 hour 30 minutes

Yield:

6

1

x
16 ounce

package of sweet Italian sausage

1 tablespoon

olive oil

2

large carrots cut in to 1/4″ thick half moons, about

1.5 cups

2

medium zucchini cut in to 1/4″ thick half moons, about

1.5 cups

4

celery stalks cut 1/4″ thick, about

1.5 cups

1

medium yellow onion chopped medium, about

1.5 cups

2

garlic cloves chopped fine

14.5 ounce

can diced tomatoes

32 ounces

chicken stock

1 tablespoon

thyme

1/4 cup

orzo pasta (optional)

2 cups

fresh spinach
Salt and pepper
Freshly grated Parmesan for topping (optional)
---
Instructions
1. In a heavy bottom pot, heat 1 tbs olive oil over medium high heat. Add in the whole sausages and brown the outside, about 5 minutes, turning every minute. Put the sausages aside on a plate.
2. In the oil, add in the carrots, zucchini, celery and onions. Add in 2 tsp salt and 2 tsp pepper. Cook over medium heat, scraping up any brown bits from the sausage on the bottom of the pot, and stirring occasionally. Cook until the onions turn translucent, about 10 minutes.
3. While the vegetables are cooking, slice the sausages a little more than 1/4″ thick. It is ok if they are still pink in the middle, they will continue cooking in the soup.
4. When the onions have turned translucent, and the vegetables have cooked through, add in the garlic and cook until fragrant, about 1 minute. Then add in the can of diced tomatoes, chicken stock, sliced sausages, and 1 tablespoon of thyme. Cook over low heat, uncovered, for 40 minutes.
5. After the soup has cooked for 40 minutes, add in 1/4 cup of orzo. Stir and continue cooking for 15 minutes, uncovered.
6. After the orzo has cooked for 15 minutes, add in 2 big handfuls of fresh spinach, stir to combine.
7. Taste to see if it needs more salt and pepper.
8. Take the soup off heat and allow to sit for 5 minutes. After the soup has rested for 5 minutes serve it topped with fresh Parmesan and warm bread.
9. Will keep in an air tight container for 1 week in the fridge. Can be frozen for up to 6 months.
Notes
This can be cooked in the slow cooker. After you have added in the can of diced tomatoes, chicken stock, sliced sausages, and 1 tablespoon of thyme transfer all of the liquid to a crock pot. Cook over low for 4 hours, or high for 2 hours. Add in the orzo 20 minutes before serving, and stir in the spinach 5 minutes before serving.
For gluten free and low carb, leave out orzo.
This soup is very forgiving and tastes better the longer it cooks. Feel free to leave it cooking on the stove over low heat for longer than 1 hour and your family can help themselves throughout the night.
Browning the sausage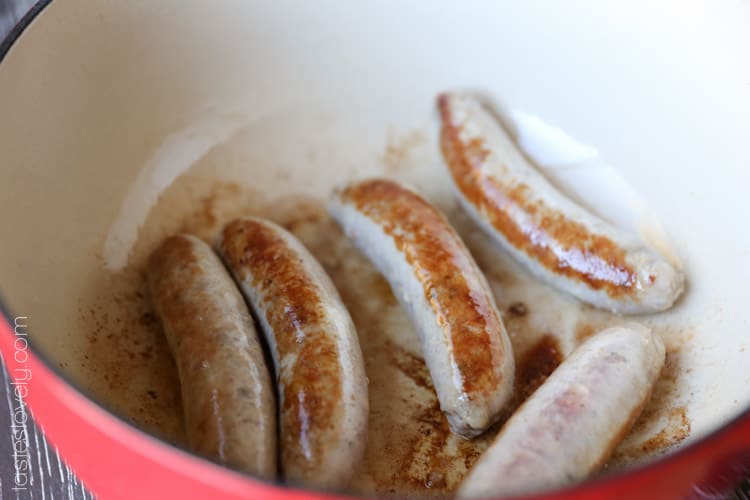 Chopped vegetables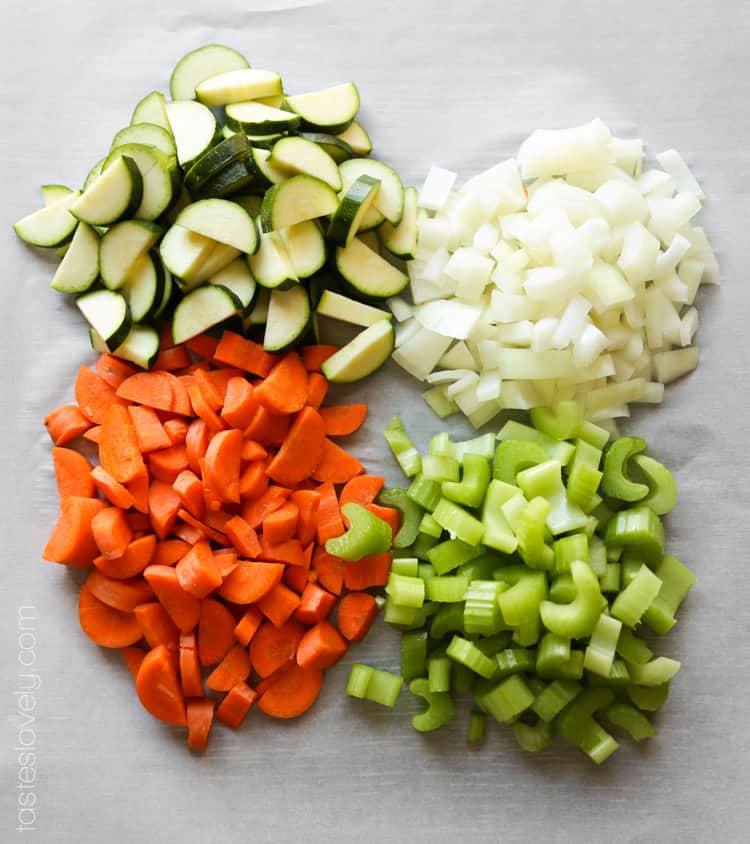 How the vegetables should look before you add in the tomatoes, broth and sliced sausage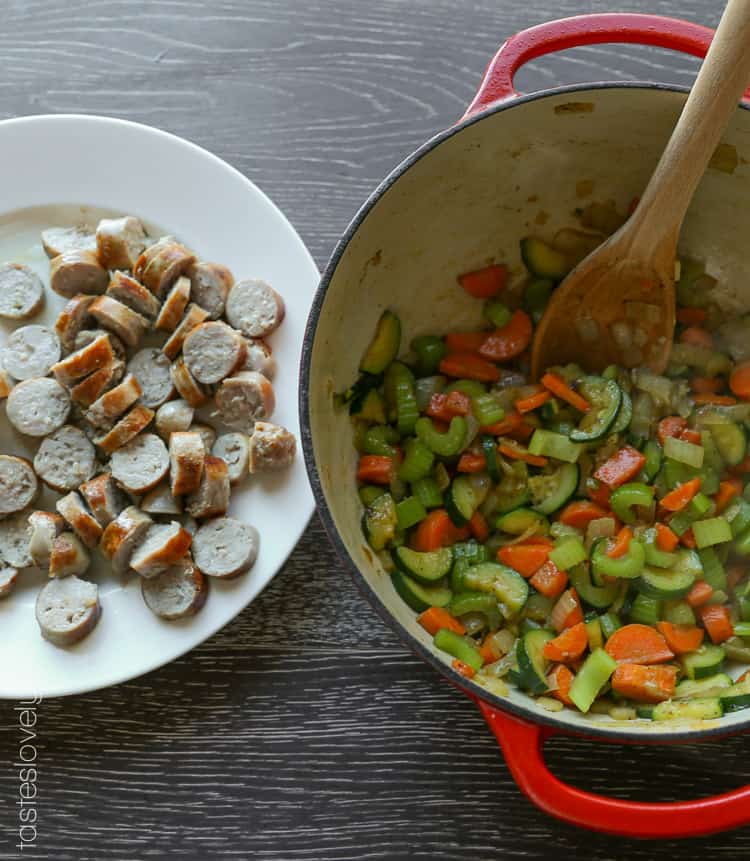 Adding in the sausages to broth and vegetables
This has now become my favorite soup too.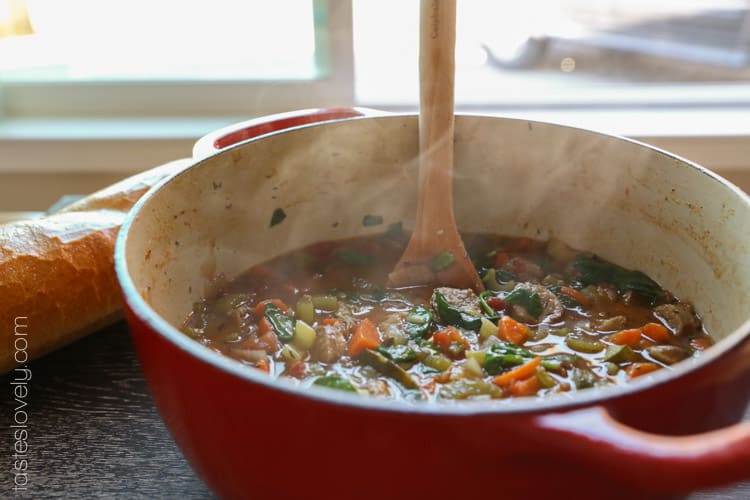 Never Miss a Recipe!
Get new posts delivered straight to your inbox! For free!