Easy Homemade Granola
We had an engagement shoot on Saturday with a fun couple who took us up to their families ranch. It was gorgeous! And we got a ton of great pictures of them. On our way home Shawn mentioned we should check ourselves for ticks since we spent so much time in the tall grass. I was tick free, but Shawn was not so lucky.
I found a tick crawling on his chest! He started screaming "Get it! Get it!" while I'm screaming "Hold still! Hold still!" I put a cup on his chest to trap the tick, then slid a piece of paper under it to trap it. I felt like we were in a crazy I Love Lucy episode.
Crisis averted.
The next morning while Shawn continued the tick hunt by checking our camera bag and shoes, I made us this easy homemade granola. I absolutely love this granola. It is extra crunchy thanks to lots of nuts that are full or protein and toasty rolled oats that are full of fiber. The granola is the perfect combination of salty with just a touch of sweetness from maple syrup.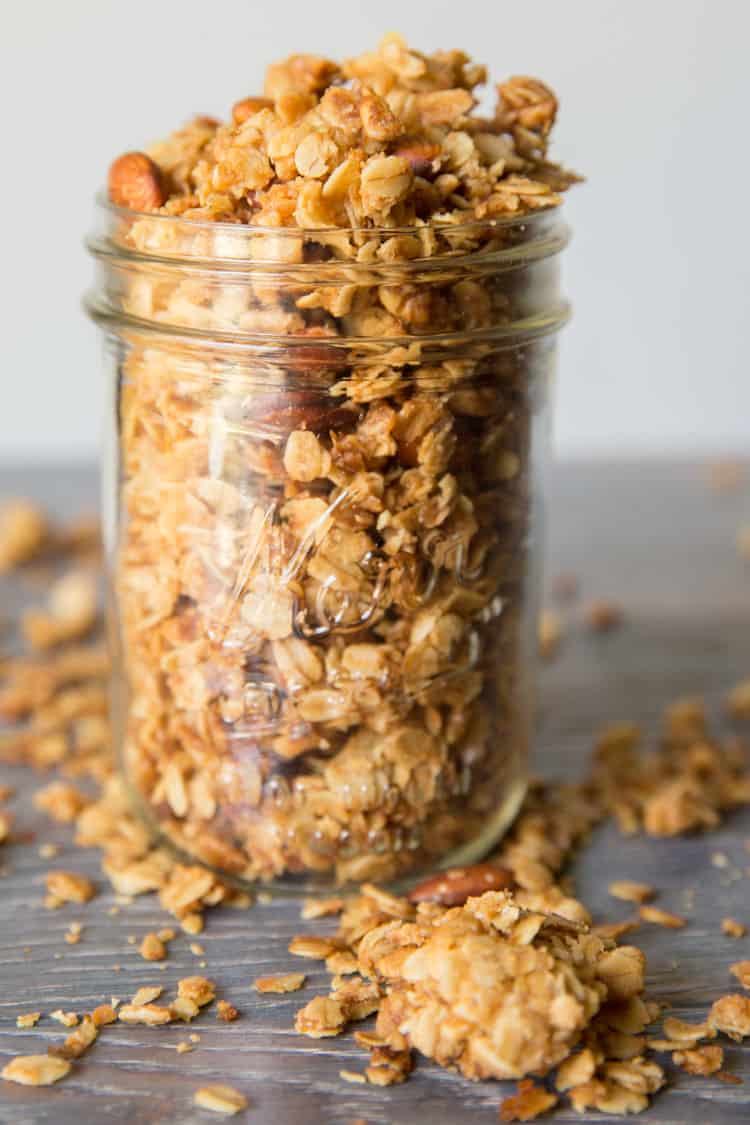 When I make this homemade granola I like to make at least a double batch so I always have lots on hand. It will keep for 3 months in an airtight container, and goes with just about anything. I love sprinkling the granola on yogurt with fruit for breakfast, adding it to ice cream for a crunch topping, or just eating it plain by the handful.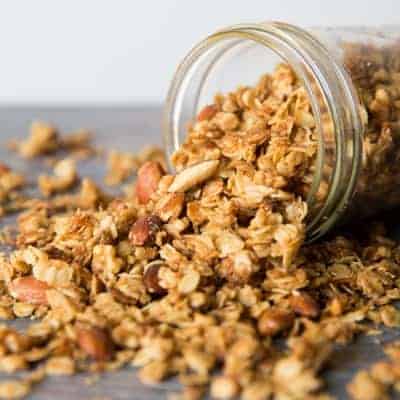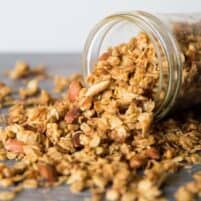 Easy Homemade Granola
An easy homemade granola recipe using oats, nuts and maple syrup.
Ingredients
1/2

cup

coarsely chopped walnuts

1/2

cup

dry roasted almonds

1/4

cup

shelled sunflower seeds

3

cups

rolled old-fashioned oats

1/4

cup

all purpose flour

1/4

teaspoon

salt

1/2

cup

canola oil

1/2

cup

pure maple syrup
Instructions
Preheat oven to 350 degrees.

In a large mixing bowl, mix all the dry ingredients together. Stir in the canola oil and maple syrup and toss until everything is evenly coated.

Line a baking sheet with parchment paper or a silpat. Spread the granola out evenly on the baking sheet and bake for 30 minutes, stirring gently every 10 minutes. Will keep for 3 months in an airtight container.
Calories:
548
,
Total Carbs:
55.5
g
,
Protein:
10.5
g
,
Fat:
34.9
g
,
Fiber:
7.4
g
,
Net Carbs:
48
g
Did you make this recipe?
Please Leave a comment and give this recipe a rating!