Peanut Butter and Jelly Cookies
I work customer service for an online retail store that sells switch plates and wall switches. You know when there is a phone number on a website to call if you have questions or want to place an order? I'm that girl on the other end of the line answering the phone.
You would never guess it looking at this 28 year old blonde California girl, but I can answer just about any question you have about switch plates or switches. Not exactly the most useful knowledge, but I work in the front office with my mom and sister and it is just about the most fun ever.
I take calls from people calling from all over the country, and I'm often wondering who they are and what they look like.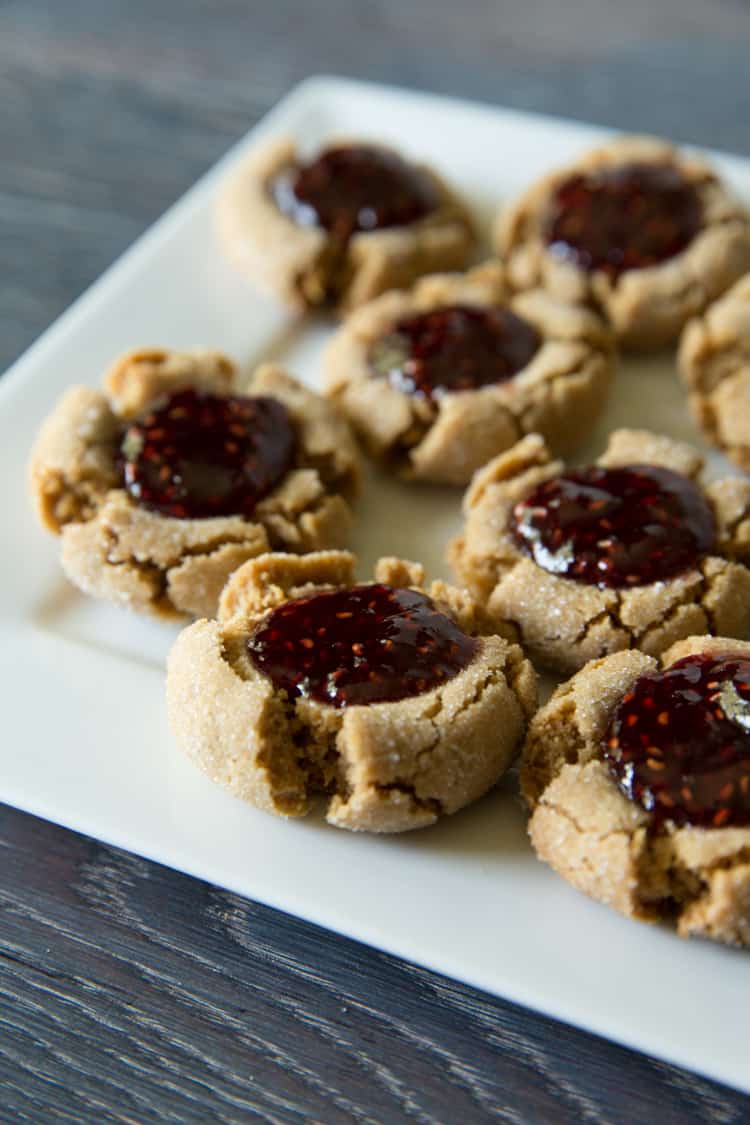 Sometimes they call with silly questions. "I want this switch plate you have, but it's pictured with the toggle switch on the left and the outlet on the right. I need mine to be the opposite of that." I've gotten asked this questions about 1,000 times, and my answer is always the same, "Then you'll just rotate the plate to get that layout. Depending on how you're holding the plate, the outlet can be on the right or the left." The customer usually feels silly then and goes, "Oh ya…I sure feel dumb."
Sometimes they're in a bad mood and not very nice on the phone and say mean things. During these types of calls I have to remind myself that this person is just having a bad day, and this has nothing to do with me. Makes it easier not to let it affect me. I am now the master of letting negative things like that just roll right off me. The saying "You attract more bees with honey than vinegar" is very true. If you call and are very nice and sweet, I'll do everything in my power to help you. If you you're nasty…not so much.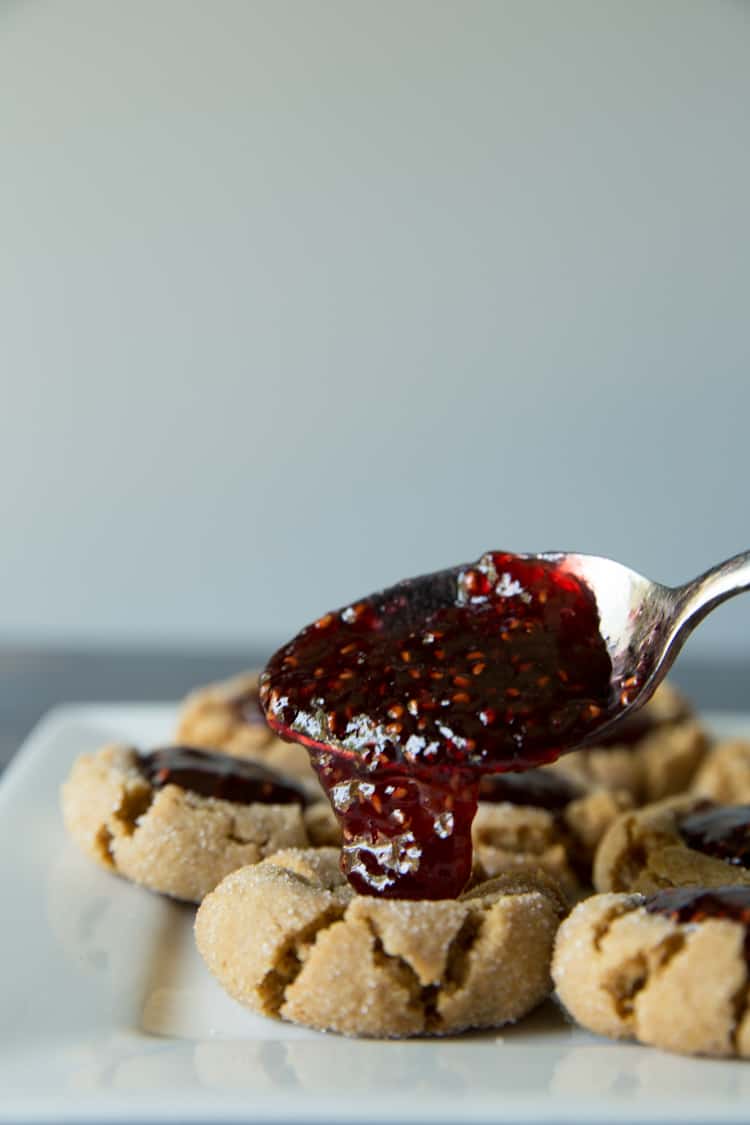 My favorite is when I get a calls from nice old men from the south. They'll ask me about my day, and tell me about theirs. And they always want to know what the weather is like here in California, and then go on to tell me what the weather is like where he lives. I'll think about how finding this switch plate was on this mans to do list for the day, with probably only 1 or 2 other things, and he has all the time in the world to chit chat.
The opposite is true when I talk to people on the west coast. They're very concise and quick on the phone, can ask their question in 2 sentences or less, then pop right back off the phone. Now those are people with long to do lists.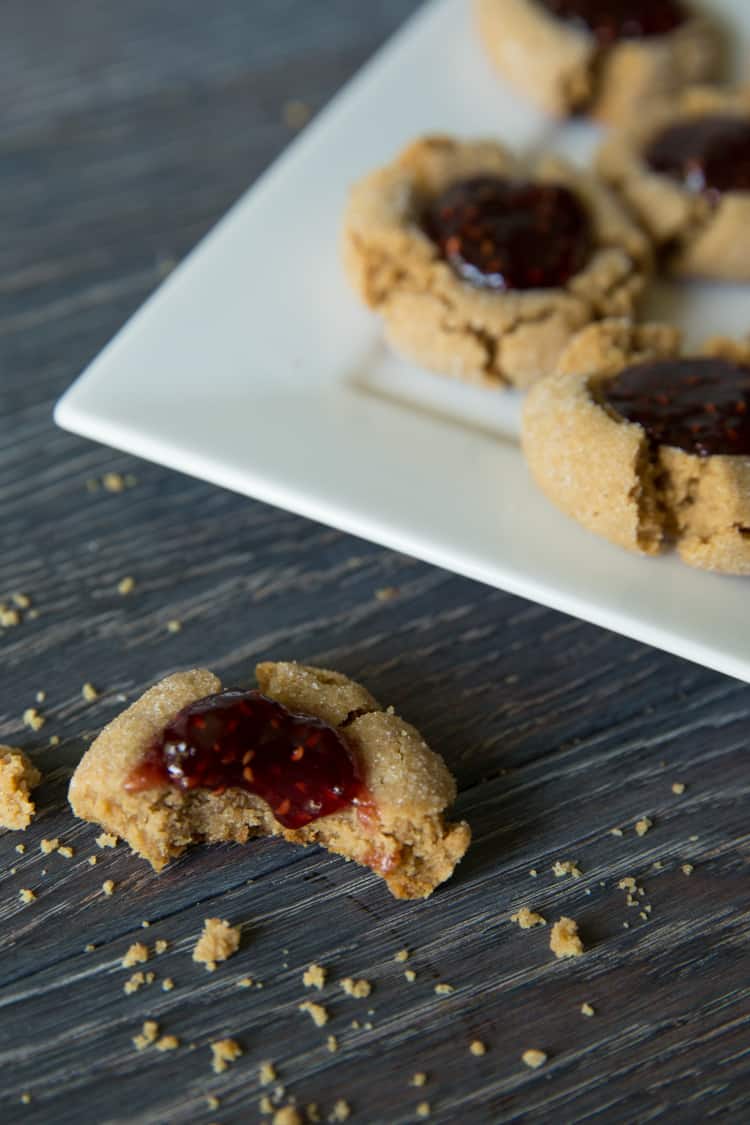 While people from different parts of the country have different phone mannerisms, one thing we all have in common is our nationwide love of peanut butter and jelly.
These peanut butter and jelly cookies are the perfect combination of salty and sweet. If you love peanut butter and jelly sandwiches, just wait until you try peanut butter and jelly cookies. It's your favorite childhood lunch in cookie form.
The peanut butter and jelly cookies are rolled in sugar, baked half way, then taken out and given a thumbprint indentation right in the middle, baked until crispy and golden brown, then filled with your favorite jelly. I used raspberry, but you could use any jelly you have on hand.
Treat yourself to at least 2 peanut butter and jelly cookies, along with a glass of milk.
And be nice to your customer service person on the phone, *wink*.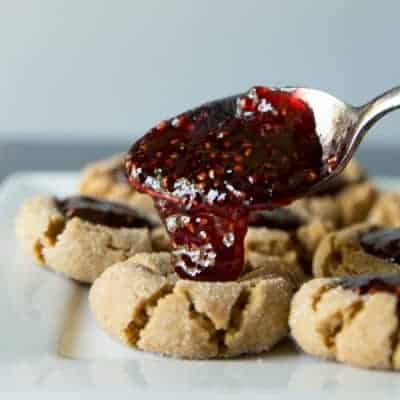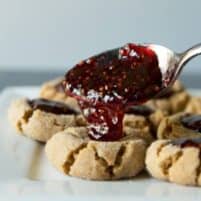 Peanut Butter and Jelly Cookies
These thumbprint peanut butter cookies are filled with raspberry jelly. The yummiest combo of peanut butter and jelly!
Ingredients
1-1/4

cups

all purpose flour

1/2

teaspoon

baking powder

1/2

teaspoon

baking soda

1/2

teaspoon

salt

3/4

cup

smooth peanut butter*

1

stick unsalted butter

,

softened

1/3

cup

packed light brown sugar

1/3

cup

granulated sugar

,

plus more for rolling

1

large egg

1

teaspoon

pure vanilla extract

1/2

cup

jam
Instructions
Preheat oven to 350 degrees. In a large mixing bowl, whisk together flour, baking powder, baking soda, and salt. Set aside.

In a stand mixer or large mixing bowl with a hand mixer, beat the peanut butter and butter at medium speed until smooth. Add sugars, and beat until fluffy. Add egg and vanilla, and beat until combined. Reduce speed to low, then add dry ingredients, and mix until just combined.

Scoop level tablespoons of dough, roll into balls, then roll each ball in granulated sugar. Arrange the cookies 2 inches apart on parchment lined baking sheets.

Bake for 10 minutes, then remove the under baked cookies from oven to make an indentation in centers by pressing with the handle end of a wooden spoon. Return to oven, and bake until edges are golden, 6 to 7 minutes more. Transfer sheets to wire racks, and let cool completely.

In a small microwave safe bowl, microwave the jam on high for 45 seconds, or until loosened and easy to spoon. Spoon 1/2 teaspoon of jam into each cookie indentation.

Will keep in an airtight container for 1 week.
Notes
*I prefer baking with Skippy peanut butter, rather than natural style peanut butters where the oil separates.
Calories:
92
,
Total Carbs:
10.8
g
,
Protein:
1.8
g
,
Fat:
4.9
g
,
Fiber:
0.4
g
,
Net Carbs:
10
g
Did you make this recipe?
Please Leave a comment and give this recipe a rating!