Favorite Non-Toxic Bakeware
My favorite non-toxic bakeware items I use in the kitchen. Avoid toxins and chemicals leaching out into your food from unhealthy non-stick coatings and instead use safer, toxic free stainless steel, glass and silicone baking dishes.
If you're new here and new to toxic free living, start with this post: Why I Made My Home Toxic Free + How I Did It!
Along with eating clean ingredients, I also like baking on clean and toxic free baking dishes. The chemicals in teflon non-stick bakeware are extremely bad for you.
Choose the safer, healthier route and bake on stainless steel, silicone and glass.
Toxic Free Bakeware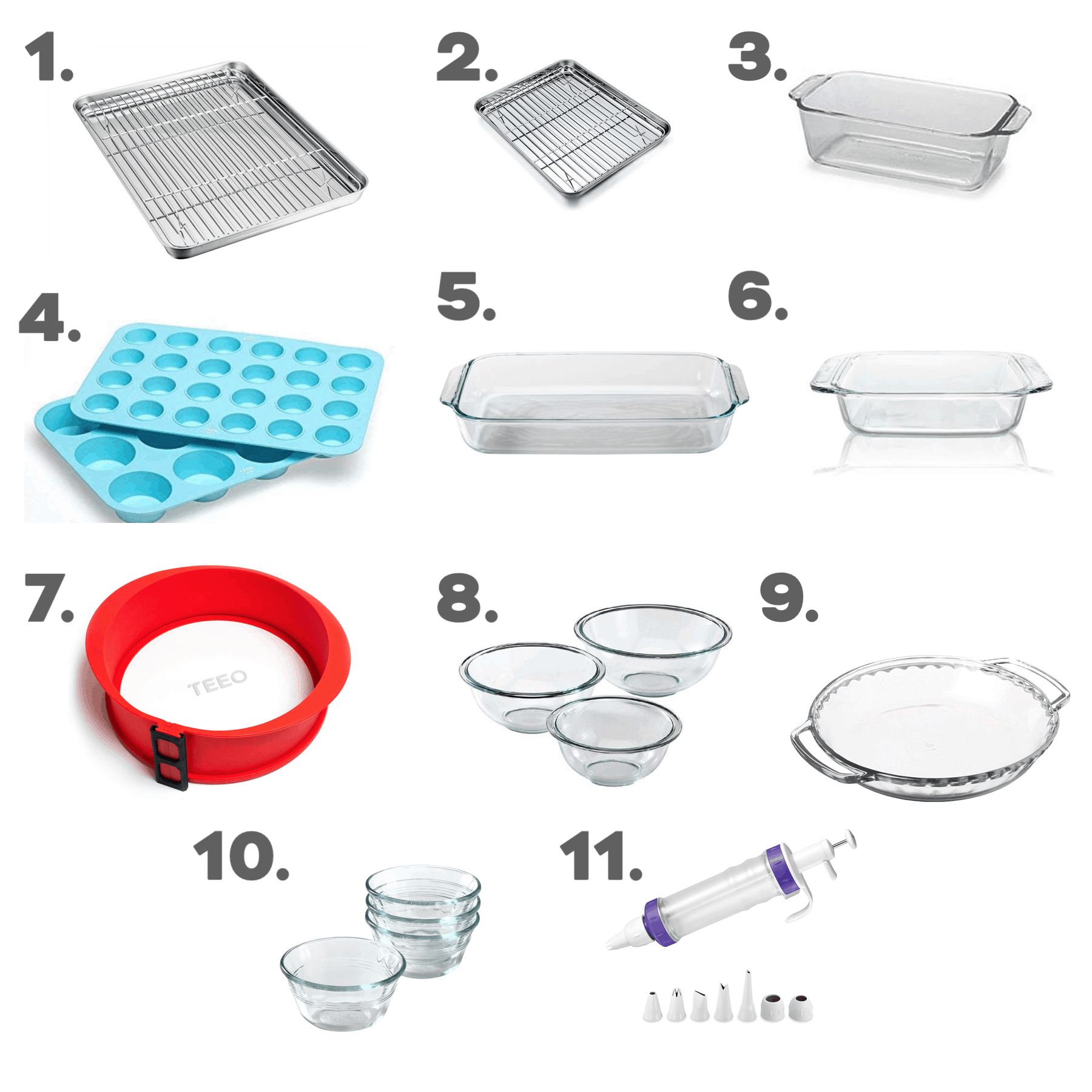 Stainless Steel Half Sheet Baking Sheet with Cooling Rack: I use these non-toxic stainless steel baking sheets to roast vegetables and also to bake cookies. They come with a non-toxic stainless steel cooling rack/baking sheet that is great for kale chips and roasting meat!
Stainless Steel Rimmed Quarter Baking Sheet with Cooling Rack: When I'm roasting smaller batches of vegetables and making a small batch of cookies, I like using these quarter sheets.
Glass Loaf Pan: A glass loaf pan is such an easy swap for nonstick. I use this to make meatloaf, and also baked breads.
Silicone Muffin and Mini Muffin Pan: I love using silicone muffin pans even more since they're flexible and you can easily remove the muffins. No need for muffin liners! Just be sure to put them on a rimmed baking sheet before filling and baking. They are super flexible and your batter will pour out with a sturdy bottom.
Glass 9×13 Baking Dish: Perfect for casseroles or sheet pan cakes!
Glass 8×8 Baking Dish: Use for smaller casseroles or brownies or square cakes!
Silicone Spring Form + Cake Pan: These are perfect for your springform pan needs! A glass bottom, and a silicon ring.
Glass Mixing Bowls: My very favorite mixing bowls. They stack inside each other for easy storage.
Glass Pie Dish: Glass if 100% safe for baking, perfect for pies!
6-Ounce Glass Custard Cups: I love these for small batch desserts, or my lava cakes!
Cake Decorating Tool: Easiest way to pipe a pretty border on your cake.
This post contains affiliate links, thanks for the love!