Five Things for Friday
1. Nothing like summer dinners outside with some great girlfriends! Shawn left yesterday morning for his brothers bachelor party, so I am taking the opportunity to have some fun girl time. I had dinner with my friends Ashley and Amy last night, and tonight I'm headed up for a night away in the wine country for a girlfriends bachelorette party. Can't wait!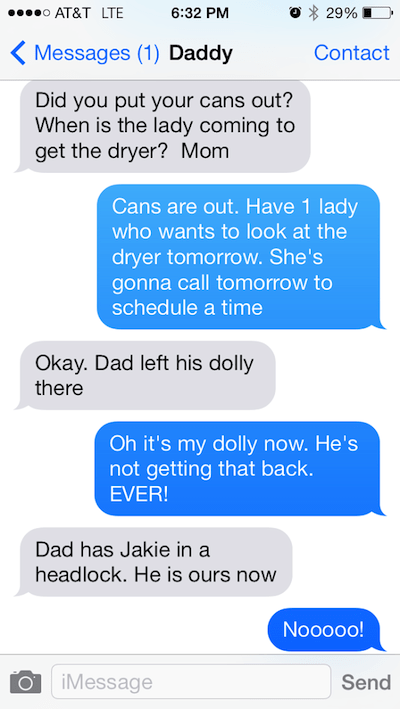 2. I cannot TELL you how excited I am that this week is over! I've been dreading this week for a while. We filmed a wedding all day Saturday. Sunday the tenants of our townhouse moved out so we had to head over there and do a final walk thru, and tried not to panic because they left it extremely messy. The whole rest of the week was spent going to work all day, then heading to the townhouse after work painting, cleaning and getting it ready for the new tenants before Shawn left for his brothers bachelor party on Thursday. But we did it! We could not have gotten it done without the help of my parents, Nicole and Ken, who all came over and helped us everyday. We actually all had a ton of fun working together, and were laughing the whole time. I was especially cracking up about the above text exchange between my parents and I. Poor Jakey dog being in a headlock! Just kidding, just kidding : )
Now the place is spic and span, and we handed over the keys to the new tenants last night. I'm exhausted, and haven't cooked dinner in over a week. After the wedding we film this Saturday, I just know Shawn and I are both going to slip into a coma on Sunday. Please send us coffee. And some kind of time manipulation machine that can give us more days in the week.
3. Shawn has made the COOLEST setup for me to film ceremonies at weddings! There's a tripod holding up the DSLR camera (my arms are very grateful for this), and the DSLR is hooked up to a tablet that functions as a monitor so it is super easy for me to get the shot perfectly in focus. Plus, the tripod has a really great "arm" that I can move left to right to get smooth shots of them walking down the aisle.  I'm always stationary on the bride, and Shawn moves around constantly getting cool new angles. Can you spot him way over on the left, standing up, with the dark blue button up shirt? There's my fella!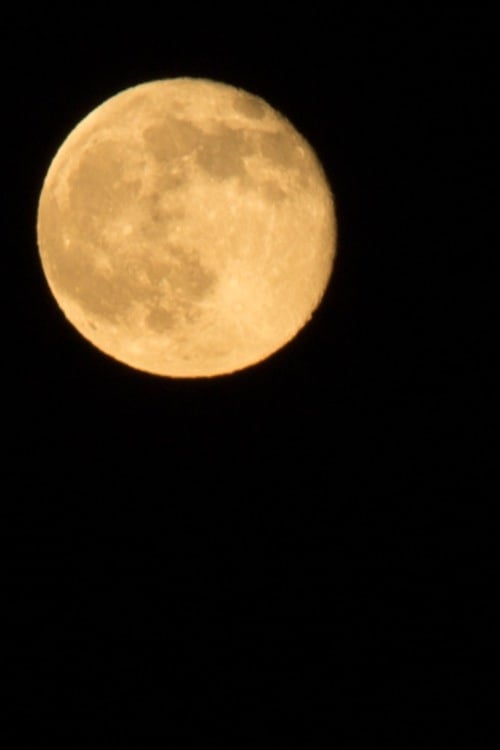 4. Did you guys see the awesome full moon last Friday? Here near San Francisco, we had the most spectacular yellow moon Friday night. Shawn and I had just received what we affectionately call our "big boy" lens, aka our new favorite 70-200mm lens, and it was the perfect time to try it out. I promise you this is the raw file, I did no color editing, I just cropped it to get closer, that was the real color of the moon. Isn't it beautiful!? (If you're a photo nerd, this is taken on a tripod at 200mm, ISO 100, F/14, shutter speed 1/13)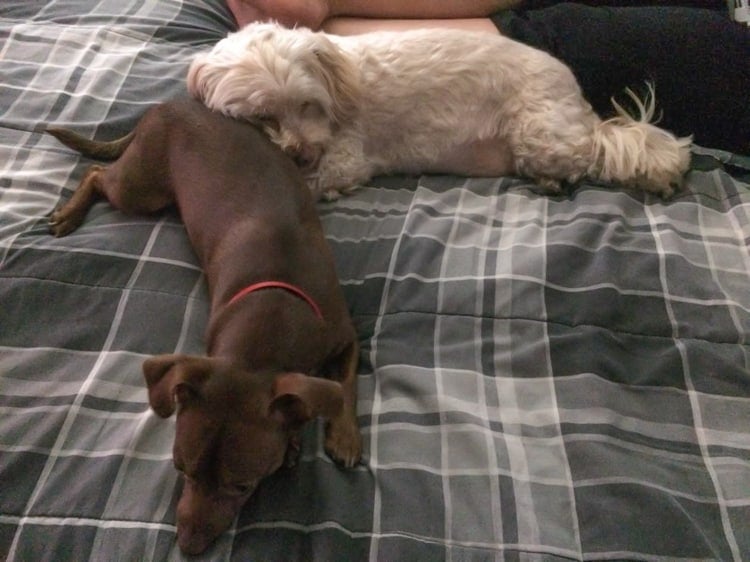 5. Anytime I see my dogs cuddling, it makes my soul smile so big. Lou thinks Max's rump makes a pretty comfy pillow. Cuties!