Grilled Bread with Rosemary Dipping Oil
This is a post full of firsts!
This is the first recipe that was cooked and photographed at our new house! After a week of moving, unpacking, painting, 5 trips to Home Depot, and building more Ikea furniture than I thought possible, we're now fully moved in! *happy dance*
Moving is a lot more work than I thought. And we only moved 8 minutes away!
I can't tell you how much I love our new little home. It's a small 1 bedroom house, but it is on a ranch surrounded by acres of open space. It feels like we're camping every day. It so peaceful to be surrounded by trees and animals. So far we have seen deer, a pack of turkeys that walk by most mornings and evenings, squirrels, and my mom even saw wild pigs! We hear cows mooing off in the distance every now and then.
Can't wait to show you guys once it's finished. There's a fun little video in the works : )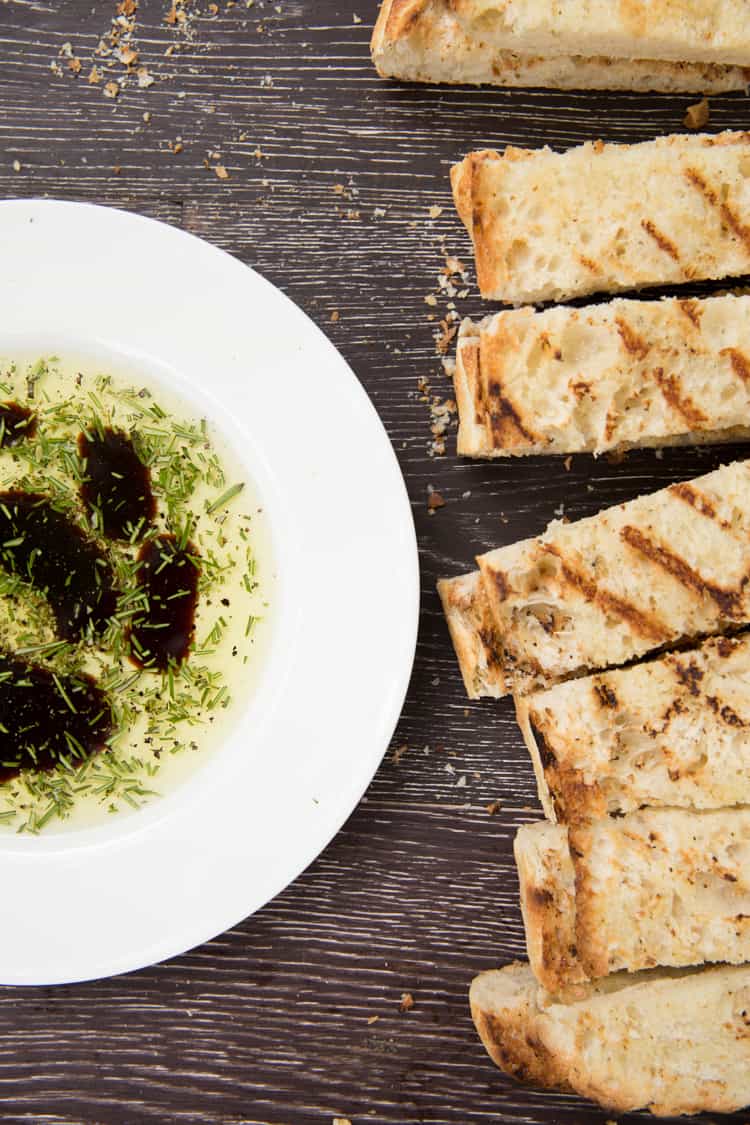 This is also the first post published from our new house now that it is finally hooked up to wifi. After a week (yes, a whole week!) of waiting, we got internet on Friday. Doing all internet things on your iPhone is pretty tricky. Don't worry, I was still able to order a few essentials off Amazon from my tiny iPhone screen, *wink*
And now for the funnest first for Tastes Lovely…my first recipe video!
With our new house comes a huge backyard with lots of light that makes recipe videos possible!
I've been wanting to make recipe videos for-ev-er. I mean, hello, we own a videography business. I love "storytelling" thru film, and I hope it will be helpful to all you home cooks who learn visually and do better with a little more instruction. Or maybe you aren't a very experienced cook, and seeing how easy and approachable my recipes are you will have the confidence to make the recipe for your family.
I can take almost no credit for this video. This is all thanks to Shawn. He shot a majority of it while I did the cooking, then he edited the entire video in less than 30 minutes. Couldn't have done it without him. He's a pro at this.
Without further ado…
This grilled bread with rosemary dipping oil is simply amazing. You must grill your bread! The sliced bread is drizzled with olive oil, then grilled on high for just a few minutes. While it's still warm, you rub the grilled side with raw garlic. The garlic just melts away and packs it with a light garlic flavor.
No grilled bread is complete without dipping oil. I love adding fresh herbs to my dipping oil, especially rosemary.
This grilled bread with rosemary dipping oil is the perfect summer appetizer or side dish.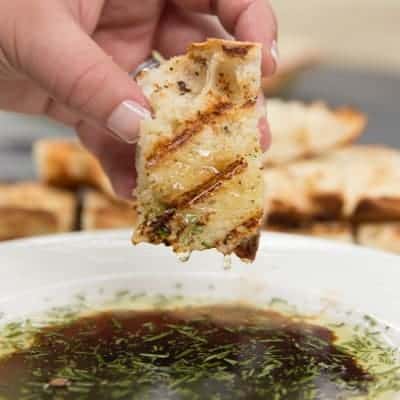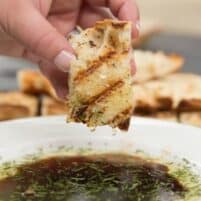 Grilled Bread with Rosemary Dipping Oil
This grilled bread is served with an herb flavored balsamic and olive oil dip.
Ingredients
1

baguette loaf

,

sliced in half horizontally

olive oil

2

cloves

of garlic
Rosemary Dipping Oil
1/4

olive oil

1-2

tablespoons

balsamic vinegar

1

tablespoon

chopped fresh rosemary

pinch

of salt and pepper
Instructions
Heat your grill on high heat for 5 minutes. Drizzle the cut side of your bread with olive oil. The actual amount you will need will depend on the size of your bread. On the bread I used, it was about 1 tablespoon per side.

Place the bread cut side down on the hot grill and cook for about 4 minutes, or until desired doneness. Flip and grill for another 2 minutes. Remove from heat, and rub with raw garlic clove while still hot. The garlic clove will slowly melt into the bread. You only use about half a clove per side.

Make the dipping oil by combining the olive oil, rosemary, salt and pepper. Stir to combine. Drizzle with balsamic.

Cut the grilled bread into 2" thick slices, serve with the rosemary dipping oil.
Calories:
279
,
Total Carbs:
30.6
g
,
Protein:
6.4
g
,
Fat:
16.1
g
,
Fiber:
2.1
g
,
Net Carbs:
29
g
Did you make this recipe?
Please Leave a comment and give this recipe a rating!