Peach and Burrata Arugula Salad
Hi, I'm Natalie, and I'm now obsessed with doing laundry.
Our new house had a washer and dryer hookup, but no washer and dryer. I originally thought we would buy an old, used set off Craigslist. We could keep it simple. But then my dad mentioned how much we would save on our electricity bill in the long run if we bought an energy efficient front loading washer and dryer. Plus, we will most likely be using this set for years and years to come.
A little seed was planted.
Must. Get. Front. Loading. Washer. And. Dryer.
It would be so much prettier in the open hallway where the washer and dryer go that I walk past about 20 times a day. Of course when begging Shawn I only touted the benefits of getting energy efficient. Luckily it didn't take much convincing after seeing that Home Depot had an LG set on sale 30% off for 4th of July weekend.
Off to Home Depot we went, after a day of painting and building Ikea furniture. We we're a hot mess. Not hot as in attractive, hot as in sweaty. We were a sweaty mess. But so is everyone else at Home Depot at 7pm on Saturday night. We fit right in, paint stains on our shirt and all.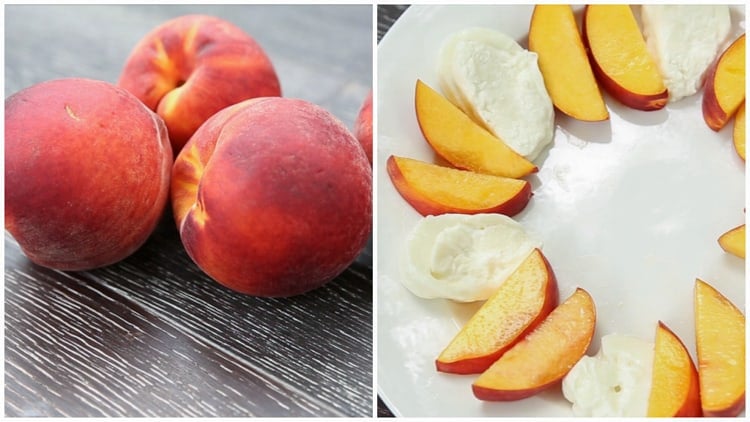 Our oh-so-pretty washer and dryer set got delivered and it's like Christmas! I'm having so much turning the knobs, and selecting the exact settings I need. "Water temp? Warm. Spin Speed? Let's go with Medium. Soil Level? These aren't too dirty, better go with Normal."
I'm looking for any excuse to do laundry.
"Whoops, spilled a little water on this shirt. Better wash it!"
"Uh oh, I think there's some dirt on these jeans. Off to the washer they go!"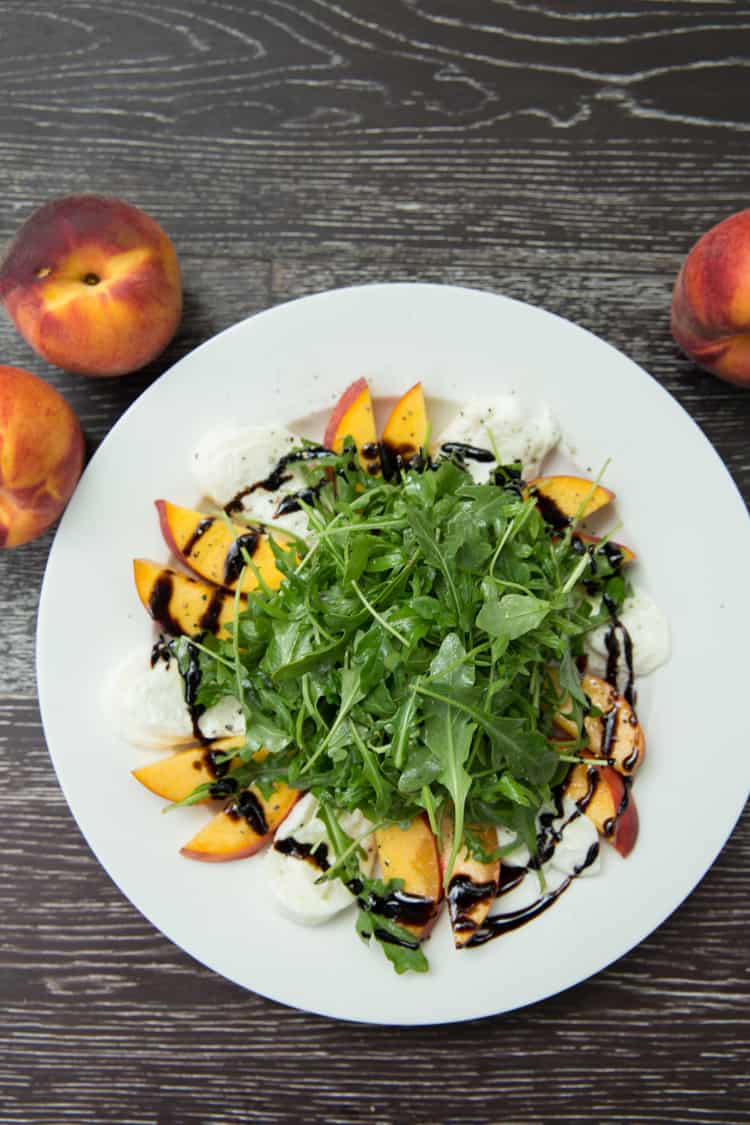 Thank goodness peaches are in season, those juicy peaches are packed full of juice that will surely drip all over my clothes. Hurray for more laundry!
Besides featuring my favorite fruit of the summer, this peach and burrata arugula salad features my new favorite cheese: burrata.
Oh burrata, how have I never had you until this year? It is like a creamier, velvetier version of fresh mozzarella cheese. The outside is firm like mozarella, but the inside is so soft and spreadable. It's amazing.
You are going to want to make this peach and burrata arugula salad all summer long. The sweet peaches with the creamy burrata mixed with the peppery arugula. It is flavor heaven in your mouth.
When you make this peach and burrata arugula salad, I am going to have to insist you also make the grilled bread with rosemary dipping oil. The 2 pair perfectly together with a glass of chardonnay, a warm summer night, and Ben Rector playing on Spotify. At least that is how Shawn and I enjoyed this peach and burrata arugula salad the last 2 times I made it, *wink*.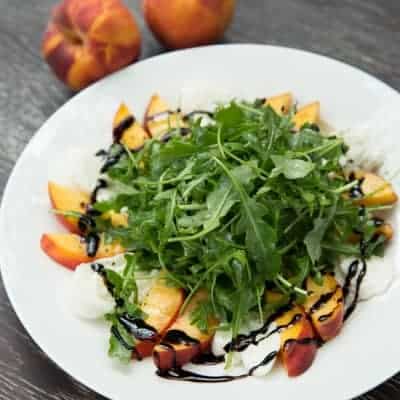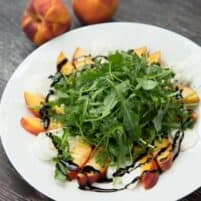 Peach and Burrata Arugula Salad
This summery salad is made with fresh peach and burrata cheese, and served with an arugula salad tossed in balsamic vinaigrette.
Ingredients
3

peaches

,

sliced along the pit, then sliced into 1/2" thick half moons

8

ounces

burrata

,

removed from water, water lightly drained and squeezed out with a paper towel, then cut into 1/3" thick slices

6

ounces

arugula

2

tablespoons

balsamic glaze

,

store bought (Trader Joe's has it!)

2

tablespoon

olive oil

salt and pepper
Arugula Salad Dressing
2

tablespoons

olive oil

1

teaspoon

dijon mustard

1

teaspoon

balsamic vinegar

1

teaspoon

honey

pinch

of salt & pepper
Instructions
On 2 plates, arrange the peaches and burrata along the outer edges, leaving the center open.

In a large bowl, make the salad dressing by combining all ingredients and whisking to combine. Add in the arugula, and toss to coat all the arugula.

Add the dressed arugula to the center of the plates of peach and burrata. On each plate, drizzle 1 tablespoon olive oil and 1 tablespoon balsamic glaze on the peaches and burrata. Sprinkle the peaches and burrata with a pinch of salt and pepper.
Notes
If you can't find burrata, you could substitute fresh mozzarella cheese.
Calories:
364
,
Total Carbs:
28.6
g
,
Protein:
2.6
g
,
Fat:
29
g
,
Fiber:
3.7
g
,
Net Carbs:
25
g
Did you make this recipe?
Please Leave a comment and give this recipe a rating!