Orange Almond Salad with Avocado
Orange Almond Salad with Avocado – romaine salad tossed with an orange balsamic vinaigrette. My favorite lunch salad! Also a great dinner starter salad. Eat a whole bowl guilt free since it's paleo, Whole30, vegan, gluten free and low carb!
Shawn was working out of town all last week. He got a last minute wiring job that was about 2.5 hours away, and they were so desperate for workers that they offered to put him in a hotel for the week as incentive. So rather than commuting for 5 hours a day, he stayed in a hotel. This is the longest we'd been apart since college and I sure did miss the guy!
The first night, I was so scared to go to bed by myself. Every little creak and crack sounded like a murderer trying to break in. I don't think I fell asleep until after midnight. The bed sure felt lonely without him.
I also began to appreciate how much he does around the house. Normally he takes the trash cans out on garbage day, refills our Alhambra water dispenser when the jug is empty, waters the plants, gets the mail, he even fills up my water bottle before bed time. With him out of town, I sure did have a lot of extra "around the house" chores.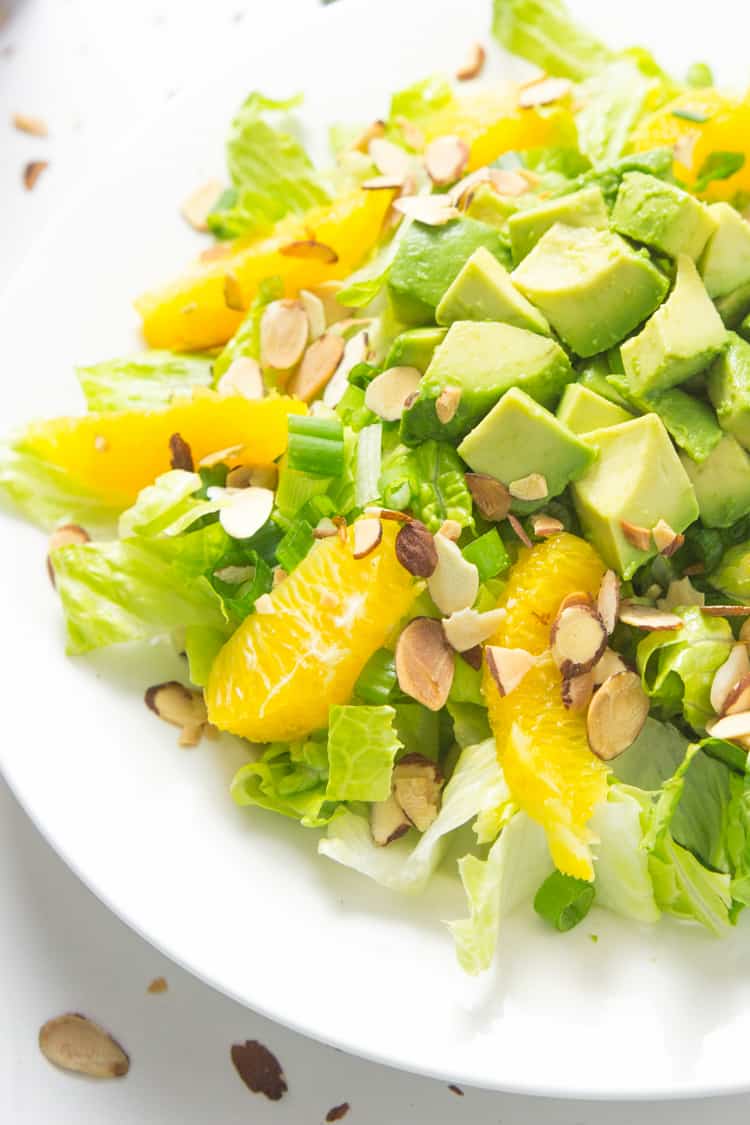 But the best chore that Shawn does is prepping our lunch salads for the week on Sundays while I write my Monday blog post. But he was gone, so I had to scramble each morning to think of what to bring for lunch. Which really means I just ate out at Panera everyday for lunch. My wallet was not happy with me at the end of the week. It's much better to make salads at home.
I am a big fan of the salad in a mason jar, and thanks to our vacuum sealer that we got as a wedding present, and this mason jar attachment, we can make 5 days worth of lunch salads that will stay fresh until they're opened. I think Shawn loves volunteering for the job because he has so much fun using the vacuum sealer. Ladies, give a guy a machine, and he will chop salads for you.
My very favorite salad to make for our mason jar salads is this orange almond salad with avocado. I have seriously had this salad for lunch for about 1 month, and I'm still not sick of it. It's that good. The flavors are amazing. Bright citrus from the orange, creamy avocado, nutty bite from the
almonds
, and a little kick from the green onions. It is tossed in an orange balsamic vinaigrette, which is my current favorite salad dressing. While this orange almond salad with avocado is light, it is still plenty filling for lunch or dinner. It's also a favorite to serve as a starter salad for a dinner party.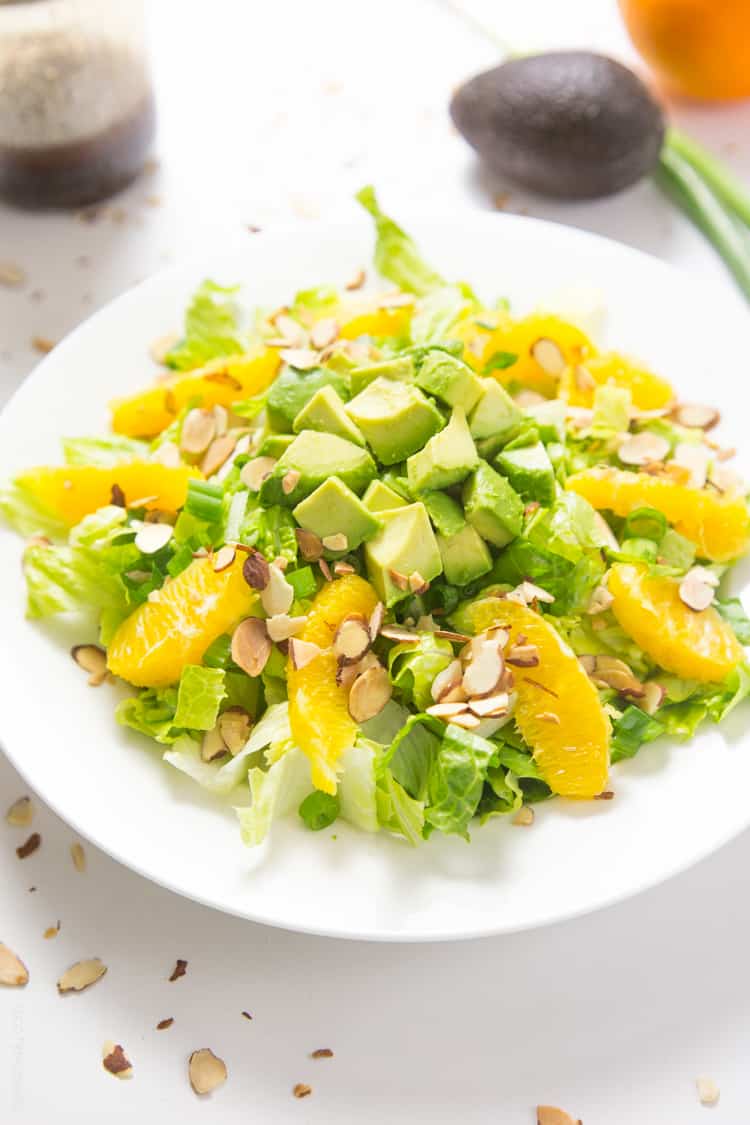 When I make this orange almond salad with avocado for lunch I'll add in some grilled chicken breast for added protein, but this salad is still delicious without any meat. Great way to keep it vegan!
If you want to make this in a mason jar layer it: orange segments, chicken, romaine lettuce, green onions and then wrap the almonds in a saran wrap pouch for the top so they stay crunchy. I bring the salads in a jar, whole avocados, and the dressing in a different mason jar. When it's lunch time I dump it all in a bowl, cut up the avocado, and top it with the dressing. Delicious!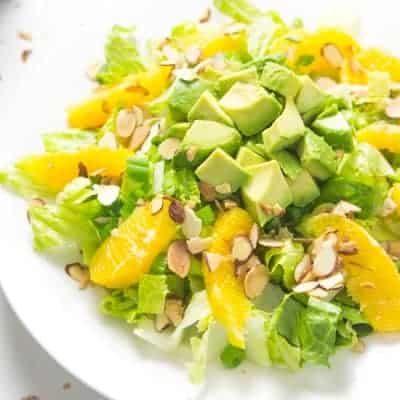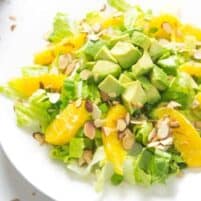 Orange Almond Salad with Avocado
Romaine salad tossed with an orange balsamic vinaigrette. My favorite lunch salad! Also a great dinner starter salad. Eat a whole bowl guilt free!
Ingredients
Salad
1

head romaine lettuce

,

washed and chopped

1

orange cut into segments*

,

save the carcass juice for the dressing

2

green onions

,

chopped

1

small avocado

,

sliced

1/4

cup

roasted sliced almonds

cooked chicken**

,

optional
Orange Balsamic Dressing
1/4

cup

olive oil

2

tablespoons

balsamic vinegar

1

teaspoon

dijon mustard

Juice from the segmented orange carcass

,

squeezed

Pinch

of salt and pepper
Instructions
In a mason jar or small mixing bowl, combine all the dressing ingredients and stir to combine.

In a large, combine all the salad ingredients. Top with desired amount of dressing and toss to combine. Serve.
Notes
*watch the recipe video to see how to segment an orange
**for a starter salad, l don't include chicken. But if making this for dinner or lunch, I love to grill up a chicken breast or use leftover rotisserie chicken.
Calories:
523
,
Total Carbs:
30.3
g
,
Protein:
12.5
g
,
Fat:
43.2
g
,
Fiber:
12.8
g
,
Net Carbs:
18
g
Did you make this recipe?
Please Leave a comment and give this recipe a rating!

More Salad Recipes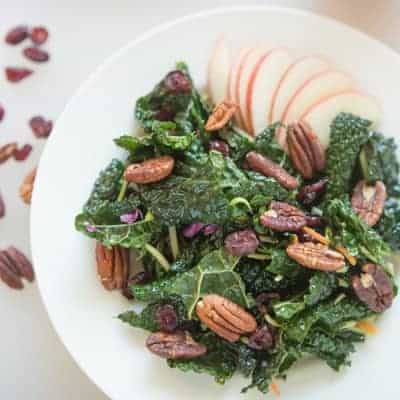 Winter Kale Salad with Apples and Pecans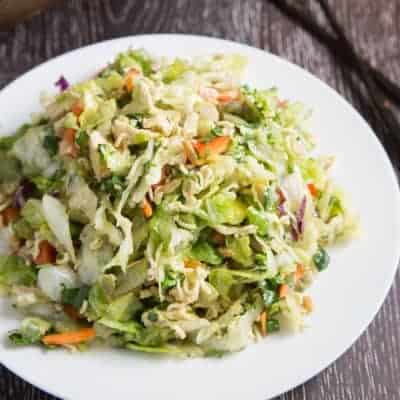 Ramen Noodle Chinese Chicken Salad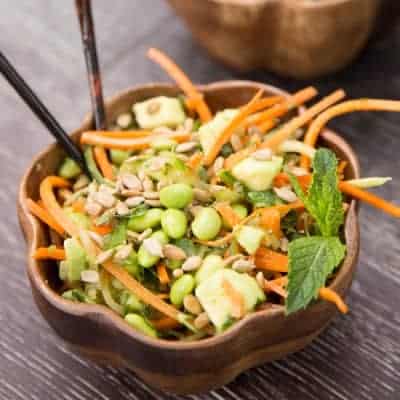 Cucumber & Carrot Noodle Thai Salad
More Romaine Salads from my Blogging Friends
Grilled Romaine Lettuce Cobb Salad by Olives & Garlic
Romaine Cranberry Pear Salad by Flavor the Moments
This post contains affiliate links, thanks for the love!