Slow Cooker Irish Guinness Beef Stew
The BEST slow cooker Irish Guinness beef stew recipe. Chunks of tender beef cooked in a Guinness beef broth with carrots and potatoes. Topped with micro greens that look like lucky clovers!
When I was in college, I worked at a British pub in town as a waitress and bartender for a few years. Come St. Patrick's Day, that restaurant would be packed! Hands down one of the busiest night of the year. Now mind you, this wasn't an Irish pub, it was a British pub. But to us Californians, it was close enough.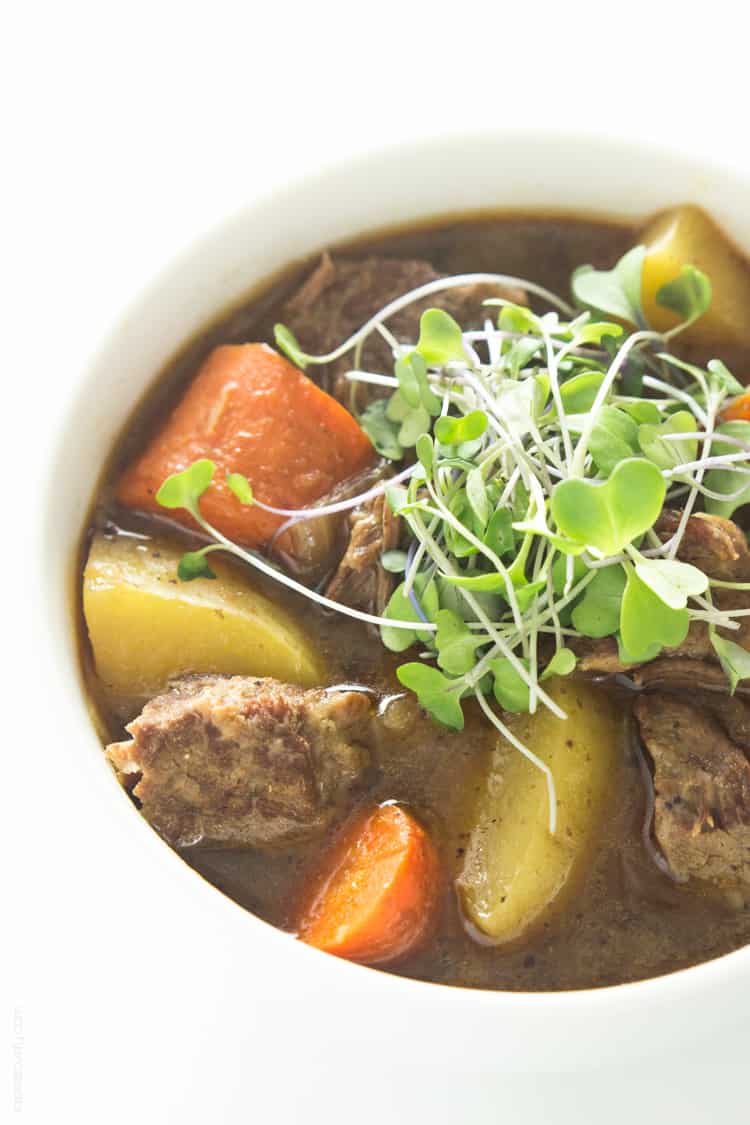 We would serve a ton of corned beef and cabbage, but mostly we sold a ton of beer. For the college age drinkers, it was a lot of bud light dyed green with food coloring. That green food coloring made for some very interesting green stains on my fingers and clothes, but even worse was the green stained teeth of the customers.
For the more sophisticated drinkers, we served a lot of Guinness. We had Guinness on draft, and I became an expert of drawing little designs in the foam of the beer, just like how a barista can make cute designs in the foam of your cappacino. On St. Patrick's Day I was making lots of clover designs. If I was really quick I could do a 4 leaf clover, but if I was too slammed a 3 leaf clover would have to do.
Except for when the Guinness was for Shawn. He always got a heart.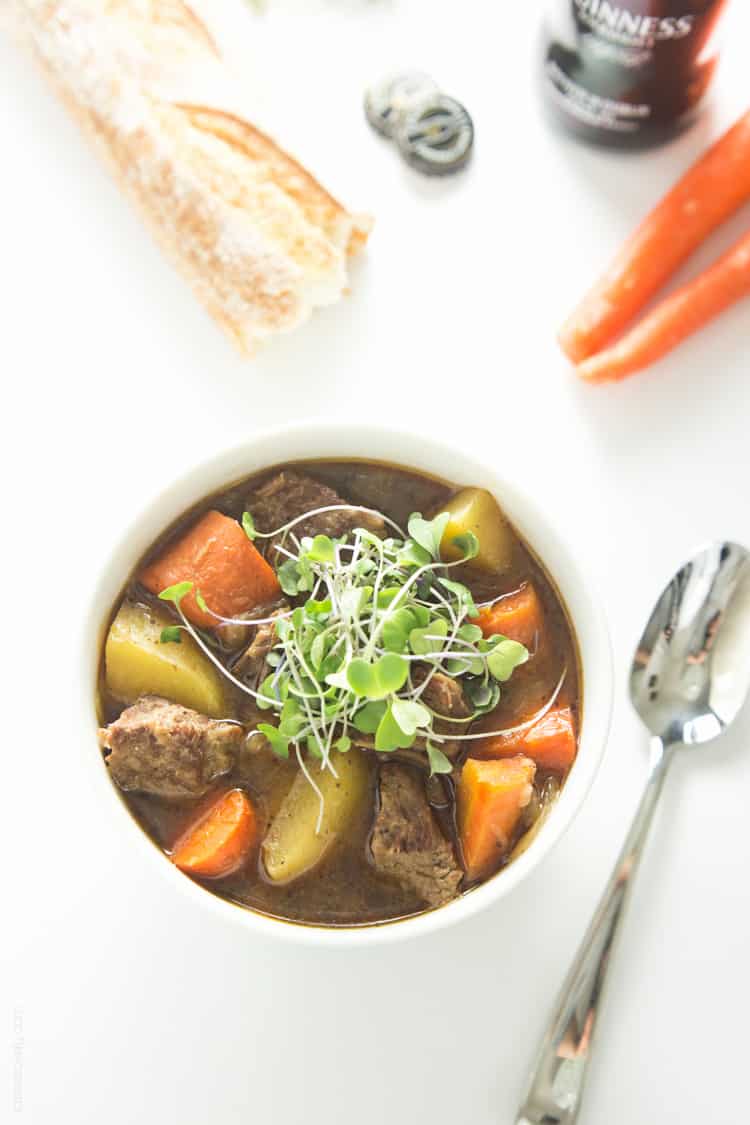 I love drinking Guinness, especially in the winter. It has a great smooth and creamy texture with a little bit of a bitter espresso flavor to it. It is delicious in beef stew. The flavor combination of the flavorful beef with the slightly bitter and coffee flavor of the Guinness is just delicious.
It seems corned beef and cabbage gets all the attention on St. Patrick's Day. Truth time? I don't really like corned beef and cabbage. If it was that good, wouldn't we be eating it more than once a year?
Beef stew, on the other hand, is so good we make it all year long. For me, St. Patrick's is all about this Irish Guinness beef stew. And since St. Patrick's Day is on a weekday this year, this slow cooker version will let you have tender Guinness beef stew ready for you in your crockpot when you get home.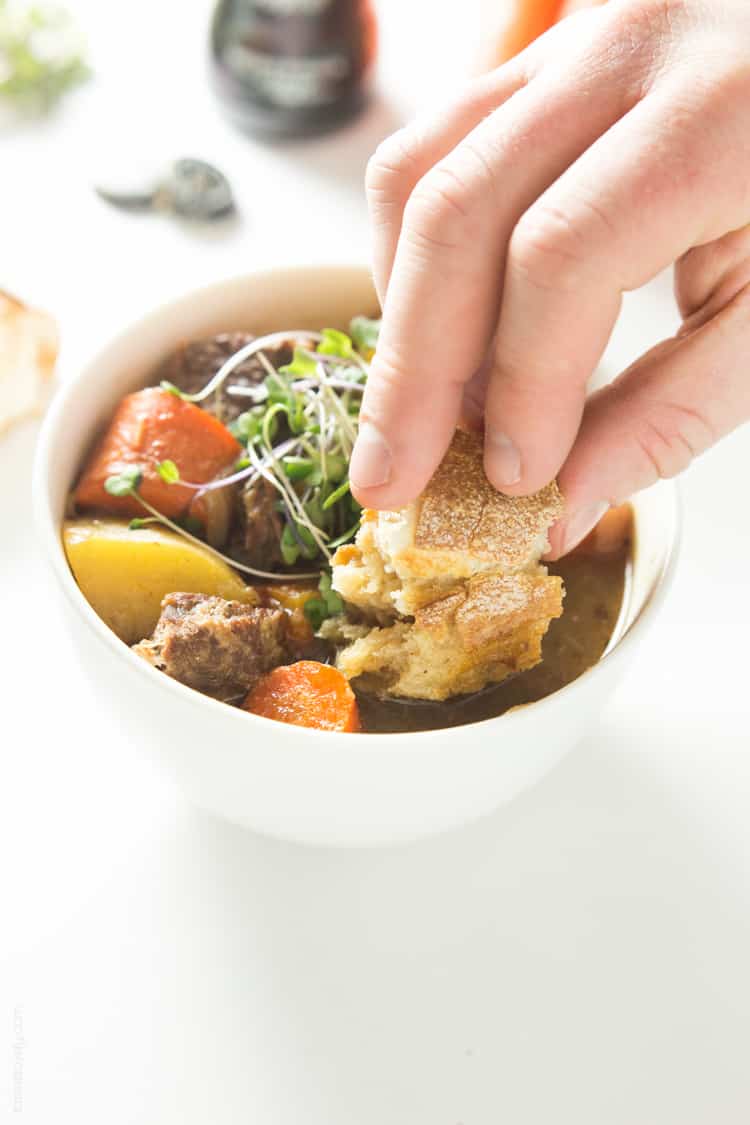 I topped this slow cooker Irish Guinness beef stew with micro greens. Don't they look like lucky 4 leaf clovers? A cute idea that was inspired by my blogging friend Sarah at Snixy Kitchen. Along with being oh so cute, they give a wonderful freshness to the stew. But parsley would work as well.
Print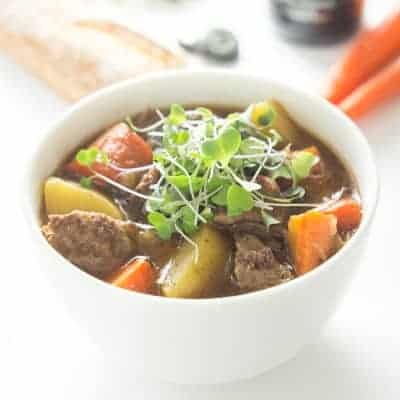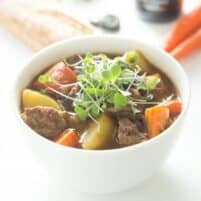 Slow Cooker Guinness Irish Beef Stew
---
Author:

Prep Time:

45 mins

Cook Time:

4 hours

Total Time:

4 hours 45 mins

Yield:

6

-

8

people

1

x
3

pounds

lean beef stew meat

cut in 1″ cubes(I get my beef from ButcherBox, which I highly recommend)

1/2

cup

white all purpose flour

1

pound

carrots

, chopped (about 4 large, will yield 3 cups)

1

pound

yukon gold potatoes

, chopped (about 4 medium size, will yield 3 cups)

2

large yellow onions, chopped

2

cloves of garlic, grated of finely minced

1 tablespoon

tomato paste
1

12

–

ounce

bottle

Guinness Draught beer

64

ounces

(8 cups)

chicken stock

, divided

2

bay leaves
salt and pepper
olive oil
micro greens for garnish (optional, or could use chopped parsley)
---
Instructions
In a baking dish, stir and combine the flour, 2 teaspoon salt and 2 teaspoon pepper. Add the beef stew meat and toss to coat. Tap off excess, and transfer the flour dredged stew meat to a plate. Discard any leftover flour.
Heat a large skillet over medium high heat for 2 minutes. Add 1 teaspoon olive oil, and add about 1/4 of the meat, being careful to not overcrowd the pan (otherwise the meat will steam and not brown). Cook about 4 minutes per side, or until golden brown, turning to cook both sides. Transfer the cooked meat to your slow cooker. Repeat to continue browning the meat, adding another teaspoon of olive oil to the pan each time before adding the meat. It takes me about 4 batches to cook all the meat.
While the meat is browning, chop up the carrots and potatoes to be about 1″ x 1/2″ chunks. You don't want to cut the vegetables too small, otherwise they won't hold up in the stew. Transfer the cut carrots and potatoes to the slow cooker. Chop up the 2 onions and set aside.
After the meat is done cooking, add 1 teaspoon of olive oil to the same pan and cook the onions. Season with a pinch of salt and pepper. While the onions are cooking, scrape up any brown bits and cooked flour on the bottom of the pan. Cook for about 5 minutes, until the onions just starting to soften. Add in the garlic and tomato paste, stir and cook for 1 more minute. Add in about 1 cup of the chicken stock and scrape up any remaining bits on the bottom of the pan. Transfer the cooked onions and liquid to the crock pot. Add in the Guinness beer, remaining chicken stock, and bay leaves to the crock pot. Give a stir to evenly distribute the meat and vegetables. Cover and cook on HIGH for 4-6 hours, or LOW for 8-10 hours. Taste for salt and pepper after cooking. Sometimes I'll even add garlic powder if it needs it.
Serve warm, and garnish with micro greens or chopped parsley.
Notes
To cook this in the oven, substitute a Dutch oven for the slow cooker. Once all the liquid is added, bring to a simmer then transfer to a 225 degree oven for 6-7 hours.

More Slow Cooker Soup and Stew Recipes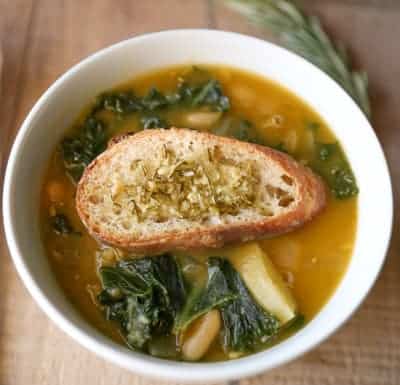 Potato, White Bean and Kale Soup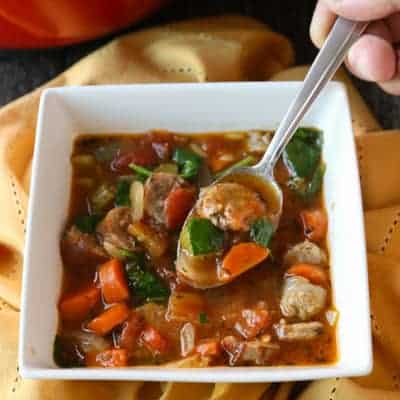 Italian Sausage and Vegetable Soup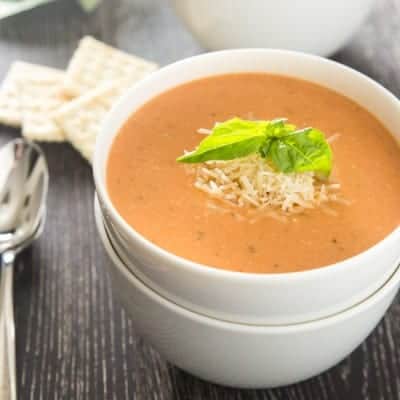 This post contains affiliate links, thanks for the love!